Humbucker-Sized P-90 Review Roundup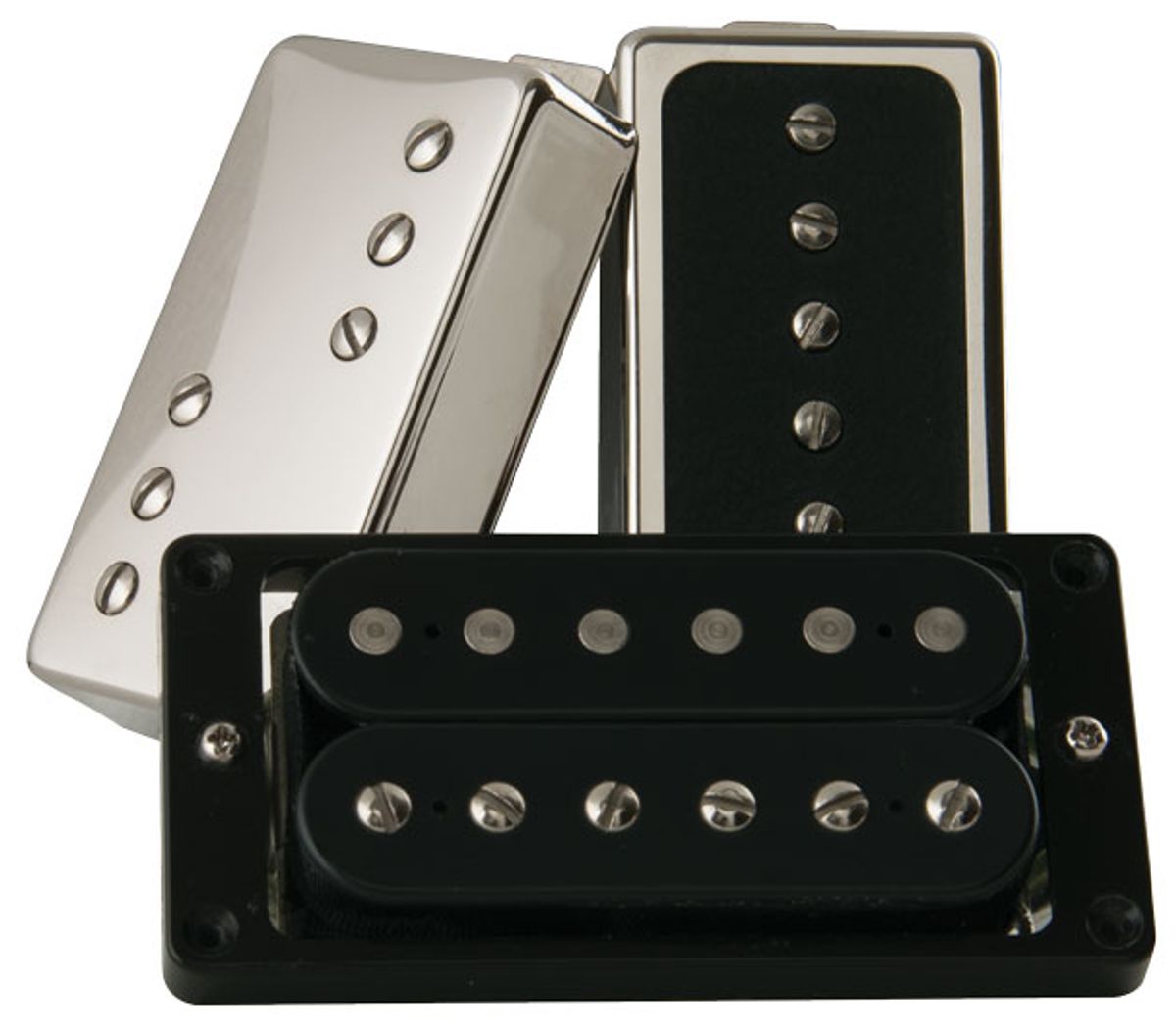 Eight pickup sets that'll transform your Les Paul into a Special, or breathe sparkling new life into any other humbucker-equipped axe.
For most players, the pendulum of guitar-pickup fashion seems to swing between humbuckers—be they vintage, PAF-style or something more modern—and some type of take on Strat- or Tele-style single-coils. But lurking somewhere in the middle is a pickup type that's often overlooked: the P-90-style single-coil.
---
Gibson invented the P-90 and used it in many guitars between the pickup's 1946 debut on through the dawn of the humbucker a decade later—and thereafter it became a mainstay on once-budget-priced models such as the Les Paul Junior or Les Paul Junior Special. Though the humbucker's powerful tones and noise-free performance largely overshadowed the P-90, a vocal minority of players has long preferred the P-90's crisper tones, clearer mids, and potentially ragged edge.
The P-90 is probably most associated with raunchy rock, from the Gibson SG Special Pete Townshend demolished at Leeds to Billie Joe Armstrong's hard-working Les Paul Junior. Punk pioneers such as New York Doll Johnny Thunders and the Clash's Mick Jones loved its raw intensity. And for some, the definition of P-90 attitude begins and ends with Leslie West's tone on Mountain's "Mississippi Queen."
But the P-90 isn't always rude-sounding. Consider the Beatles, who used P-90-equipped Epiphone Casinos throughout the band's middle years. Even jazz players have embraced it, notably Grant Green and Wes Montgomery. (Wes played a Gibson ES-175 with P-90s until switching to a Gibson L5 with humbuckers in the latter part of his career.)
A Single-Coil Compromise?
It's probably an oversimplification to say that the P-90 splits the difference between a vintage-style Fender pickup and a humbucker, yet there's some truth to the notion. The most likely P-90 converts are humbucker users who yearn for brighter tones and snappier attack, and single-coil players who wish their pickups had more midrange muscle.
Like humbuckers, P-90s rely on a bar magnet with steel pole pieces, as opposed to the individual magnetic pole pieces of most Fender pickups, an architecture that tends to deliver fatter mids and less twang than classic Fender single-coils.
Though the humbucker's powerful tones and noise-free performance largely overshadowed the P-90, a vocal minority of players has long preferred the P-90's crisper tones, clearer mids, and potentially ragged edge.

Yet P-90s tend to sound twangier and more transparent than vintage-style humbuckers. (And yes, P-90s transmit 60-cycle hum just like most non-humbucking pickups.)
Chances are, more players would explore the P-90 sound if the pickups fit into guitars with Fender- or Gibson-style routing. But both traditional versions of the P-90—the "dog ear" and "soap bar" styles—require guitars specifically routed for those formats. That's why so many manufacturers have started issuing humbucker-sized P-90-style pickups.
P-90 or Not?
Please note the words "P-90-style." None of the pickups covered here are true P-90s. As experts like Seymour Duncan, Lindy Fralin, and Jason Lollar hasten to point out, even if you use the same materials and manufacturing methods that Gibson employed in the 1950s, simply changing the format from the original P-90's wide, low coil to the humbucker's relatively tall, narrow one inevitably alters the tone. The most common compromise is to use thinner pickup wire (say, 43 gauge instead of 42) to permit the traditional number of winds on a humbucker-sized bobbin. But even then, the result won't sound exactly like the original—or rather, the originals.
Like all vintage pickups, old P-90s exhibit major variations from unit to unit. The number of pickup-wire winds—which determines the output—can vary greatly. Magnet strength is also inconsistent: Gibson used varying types of alnico magnets, depending on what was available at production time. And in many cases, the qualities that make a player treasure a particular P-90 are environmental in origin, such as the degaussed magnets that can result from poorly stored pickups or habitually leaning a guitar against an amp's speaker. Also, the practice of winding bridge pickups hotter than neck pickups (as most of the sets covered here do) is a strictly modern innovation. They just weren't thinking that way in the 1950s.
As a result, this roundup doesn't attempt to evaluate pickups in terms of vintage-style authenticity. Instead, I've tried to describe the pickups in objective terms with the aim of steering players toward the product that best suits their needs and tastes.
Testing Procedures
So many variables determine the sound that ultimately spills from the speaker that it can be hard to isolate properties exclusively related to pickup choice. I haven't devised the perfect solution to this problem, though I've tried to remove as many variables as possible.
I evaluated the eight pickup sets in this roundup in a single guitar, PG's go-to Les Paul Traditional, a relatively light model with a bright, zingy tone. For each pickup pair, I set the bridge pickup precisely .090" from the strings, and then set the neck pickup height by ear till the levels matched. I didn't adjust individual pole pieces—string balance sounded just fine on all the pickups. With the exception of the DiMarzio Bluesbuckers, every pickup set here consists of a unit optimized for the neck position and a unit optimized for the bridge position.
I recorded the audio examples directly into Logic Pro via an Avalon 737 preamp (with EQ and compression bypassed), monitoring through amp simulators. The input, output, and channel settings are identical for each example. After recording, I ran all the clips through a ReAmp to my test amps: a clean-toned, Fender-influenced Divided by 13 CJ11 for the neck and combined-pickup sounds, and a gnarly, noisy Ceriatone 18-watt clone, cranked, for the bridge pickup. Throughout, I never altered the ReAmp output, amp settings, mic position, or anything else. The mic is a Royer R-121. I've also included the same bridge-pickup examples processed with Logic's amp simulators for the benefit of digital players. All clips feature an identical touch of plate reverb, but no post-recording compression or EQ. No noise reduction either—and P-90s can definitely get noisy at high gain. If that's a major concern, consider one of the hum-cancelling models.
The differences between these pickups can be subtle—so subtle that they're easily overshadowed by other elements in your tone chain.

Obviously, I had to perform the musical examples separately for each pickup, though I monitored the original performance while playing, guarding against variations in touch and intensity. (The performances aren't identical, but they're pretty darn close.) But just to break the monotony, I improvised freestyle performances for each of the dual-pickup examples. I also recorded examples using the test guitar's stock '57 Classic pickups to illustrate the differences between a traditional PAF-style humbucker and the various P-90s.
Disclaimers for Days
A few more things to bear in mind: The differences between these pickups can be subtle—so subtle that they're easily overshadowed by other elements in your tone chain. A twist of your amp's treble knob can erase the difference between relatively bright and dark pickups. Altering pickup height can narrow the gap between loud and not-so-loud specimens. Not to mention all the changes that occur when you switch amps, add effects, or mix your tracks. So while I've aimed for a level playing field, it's only one of many possible playing fields.
Also consider that many pickup makers can customize their products to suit your needs. It's often possible to request different magnets, hotter or cooler coils, and varied cosmetics. If one of these models seems almost right for you, don't hesitate to ask about custom changes. You may get them for little or no extra cost.
Note that I've mixed a few oranges with the apples: This roundup includes six true single-coil products, and two that offer hum canceling via dual coils. I review the single-coils first, followed by the dual-coils. Pickups appear alphabetically by manufacturer name within each section.
Last disclaimer: Given the number of humbucker-sized P-90-style pickups on the market, it's virtually impossible to cover them all in a single roundup. We will cover as many as possible in future pickup reviews, but in the meantime we encourage you to explore as many options as possible in your pickup quest.
True Single-Coil P-90 Neck- and Bridge- Pickup Sets

Lindy Fralin P-90 in a Humbucker Cover
Ratings
Pros:
Beautifully balanced tone. Superb dynamics. Mighty lows. Shimmering highs. Suited to many styles.
Cons:
Somewhat pricey.
Tones:


Versatility:


Build/Design:


Value:



Street:
$130 street (each)
Lindy Fralin P-90 in a Humbucker Cover
fralinpickups.com
Lindy Fralin P-90 in a Humbucker Cover Set
Although Lindy Fralin's P-90 in a Humbucker Cover sets aren't as popular as the hum-cancelling Fralin P-92 sets discussed below, they're some of the most musically pleasing P-90 derivatives I've ever played. Their tones are beautifully balanced. Lows are stout, with rock-solid fundamentals, but they never overpower or sound wooly. Highs have a lovely shimmer that never becomes harsh. And there's a great sense of openness—low mids feel aerated in just the right way. The combined-pickup tones are stellar, too, exhibiting both low-end mass and energized sparkle.
The even better news is that the pickups retain those qualities when you slather on the gain. Lows wallop, but they're focused. Note attack remains aggressive. It's mass without sludge—and a fine example of the fat-but-edgy distortion sound P-90 fans crave.
The Fralin P-90s boasts fabulous range, both dynamically and harmonically. It's easy to sculpt the high end solely by touch—you can dig in for face-slapping impact, or back off a bit for smoother, rounder tones. These pickups help you discover new ways of playing more expressively.

GFS Mean 90 Set
Ratings
Pros:
Bargain price. Powerful lows. Solidly made.
Cons:
A bit tight in the treble.
Tones:


Versatility:


Build/Design:


Value:


Street:
$34
GFS Mean 90 set
guitarfetish.com
GFS Mean 90 Set
At $34 each, GFS Mean 90s sell for less than half the price of this roundup's next-cheapest pickup—and about 25 percent of the cost of the priciest models. While I'd love to report that they sound every bit as good as their upscale cousins, their tones can feel a bit thin in comparison—particularly with clean amp settings, where the treble notes can become pinched compared to the more expensive models. The highs still sound pleasant—they just don't gush.
The lows, however, are perfectly solid. And when you pour on the gain, you get within spitting distance of this roundup's best-sounding pickups. In fact, in the context of a band performance, you might not be able to distinguish the Mean 90s from pickups costing four times as much.
The workmanship feels perfectly solid—if you didn't know which pickup was which, you'd never ID the Mean 90s as "the cheap ones." They're certainly equal to the pickups you find in any number of far-from-budget guitars, and very impressive for the price—an excellent choice if cost is a concern.

Gibson P-94 Set
Ratings
Pros:
Warm tones. Even response. Sharp looks.
Cons:
One of the pricier options in our roundup.
Tones:


Versatility:


Build/Design:


Value:


Street:
$139 (each)
Gibson P-94 set
gibson.com

Gibson P-94 Set
With their dramatic black-and-nickel styling, Gibson's P-94 neck- and bridge-position pickups are mighty sharp looking. They sound stylish, too, offering excellent balance and lots of nice complexity. High, clean notes have just the right snap, transmitting note attack and "stringiness" without nastiness, no matter how hard you dig in.
The P-94s' low mids are a tad thicker than some other models. When playing overdriven power chords, for example, you encounter a bit less of the scooped quality you get from models with more manicured mids. The result is a warm, finely aged sound—though it does come at the cost of some of the aforementioned snap and aggression.
Still, the P-94s do provide more snap and crackle than you'd get from humbuckers, so they're a fine choice for players who want more pop from their Paul without relinquishing all the warmth. They're great-looking, sophisticated-sounding, and highly musical pickups.

Harmonic Design Z-90 Set
Ratings
Pros:
Fat, aggressive tones. A unique take on a classic design.
Cons:
More muscle and less snap than most P-90s.
Tones:


Versatility:


Build/Design:


Value:


Street:
$100 (each)
Harmonic Design Z-90 set
harmonicdesign.net
Harmonic Design Z-90 Set
You can tell at a glance that Harmonic Design's Z-90 pickups venture farther from vintage P-90 roots than most of the models in our roundup. Their covers look like nickel, but they're actually made of plastic. According to Harmonic Design's Scott Petersen, "Metal covers of any type alter the sound of any pickup. We make the thin-wall molded covers because it's the only way to have a pure, sonically transparent cover."
Metal covers do alter a pickup's magnetic field, though there's not much agreement on whether they do so for better or worse. Either way, if you're a player who removes pickup covers, you'll get the same result here without stripping down. That said, the plastic covers are prone to buckling at the edges where they meet their base plates, and given how thin they are, one couldn't be blamed for wondering whether they'll withstand aggressive, Pete Townshend-style playing or multiple installations in different guitars. But once installed, the Z-90s do look nice.
Another Z-90 design departure is the presence of fixed pole pieces in lieu of adjustable screws, and they're extra-large, too—a design that can sometimes enhance bass response. It certainly does here: The Z-90s churn up powerful lows. They're also relatively high output, capable of kicking your amp into overdrive if you want.
But the Z-90s boast more than mere muscle. While they don't have quite the articulate snap of some of the lower-output models in our roundup, they sound open and airy when you pull back the gain, despite that ever-present fatness. If the clean tones of other P-90s are too prickly for your taste, the Z-90s may feel just right.

Lollar Single-Coil for Humbucker Set
Ratings
Pros:
Rich, vintage-style tones. Even response. Tons of character. Lovely to look at.
Cons:
Somewhat pricey. Can get boomy when heavily overdriven.
Tones:


Versatility:


Build/Design:


Value:



Street:
$135 (each)
Lollar Single-Coil for Humbucker Set
lollarguitars.com
Lollar Single-Coil for Humbucker Set
With their eye-catching black-and-nickel design and subtle curves, Jason Lollar's take on humbucker-sized P-90s may be the prettiest of our contestants. They're bold pickups with a sophisticated sound. Fatter in the low-mids than most of their rivals, they emphasize warmth and complexity over snappy attack. They're not exactly dark sounding, but they've got an old, vintage vibe—as if the magnets have softened over time.
Lollar P-90s sound smooth and smoky in the best possible way (think well-aged whiskey). They track dynamics superbly—notes never seem to leap out more than intended—and this consistent response will flatter many players.
They're definitely some of the thicker-toned models in our roundup, and they can get a bit boomy when heavily overdriven, but that's nothing a tweak of your amp's bass knob won't fix. The Lollars would be a great choice for brighter-toned guitars. (I'd love to hear it in a Tele.) They're gorgeous pickups, rich in personality and detail.

Seymour Duncan Phat Cat Set
Ratings
Pros:
Clear and bright. Maintain definition when overdriven. Great price.
Cons:
May be too tight and bright for some guitars or players.
Tones:


Versatility:


Build/Design:


Value:


Street:
$79 (each)
Company
seymourduncan.com

Seymour Duncan Phat Cat Set
Duncan's Phat Cats are bright and articulate single-coils that deliver strong note attack, with lots of "stringiness." Chords and single notes snap and pop, making them a great choice for fingerstyle playing, funky rhythm work, country licks, or any other style where clarity is essential.
Despite their modest output and crisp, clean tones, the Phat Cats don't disappoint when overdriven. They don't gush like some of the hotter pickups in this group, but they provide fine high-gain sounds. Even at 11, tones stay focused, with sculpted low mids and tough-edged attacks—enough to convincingly pull off early Sabbath sounds. In fact, despite their name, the Phat Cats bark more than purr.
If your humbucker guitar sounds like it's trying to sing with marbles in its mouth, a set of Duncan Phat Cats will make it spit 'em out, pronto. They excel at styles that demand crisp precision, and they're a fine option for darker-toned guitars. And at $79, they're a good deal.
Hum-Cancelling Humbucker-Sized P-90s
As previously mentioned, humbucker-sized P-90s are structured differently than original P-90s, so it's nearly impossible to make them sound exactly like vintage models. That's even truer when you introduce a second coil. But if your goal is to give a humbucker-routed guitar more snap and sizzle without suffering a single-coil's 60-cycle hum, a P-90-flavored humbuckers may be your solution.

DiMarzio Bluesbucker Set
Ratings
Pros:
Fat, clear tones. Humbucker performance with greater snap and definition. Bargain price.
Cons:
Less vintage P-90 vibe than other models here.
Tones:


Versatility:


Build/Design:


Value:


Street:
$70 (each)
DiMarzio Bluesbucker set
dimarzio.com

DiMarzio Bluesbucker Set
"A humbucker-sized pickup that hums never sounded like fun to us," says DiMarzio's Steve Blucher, which explains why the company's only P-90-sized humbuckers, the Bluesbuckers, look and perform like a conventional humbucker.
With their modern-style ceramic magnets, the Bluesbuckers veer pretty far from the vintage P-90 recipe. Besides being the only models here without alnico magnets, they're also the only pickups in the roundup that aren't available in separate neck- and bridge-position models—that is, the two Bluesbuckers I tested had the same specs.
I suspect the Bluesbuckers' tones are exactly what many humbucker players envision when they contemplate switching to single-coils: Basically, they're humbuckers with uncommonly crisp attack and clear mids. Despite their clarity, they're loud—they want to rock. They're great for those "furry," not-quite-clean tones that are a hallmark of P-90s. But squeaky-clean tones are lovely as well, with none of the nasty glassiness you sometimes get from ceramic magnets. With gain cranked, note attack remains clear and the highs keep ringing. It's a fine compromise between humbucker mass and single-coil clarity.
True to their name, these are excellent blues pickups, though they excel at any style where brightness and definition are needed for both clean and distorted sounds. And they're a steal at $70 apiece.

Lindy Fralin P-92 Set
Ratings
Pros:
Bright, ringing highs. Taut lows. Powerful fundamentals. No hum. Cool look.
Cons:
Somewhat pricey.
Tones:


Versatility:


Build/Design:


Value:



Street:
$140 (each)
Lindy Fralin P-92 Set
fralinpickups.com
Lindy Fralin P-92 Set
The Fralin P-90 in a Humbucker Cover set reviewed earlier in this roundup consists of two true single-coils, but the company also makes humbucking P-92 models. They come in a cool-looking design with offset treble and bass pole pieces. Following Lindy Fralin's recommendation, I installed them with treble pole pieces nearer the bridge.)
The P-92s maintain the superb dynamic response of Fralin's single-coil P-90. When you go from heavy to light playing, you darn well hear the difference! You get similarly powerful fundamentals, especially on the wound strings. With the P-92s in our test Les Paul, you can easily feel like you're hearing a longer-scale instrument.
But the harmonic spectra of Fralin's 90 and 92 models differ substantially. The P-92 has more glassy sparkle on top and thicker low mids. I find the Fralin P-90s a bit more attractive in our test guitar, though I can imagine preferring the P-92s in another instrument. (I suspect these would sound fab in a Tele.) And there's no 60-cycle hum. The sole drawback: At $140 a pop, the P-92s are the priciest pickups here.
Conclusions
After so much P-90 time, you'd think I'd long for a good, old-fashioned humbucker. Nope—I've fallen for these bright, high-impact sounds. The reference recordings of our test guitar's stock '57 Classics strike me as somewhat listless in comparison—and those are perfectly lovely PAF-style humbuckers!
Who's the winner? That's a tough call. Yeah, I know that sounds like wishy-washy guitar-mag speak, but I truly dig aspects of all eight pickup sets. I don't yet own a guitar with humbucker-sized P-90s, but I'm going to get one just for the pleasure of playing some of these inspiring pickups.
Among the higher-priced options, my favorites in our test Les Paul are Fralin's ravishing P-90 in Humbucker Cover set and Lollar's subtle, sophisticated Single-Coil for Humbucker set, though I can easily imagine preferring the Fralin P-92s in a slightly darker guitar, or the smoothly voiced Gibson P-94s in a brighter one.
The three mid-priced models are impressive in different ways. The Harmonic Design Z-90s are big, bold pickups that can still sound refined. The Seymour Duncan Phat Cats win the Good Diction Award—they're second to none in snappy clarity. And the ceramic-magnet DiMarzio Bluesbucker set is an excellent option for players seeking brighter tones and stronger note attack without straying too far from a modern humbucker sensibility.
And the $34 GFS Mean 90s? They don't sound quite as fat or smooth as the pricier competition, but they're shockingly decent sounding, and a great choice for players on a budget.