Pritchard Sword of Satori
The Pritchard Sword of Satori offers up vintage tones in a solid-state package.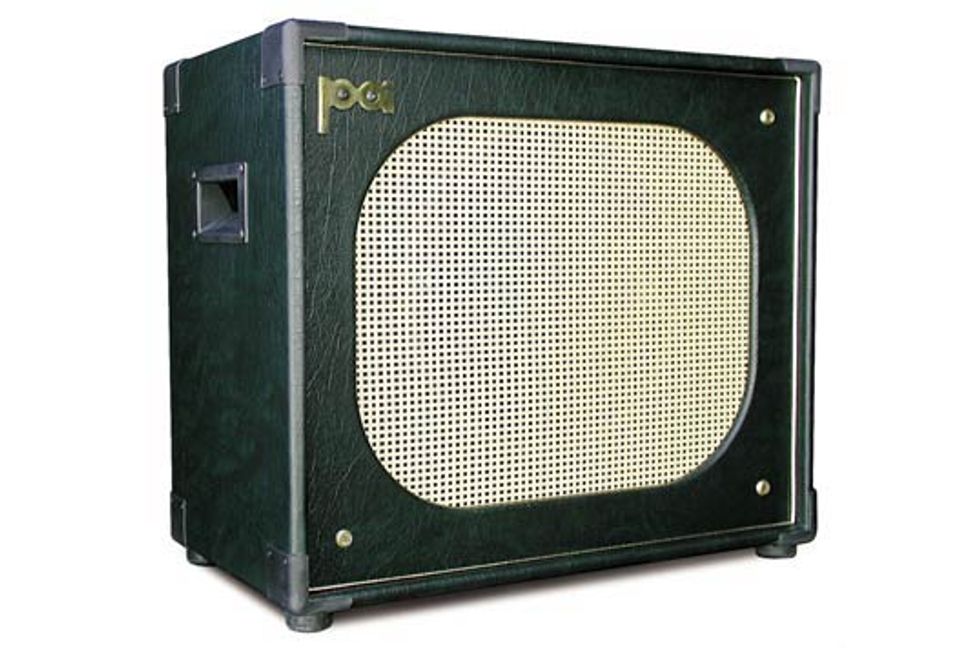 There's a lot of hoodoo surrounding the solid-state versus tube amp debate. Historically, early solid-state amps did not help matters very much. They were generally designed to fill a price point rather than being engineered towards serious musicians; and, as one might expect, their performances were less than stellar. Kustom, Rickenbacker, Peavey, Gibson and many others have all sent up offerings in days gone by, but only a few such as the Yamaha G100 and Roland Jazz Chorus have found their ways into the hearts of players.
---
"Eric Pritchard has had a long history in the music industry and was intimately involved not only with the original neck carving machines for Paul Reed Smith but the original PRS HG solid-state amplifier, too."
---
And let's face it; terms like MOSFET and DMOS just don't seem to be as evocative as their vacuum tube counterparts. Mention the words EL84 or 6L6 and players stroke their chins in deep contemplation and take another sip of single malt as their eyes get misty. On the other hand, start talking about "ultra-linear characteristic curves" or "N-channel field effect transistors" and you'll see those eyes begin to glaze over.
West Virginia's Prichard Amps may just change that.
Eric Pritchard has had a long history in the music industry and was intimately involved not only with the original neck carving machines for Paul Reed Smith but the original PRS HG solid-state amplifier, too. When the project was abandoned by PRS, Eric Pritchard, convinced there was fertile ground in the yet unplowed field of pro-level solid-state amps, soldiered on to form Pritchard Amps.
Getting to Know You
Pritchard Amps sent their single 12" combo, the Sword of Satori, for a test run. Perhaps it shouldn't be surprising, given Eric's tenure at PRS, but the Sword of Satori is an attractive amp. Its green vinyl covering is accented with heavy-duty corner guards, and as a refreshing change of pace, all of the text used on the amp's top-mounted control panel are machined then painted with gold. All but one of the controls use chicken head knobs, and unlike some "fern bar" inspired efforts from the past, the wicker grille tastefully completes the front of the amp.
As with other popular solid-state efforts, the Sword of Satori seeks to emulate a handful of classic tube amps from the past, albeit not specific models per se. A look at the amp's control panel reveals two sets of rotator knobs and two sets of 3-band EQs. The upper rotary knob is marked H, S, F, M, V and L, and the lower knob is marked A, S, F, M, B and P. As you can probably guess, the F, M and V designations are Fender, Marshall and Vox voicings, while the H, S, L, B and P are unique to Pritchard. The amp's top panel also states, "180 watts PDP," meaning peak distorted power, although Pritchard admitted to some specsmanship, clarifying that the amp is rated at 60 watts clean, 90 watts dirty/peak clean power and 180 watts at peak distorted power.
Some explanation for the rotator knobs is needed, but we'll try to avoid getting bogged down in minutiae. H is a high bass scoop; S is for Smooth Solo, essentially a milder bass scoop; L dials up the Liquid preset, which according to Pritchard, equals a Mesa Boogie overdrive in the treble and Marshall in the bass – think of Mesa Boogie's Mark Series; P selects Precision, a punchy and slightly rude setting for single coils; B gives you a bass emphasis; and A is set up for acoustic or an inspired emulation of a mic'ed acoustic when using an electric.

I first plugged in my custom Esquire variation, a brute of guitar. Outfitted with a single Bill Lawrence L-290L-E pickup and a Callaham bridge with brass saddles, it has enough output and articulation to either showcase an amp's positives or reveal its shortcomings. A 10' George L's cable was used to connect all guitars to the amp.
Setting all of the controls straight up and the top channel to the "F" setting, I was immediately greeted by the familiar clean but nuanced tones characteristic of the big F's legendary amps. By adjusting the various volume, input, wattage and boost controls it was easy to dial in classic tones that ranged from tweedy to blackface. Pushed further in the "F" setting, the Sword of Satori produced the loose bottom-end overdrive so characteristic of Fender amps when they are turned up to speakerpunishing levels. No doubt all of this was aided by the single, custom-voiced 12" Eminence Legend speaker housed in the amp's unique cabinet design.
Ever want to play Dick Dale with a Tele? Even with the reverb unit cranked bass notes still had plenty of push. Nothing got washed out or out of control. I've had problems in the past with other reverb units that would start to feedback when pushed to this level, but the three-spring Accutronics reverb unit remained resistant to unpleasant side effects.
Next up was a late-nineties Guild Bluebird with a set of Duncan ''59s in it. This is a guitar I have a love/hate relationship with - I love its looks and playability, but the large chambered body can get a bit muddy, especially with the neck pickup. I often find myself readjusting my amp's EQ when I plug in the Guild, but this was avoided with the Sword of Satori. It brought out hidden qualities of this guitar that, up to this point, had remained hidden and encouraged me to explore realms I hadn't really delved into, such as fat Wes Montgomery-style chords and Derek Trucks-inspired slide work.
Both of the amp's rotary dial presets produced surprising and useful voicings from the amp with little need for EQ adjustment. Turn the amp's upper rotary knob to the "M" setting and it's easy to get solid early Marshall tones; Vox/Matchless sounds could be found by turning the upper rotary knob to "V" or by turning the lower rotary knob to the "P" selection. The "L" selection was useful, and while Santana-esque saturation and sustain remained somewhat elusive, a Stonesy crunch was easily achieved.
It should be noted that while both of the preset knobs share the same S, F and M designations, and even if both channels share the same EQ settings, there are subtle shading differences between the two channels. Channel two tends to sound a little darker overall, but if you have a particularly bright sounding guitar this is not a bad thing.
The Ins & Outs
I've never been a big fan of effects loops. I understand their purpose but I dislike how they alter the tone of the effects. The Sword of Satori made me rethink this long-held prejudice. I started by running a Voodoo Lab Sparkle Drive through the loop, then in series with the guitar. To my pleasant surprise, when I ran the pedal through the loop it produced a fat, warm, organic sound that was absent from my previous use of the Sparkle Drive, even with high quality tube amps! Introducing a volume pedal and chorus yielded equally pleasing results.
I found the Sword of Satori's Input control to be a valuable tool in getting the most from this amp. It enables the user to control the gain of the first stage, allowing compensation for the picking strength of the player and for the differences in humbucker and single coil output levels. Also useful was the Watts knob, which acts like a fine-tunable attenuator. Using it in conjunction with the patented PJ Output jack for the speaker will enable you to get great results at a comfortable listening level. The Watts knob could also be used to adjust the amount of dirt in your tone without having to push up the volume to concert levels.
I did have a few minor quibbles. I would have liked the amp's footpedal to offer more than just a boost and a channel selector – individual presets cannot be accessed by the footswitch. Also, the on/off switch is located on the back of the amp near the power transformer and the power chord. It's unlikely that anything "bad" will happen with the switch's location – it's just inconvenient. Finally, the boost feature is fixed in the second channel, although the main channel remains adjustable.
The Final Mojo
Overall, Pritchard's Sword of Satori is an excellent entry in the solid-state arena. Studio musicians, guitarists who play a wide variety of styles, forward-thinking producers, large venues who may need to replace backline amps and well-equipped studios should seriously consider this versatile and quiet amp as part of their setups. Although the Sword of Satori's gain levels are geared more toward Gov't Mule than say, Amon Amarth, even the "V" setting coupled with enough gain will illicit pangs of envy from Vox players. With Pritchard's Best Amp Guaranteed 30-day test run, a three-year warranty and an extremely detailed owner's manual, there's definitely a lot to like here.
Buy if...
you want high quality vintage tones and gain structures without the tubes.
Skip if...
you need your presets accessible via footswitch, or require higher amounts of distortion.
Rating...
 
Our expert has stated his case, now we want to hear yours. Share your comments and ratings below.