Source Audio Ultrawave Review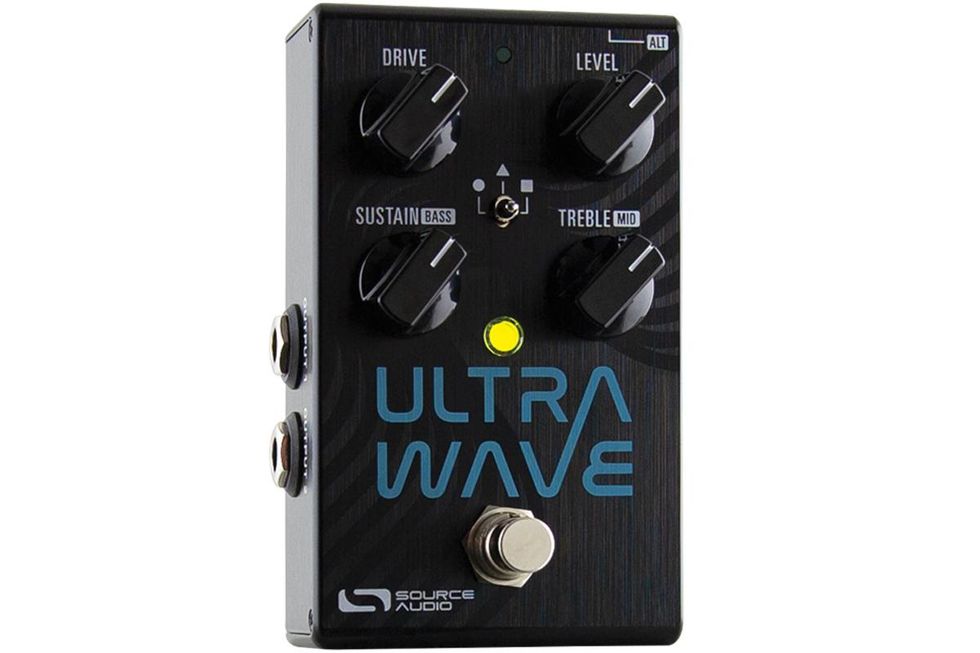 Could this distortion machine be too powerful for its own good?
Mind-boggling number of options. Excellent modulation tones.
Mind-boggling number of options. Limited control without the desktop or mobile editor.
4
4
2.5
3.5
Source Audio's new Ultrawave Multiband Processor lives where distortion, tremolo, and EQ all intersect. It can generate everything from lo-fi fuzz freakouts to synth-pop pulses and beyond. At first glance, the control interface seems simple enough: a four-knob, one-toggle setup. However, those initial assumptions would grossly underestimate the power that lies underneath the hood, and the complex tone recipes that are possible.
---
Source Audio's processing-intensive pedals are always pushing the boundaries of control and tweakability. The key to the Ultrawave is its multiband capabilities, which enables the pedal to split a signal into 1, 2, 3, 4, 8, or 10 frequency bands and process each one individually. There are 37 different band-splitting options and 44 types of distortion inside the Ultrawave. By my calculations that means there's just enough combinations to get through a blues jam, a Muse tribute gig, and an after-hours space-psych session in the same night and still have scores of unexplored tones left over.

Playin' With the Bands
Hooking your stomp up to your computer for deeper editing is essential to getting the most out of the Ultrawave, because there are loads of editable parameters that are not accessible otherwise. When you first open the editor, you face a somewhat imposing array of options. The heart of the editor is the distortion controls section, which allows you to choose distortion type, as well as band-splitting and tremolo options. But as scary as it might look at first, it was big fun simply cycling through the distortion options and moving the sliders up and down looking for happy accidents. And because the Ultrawave allows you to manipulate frequency groups individually, you can, for instance, dirty up your low end while allowing high-end information to ring cleanly. I also loved tones with a cleaner midrange and a filthy low end. The editor even has a very powerful and flexible compressor. The number of possibilities is impressive.
It was big fun simply cycling through the distortion options and moving the sliders up and down looking for happy accidents.
Distortion highlights included the foldback and octave settings. Foldback-style distortion (where the peaks of distorted waveforms are inverted rather than regularly clipped) isn't that common in guitar pedals. It's a cool effect that can lend a throbbing intensity and extra high end to your signal, among other things. Meanwhile, in the octave settings, you can cop subtle vintage-style tones or full-on freakouts with fuzz and feedback. According to Source Audio, the octave effects are created using a proprietary technology rather than traditional full-wave rectification. Determining precisely what affect Source Audio's octave-generating methods have on the output is difficult to determine, but I found the audible results to be unusually smooth and well suited to the complex distortion and tremolo effects.
The multiband tremolo also offers many tweaking options. You can place the tremolo either before or after the dirt and choose between a host of different band styles. For me, the more unsettling the rhythm, the better, and some modulations are intense enough to make you lose your musical lunch—in the very best way! Each band style offered non-traditional options that drove to create stuttering loops.
I'd be remiss if I didn't mention that the Ultrawave also has extensive I/O options for those who want to experiment with the stereo spectrum, utilize the pedal's two independent channels, or alter parameters on the fly with full expression-pedal control. We're used to Source Audio packing a ton of features into their pedals, but kudos are due to the development team for creating such a unique and varied effect in a standard-sized stomp.
The Verdict
Though extreme and unusual effects are plentiful in the Ultrawave, its tone palette is broad. Finding a sound that suits you is just a matter of dedicated tweaking. It's an extremely powerful sound processor, but that power does come with a rather hefty learning curve once you dive into the editor, which is probably more essential to getting the most from the pedal than traditionalists would like. Thankfully Source Audio has a free, easy-to-download collection of Ultrawave presets and an active community of users with their own presets and tips to share. If you live on the bleeding edge of distortion sounds and enjoy mixing modulation, then the Ultrawave might be the best thing going.