A handwired 35-watt combo that can switch between pentode and ultra-linear modes for added versatility.
It's doubtful there has been another time in electric guitar history when you could choose from so many amps based on classic circuits. Many of these are near-perfect recreations built with newer, more reliable components. Others, though, take the streamlined simplicity of old amps and add tasteful and functional features that lend versatility—easing the maintenance commitments and space issues attendant a stable of vintage units. You can file Tone King's new Sky King in the latter category.
The Sky King is the first handwired Tone King amp in 20 years (along with the 20th-anniversary Imperial), which is exciting for anyone who digs the vintage-inspired work of this Maryland company. But some of the biggest news here is the inclusion of a pentode/ultralinear switch, a distinctly non-vintage option that really expands the sonic palette of this 2-channel, 6L6-equipped 1x12 combo. The result is a simple and incredibly versatile 35-watt amp that's at home onstage or in the studio. With just a little effort and a few switch flips, you can coax the Sky King to deliver everything from smooth jazz tones and R&B colors, all the way to the most saturated, raunchy rock sounds.
Flights with the Falcon
In the year or so since he introduced the Falcon amp, Mark Bartel (the tone king behind Tone King) came to love the sound and feel of an output stage wired in ultralinear mode. Bartel was listening to a lot of Joe Maphis and Deke Dickerson, and digging the thick mids and silky top end in their sound. Like the Falcon, the Sky King was conceived as an amp having an ultralinear output design. But in the latter stages of the Sky King's development, Bartel decided that players might like the option of having the more conventional sound of pentode mode, which, by comparison, is more responsive, so he added the pentode/ultralinear switch to the back side of the chassis.
The rest of the control layout is simple enough. You can select either the lead or rhythm channel using a control-panel switch or the included footswitch. The back panel has controls for the built-in attenuator, pentode/ultralinear switch, and speaker impedance setting, as well as the power and standby switches.
Outwardly, the amp is reminiscent of Fender's early tweed amps (the so-called "TV fronts"), and the silver-and-black grille cloth adds a touch of blackface style. The Tone King logo, which is shaped like a '50s television set, even harkens back to Tone King's own history and the company's earliest amps, which are among the most '50s kitsch-influenced amps ever built. The script for each knob is bold and easy to read, which is a big plus for dark stage use, and as the Western rope motif on the control panel suggests, Maphis and Dickerson did more than influence the sound of the Sky King.
There are separate Ironman attenuators for each channel, which allow the player to dial in more preamp-tube saturation at lower volumes. While both attenuators work well, the plastic knobs on my test example were a little loose and made the various selections on the click-position pot feel a little indistinct. In addition, our test unit's rather heavy chassis was a little loose when I unpacked it, which led me to wonder if future versions might benefit from a reinforcement baffle. [Bartel says the latter problem was actually due to the lack of locking nuts on our test unit's chassis bolts, and he assures us that the issue has since been addressed on all production units.]
Sonically Spanning Decades
Though there's no shortage of sounds on tap from the Sky King, you can make a case that the ultralinear setting on this amp is where it sounds best. The amp's ultralinear output has a surprisingly blackface-style voice (particularly given that it's supposed to have response more in line with a tweed circuit), and plenty of clarity and headroom, thanks to the Celestion G12M-65 Creamback speaker. I was very impressed with the thick mids I heard from a Stratocaster plugged into the rhythm channel, and the high end has plenty of bite without a trace of harshness. The EQ is subtle, but because the voice is so naturally balanced I was able to get all the range I needed out of the bass and treble controls and wasn't left wanting more adjustment in those frequencies. I did long a bit for a midrange control, however.
Plugging in a humbucker-equipped Gibson SG yielded a very rich, jazzy tone in the neck-pickup position, which was a pleasant surprise. And the Sky King/Gibson pair was willing and able to provide the tones of early Butterfield Blues Band or Peter Green-era Fleetwood Mac records— biting, punchy, thick, and musical. While the Sky King's manual states that pentode mode is most like a vintage blackface amp, my ears tell a different story. I found the pentode setting to be very aggressive and punchy, though it also has excellent definition. With the Stratocaster, the pentode mode in the rhythm channel reminded me of the clean tones you'd hear from a Marshall plexi. The lead channel tone stack, meanwhile, generates the creamy distortion and front-and-center midrange response that drove early rock 'n' roll (check the raunchy solo tone that Chuck Berry got on the 1955 recording of "Maybelline" for reference). The lead channel has just a single tone control and a Tone King-designed mid-bite knob. Together, the two controls let you increase the mids and gain while rolling off high frequencies and compressing the low end. I found the pair allowed me to dial in both harmonically rich modern and classic rock sounds.
Ratings
Pros: Incredibly versatile with a wide range of tones.
Cons: Expensive. Could be a little more road-worthy.
Tones:


Ease of Use:


Build/Design:


Value:


Street: $2,995
toneking.com
Fans of rich '60s reverb textures will love the tube-driven reverb, which is lush and sounds superb. In fact, I never wanted to turn it off! There's simply no substitute for the tube-colored drive and dimensionality of a reverb circuit this good, and if you want to cop the rollicking excitement of the mid-'60s Rolling Stones or Magic Sam's haunting vibe, the Sky King's reverb is where it's at. The tube-driven tremolo sounds great, too, though I wished it weren't quite as subtle as it is.
The Verdict
With two channels and the very cool pentode/ ultralinear switch, the simple, stylish, and sonically satisfying Sky King is the very picture of tonal versatility. And it's full of enough sounds—from buttery smooth to filthy—that you could classify it as a does-it-all for practically any style of music. The only down sides are that the steep price tag will put it out of reach of a lot of players, and there seem to be a couple of lingering construction issues that could be fine-tuned in order to make the amp better suited to the rigors of the road. But when all's said and done, if you're looking to tap into a virtual Big Muddy of vintage tones and need an amp that's powerful enough for just about any size stage, the Sky King offers one very big bag of tricks.
Watch our video demo:

Looking for more great gear for the guitar player in your life (yourself included!)? Check out this year's Holiday Gear Finds!
Flare is a dual-function pedal with a tube-like booster and a 1970s-style ring modulator effect that can be played separately or together.
Flare's ring modulator is based on the iconic tone of the original Dan Armstrong Green Ringer. This vintage classic was made famous by Frank Zappa who loved the unusual modulations created by generating a harmonic octave over notes. Messiah's version offers two control knobs: a "Sparkle" tone attenuator and output Level control. Its taupe-gold body, purple and green knobs and stick-figure rock 'n' roller holding up a flame convey an appropriately rockin'70s vibe.

​In a unique twist, Messiah's Flare pairs the ringer with a warm tube-style boost instead of a fuzz. Flare feeds the booster into the ringer for an extra punch, while preserving the Green Ringerspirit. The ringer side also turns any fuzz into an octafuzz, and it has the ability to quiet signal background noise fed through it.
The booster side features a single Boost knob to control the MOSFET circuit, making it very tube-amp-friendly with a warm, organic boost and gain of up to 32dB.
​The pedal is a distinct improvement over the 1970s pedal that inspired it. "Most ringer pedals don't track well," Tom Hejda, owner of Messiah Guitars. "The player can't rely on repeating the same effect even with the most consistently played notes. We carefully matched the components, so our ringer follows your every move, producing that slightly dirty octave you expect on demand."
Messiah developed this vintage octave pedal with flexible features so that people who love that messy, dirty Zappa-esque sound can get there with ease but there's also something for those who have not fallen in love with fuzz or the Green Ringer alone. Flare offers an array of sonic options while retaining simplicity in the controls.
Each Flair Pedal Includes:
3 control knobs: Boost, Sparkle, and Level
Two effects – Ring Modulator and Boost – can be used together or separately
Space-saving top side jacks
Durable, cast aluminum alloy 125B enclosure with fun artwork
Easy to see, illuminated True-bypass foot switch
Standard 9V pedal power input​
Flare Pedal Demo
Messiah Guitars pedals are designed with an explorative player in mind. Like their custom guitars and amplifiers, Messiah's pedals are hand-crafted in Los Angeles for a long life with guaranteed quality.
Flare retails for $199.00 and can be purchased directly at Messiah Guitars or you can hear it in person at Impulse Music Co. in Canyon Country, CA.
For more information, please visit messiahguitars.com.
This feathery little guy is a joy to play because of its incredibly quick response to your right hand - much faster and more expressive than your typical auto-wah pedal.
​If it looks like a duck, acts like a duck, and QUACKS like a duck, then it must be a duck. That's how we came up with the name for our new envelope filter. This feathery little guy is a joy to play because of its incredibly quick response to your right hand - much faster and more expressive than your typical auto-wah pedal. Trevor explains how this is possible in the launch video, as well as gives a demo on Le Canard's operation.
​The attack control determines how quickly the filter responds to the envelope, and the decay sets how quickly the filter releases afterward. The range controls which frequency spectrum the filter does its magic on. Add to this relay-based full-bypass switching with failsafe, and you've got one crazy little quacky beast. It is so expressive that you'll want to give up on your rocker-wah forever.
The MayFly Le Canard envelope filter features:
Super fast responding envelope follower. Touch it and it jumps!
Range control to dial in the character of the filter
Attack control to control how fast the filter moves on that first touch
Release control to control how slowly the filter slides back to baseline
Full bypass using relays with Fail SafeTM (automatically switches to bypass if the pedal loses power)
Cast aluminum enclosure with groovy artwork
MSRP $149 USD ($199 CAD)​
Introducing the MayFly Le Canard Envelope Filter
All MayFly pedals are hand-made in Canada.
For more information, please visit mayflyaudio.com.
Outlaw Effects introduces their next generation of NOMAD rechargeable battery-powered pedal boards.
Available in two sizes, NOMAD ISO is a compact, versatile tool that offers the convenience of a fully powered board plus the additional freedom of not having to plug into an outlet. NOMAD ISO is ideal for stages with limited outlet availability, quick changeovers, busking outdoors, temporary rehearsal locations, and more.
NOMAD ISO builds upon the legacy of the ultra-convenient and reliable NOMAD rechargeable pedalboard line originally launched in 2018. The brand new NOMAD ISO editions feature eight isolated outputs (1 x 9V DC, and 1 switchable 9V/12V DC) for even more versatility and clean, quiet power. With an integrated lithium-ion battery pack boasting 12800mAh capacity, NOMAD ISO can fuel a wide array of pedals, and will last over 10 hours* on a single charge.
Each NOMAD ISO pedal board includes adhesive hook & loop pedal-mounting tape, eight (8) standard DC connector cables, and one (1) reverse polarity DC cable, giving you everything you need to build your ultimate "off-the-grid" rig. A rugged, road-ready padded gig bag with shoulder strap is also included, to safely protect your gear while you're on the move.
NOMAD ISO S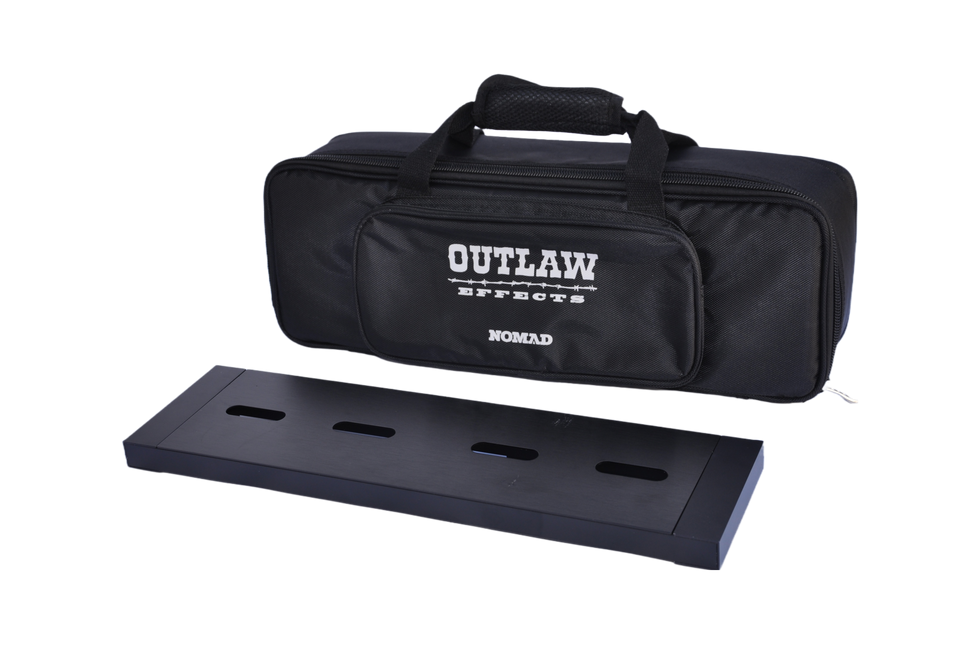 NOMAD ISO S: MSRP $309 / MAP: $249
Dimensions: 19 ¼" x 5 ¼"
NOMAD ISO M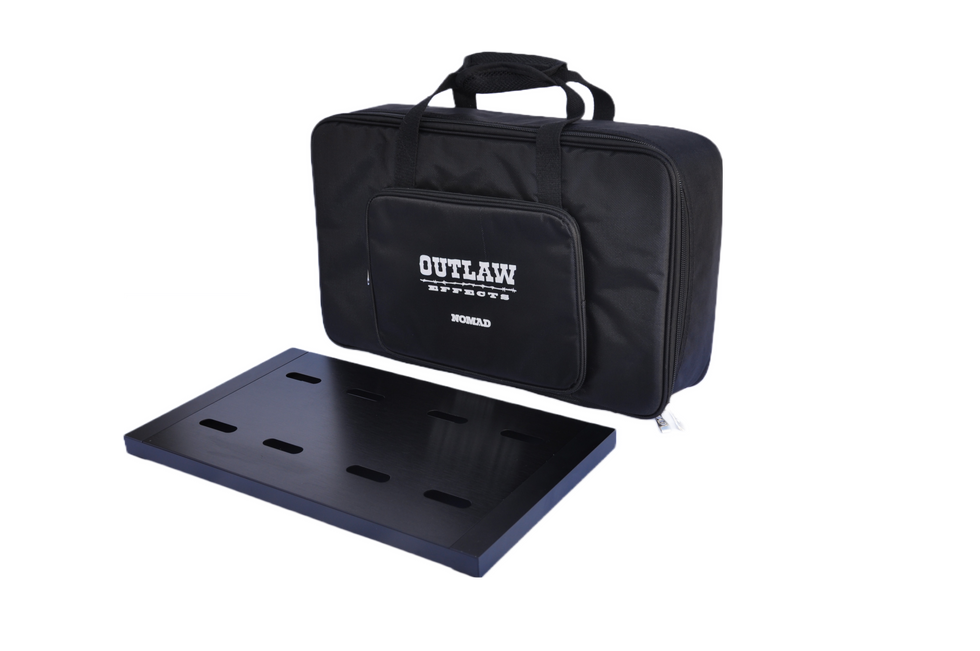 NOMAD ISO M: MSRP $349 / MAP $279
Dimensions: 19 ¼" x 11"
More info: https://www.outlawguitareffects.com.