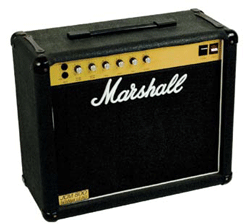 Background and value of a JCM-800 1x12 combo
Hey, Zach.

I use this Marshall JCM-800 1x12 combo for all of my gigging, and this baby really screams! Can you give me some background on the JCM-800 Series and tell me what today's current value is?

Thanks,
Tom Dallas, TX


Hey, Tom.
If you ask me, Jim Marshall's JCM-800 Series are among the most influential amplifiers they've ever produced. We'll get into that shortly, but first I want to give you a little history about Jim Marshall and his amplifiers. Actually, any reader with an ounce of guitar amp knowledge already knows quite a bit about Marshall history, so there's no need to rehash the whole story, but a few interesting tidbits are helpful. Marshall actually built his first amplifier based on a 1959 Fender Bassman with the intention of providing musicians in England a large amplifier like the Bassman at a fraction of the cost. Marshall is one of the best when it comes to listening and giving his customers what they want, and this is how he developed the 4x12 speaker cabinet and modern features such as effects loops, channel switching, and higher gain stages.
The JCM-800 Series was introduced in March 1981, shortly after the relationship between Marshall and their distributor Rose-Morris ended. Marshall signed a fifteen-year contract in 1966 with Rose-Morris for exclusive worldwide distribution rights that severely hindered Marshall's development and expansion in the 1970s because of the large commissions Rose-Morris received for their services. In anticipation of Rose-Morris' expiring contract and to boost sales, Marshall worked hard to develop a new line of guitar amps. The new series basically utilized the previous 50- and 100-watt chassis with a few important tweaks. Most notably in the US, distributor Unicord began replacing Marshall's tried and true EL34 power tubes with the seemingly more reliable 6550s. Marshall also updated the cosmetics of the amp with a control panel that spanned the entire width of the cabinet with Jim Marshall's signature, a black cloth grille, and a much larger script Marshall logo. The JCM-800 name came from the license plate of Jim Marshall's car at the time—that stood for his initials (James Charles Marshall) with an arbitrary number of 800 that coincidentally enough worked well for representing the 1980s.
Your amp is a 50-watt 1x12 combo numbered as the Model 4010. It features a 12-inch Celestion speaker, five tube chassis with three ECC83 or 7025 preamp tubes and two EL34 or 6550 power tubes, a solid-state rectifier, single channel, two vertically mounted inputs (high gain, low gain), six knobs (Volume, Master Volume, Treble, Middle, Bass, and Presence), power and standby switches, and speaker jacks. As you can see, this JCM-800 model isn't loaded with features and it isn't as versatile some other amplifiers, but a lot can be said about its simplicity. Like most Marshall amplifiers, this one is built like a tank and the reliability is outstanding—perfect for the gigging musician! The JCM-800 Series was phased out at the end of the 1980s and replaced by the JCM-900 with more features. Marshall has followed its trend of producing their main line of amplifiers for a decade with the JCM-2000 series as well.
Why do I think the Marshall JCM-800 Series is so influential? For me, it defines the hard rock and heavy metal genres of music in the 1980s. Performers such as Slash of Guns 'N Roses, the Youngs of AC/DC, and Zakk Wylde created their signature sounds through these amplifiers. The JCM-800 Series is known for having a very warm distorted sound, and while many traditionalists were turned off by the sound that the 6550 power tubes put out, it really paved the way for Marshall's future with rock and metal performers. In fact, Marshall even produced a limited edition Zakk Wylde JCM-800 Model 2203ZW amplifier with 6550 power tubes in 2002.
Today, the JCM-800 50-watt 1x12 combo (Model 4010) is currently valued between $1100 and $1300, and the value has slowly but consistently risen over the past few years. Since so many of these are in service by players and not sitting in collectors' closets, I think this amp will be continue to rise in value and be a treasure for years to come.
Sources: Blue Book of Guitar Amplifiers, 3rd Edition, by Zachary R. Fjestad; Jim Marshall the Father of Loud by Rich Maloof; The History of Marshall by Michael Doyle.
---
Zachary R. Fjestad

Zachary is the author of the Blue Book of Acoustic Guitars, Blue Book of Electric Guitars, and the Blue Book of Guitar Amplifiers. Questions can be submitted to:
Blue Book Publications
Attn: Guitar Trash or Treasure
8009 34th Ave. S. Ste #175
Minneapolis, MN 55425
bluebookinc.com
guitars@bluebookinc.com