NAMM 2016: Editors' Picks – Day 3
Take a look at the PG editors' top picks from Day 3 of NAMM.
PG editors pick their top gear from the first day of NAMM. See everything from day 3 in our photo gallery.
Dedalo Fx Tres Tremolo
Dedalo Fx of Buenos Aires, brought their very cool new Tres Tremolo to NAMM. The pedal has a ton of subdivision and wave shape configuration options (the square wave trem sounds exceptionally yummy.) But it also packs less conventional trem tricks, like the ability to blend optical and solid state tremolo and a cool slow ramp function that you can dial in via a tap tempo switch. It'll be about $180 on the street.
EarthQuaker Devices Spatial Delivery
EarthQuaker always brings something to NAMM that leaves us itching to play (which is saying something, given the way NAMM leaves you craving silence.) But the Spatial Delivery's combination of envelope filter and sample and hold functions enables you to screw with time, space, and tone in insane and oddly conventional and musical ways. Look for a $195 street price.
Otis Amps Trudeau
Otis Amps other new amp is this Trudeau model. The 15 watt beast (let's just say it sounds like it punches well outside its weight class) has two 6SL7 preamp tubes and two 6CZ5 power tubes, which can be switched out for 6973s. The two separate preamps also enable bright/boost switching. It can be run through the onboard 8" speaker or run through the 12" cab. The Trudeau head will be about $850. The cabinet will be about $350.
Boss VB-2W Waza Craft
Been hoping for this one for a while—Boss' VB-2W Waza Craft means the return of one of the most delightfully wiggly, wobbly vibratos that ever was. Like the other Waza Craft pedals we've seen, there's a authentic standard mode and a custom mode, which in this case is a deeper, darker vibrato texture. Expect a $199 MAP price when it hits stores.
Tech 21 Bass Fly Rig
Responding to the call of bassists who have been asking for one since the Fly Rig 5 was introduced, Tech 21 NYC came to NAMM with the Bass Fly Rig in tow. This svelte unit features SansAmp technology as its centerpiece but brings so much more with the onboard octafilter, compression, switchable pre/post boost, chorus, and, yes, a chromatic tuner.
Supro Black Magick
Supro was in the house with a brand-new recreation of a classic, revered amp. The all-tube, high-gain 1x12 Black Magick brings us back to the dimensions, cosmetics, and circuitry of the Supro amps from 1959, just like the one Pagey loaned to the Rock and Roll Hall of Fame museum. The preamp features two channels wired in parallel with independent volumes and a single, shared tone control, and the front-end topology of the original '59 Supro has been streamlined in the 25-watt Black Magick with automatic linking of channel 1 and 2 when using only the first input jack.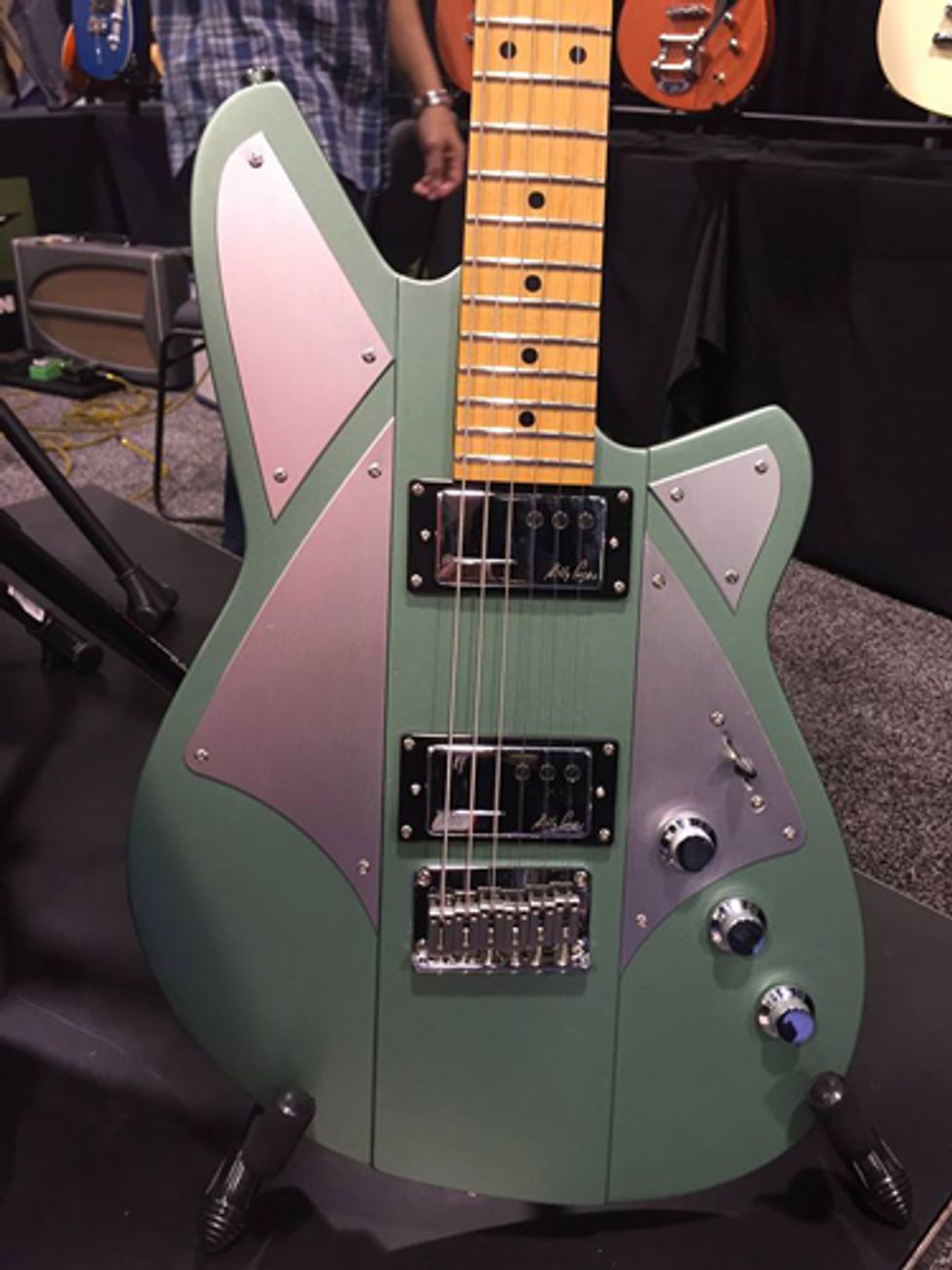 Reverend Billy Corgan Signature Model
Reverend Guitars introduced the Billy Corgan signature model on the NAMM floor to the delight of the 1,000+ attendees who lined up for a glimpse of the Pumpkins guitarist. Available in four finish colors, the axe boast such features as the Railhammer Billy Corgan Humcutters, a chambered korina body, pin-lock tuners, and the eye-catching segmented-aluminum pickguard.
Jackson Ampworks El Guapo
Who likes gain? Jackson Ampworks brought the fire-breathing El Guapo to NAMM. It packs 100-watts via four EL34 tubes. The first channel is based on a '68 Super Bass and the second channel is reminiscent of a hot-rodded Super Lead. Each channel has independent gain and master volume along with a global voicing switch that moves between a JTM, JMP, and the company's own JXN settings. It will street for $2795 and will be available in a few months.
Bogner Amplification Goldfinger 54 Phi
We caught up with Bogner Amplification to check out his new single-channel Goldfinger 54 Phi. In true Bogner fashion, it's a pure rock machine that uses both 6L6 and 6V6 tubes to cop some tweed-style tones. The breakup was harmonically rich and full of warmth. The combo will be around $3k and should be available soon.
Kevin Michael Sable
Kevin Michael Carbon Fiber Guitars is at NAMM with their first full-size carbon-fiber offering. The 14-fret Sable has a 25.5" scale, offset soundhole, a soft-V neck profile, and is outfitted with an L.R. Baggs 9V Element system that's custom EQ'd for Kevin Michael guitars.
Wild Customs
One of the most intriguing new lines of electrics we've seen at NAMM comes from French outfit Wild Customs. Their booth featured a wall full of about two-dozen head-turners, with the newest being this 25.5"-scale Wildmaster Gold Foil Relic. It features an alder body, 12"-radius neck, and Mojo pickups from the U.K.
Santa Cruz Ghost Oak
Santa Cruz Guitar blew our minds with the beauty *and* the amazing story behind this incredible Ghost Oak flattop. The top wood is spruce that was reclaimed from Alaskan tundra after climate-change caused it to thaw. It has been carbon-dated to 1,000 B.C., and its grain is bluish from being frozen—there's no tint in the finish. Meanwhile the oak back and sides were reclaimed from a Czech Republic sand mine and were carbon-dated as being 8,000 years old. Whoa!
Hahn 112
Hahn Guitars unveiled its first new guitar design in 10 years. The hand-built 112 is luthier Chihoe Hahn's imagined middle ground between a Tele and a Strat. It features an ashtray bridge, T-style bridge and S-style neck pickup (both by Lollar), and arm bevel and belly carve, and is available in single- or dual-pickup versions. The sub-$2k street price is well under Hahn's usual prices.
Sauvage Guitars One-Piece Master
The simultaneously elegant and jaw-dropping Sauvage Guitars One-Piece Master is exactly what it says—a stunningly luxurious one-off 6-string whose entire body, neck, and headstock are carved from a single slab of ash olive burl. Its fretboard is of flamed maple, its nut is of fossilized woolly mammoth tusk, its bridge is of the finest Damascus steel, and the pickups are topped with aircraft-grade aluminum fashioned to resemble a fine vintage automobile's rear windows.
PureSalem Pedals
PureSalem Guitars came to Anaheim with three gnarly-as-cuss, limited-edition fuzzes designed in conjunction with 323 Effects. The Attack Captain (left) includes a gate knob and has a bit of a Fuzzrite vibe, the Pink Beard (middle) has a starve knob and 3-position diode switch that may just make it the most versatile of the bunch, and the Honey Bunny serves up Muff-ish vibes. Only 25 will be made, but the company anticipates releasing another series of limited-edition fuzzes after that.