Orange Amplifiers Announces OB1 Bass Amps, Crush Series, and Orange Twister Cable
All Crush models feature Orange's CabSim circuit which faithfully emulates the muscle of an Orange 4x12 cabinet.
England (January 19, 2015) -- With a world first, Orange Amplification has solved the perennial problem of instrument cables tangling and kinking, with the launch of the new Orange Twister Cable. This age old problem has frustrated musicians and inventors since the dawn of electrified music and Orange has had to think outside the box to create a solution that provides freedom of movement on stage without the need for a digital wireless unit.
True performers are not static and cables can knot and prevent them from moving and turning on stage. The innovative Twister Cable incorporates a unique Twister module (patents applied for) which rotates freely preventing the cable from tangling and kinking. The Twister module itself is machined from high quality, lightweight, aircraft grade aluminium, incorporating three sealed internal precision ball races ensuring a robust and reliable cable for performing musicians. The signal transmitted remains unaffected and uninterrupted due to the unit's extremely low noise factor. Featuring the highest grade of oxygen-free copper cabling, the new Twister Cables achieve the same high performance of signal transmission as Orange's existing Professional Cable range, ensuring optimum clarity and articulation with the additional benefit of tangle-free operation.
---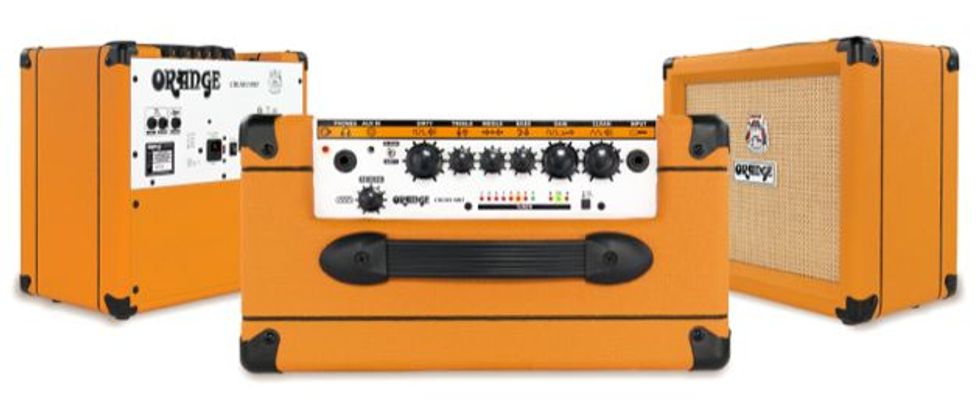 Orange is proud to announce their latest combos with the launch of the new 2015 Crush series. Redefining the benchmark for practice amplifiers, the Crush 12, Crush 20, Crush 20RT and Crush 35RT are primed to introduce guitarists of all levels to the signature Orange sound, whilst offering a genuine alternative to digital modelling.
Building on the success of the critically acclaimed Crush Pro range, Orange has opened up the same high gain, four stage preamp design to the new Crush series, capturing the Dirty channel of their iconic Rockerverb in solid state form. Combined Orange's custom Voice of the WorldTM speakers, the new Crush deliver gut-punching tones with highly responsive overdrive and levels of detailed saturation never before heard in a practice amplifier.
All models feature Orange's new CabSim circuit which faithfully emulates the muscle of an Orange 4x12" cabinet through the headphone/line output, whilst channel switching is available on 20W and 35W models. RT versions feature onboard reverb and an integrated chromatic tuner. The Crush 35RT also includes a fully buffered low-impedance effects loop and more than enough output for the rehearsal room.
With refined styling, rock-solid build quality and enormous, wide-ranging tones, the new Crush takes players back to the heady, no-nonsense days of straight ahead, 'plug and play' analogue amps.
---
New for NAMM 2015, Orange Amplification is delighted to introduce the OB1 Series of class A/B rack mountable bass amplifier heads with the OB1-300 and OB1-500. For years bassists have been combining guitar and bass amps to remarkable effect, adding harmonics and layers of overdrive from a guitar amp to their core bass tone in pursuit of the ultimate live sound. Taking their inspiration from this 'bi-amping' trend, Orange has produced two stunning new models that takes care of this in one package, addressing the demands of modern bassists.
The OB1 splits the input instrument signal into two separate, totally analogue paths. One side amplifies the clean signal, with all the clarity and responsiveness you would expect from Orange. The other adds two stages of gain and increased harmonic content to the upper frequencies, controllable via the amp's Gain knob. These two elements are combined using the amplifier's footswitchable Blend control which adjusts the mix between clean and dirty. The overall sound can then fine-tuned using the active three-band EQ.
The results are truly inspired - a tight, thunderous low end fused with a brutal but versatile gain circuit that maintains definition even at extreme settings. Depending on where the Gain and Blend controls are set, the possibilities are limitless. Punch in the Blend control to achieve anything from a transparent clean boost, to all-out filthy grind, and everywhere in between.
The OB1 is available in both 300 Watt and 500 Watt versions (both 19" 2U), each featuring balanced DI and line level outputs and Orange's classic 'Pics Only' styling.
For more information:
Orange