Electrolytic capacitors are your stomps' first line of defense against bad current. Keep them healthy and your tones will be, too.
Feeding clean power to guitar effects is really important. We do our best to buy the highest quality power supplies that we can find for our precious pedals. Once that clean power is fed into the unit from the wall outlet, it often goes through something called a power filter, inside the power supply. This ensures that the pedal's power needs are being met, and allows each pedal to function properly. It also mostly gets rid of ripple.
---
Ripple (specifically ripple voltage) in electronics is the residual periodic variation of the DC, or direct current voltage, within a power supply using an AC, or alternating current, source, like the electrical outlets in your home or studio. If you're curious, you can read all about DC versus AC current at electrical4u.com/dc-current.
Ripple is wasted power, and has many undesirable effects. It heats components, causes noise and distortion, and may cause digital circuits to operate improperly. Ripple can be reduced by adding the aforementioned electronic filter into the circuitry, to ensure that the pedal is getting the proper juice. There are parts called electrolytic capacitors that do a lot of the heavy lifting in this section of a circuit. You can learn more about capacitors at a variety of websites, including Wise-Geek.com, Techcircuit.org, Beavisaudio.com, and coda-effects.com, and you can see what they look like above.
Ripple is wasted power, and has many undesirable effects.
Those of us who love and cherish old amps know all about capacitors. The first thing I do when I acquire a gem from yesteryear is take it to a qualified amplifier technician to have it thoroughly inspected, and to have the power filter capacitors replaced with new ones. The reason for this is that over time these capacitors can dry out and cause the amp to not function properly, or to just simply stop working. In a worst case scenario, it can even cause electric shock.
When an electrolytic capacitor is going bad, it can appear to be deformed, sometimes bulging out at the ends. If the power filter capacitors—or really any of the electrolytics—look like this, it's a sure sign that it's time to take the amp to a tech for them to be replaced. In some cases, there might not be any visual indication at all when a cap goes bad. Most amp technicians I have dealt with say that a good rule of thumb is to replace these capacitors every seven years or so.
For reference, here's what caps can look like when they're blown:
The electrolytic capacitors in effects pedals also wear out over time. As in amps, caps in pedals are used for multiple purposes. Coupling capacitors let AC pass through them, but not DC. And RC (resistor-capacitor) filter caps cut off frequencies above or below a certain threshold. But the classic role is the one we're discussing here: smoothing out ripples in the power supply. Capacitors have what is known as an "end of life cycle." This means that the manufacturer only guarantees them to remain fully functional for a certain amount of time. That time frame can typically range anywhere from 1,000 to 5,000 hours.
There have been a few occasions when I have purchased a vintage pedal I had been trying to find for ages, only to get it plugged in and find it unusably noisy and/or dull-sounding. I usually re-cap these old circuits before I do anything else to them. This usually brings the pedal's power back to its former glory, ensuring that the unit will behave as it was intended to for another decade or so. I would say nine times out of 10, replacing these capacitors creates a massive difference in clarity and sound. Take a look at one of my recapped circuit boards:
Keeping your pedals healthy internally is a great way to ensure that they will last lifetimes. Having them re-capped is one way to help maintain the integrity of the circuits inside. I am so glad I discovered this when I was early in my career as a pedal user and builder. It has certainly given a few of my formerly fallen soldiers a new lease on life.
Looking for more great gear for the guitar player in your life (yourself included!)? Check out this year's Holiday Gear Finds!
Outlaw Effects introduces their next generation of NOMAD rechargeable battery-powered pedal boards.
Available in two sizes, NOMAD ISO is a compact, versatile tool that offers the convenience of a fully powered board plus the additional freedom of not having to plug into an outlet. NOMAD ISO is ideal for stages with limited outlet availability, quick changeovers, busking outdoors, temporary rehearsal locations, and more!
NOMAD ISO builds upon the legacy of the ultra-convenient and reliable NOMAD rechargeable pedalboard line originally launched in 2018. The brand new NOMAD ISO editions feature eight isolated outputs (1 x 9V DC, and 1 switchable 9V/12V DC) for even more versatility and clean, quiet power. With an integrated lithium-ion battery pack boasting 12800mAh capacity, NOMAD ISO can fuel a wide array of pedals, and will last over 10 hours* on a single charge.
Each NOMAD ISO pedal board includes adhesive hook & loop pedal-mounting tape, eight (8) standard DC connector cables, and one (1) reverse polarity DC cable, giving you everything you need to build your ultimate "off-the-grid" rig. A rugged, road-ready padded gig bag with shoulder strap is also included, to safely protect your gear while you're on the move.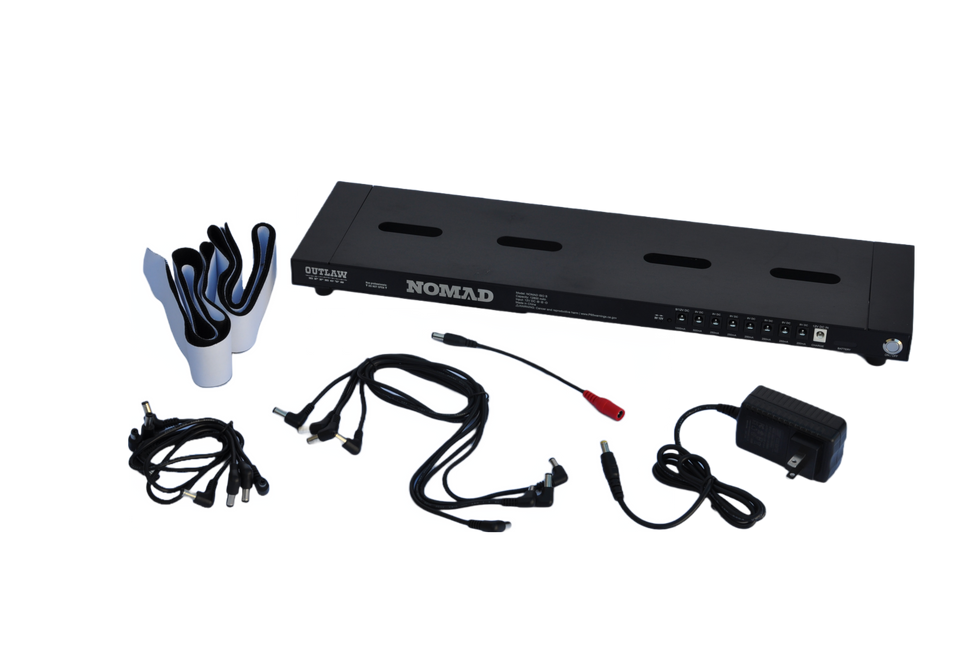 Dunable announce new Minotaur model featuring Grover Rotomatic Keystone tuners.
The Minotaur's DNA is rooted in their classic Moonflower model, which Dunable discontinued in 2017. However, they have long since wanted to create a fresh take on a carved top guitar design, and various attempts to rework the Moonflower led them to a brand new concept with the Minotuar.
Dunable's goal is to give the player a guitar that plays fast and smooth, sounds amazing, and gives maximum physical ergonomic comfort. The Minotaur's soft and meticulous contours, simple and effective control layout, and 25.5" scale length are designed to easily meet this criteria.

Dunable Minotaur!
Features
25.5" scale length
Dual Humbucker
one volume, one tone, push pull for coil splitting
Grover Rotomatic Keystone tuners
Grover Tune O Matic bridge with brass Kluson top-mount tailpiece
jumbo nickel frets
12" fretboard radius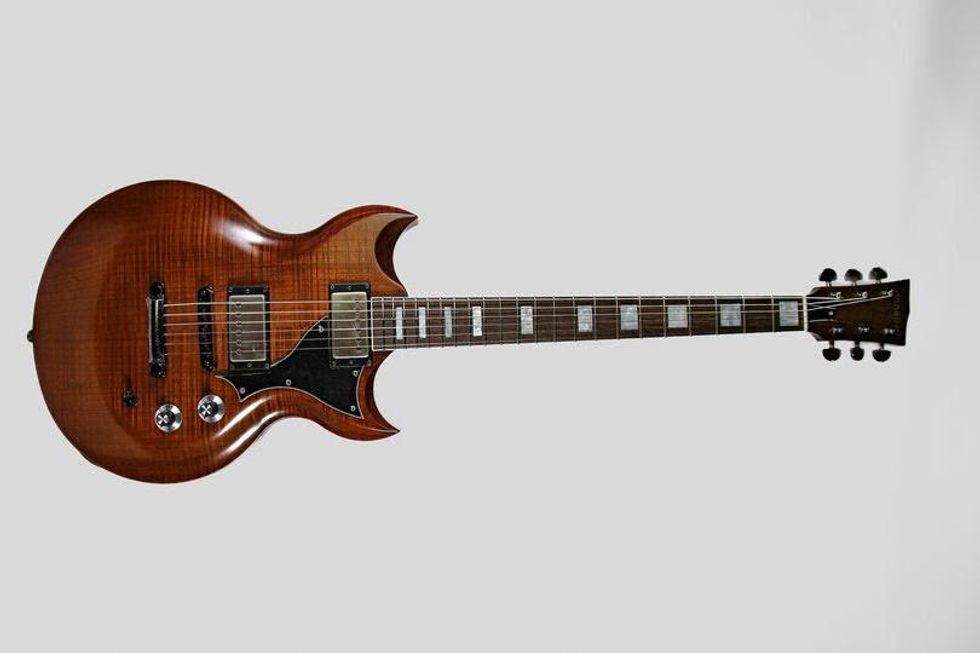 Dunable
This full-amp-stack-in-a-box pedal brings a new flavor to the Guitar Legend Tone Series of pedals, Missing Link Audio's flagship product line.
Adding to the company's line of premium-quality effects pedals, Missing Link Audio has unleashed the new AC/Overdrive pedal. This full-amp-stack-in-a-box pedal – the only Angus & Malcom all-in-one stompbox on the market – brings a new flavor to the Guitar Legend Tone Series of pedals, Missing Link Audio's flagship product line.
The AC/OD layout has three knobs to control Volume, Gain and Tone. That user-friendly format is perfect for quickly getting your ideal tone, and it also offers a ton of versatility. MLA's new AC/OD absolutely nails the Angus tone from the days of "High Voltage" to "Back in Black". You can also easily dial inMalcom with the turn of a knob. The pedal covers a broad range of sonic terrain, from boost to hot overdrive to complete tube-like saturation. The pedal is designed to leave on all the time and is very touch responsive. You can get everything from fat rhythm tones to a perfect lead tone just by using your guitar's volume knob and your right-hand attack.
Features 
Three knobs to control Volume, Gain and Tone
Die-cast aluminum cases for gig-worthy durability
Limited lifetime warranty
True bypass on/off switch
9-volt DC input
Made in the USA
MLA Pedals AC/OD - Music & Demo by A. Barrero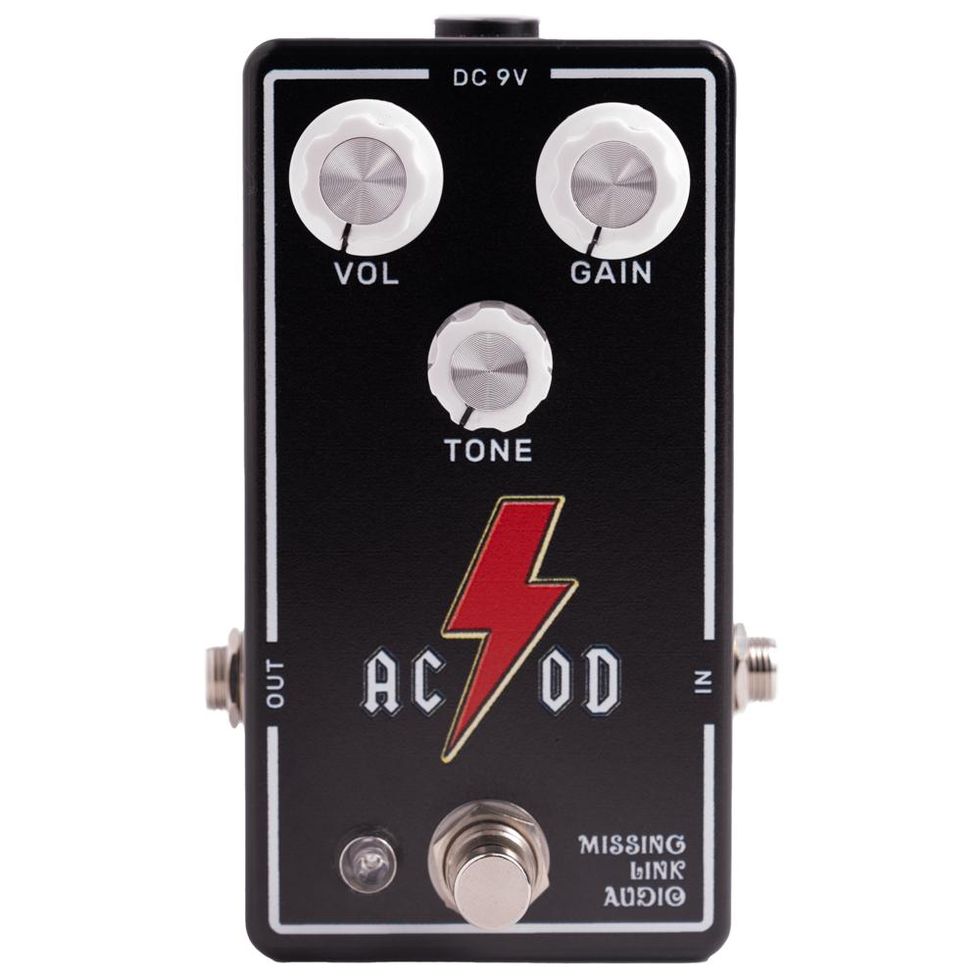 www.mlapedals.com.