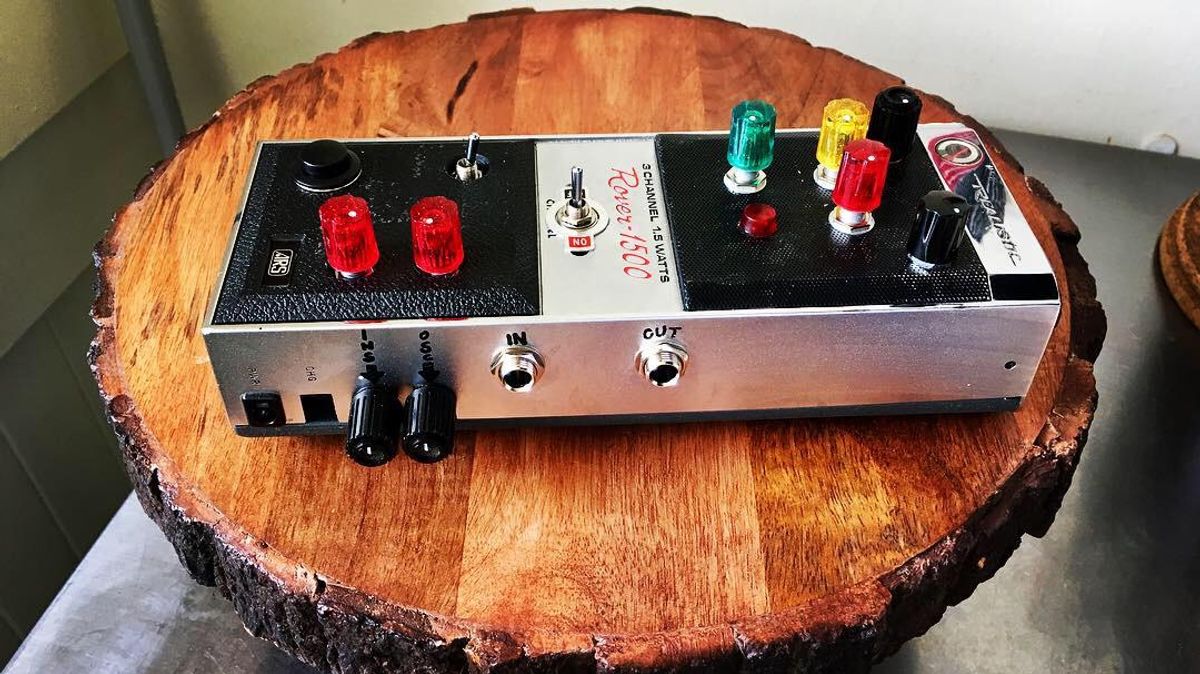 How a walkie-talkie, a tiny city of circuits, and Shrinky Dinks became a mind-blowing dub box.
My phone has become a repository of gut shots and glamour shots of my pedal builds. Once a year or so, when it gets full, I dump the photos onto a hard drive for safe keeping. Every time I do, it turns into an all-day trip down memory lane. I go back—all the way back—to when I first started building pedals, and I look at my progression from then until now. I find it so rewarding to have a visual journal of all the work, love, and intention that I put into them. It's a representation of my learning journey and a reminder of how many friends I have made along the way.
---
Recently, as I was scrolling through, I found photos of what remains my favorite build to this day. I want to share my experience building it. As some of you know, I love to make guitar pedals out of broken, old electronic equipment. It's honestly my passion. In particular, I enjoy gutting busted walkie-talkies and building fun things inside. The old steel cases just look so cool! This particular Realistic Rover-1500 walkie-talkie became a dub-siren-turned-guitar-pedal. I named it the Loe-Fi Dub Siren. You can hear it on Instagram.
A dub siren is a type of synthesizer used predominantly in dub reggae. It is usually a relatively simple oscillator, housed in a box, often allowing for a variety of waveforms to be altered by turning potentiometers controlling pitch, rate, and other parameters. Dub sirens are frequently activated by a button and sometimes have the functionality to toggle between continuous synthesis with one button press or sound-emission-only when the button is held.
I just love it when there is an uninterrupted, smooth flow to a rather complicated build.

I built this oscillator circuit and added a small delay circuit to it as well. It sounded really cool and was fun to jam on during testing. I decided to take it one step further and add a sweep filter so that it could sound just like the King Tubby records I took my inspiration from. After I had it all finished, I had a thought: What if I add an input jack? Then, I could play guitar, or whatever, through it and play along with the oscillator. It took some figuring out, but eventually I got it all working. It was a pretty complicated build in the end.
I took my string-of-many-circuits that was ready to go and began the process of figuring out where everything was going to fit inside the walkie-talkie enclosure. This is probably the biggest challenge of all when building inside salvaged enclosures. They are often molded and, therefore, have a lot of odd protrusions to work around when considering where all of the circuit boards can be mounted. I also needed to figure out where the controls would go.
Next, came the drilling. Let me tell you, drilling steel is no fun! Not for me, anyway. Why did I have to put so many controls on this thing? After about an hour of careful drilling, the walkie-talkie was ready for population. I carefully followed my notes and built a little city inside. Then, I moved onto wiring. Many folks who build electronics loathe the wiring process, but I love it and enjoy the challenge of doing it neatly. Nothing gets me as excited as a gut shot with really tidy wiring.
This cool, jungle-themed badge on the side of Aisha Loe's Loe-Fi Dub Siren was painstakingly made from Shrinky Dinks. It took about 20 tries to get right.
After all the hardware and circuit boards were mounted, I tested the finished work. I made a few little last minute tweaks and deemed it ready for knobs. I ridiculously obsess over knob selection. I think it's a pretty common thing among pedal builders, actually. The knobs tie the whole thing together visually. A lot of thought goes into not only aesthetics, but also how they feel. They're going to get touched a lot, so they should feel nice!
As a finishing touch, I made a name badge for the finished pedal … out of Shrinky Dinks! (If you don't know that these are, google them. They're cool!) Yes, you read that correctly. I don't know why that idea popped into my head, but it did. So, I went with it. I learned that it takes about 20 tries to get it right! I vowed to never do that again. It does look pretty sweet, though.
I learned so much in the process of putting this pedal together. Sometimes my experiments lead me down paths that dead end. I learn a lot, whether it becomes a pedal at the end of my journey or not. This one gave me a win at every turn. Every idea and modification I had for it worked out so well. I just love it when there is an uninterrupted, smooth flow to a rather complicated build. The experience of building this dub siren is a cherished memory, and the pedal now belongs to one of my favorite musicians of all time. Dreams do come true! This build will always remind me of that.
King Tubby - Real Gone Crazy Dub (Crazy Baldhead Dub)
The Tour Collection is defined by a minimalistic, vintage-inspired aesthetic, top-of-the-line components, and a simplified electronics configuration featuring new, custom pickups by Supro.
Available in the collection is the 16-inch-wide double-cutaway DC, the 15-inch-wide single-cutaway SS, and a 14-inch-wide Mini DC. Each model comes in three finishes: Slate Blue, Solid Wine, and Solid Black.

Every detail of the Tour Collection was chosen to achieve retro minimalism. Small diamond fingerboard inlays match 1930s-style diamond f-holes, and an undersized Throwback Scroll-style headstock achieves excellent head-to-body balance. The collection also features satin nickel hardware and custom Vintage Deluxe Grover tuners with a 15:1 gear ratio. Each model also features a simplified two-knob electronics configuration with 50s-style wiring to retain top-end clarity upon rolling off the volume knob. The neck shape in the Tour Collection is similar to the slim C-shape found throughout the D'Angelico line, but with more thickness in the shoulder to allow for snug hand fit as well as extra sustain. Medium Jumbo fret wire and a 12-inch fingerboard radius allow for quick navigation of the fingerboard while also prioritizing comfort for both rhythm and lead playing.
In 2020, Supro and D'Angelico became part of the same family of brands under Bond Audio. At that time, EVP of Product Ryan Kershaw and CTO Dave Koltai began designing custom pickups under the Supro name for the Tour Collection project.
"Supro Bolt Bucker pickups were designed to offer the tone of the most sought-after vintage "PAF" pickups from the late 1950's. Scatter wound, just like the originals, Supro Bolt Buckers utilize 42-gauge enamel wire along with a mixture of Alnico II (neck) and Alnico V (bridge) magnets to provide the perfect balance of warmth and clarity with unrivaled articulation and note bloom." - Dave Koltai, Chief Technology Officer at Bond Audio.
Introducing the Excel Series Tour Collection | D'Angelico Guitars
All models are available for pre-order and will be in stock this holiday season. US MAP $1499. For more information, please visit dangelicoguitars.com.
The Cream Amp is a handmade low-gain overdrive pedal based on the Electra Distortion circuit.
The Cream Amp was designed to deliver full dynamics amp-like dirt to your clean and crunch amp or to another pedal in the chain without altering your tone too much. To add some grit at low volume or to make your amp sound more full, use the Drive control to set the gain and the Level control to match with your amp.
​Two knobs to control Volume and Drive
Shielded inputs/outputs to avoid RF
Filtered and protected 9VDC input
Daisy-chain friendly
Current draw: 7.5mA
The Cream Amp pedal is hand-made in Barcelona with carefully selected components and has a price of 100.00€. The pedals are available and can be purchased directly from the Ananasheadonline store.
For more information, please visit ananashead.com.
The Red Sea was born out of the vision to provide complex signal routing options available to the live/performing musician, that up until now, are only found in a studio mixing environment.
​Introducing the Red Sea, an all-analog signal routing matrix, designed for countless stereo and mono signal path routing options. The Red Sea was born out of the vision to provide complex signal routing options available to the live/performing musician, that up until now, are only found in a studio mixing environment. The Red Sea has accomplished this in a compact, easy-to-use, and cost-effective solution.
Wet | Dry | Wet
The Red Sea gives you the ability to run a FULL Stereo wet dry wet rig using only 2 amps or just 2 signals to the FOH, while also giving you complete control over your Wet & Dry mix! Use the Blend knob to control the overall mix between stereo wet effects and mono dry/drive signals.
Stereo Dual Amps
Run dual amp modelers if full stereo w/ stereo effects. Gone are the traditional ways of one amp in the Left channel and another in the Right channel. Now use the Red Sea to seamlessly blend between two separate amps in true stereo. Think of this as a 2-channel amp where you can blend anywhere between both amps.
Stereo Parallel FX
Red Sea has two independent stereo FX loops. Use each FX loop to run stereo delay's and reverb's in parallel, where each effect does not interact with each other. Huge soundscapes can be achieved with washy reverbs and articulate delay repeats while being able to blend between each FX loops mix level.
The Red Sea can also do the following routing options:
Wet | Dry utilizing a single amp
Clean Wet | Dry | Wet (drives DO NOT run into wet effects)
Wet | Dry | Wet with dual delays (one in the L channel & other in R channel)
Parallel Dual Amps (run dual amp modelers in FULL stereo)
Convert a tube amp's serial FX Loop to a parallel FX Loop
Stereo and Mono analog dry through (avoid latency in digital pedals)
Stardust V3 was designed to capture the sound and response of 3 distinct amplifier models.
Stardust V3 was designed to capture the sound and response of 3 distinct maxed-out amplifier models. An all-analog signal path with discrete gain stages featuring MOSFET transistors provides juicy overdrive tones with great note separation that clean up to that sparkly sound that we all love and heard in recordings of the past. Set gain and tone and control everything from your guitar. Sparkly clean to crunchy mean are all there.

You can select the amplifier voicing via the onboard toggle switch.
BSM: Voiced after a blackface amp head that was primarily targeted for bass guitar players but got famous for electric guitar classic rock tones.
VLX: Voiced after a chimey 2x10" combo offering the perfect amount of controllable crunch
DLX: Voiced after one of the most popular low wattage 1×12″ combo amps that have found their way in countless recording studios and clubs around the world.
​Stardust V3 now comes with top-mounted jacks and soft-click true bypass via a high-quality relay. The pedal has loads of output volume and enhanced headroom provided by 18V DC (boosted internally) so that it can also be used as a preamp going straight into your Power Amp or AudioInterface when combined with a separate speaker simulation device.
Street price: 199 Euro / 199 USD.
For more information, please visit crazytubecircuits.com.