Vintage Vault: 1964 Rickenbacker 325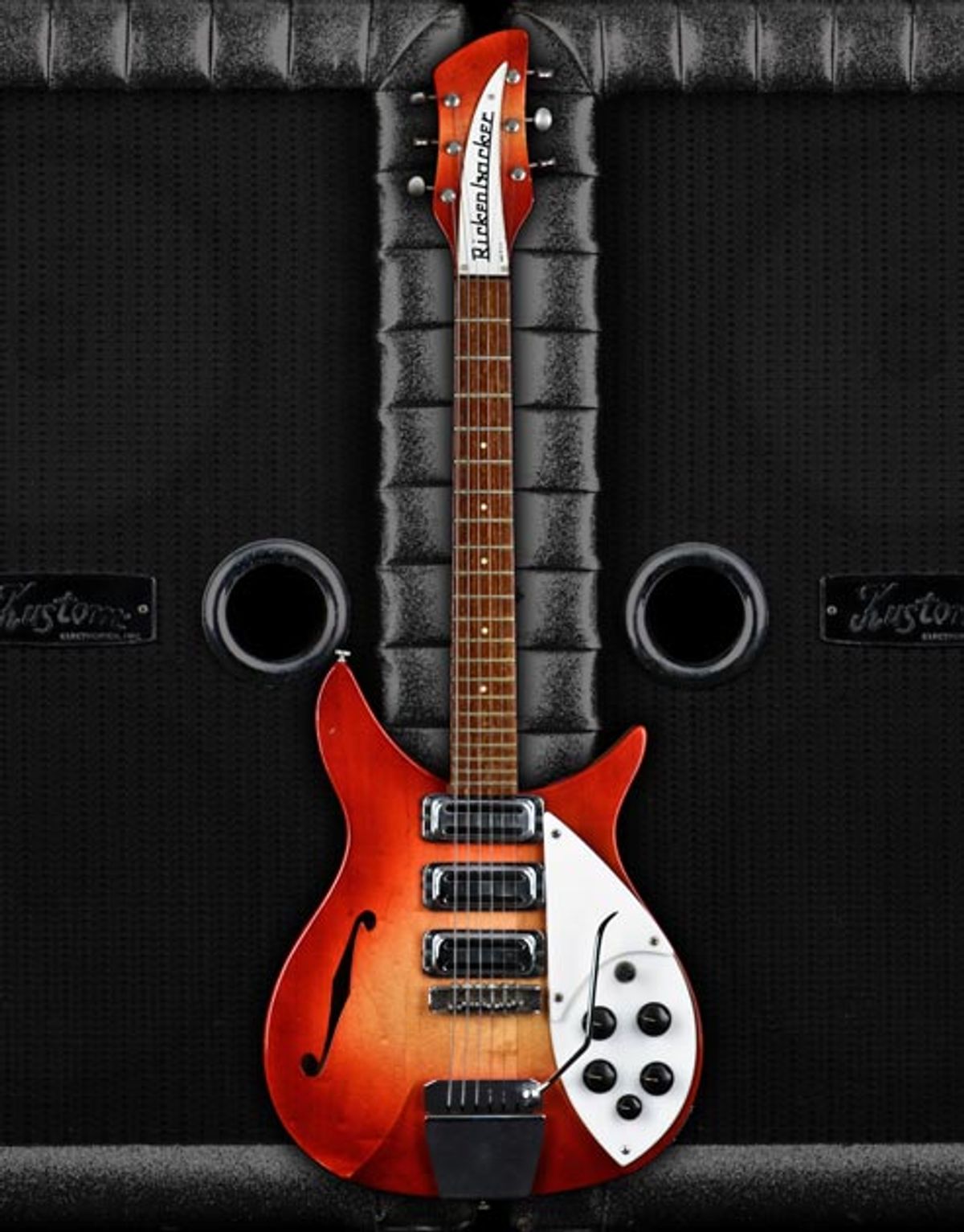 A line of guitars used by John Lennon and John Fogerty was named after the company owner's cat.
F.C. Hall, owner of Radio & Television Equipment Co. (Radio-Tel), purchased the Electro String Company from Adolph Rickenbacker in 1953. Hall overhauled the business and began focusing on standard electric guitars rather than the steel guitars the company pioneered. By 1958 he had developed a new line of thin hollowbody electric guitars known as the Capri series (named after the Hall family's cat). German-born guitar maker Roger Rossmeisl (hired in 1954) was responsible for the unique design of these instruments, a distinctive look seen in most Rickenbackers to this day. The Capri series consisted of Models 310-375. Models ending in zero had no vibrato, while those ending in the number five had vibrato.
The first Capri model announced was the three-quarter-size 325. This petite, lightweight guitar didn't achieve its intended popularity until it was seen in the hands of Beatle John Lennon. Lennon acquired his natural-finish 1958 325 while the Beatles were in Hamburg, Germany.
The Beatles' growing popularity caused a sudden demand for Rickenbacker guitars, initially in England. To meet this need, the British company Rose Morris became Rickenbacker distributors. The export version of the 325 was known in Rose Morris's catalog as the Model 1996. Like most other export models, it had a Fireglo finish and a traditional f-hole. Lennon used one of these as a backup to his more famous solid-top Jetglo (black) 1964 325.

Signature details include three "toaster" single-coils, a classic f-hole, and Rickenbacker's Ac'cent vibrato.
The other rock-'n'-roll legend known for using a 325 is John Fogerty of Creedence Clearwater Revival. His Fireglo 325 can be heard playing searing lead on CCR's covers of "Suzie Q" and "I Put a Spell on You." The hollow body of the Rickenbacker combined with Fogerty's Kustom amp produced musical, controlled feedback on both the recorded and live versions of these songs.
The 1964 325 pictured has the features most often associated with the export Rose Morris Model 1996: 3/4-scale, a one-piece maple neck with an unbound, 21-fret, lacquer-finished rosewood fretboard, three "toaster" single-coil pickups, a hollow maple body, f-hole, and Ac'cent vibrato tailpiece.
The 1964 list price was $389.50. The current value for one in excellent all-original condition is $10,000. Late-'60s Kustom 2x12 cabinets provide the backdrop for this 325.
Sources for this article include by
Rickenbacker
by Richard R. Smith and
The Rickenbacker Book: A Complete History of Rickenbacker Guitars
by Tony Bacon and Paul Day.