More Voices Than Hank Azaria
How the L6-S Custom became Gibson's most versatile tone machine.
What do Al Di Meola, Carlos Santana, Paul Stanley, Dave Davies, Prince, Pat Martino, and Keith Richards have in common? They've all played Gibson's L6-S Custom—an extremely versatile tone generator with a variety of voices wide enough for that diverse cast.
---
This model, designed in 1972 and released in '73, was the first collaboration between guitar- and pickup-designer Bill Lawrence and Gibson. The idea was to make a very inexpensive solidbody electric that could compete with more costly models—and especially with Fender's highly successful offerings. That's a pretty simple concept, but the L6-S is not a simple instrument. It has a complex pickup-control system, built into Gibson's first solid-maple-slab guitar, with a 3-piece, two-octave set neck, with 24 frets—Fender style—rather than the company's usual 22.
This Gibson really sticks its neck out. In the interest of competing with Fender, it's got 24 frets instead of the company's usual 22.
Until it was discontinued in 1980, more than 18,000 were made, and it's considered one of the finest instruments from Gibson's notorious Norlin era. Instead of the usual 3-way pickup selector, the L6-S uses a 6-way rotary switch to control its tones. The pointer on its chicken-head knob faces down, and rolls from right to left (or bottom to top), looking down the guitar's front. In position 1, both pickups are active and in series. Position 2 fires up only the neck pickup. Spot 3 runs both pickups, in parallel. Position 4 puts both pickups in parallel and out of phase, with the neck pickup's bass limited by a capacitor. (The sonic result is similar to the 2 and 4 slots on a Strat pickup selector.) Spot 5 is the bridge pickup alone, and position 6 is both pickups in series and out of phase.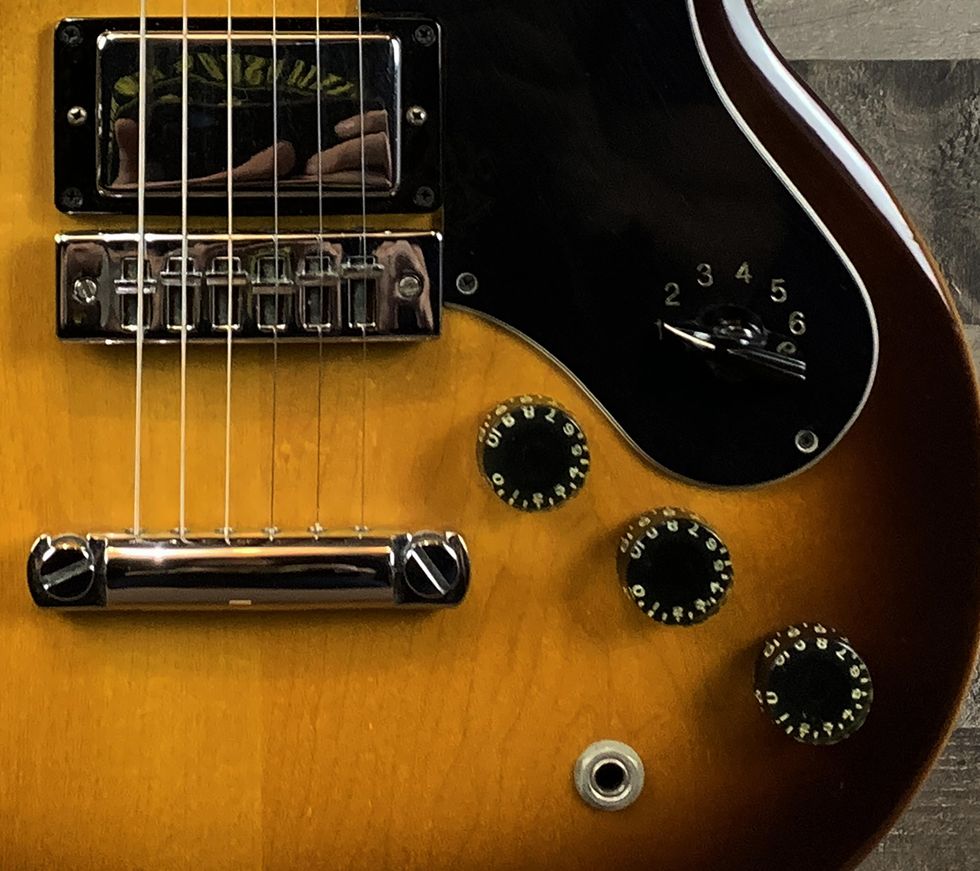 This is where the action is on a Gibson L6-S Custom. The 6-way selector handles pickup configurations for a wide variety of core tones, while the dials are (top to bottom), master volume, midrange, and bass/treble. And there's the bridge Super Humbucker, which was wound a tad hotter than the neck pickup.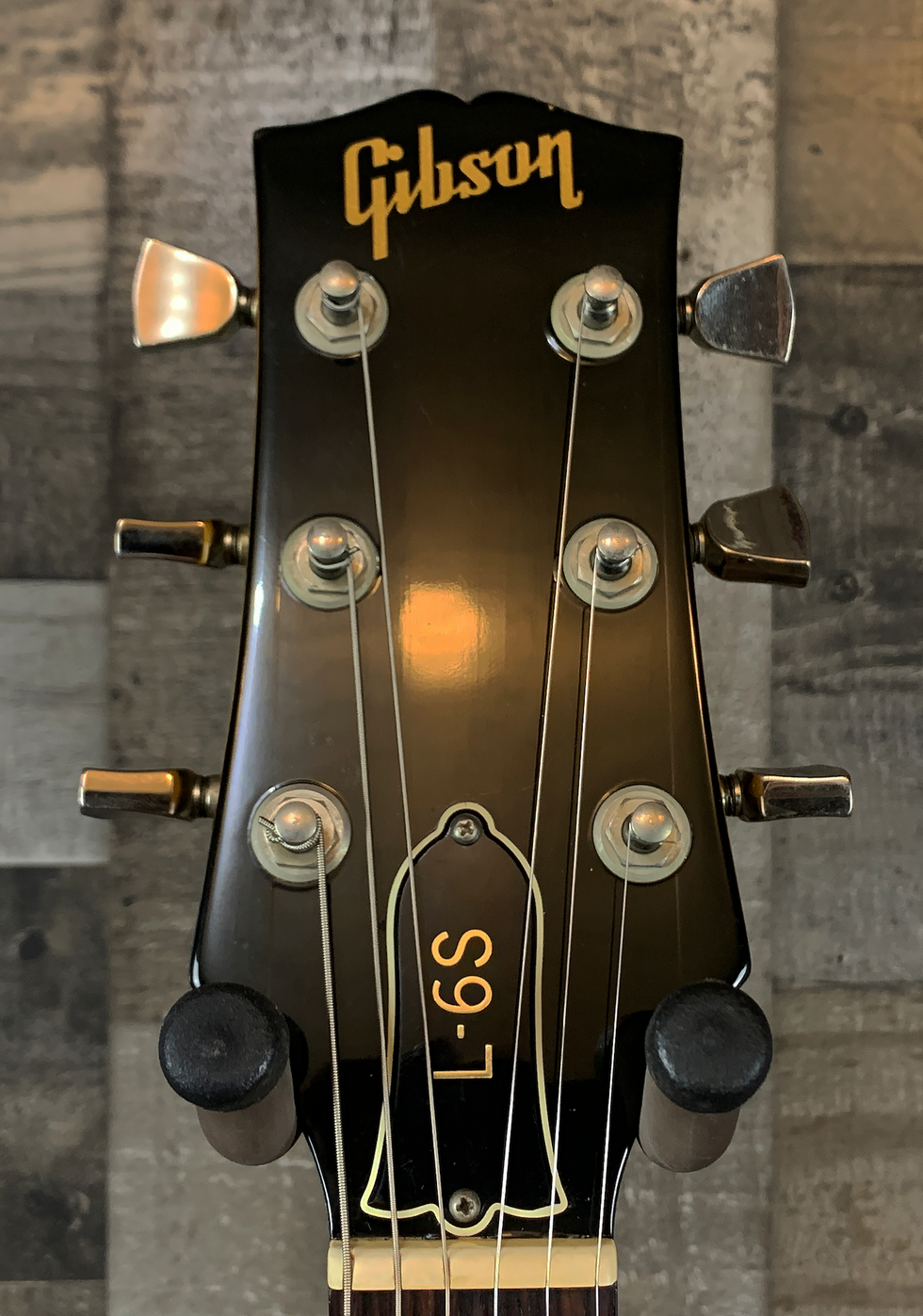 Note the manufacturing quirk on this guitar's headstock. While the guitar is properly designated the L6-S, the nameplate here reads L-6S.
In Lawrence and Gibson's estimation, a guitar this different also required a different set of control dials. The one highest up on the body is a master volume, with a midrange control as the center dial, while the lower dial is a tone control that affects treble and bass, with 10 providing the most treble. The L6-S Custom sported Lawrence's pickups, of course—a pair of his ceramic-magnet Super Humbuckers, with 4-conductor split-coil wiring to accommodate all those tonal variations. At their introduction, these pickups were about as hot as they got, although competitors like DiMarzio and Seymour Duncan were also entering the game. The bridge for the guitar is supposed to be a standard Tune-o-matic, but our model has a Gibson harmonica-style bridge, named for its distinctive shape. Since this L6-S is from the final year of production, that harmonica bridge is likely what was available in the parts bin at the time.
Instead of the usual 3-way pickup selector, the L6-S uses a 6-way rotary switch to control its tones.
The L6-S's debut price was $495, which climbed to $649 in its final production year. In 1980, a new Fender Strat had a list price of $995, so this guitar remained an able competitor. Two more L6-S models evolved from the line. In 1974 Gibson issued the L6-S Midnight Special, with a bolt-on neck, a Schaller harmonica bridge, a strung through-body, and a 3-way pickup toggle with master volume and tone dials. At the same time, Gibson also issued the set-neck L6-S Deluxe, with the same controls as the Midnight Special, but with two of Lawrence's ceramic "tar back" pickups, which got that name due to a black epoxy potting—their primary difference from other Super Humbuckers.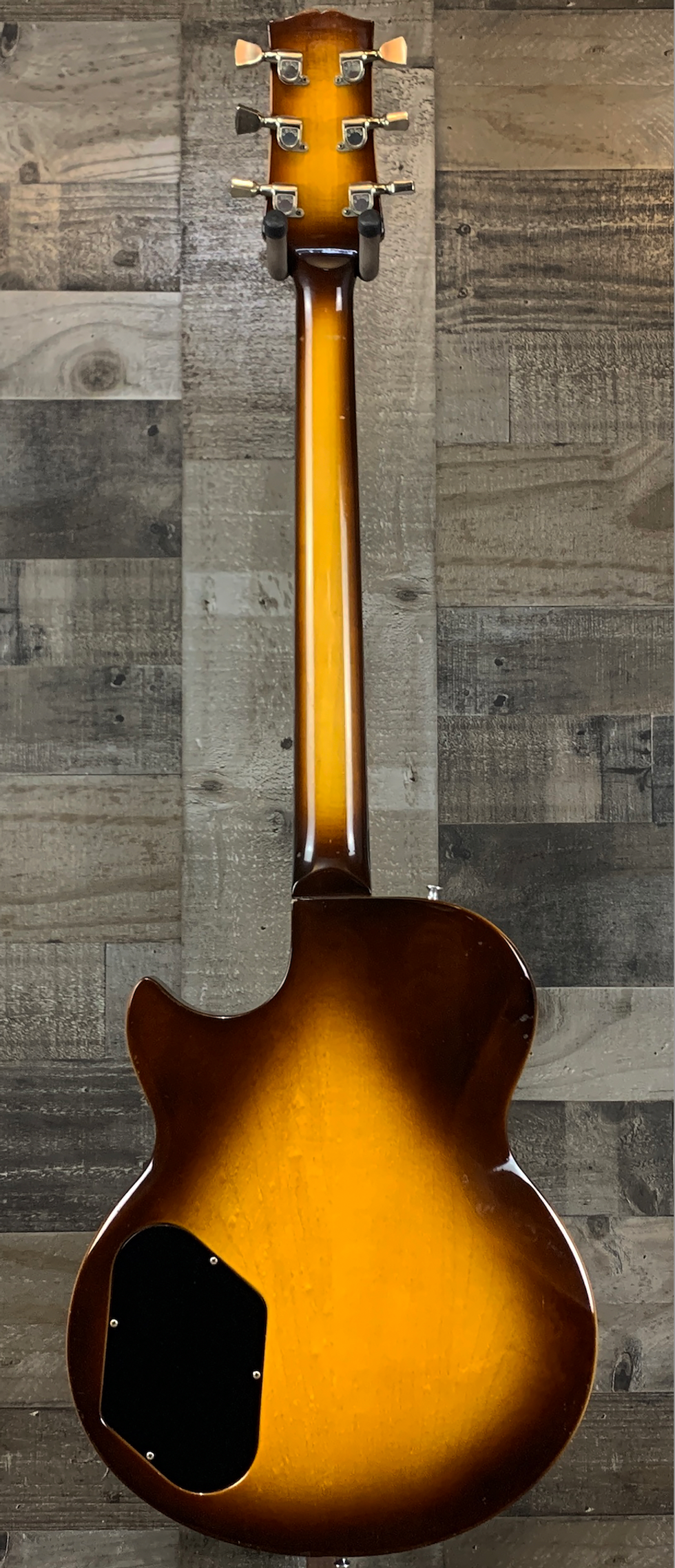 With relatively little back wear, this guitar either had a careful owner or owners, or saw little action. If that's the case, it's a pity, but the L6-S seems ready for anything.
This month's guitar comes in Gibson's classic tobacco burst finish, but the L6-S Custom was also available in natural, ebony, silverburst, and cherry sunburst. The asking price is $1,495, which falls on the more affordable side of today's range of about $1,400 to $1,700 for the model. Our L6-S Custom is a charmer to play. It balances extremely well, with a lower bout of about 13 1/2" across and 1 1/4" thick. And the neck feels better than of lot of Norlin-era necks, with a thin taper below the headstock that gradually widens. For hot vintage Gibson sounds from the '70s, it's hard to beat the L6-S Custom.