State of the Stomp: Less Really Can Be More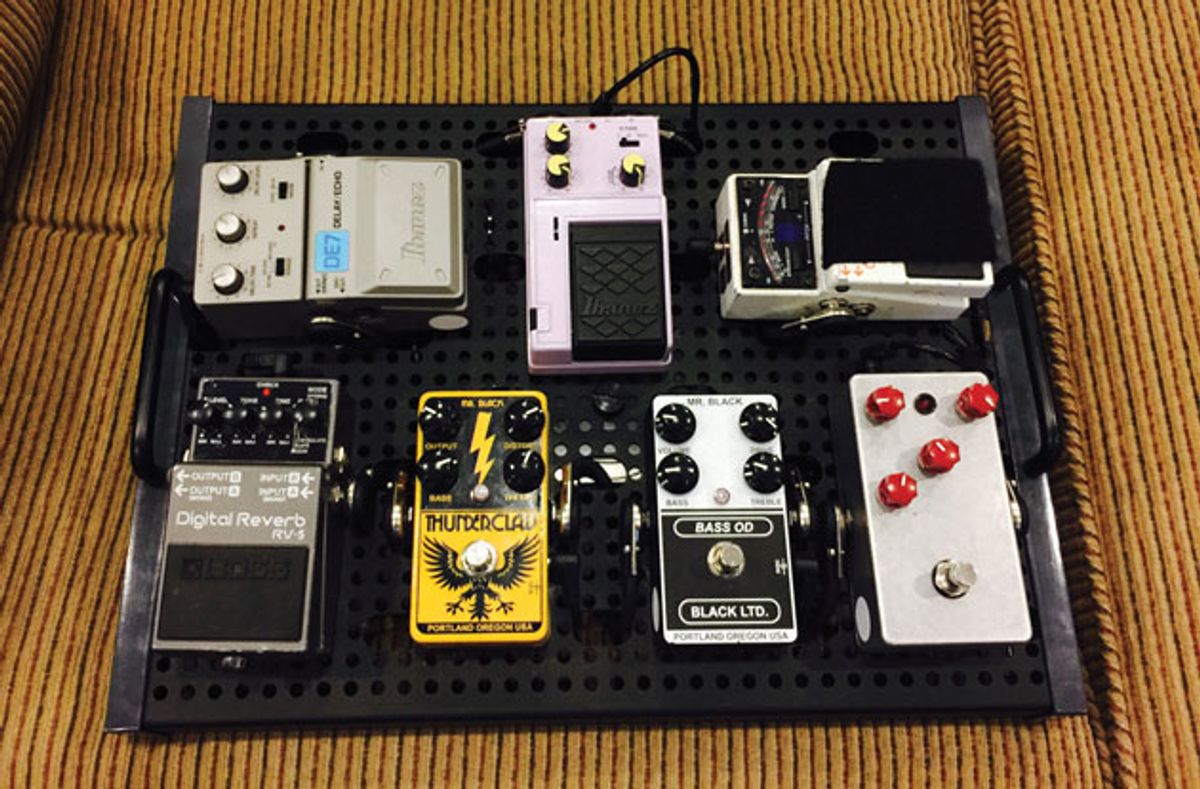 Is your pedalboard overpopulated?
I remember my first pedalboard. It was simple and more dependable than the systems I've used over the past five to 10 years. Everything powered up on the Dunlop Juice Box I got from Mars Music. And the random hand-me-down 1/4" patch cables worked, although they were all longer than the distance needed. It sounded just fine.
I think simpler is better. I'd argue that a few well-chosen effects create the incentive to strive to be a better, well-rounded guitarist. There are fewer obstacles when troubleshooting a malfunctioning setup. And there's less opportunity to hide behind effects, so it'll weed out the jabronies. Spontaneous noises are great, but if you stumble on a sound you like in the middle of a set, what are the chances of recreating that sound?

My best guess is that all of my modern-day sonic preferences started with a Boss RV-3 Digital Reverb/Delay, a Line 6 DM4 Distortion Modeler, a Boss PH-3 Phase Shifter, and a Boss CE-5 Chorus Ensemble. All that stuff could be purchased at the big box store of the day, which, in our town, was Mars. And long before I had a notion of DIY, brands that seemed durable and unbreakable, such as Boss and Ibanez, had great appeal. It didn't matter how hard you stomped on those things. They'd turn on and off, and make the noise they were supposed to make. And I bet no one could measure the loss of fidelity or inaccuracy of effect based on the mass-produced pedal I was using. The sounds were the sounds. It was fine.

With new pedal builders popping up every year, the options are now seemingly endless. And if you have the means, you can buy and buy, exploring new sounds and the minute differences between similar effects. Or you can trade and swap and spend your time sweeping the marketplace for a good deal on that golden, mythical noisemaker. That's all fine. It keeps us in business. And I'm guilty of it, too. I love gear. But when it comes to pedals, I can't seem to get away from what I know best and what I'm most comfortable with.

After two years of not playing out, I finally assembled a new pedalboard. All of the key elements are the same as when I tore apart my previous, faltering board, except the experimental fluff. The fluff got trimmed. Now when I plug in, elated comfort washes over me, since each pedal has a purpose and specific parameters for use.
I'd argue that a few well-chosen effects create incentive to strive to be a better, well-rounded guitar player.

Although I don't consider myself practical, I'm increasingly proud of the practicality of this setup. There are two to three overdrives, in increasing gain increments and different tonal flavors, that can be used independently or in conjunction for a wide variety of drive ranging from subtle to substantial. I have a modulation effect, chorus, or flanger to get some movement on lead lines as well as boost. There are reverbs: one with a short setting and one with a longer 'verb, or a single unit with two selectable modes. The board's capped with a delay pedal that has some cool sounds. That's the experimental part. And that's enough.

Now, I am by no means saying that my setup is what every setup should be. For some people it's not enough and for others it's too much. My discovery in this type of setup is that I'm not tempted to hide behind the effects to mask poor or unconfident playing. I choose my notes wisely. There can only be calculated notes or, in a desperate (or possibly inspired) moment, intentional noise. In order for this to work, I have to spend time exploring a select group of sounds so that their employ is precise and configured. It becomes intentional and pushes me to get more out of less.

Before there were hundreds of pedals to choose from, it was important to learn the notes, take lessons, read the books, and put the time into practicing—plugged straight into an amp—to pursue the desire to become a better player. And sure, stuff got in the way, like searching for a different guitar or amp, cleaning the Velcro on a pedalboard, etc. Instead of figuring out a new song or practicing tasteful speed sweeps, there are a thousand guitar-related things to do that won't make us better players.

Even as I write, a not-so-deep-down voice counters my idea that simplicity equals better playing and easier focus equals happiness. There's no true right or wrong in the gear world. The mess and chaos inspire some, and that helps inform their art. I say go for it—keep doing what you're doing. But if you're like me and feel at a loss or frustrated, try simplifying. Shed the weight. Get back to playing the notes. Learn to shred again.