Rig Rundown: Asleep at the Wheel's Ray Benson & Cindy Cashdollar
The Kings of Swing talk Texas tone tools before a recent performance at the Grand Ole Opry.
Ray Benson founded Asleep at the Wheel over a half a century ago in 1970. Over the course of his career, he's won 9 Grammys while turning several generations onto Western Swing.
---
PG's John Bohlinger hung with Benson and his longtime lap-steel player Cindy Cashdollar before a recent Grand Ole Opry performance in Nashville.
[Brought to you by D'Addario XS Strings: https://www.daddario.com/XSRR]
Ray Benson's Fender Custom Shop Texas Telecaster
Ray Benson's big body Texas Telecaster from the Fender Nashville Custom Shop features an ebony fretboard and a push-push coil tap for neck pickup in the tone control. The volume control is a stacked control with a 500k pot in the neck humbucker and a 250k pot for Tele pickup. About this Tele one-off, famed Fender guru Tim Shaw says: "To accommodate Ray's wish for a larger guitar without totally changing the Tele's geometry, Josh Hurst drew up a body that's the same in the neck joint/cutaway area but is larger in the lower bout. The body is ash, and it's not chambered. This body shape was the basis for the Acoustasonic Tele.
"Ray wanted an ebony fingerboard, so we had our colleagues in the Corona R&D model shop make him a custom neck," Shaw continues. "He also wanted a neck humbucking pickup but didn't want to overwind the bridge pickup to match the higher output of the humbucker. I wound a set matching a mid-'60s spec Tele bridge pickup with a custom neck pickup (that also has a coil split on an S-1 switch.)"
Like all of Benson's electrics, this Tele is strung with John Pearse Strings (.012, .014, .017, .036, .040, .052).
Ray Benson's 2016 Collings SoCo 16 LC Deluxe
This 2016 Collings SoCo 16 LC Deluxe is a semi-hollowbody built with Collings' proprietary laminate recipe. It features a long-scale (25.5") maple neck with Collings larger peg head, a custom neck carve, ebony fretboard, a Lollar Imperial Low Wind neck pickup, and a Lollar Novel T bridge pickup.
Ray Benson's Collings Eastside Jazz LC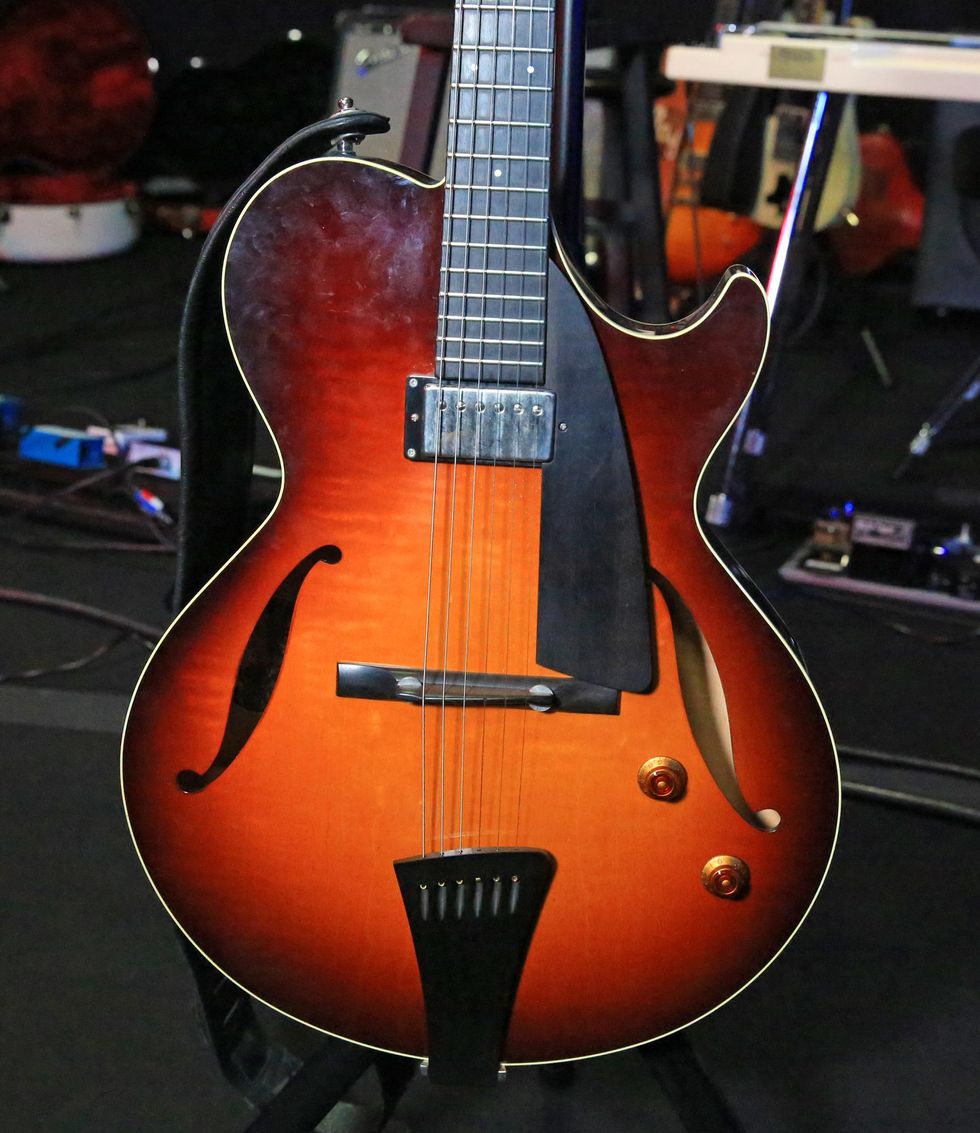 This Collings Eastside Jazz LC is stock from the shop except for the neck finish, which was sanded down on the back of the neck.
Ray Benson's Gibson J-200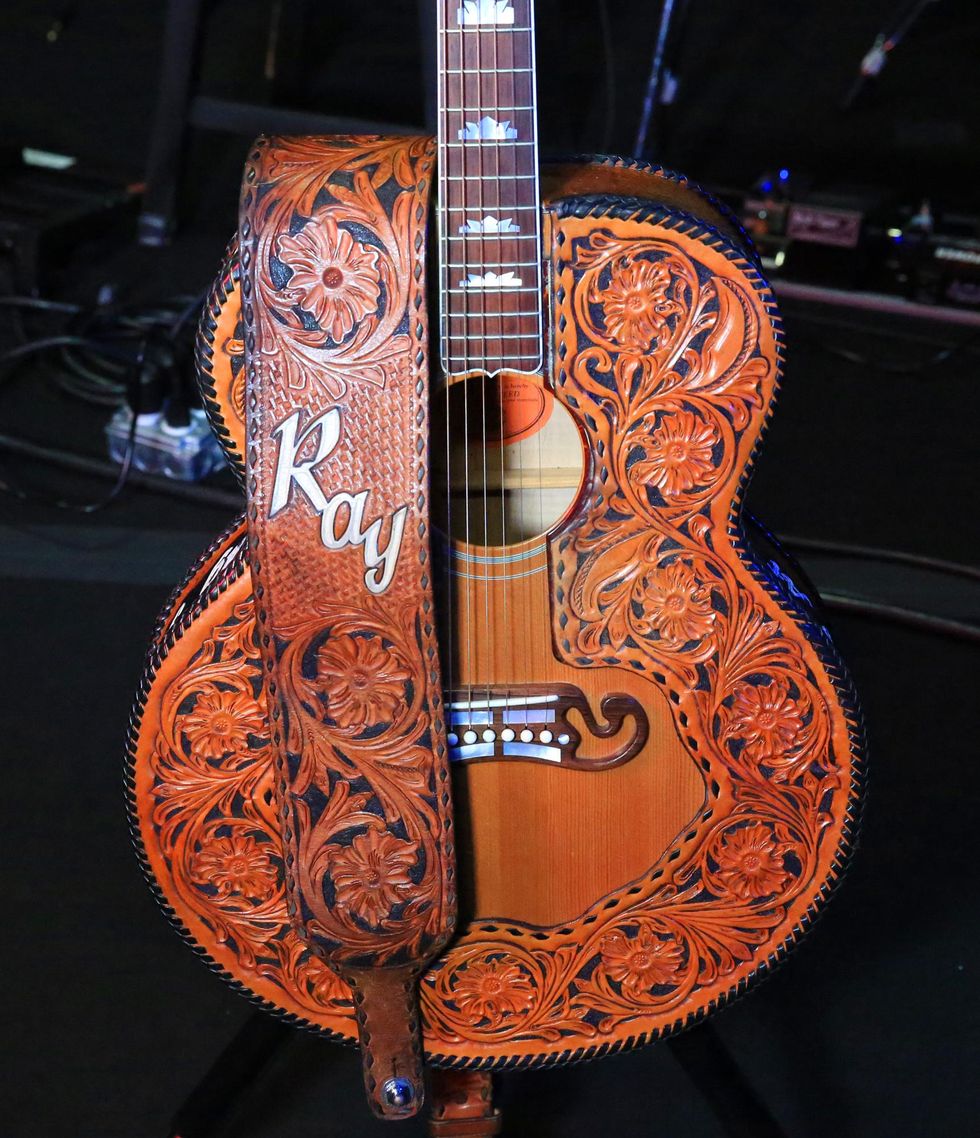 Benson's Gibson J-200 features leather work by Kerry Wilcox and a Barbera Transducer pickup.
This Elvis-esque box stays strung with John Pearse Bronze Wound mediums.
Ray Benson's Guild D-55
Benson brings two acoustics on tour, the J-200 and this Guild D-55 with a Barbera transducer pickup. The Guild is also strung with John Pearse Bronze Wound mediums.
Ray Benson's Pedalboard
Benson is not an effects player. He uses a Shure ULX-D wireless system with a P10R+ bodypack receiver and a Radial Engineering Reamp impedance boost. For routing the guitars, he uses a Rupert Neve RNDI and a Radial BigShot i/o. Benson's huge Boss TU-1000 Stage Tuner is visible from outer space.
Ray Benson's Fender Super Reverb
For amplification, Ray Benson goes with a stock Fender '65 Super Reverb reissue and uses Planet Waves cables and Fender 354 medium picks.
Cindy Cashdollar's SteelMaster D8 Doubleneck Lap Steel
For the Grand Ole Opry gig, Cashdollar was playing a SteelMaster D8 doubleneck lap steel with eight strings on each neck, one tuned to E13 and one tuned to C6. This steel was built by well-known steel guitarist Herb Remington, revered for his work with Bob Wills and the Texas Playboys band from 1946 to 1949 (he also composed the popular instrumental "Remington Ride").
The Steelmaster D8 features an ash body and George L single-coil, 15k pickups. The scale length is 24 1/2". Cashdollar uses John Pearse Strings: The C6-tuned neck is strung with a Hawaiian Steel Guitar #7650 8-string set. The E13 tuning set can be ordered as separate strings, which they package as a set. The gauges for each tuning are as follow:
Neck #1 with C6 tuning:
G – .011
E – .014
C – .018
A – .024w
G – .030w
E – .036w
C – .044w
A – .054w
Neck #2 with E13 tuning:
E – .013
C# – .016
B – .018
G# – .024w
F# – .030w
D – .038w
G# – .052w
E – .064w
Cashdollar uses a John Pearse slide bar (3 1/4" Thermo-Cryonic Tone Bar), and thumbpicks, as well as Acri Picks fingerpicks.
Cindy Cashdollar's (Asleep at the Wheel) Pedalboard
Cashdollar has several bigger pedalboards, but for this Opry gig she went with a small travel board. It starts with a Durham Electronics Sex Drive clean boost running into a Telonics FP-100 Multi-Taper volume pedal, which feeds an Electro-Harmonix EHX-2020 tuner and her amp. A Boss DD-3 Digital Delay lives on the board but runs through the amp's effects loop. A Voodoo Lab Pedal Power 2 Plus powers it all.
Cindy Cashdollar's Telonics TCA-500C
Although Cashdollar has used various Fender amps in the past, she's currently plugging into a new Telonics TCA-500C with a 15" speaker.