A dozen pro players share the story behind the first 6-string they ever had. Read about Al Di Meola's Christmas Guild, Paul Gilbert's Stella, the Steve Vai-signed Ibanez RG that Nita Strauss once coveted and now owns, and more.
Everyone remembers their first guitar—the one that fanned the flames. And let's face it: While most beginners can't afford the types of instruments that pro players acquire and use as they mature into bona fide stars, they simply don't care. They just wanna play!
That's why first axes are so memorable. They are the keys to the magic kingdom of the 6-string, and once we enter, that's where so many of us spend much of our lives. So, Premier Guitar asked a dozen elite players about their own first guitars. For most, it was love at first strum—even if there was a little rattle and buzz involved. Here are their stories, with photographs of each first guitar for added nostalgia.

Photo by Libby Knudsen
Mark Arm (Mudhoney)
Photo by Emily Rieman
A couple of my high school buddies decided to make their imaginary band real. Smitty [
Editor's note: Jo Smitty, bandmate with Mr. Epp and the Calculations
] and I went halves on a guitar and amp. We bought a red Orpheus solidbody guitar from a pawnshop and a brand-new 30-watt Peavey Backstage. We discovered that turning the gain knob all the way did wonders for the noise we wanted to make. I felt like a non-playing Jimi Hendrix.
Eventually, I learned about barre chords and tuning. The Orpheus guitar came with a flatwound A string that couldn't be changed or tuned because the machine head was broken. So, the band had to tune to that ancient unbreakable string. I added an MXR Distortion +, turned the knobs all the way up, and with the gain cranked on the Peavey, that Orpheus made this incredibly beautiful, head-shearing, room-clearing noise.
---
Courtney Barnett
Photo by Pooneh Ghana
I hassled my parents for a guitar for so long that finally a family friend loaned/gifted me an old nylon-string they had kicking around the house. The fretboard was popping off the neck so it made a constant rattle. Thankfully, my neighbor filed down the nut a little bit and re-strung it left-handed for me, and then he taught me how to play "Come As You Are."
---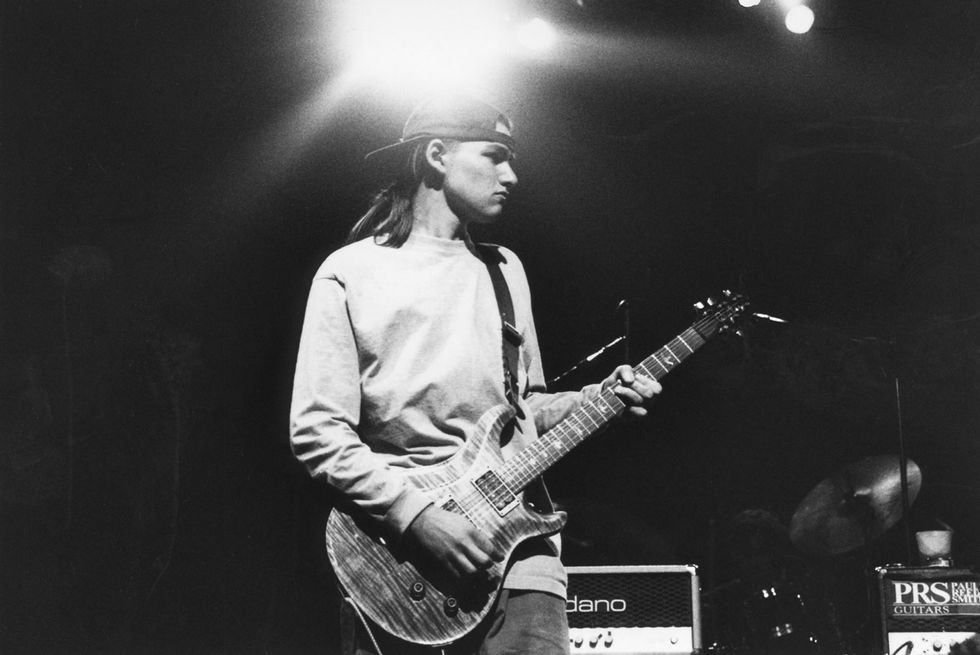 Photo by Kirk West

Duane Betts
I believe that guitar was one of four artist prototypes Paul [Reed Smith] sent out. One went to my dad and one went to Warren Haynes. I was 15 the first time I ever sat in with the Allman Bros. Band—it was in Vail.
We were staying in Denver and when it was time for bus call I was so nervous about playing onstage with them for the first time, I left my guitar in my hotel room on purpose. On the bus ride to the show my dad asked where my guitar was. I told him I had forgotten it, thinking I had gotten out of sitting in. He just said, "Aw, that's okay. We have plenty of guitars." The pressure was back on. I ended up sitting in and felt such relief afterward knowing I had walked through my fear.
---

Image courtesy of Skinner Inc
Paul Gilbert
My first guitar was a 3/4-sized Stella nylon-string acoustic. My mom's friend gave it to me when I was around 5 years old. The finish was red to black burst and it had a white pickguard. It came with nylon strings, but I eventually changed them to electric strings because they were more bendable! The guitar suffered many experiments to its finish. First, I covered it in stickers from Wacky Packages. Then I removed those and decorated the front with small square plastic mirrors that were left over from a do-it-yourself mirror ball kit. Finally, I removed the mirrors and sanded the finish until the natural wood showed. I may have installed a pickup in it at one time as well.
I played my Stella acoustic for two years before I saved up enough money to buy an electric guitar. During those two years, I didn't really know how to tune the guitar, so I mostly played the low-E string. I've sometimes felt that those years were "wasted" due to my lack of knowledge and how limited my playing was. But I've come to appreciate that the time spent with just the low-E string allowed me to become really confident with that string. And that confidence allowed me to progress very quickly when I finally started taking lessons. Anyway, good things came from that Stella.
---

Photo by Danny Clinch
Jim James
Photo by Tim Bugbee
It was around 1992 when my uncle helped me buy this Squier II Strat. I had to work in his business office all summer long, ripping huge boxes of office paper forms to pay him back for the guitar. It was such a great life lesson. I'm so glad he did that. And still, the value of this $200 guitar, it was so funny.
I got it when I was 12 or 13 and played it all through high school. It was black, but I found these stickers that were sparkly apples and I put 'em all over the guitar. Eventually, I gave it to my brother because he wanted to learn how to play guitar, but then he never learned, so it just sat in the closet.
I kind of forgot about it—I thought it was gone. I just didn't know what happened to it. But then my parents moved about a year ago, and when they were cleaning out a closet they found that guitar and they were like, "Oh my god, here's your guitar! Do you want it?" [Laughs.] And I'm like, "Yeah, of course I want it." So, I got it and played it for a little while, and I liked it but I just didn't like the neck much. I really love Telecaster Deluxe necks from the '70s—I've got really bad carpal tunnel and l just like really thin necks, plus I love the huge headstock on those, too. I got in touch with Chris [Fleming] at the Fender Custom Shop and I told him we were playing Colbert and sent him the guitar. It was all dirty and fucked up and he replaced the pots and put that neck on it and it sounds so great and I love playing it so much. It's crazy! When I played it for the first time, it was like the feeling of literally when I played that guitar for the first time when I was a kid. It was a really cool, full-circle thing: It made me feel like I was 12 again. When I pulled it out of the box, it was so brand new, but so old. I put so much time into decorating it as a 13-year-old kid!
---
Joey Landreth (The Bros. Landreth)
My dad has been a working musician all my life, so there were always great guitars kicking around to play. So, I didn't really have the traditional "first guitar." This guitar came into the world as an early '70s Fender somewhere around Toronto. A dear friend of our family, John Sharples, was working at Lato Guitars in Toronto, and this guitar came into the shop in pieces. The person who owned it before me routed holes into it for a battery and a circuit board from a chorus pedal or something.
Because of the huge routes in it, John shaved off 1/4" from the top and added a book-matched piece of ash. It's a little thicker than a normal Tele and because of a small band saw accident, the body profile is a little different as well. My dad finished it with gunstock oil and bolted on a maple neck from an old Japanese Tele that was kicking around. Originally, it had a black pickguard and standard Tele pickups, but I went through a million different combinations before settling on what it is today. It has a Seymour Duncan mini-humbucker in the neck (because, according to the website, Robben Ford had one in one of his guitars) and a Nordstrand '60s Tele pickup in the bridge. My brother bought me the bird's-eye maple/Macassar ebony neck that you see here from Warmoth for my birthday about 10 years ago. There was a kill switch in between the knobs, but I had to take it out on a tour because it permanently killed my guitar one night.
---
Christie Lenée
This Yamaha CGS102 never left my side through all of high school. I got the guitar around age 12 or 13 and had it until junior year of college. It was a self-expression tool for the many words I didn't know how to say, my therapy through teenage hardships, and the instrument that served as a catalyst for me to dedicate my life to music.
This nylon-stringed beauty was initially a student loaner from Blake High School when I took on the mission to study classical guitar. I loved it because it was handed to me directly from John Parris, my dearest teacher of this lifetime, and therefore it was a sacred blessing. I eventually owned the guitar and years later passed it on to a very dear student. Inspiration comes full circle!
---
Al Di Meola
Photo by Ben Wolf
I took two accordion lessons and hated the accordion, so I said, "I want to learn guitar." I wanted to learn with an electric, but my parents said, "Well, let's start with the acoustic." I think it was a $20 Kent with the strings about an inch away from the fretboard, and it was miserable. So, they got me a Japanese guitar called a Segovia when I was 10 or 11, and that was the next step. It was a real, playable guitar.
I started taking lessons at a local music store, the Music Workshop in Bergenfield, New Jersey, and the teacher who was assigned to me just happened to be an old-school jazz guy, Bob Aslanian. Although I wanted to learn what was hip in the pop world, I was also being introduced to standards, scales, cord substitutions, and reading in every position—all the stuff that paved the way for my being able to go to Berklee and handle the gig with Return to Forever.
Bob got me my first good guitar when I was 12. He had a big in with Guild, which then was in Hoboken, New Jersey, and he got a deal on a Guild Starfire III. One of the great thrills of my lifetime was looking for that guitar around the house before Christmas, and finding it. When my parents weren't home, I'd open the case and look at it, and then put it back under my father's bed. And on Christmas I had to pretend it was the first time I saw it. Then there was no turning back. I was obsessed!
---
Marissa Paternoster (Screaming Females)
Photo by Farrah Skeiky
The first electric guitar I played regularly belongs to my father. It's a Fender Musicmaster he bought when he was a teenager. My dad never played in a band, but he taught me the basics and always encouraged my playing. I'm fairly certain he bought the guitar himself, and I have a vague memory of him telling me he got it for $250. I replaced the pickups and the knobs, but sadly it's been out of service for a considerable amount of time. The first guitar I actually called my own is my G&L S-500 that was gifted to me by my cousin. I still play that guitar to this day.
---
Joe Satriani
Photo by Jon Luini
My first guitar was a 1970 Hagstrom III. My sister Carol purchased it for me at a music store in the old Roosevelt Field shopping mall on Long Island. It had the thinnest neck I've ever seen, three single-coil pickups, a bunch of flimsy switches, a very cool vibrato bar system—all on a white body with a complementing black pickguard. It sounded like a weak
Stratocaster
but felt like a late '60s SG. I loved it and had many transcendent musical moments playing it. However, after a year I moved on to a '68 Telecaster and was much happier!
---
John Scofield
My first electric guitar was a 1964 Hagstrom. It was summer of '64 and I was about to start seventh grade.
My mother had first rented me an acoustic for about a year, because she wanted to test my commitment before buying anything. It was probably unplayable, but who knew? I saw the Hagstrom in the shop window and thought it looked like the Fenders that the Beach Boys played on TV and it cost about $100. I also bought a Univox amp. I loved my Hagstrom and played it for a year or so until I traded it for a Rickenbacker like John Lennon's to go with my new Ampeg Gemini II. Our band gigged most weekends and I did a paper route so I could save money for big-time gear!
---
Nita Strauss (Alice Cooper)
Photo by Robert Downs
I'll never forget buying my first guitar. I walked into the Sam Ash in the San Fernando Valley as a 13-year-old musician so full of hope and in awe of the instruments on the walls. Black Beauty Les Pauls! Parker Flys! Up on the top hanger was a white and gold JEM! But, what I walked out with was something else—a Strat Pack. It was the typical $100-ish starter pack that came with a black and white Squier, a tiny amp, a handful of picks, and a couple other cheap little accessories. That same day, I also bought a black pickguard for it, so I guess you could say I've been sort of customizing my guitars from day one.
I remember getting it home and feeling so frustrated because I sounded nothing like Steve Vai in Crossroads. It wasn't until much later that I realized that's pretty unrealistic with a Squier and a 10-watt amp, much less two months into learning how to play guitar!
However, my best friend at the time was learning how to play guitar at the same time I was. And she had what I thought was the ultimate dream guitar—a cherry red [Ibanez] RG, which was signed on the back by Vai himself. I used to spend nights over at my friend's house and would play that guitar after she fell asleep, hoping the magic of the Vai signature would somehow transfer into my hands. I still sounded nothing like Vai at the time, but I think the mojo helped. My favorite part of the story? My friend and I reconnected on Facebook all these years later, and just about two months ago I sent her a message: "By any chance, do you still have that guitar?"
Her uncle still had it and I was able to trade him a much nicer and newer Ibanez for it. Now the first guitar I ever truly lusted after is finally mine! I still have the Squier, too. Maybe one of these days I'll display them next to each other.
---