See how the jazz-minded guitarist and ace sideman twisted his bastardized Tele with a flush board of analog gems and freaky filth for his latest album, Alter Ego.
You've seen him alongside John Mayer, Jonny Lang, and even Evan Rachel Wood. You heard him in the award-winning Spider-Man: Turn Off the Dark Broadway musical and Thundercat's hit "Drunk." And now guitarist Zane Carney is looking to step out and take on the spotlight with the release of his new album Alter Ego on April 30th via Orenda Records. The 9-song collection is self-described as a "bold and bombastic improvised jazz quartet record" featuring Jerry Watts Jr. on bass, Gene Coye on drums, and Katisse Buckingham on woodwinds.
---
"I wanted this record to feel alive," said Zane Carney. "This is the first time my actual improvisational spirit is being expressed in recorded format. I wanted to capture the sparks that fly when Jerry, Gene, Katisse, and I improvise together, and document the untamed, almost manic spirit that LA's late night jazz scene has produced: there is a certain energy and freedom that transcends genre. West Coast jazz is genreless, it's reckless, it's audacious, and it pushes boundaries. In order to summon that ferocity, we approached this session as one might approach an unmoderated debate: no judgement or rules, freely exploring new lands harmonically, whenever a member felt like leading the charge. I wanted us to be as nimble and agile as possible, so we could access that core flow state more readily. Every one of us served as a conversation-leader at different points on the record, and I think you hear that especially on songs like 'Alter' and 'Lost.'"
The jazz-guitar geek virtually welcomed PG's Chris Kies into his Cali-based home jam space (and Twitch studio).
In this episode, the lively guitarist shows off the two guitars (and others) used for Alter Ego, divulges the Deluxe Memory Man settings disclosed to him by U2's The Edge while working on Spider-Man: Turn Off the Dark, and he briefly explains how he uses musical emotions and "feelings" as a Trojan horse to explain theory.
[ Brought to you by: D'Addario XS Strings]
1999 Fender Jerry Donahue Telecaster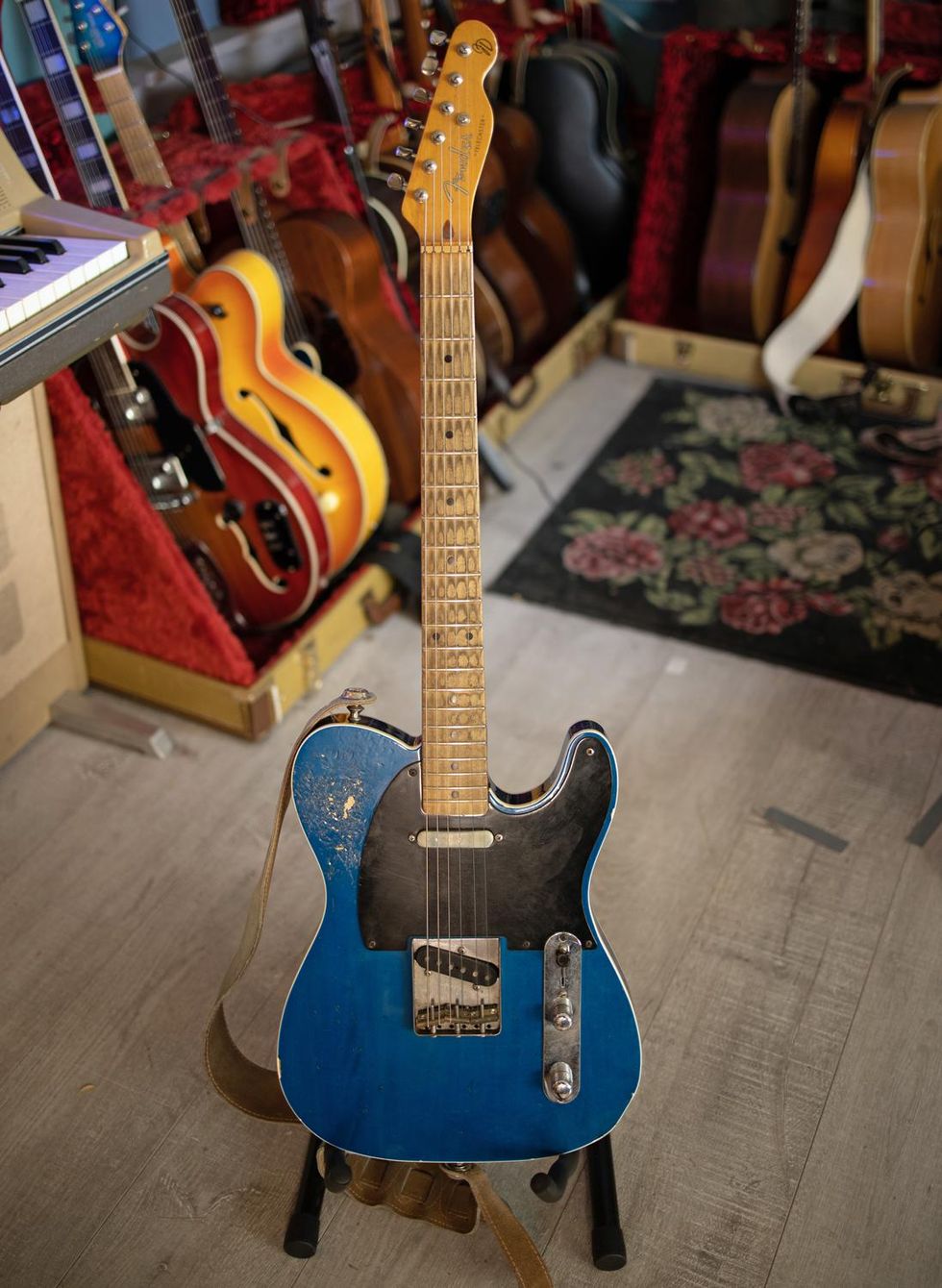 At first glance, you see a well-loved 1999 Fender Jerry Donahue Telecaster, but as Carney discusses in the Rundown, it's more his signature now than Donahue's. The original formula had a Strat-style neck pickup with a Tele-style bridge pickup controlled by a 5-way selector. The blue bombshell now has a Broadcaster-style neck pickup and a 3-way selector switch. He also sanded down the neck after playing producer David Kahne's 1952 Broadcaster that was worn and torn. And topped it off with a new Buzz Feiten Tuning System Shelf Nut. He used this guitar for every track on the new album except for "Things You Aren't" where he used his Gibson 335. This sweet dream stays in standard and takes D'Addario NYXL (.010–.046) strings.
2004 Antique Violin Finish Hofner Jazzica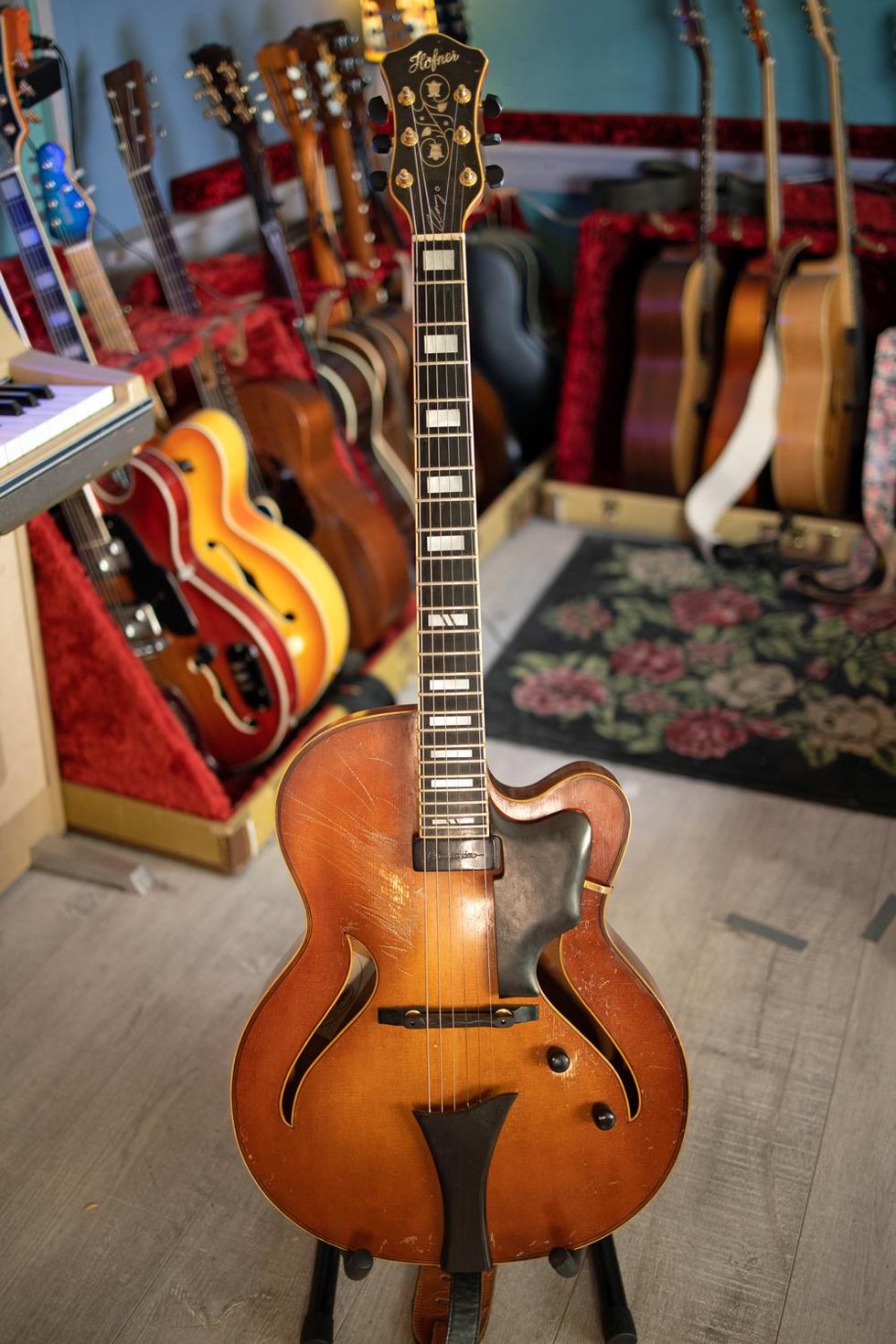 Here's Zane's actual signature guitar … well not quite—this is a 2004 Antique Violin Finish Hofner Jazzica that Carney modified with a custom Buscarino pickup. It was the archetype for Zane's eventual Signature Model Hofner Jazzica (that has now been sold out). Highlights include a carved spruce top, laminated flamed maple sides and back, one-piece flame maple neck, ebony fretboard with 24 frets, ebony tailpiece cap, knobs, tuner buttons, truss rod cover, bridge, Schaller M6 tuners, and (the same) custom Buscarino pickup. This one has been modified to have an Earvana nut. Like the one before and the rest coming up, they're all laced up with D'Addario NYXL strings.
2001 Gibson Beale Street Blue Limited-Edition ES-335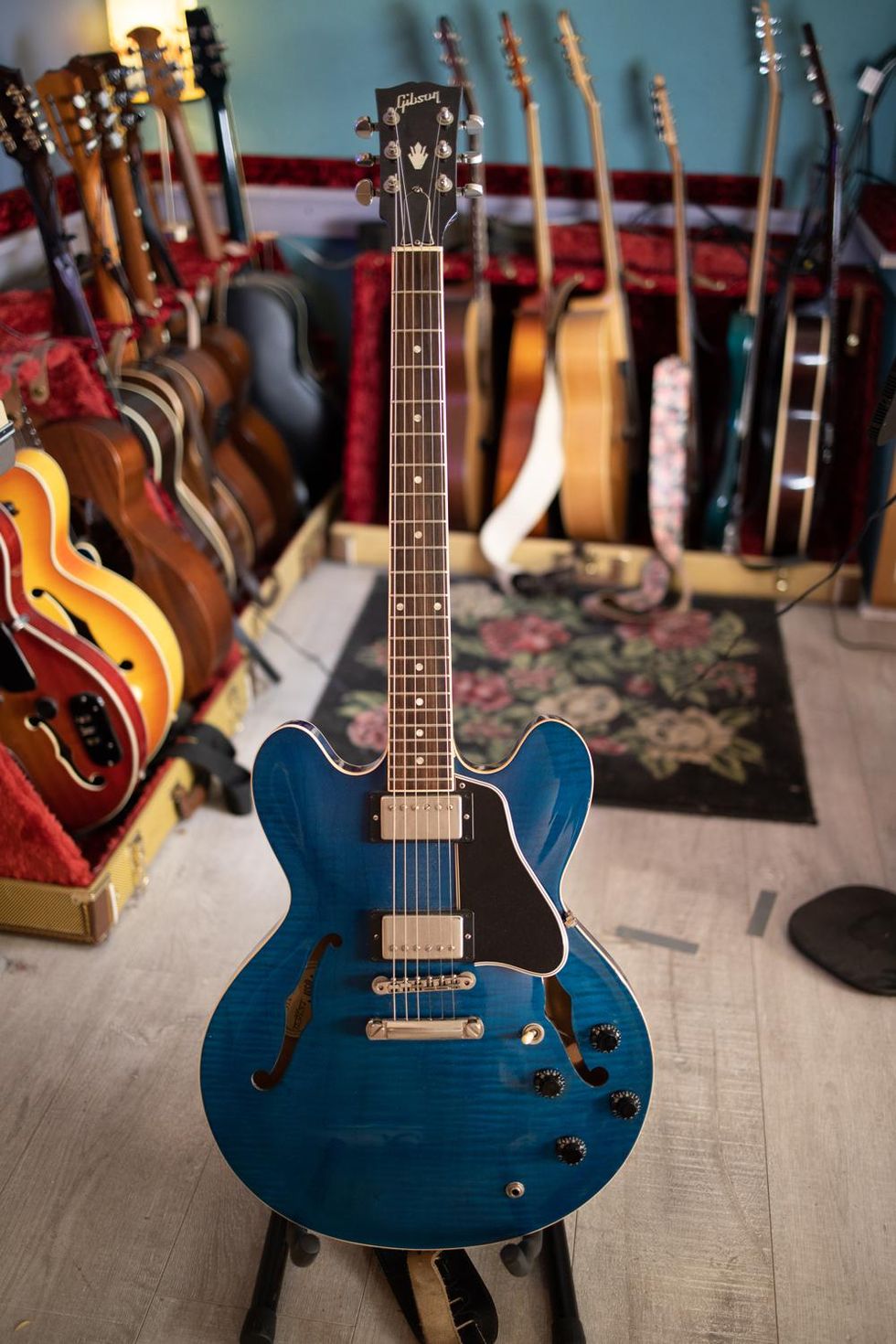 Around 16 or 17, while Carney was immersed in jazz guitar, his mother gifted him this 2001 Gibson Beale Street Blue Limited-Edition ES-335. This semi-hollow is all original like the day Mama Carney bought it.
2020 Artisan Aged Heritage H-575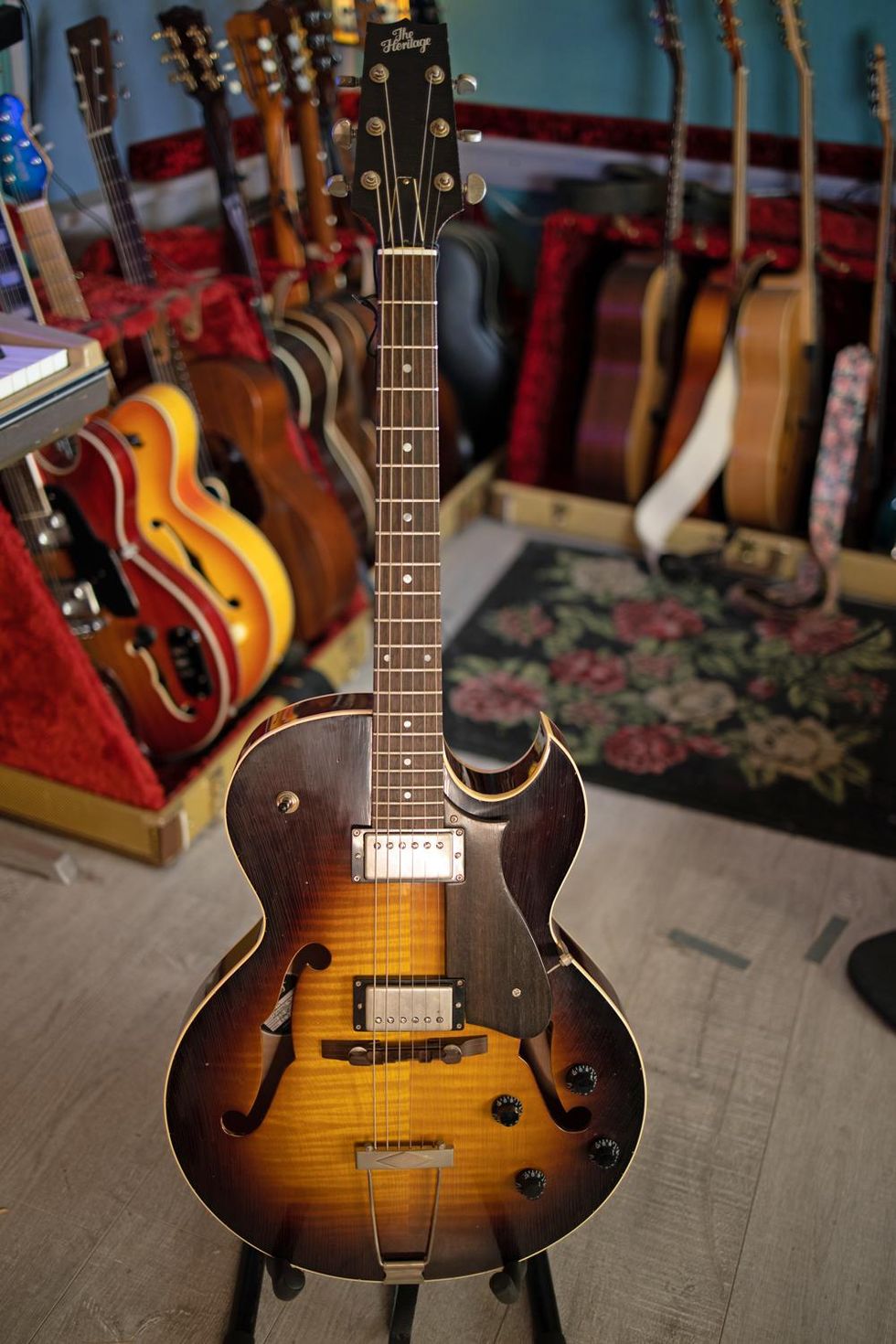 Keeping the jazz-guitar theme rolling, above is a 2020 Artisan Aged Heritage H-575.The hollowbody is built with a carved curly maple top that's matched with solid curly maple back and sides. The moody, warm sounds come through thanks to its Seymour Duncan Seth Lover humbuckers. Making Carney work for it, this one employs D'Addario NYXL .013s.
2003 Hofner New President Archtop Jazz Guitar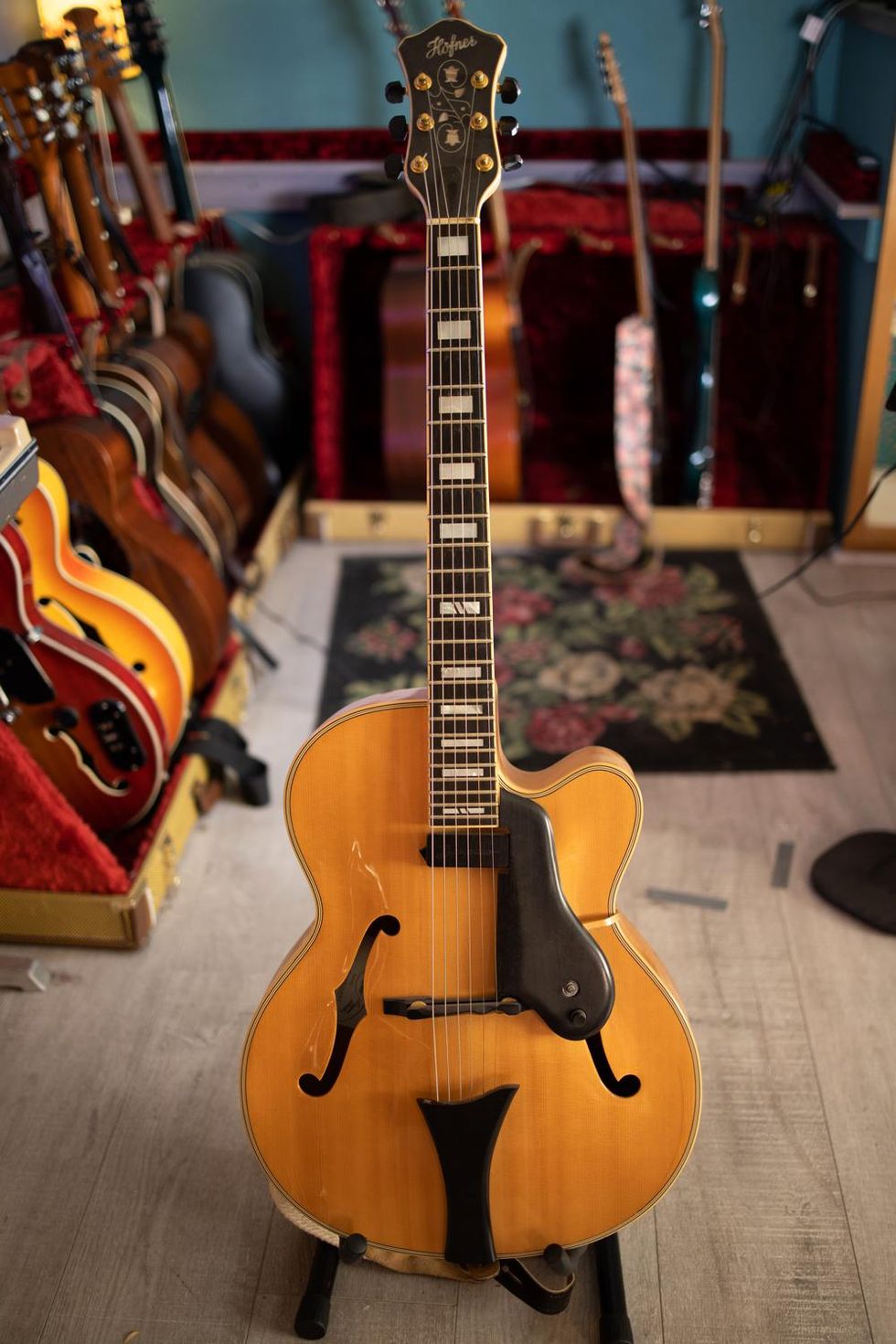 "This is the guitar that started it all," declares Carney. The above 2003 Hofner New President Archtop Jazz Guitar helped him cut his teeth and they spent countless hours together to sharpen Zane's chops. Key appointments include a handcarved German spruce top, flame maple back and sides, European hard-rock maple neck with an ebony fretboard, the bridge, tailpiece, and pickguard are all ebony, and he swapped out the floating Hofner H514/FN-G humbucker for his preferred custom Buscarino pickup.
Siegmund Sound King 300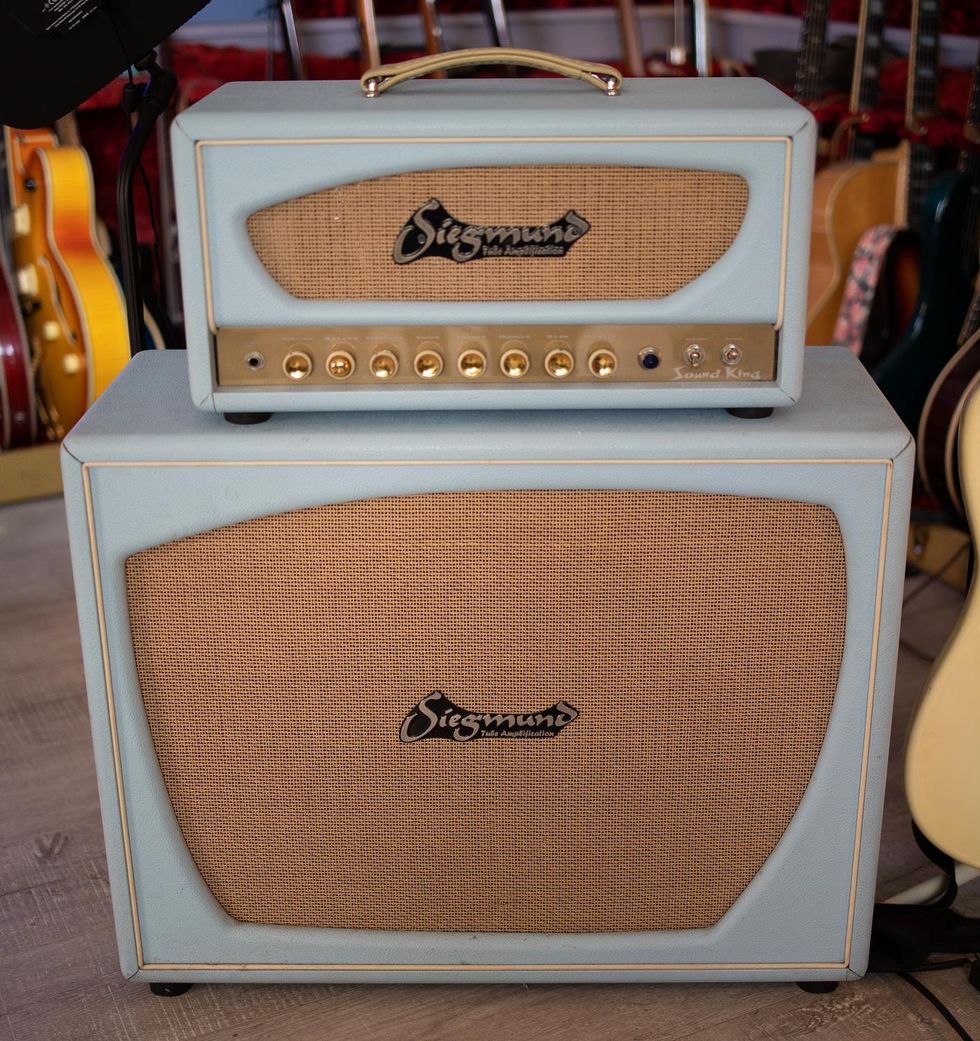 As a proud owner of seven Siegmund amps, it's no surprise he paired one of them with his blue Tele for Alter Ego. The choice amp for those live sessions was a Sound King 300 model. It has a unique recipe that involves 300B Genalex Gold Lion output tubes, 6SL7/6SN7 preamp tubes, and NOS 83 Mercury Vapor rectifier tube. Adding to the insular mojo is the matching cab that is home to a 15" field-coil speaker. (What you heard during the Rundown was Carney's Siegmund Midnight Blues—a lower-powered, lower-volume option he can mic up without being kicked out of his residence.)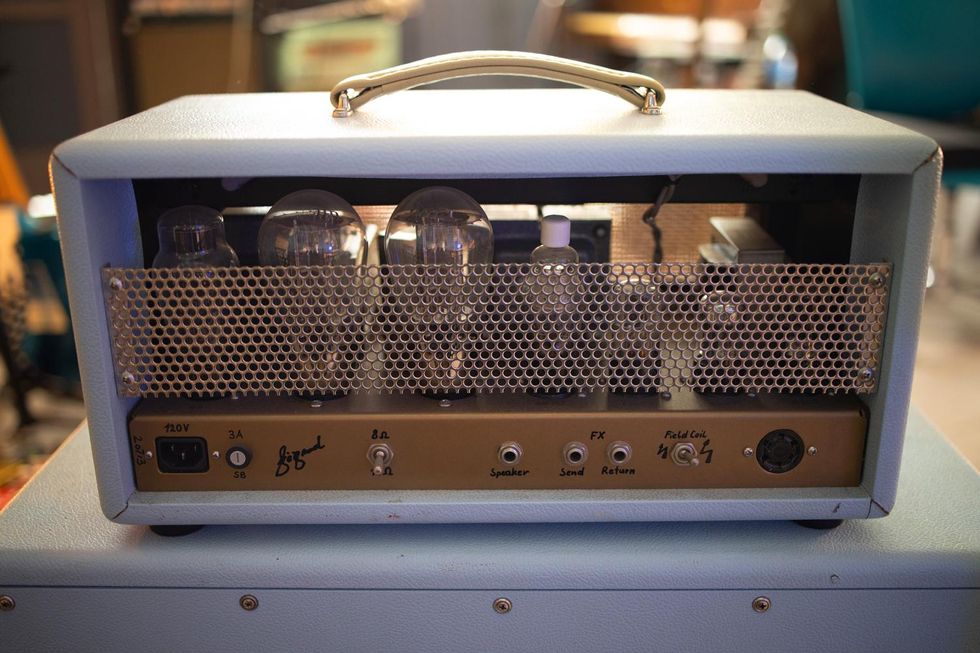 Here's the backside of the Sound King 300 and its glassy oddballs.
Carney's Pedalboard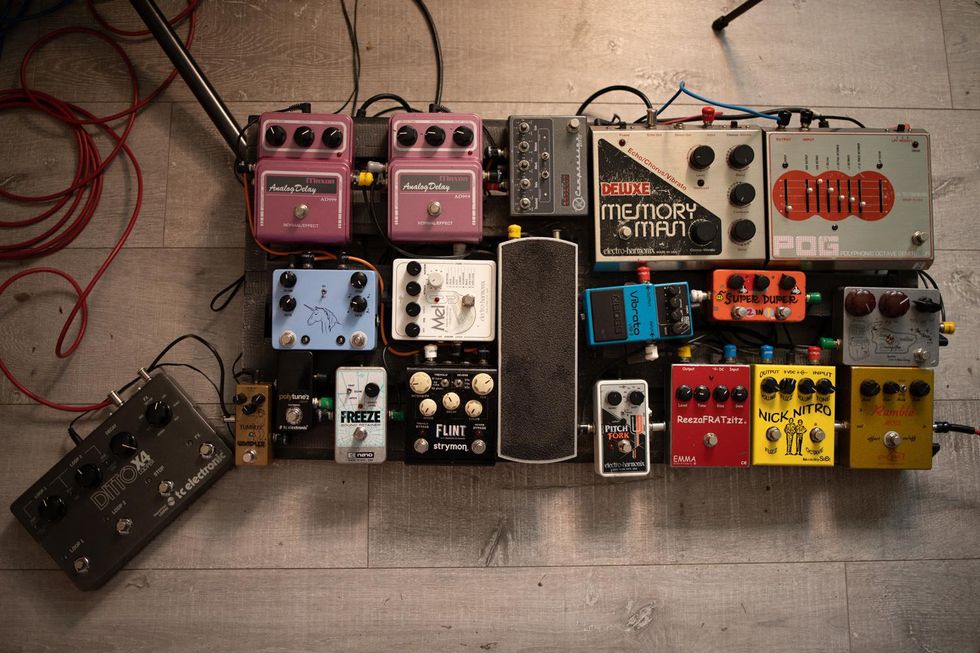 For a dude steeped in jazz, this is a line-crossingly large pedalboard. (At age 16, he won the Guitar Center Guitarmageddon contest and was commended by judge Steve Vai for not using a single pedal. He's a long way from there now with owning over 215 stomps!)
Here's what's cooking: Starting with the Quarantine Effects USA Time Machine Preamplifier "The Three" (smaller grey box in lower right) designed/built by Zane's brother, Grammy-winning Reeve Carney. (His brother's company started during 2020's lockdown.) The rest of those lower-right-corner pedals comprise his signal sizzlers—HAO Rumble MOD (still one of his favorite gain stages—especially when paired with his Hofner Zane Carney Signature Model Jazzica), SIB Electronics Nick Nitro Fuzz, EMMA Electronic ReezaFRATzitz Overdrive/Distortion V1, ZVEX Super Duper 2-in-1. Above there he has a pair of vintage Electro-Harmonix units—a Deluxe Memory Man and a POG. Closing out this half the board are the Boss VB-2 Vibrato and EHX Pitch Fork (used prominently on the Alter Ego track with the same name).
At the top left we have twins—two Maxon AD999 bucket-brigade delays (Zane's favorite slapback in all the world)—followed by a Keeley Compressor Pro, EHX Mel9, JHS Unicorn V1, Strymon Flint, EHX Freeze, and a Wampler Tumnus round out the flush board. Off to the side rests a TC Electronic Ditto X4 Looper, while utilitarian pedals include an Ernie Ball VPJr Volume Pedal and a TC Electronic PolyTune2 Noir.