Rig Rundown: Whiskey Myers' John Jeffers
See how a handful of Gibsons and AC30 stacks add up to a Texas-sized tone.
Ever wonder what Skynyrd would've sounded like if they were from the Lone Star state instead of the swamp? Well, that's just a taste of what childhood friends in Whiskey Myers have been serving on ice for the last decade.
---
The Texas-bred band has released five records since 2008. (They're currently working on their sixth.) Through those handful of albums, the country-leaning rockers refined their from-the-gut songwriting and heartfelt performances eventually earning them a No. 1 record on both Billboard's U.S. Country and Indie charts with 2019's Whiskey Myers.
During the recording process of the forthcoming album, Whiskey Myers' cofounding guitarist John Jeffers virtually welcomed PG's Perry Bean into his Texas-based tone bunker.
In this episode, the self-taught guitarist shows off his main Gibsons (including some rare finds and classic reissues), breaks down his Vox pillars, and details the smattering of stomps he kicks on for a wide-range of tones covering the rock and the roll.
[Brought to you by: D'Addario Backline Gear Transport Pack]
1994 Gibson Les Paul Standard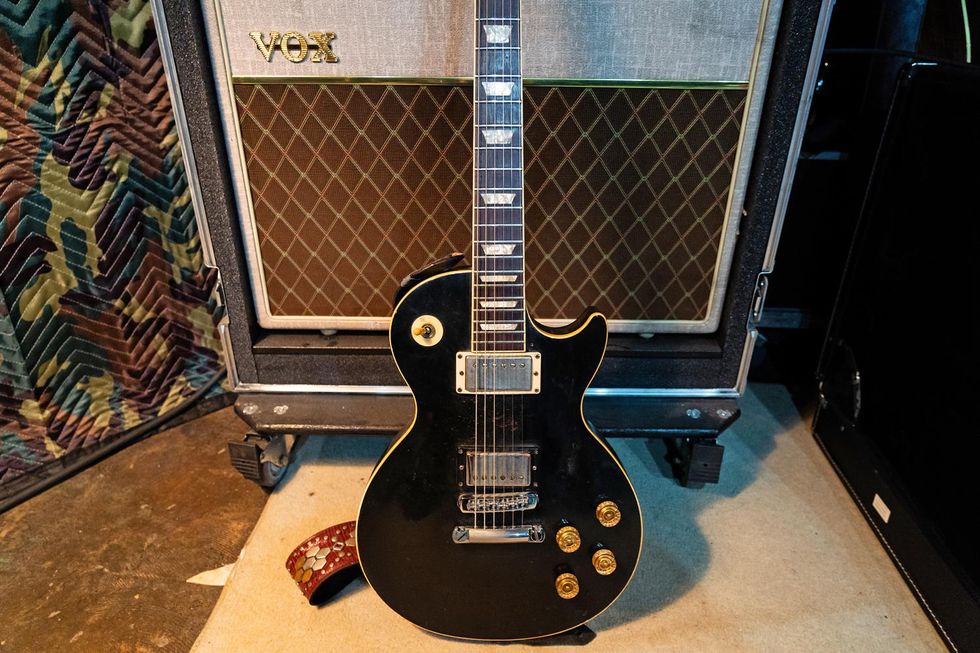 Pro players typically graduate from their first love. In John Jeffers' case, one of his main axes—the above 1994 Gibson Les Paul Standard—was the electric that started it all. It was a gift from bandmate Cody Tate's uncle. Before it became his sweet baby, the stock pickups were swapped out for a Seymour Duncan SH-4 JB (neck) and DiMarzio Super Distortion (bridge). All of double-J's guitars take Ernie Ball Power Slinkys (.011–.048).
2011 Gibson Les Paul Custom Blonde Beauty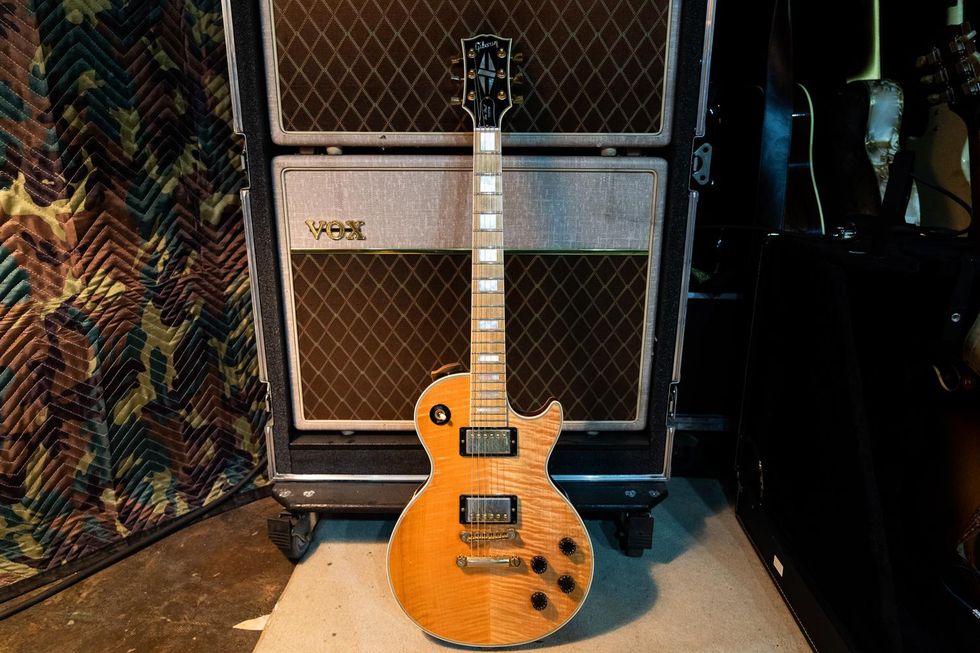 A key backup would be this 2011 Gibson Les Paul Custom Blonde Beauty that Jeffers says is rare because only a few hundred were made. This was a gift from one of the band's longtime fans that used to help fill up their gas tank to ensure they could make it to the next gig.
Gibson ES-339
No your eyes aren't deceiving you, this Gibson ES-339 looks like a 335, but is actually comparable in size to a Les Paul. Other differences from its big brother is the implementation of the Memphis Tone Circuit that reverts back to simplified '50s-style wiring where the tone control is connected to the volume control rather than the pickup. It results in a less-obvious tone-control sweep.
2004 Gibson Les Paul Junior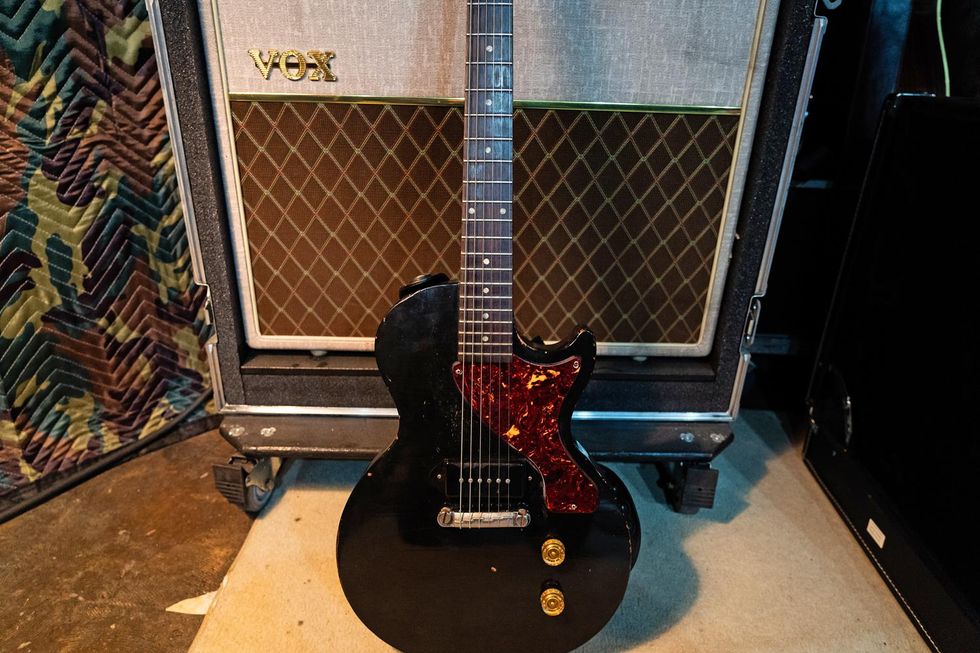 Now he'll play slide on anything you hand him, but Jeffers does prefer to get greasy with this 2004 Gibson Les Paul Junior because it rides well in modal-G tuning for songs like "Home" and "On the River."
1992 Gibson 1967 Reissue SG Custom
Here's something Jeffers' had been lusting over for a long time—a 1992 Gibson 1967 Reissue SG Custom. He's always wanted an original '61 Les Paul (the first year of the SG shape), but this wonderful reissue will suffice until that day comes.
Handwired Vox AC30HWHD Heads & Matching Cabinets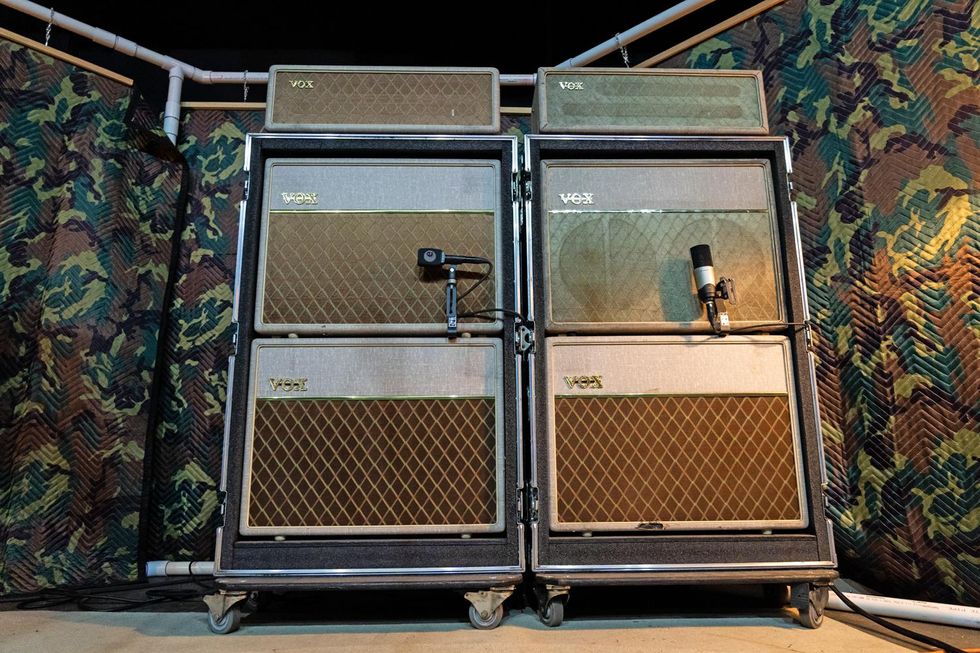 All those Gibsons bark and growl through a pair of handwired Vox AC30HWHD heads and matching 2x12 cabs (all loaded with Celestion Alnico Blue speakers). In a typical live setup, Jeffers will run the left stack as a rhythm tone (mic'd with a Sennheiser MK4) and right stack is for lead tone.
John Jeffers' Pedalboard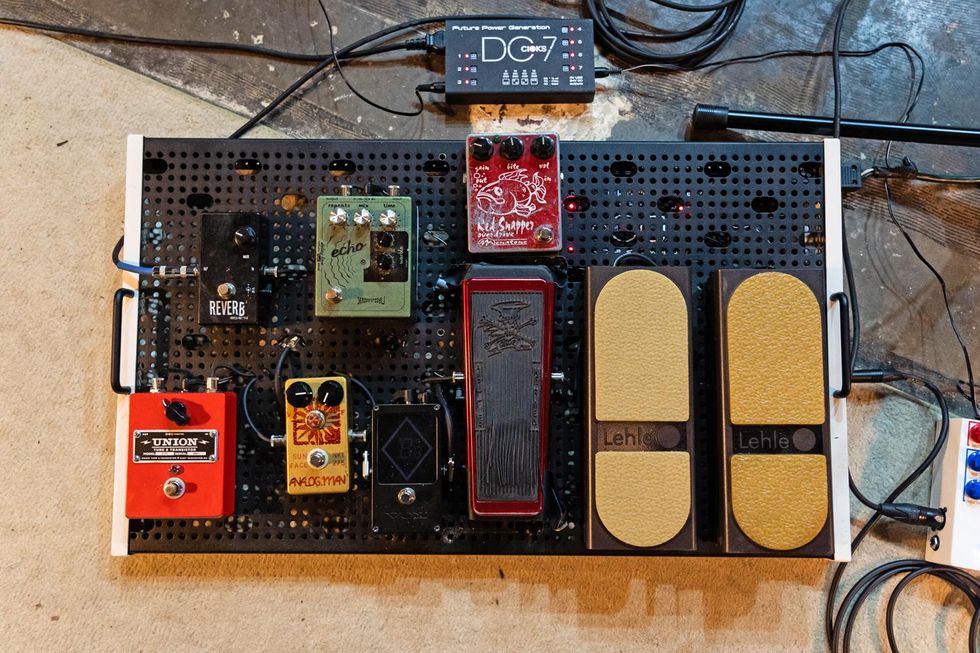 Jeffers is a man of many tones requiring only a few pedals. Currently in his arsenal is a Hermida Audio Reverb, Skreddy Pedals Echo, Menatone Red Snapper Overdrive, Union Tube & Transistor More, Analog Man Sun Face Fuzz NKT 275, and a Dunlop SW-95 Slash Signature Cry Baby wah. Managing his AC30s are a pair of Lehle Mono Volume pedals, keeping the guitars in check is a Vox VXT-1 Strobe Tuner, and powering all the pedals is a Cioks DC7.