True Single-Coil P-90 Neck- and Bridge- Pickup Sets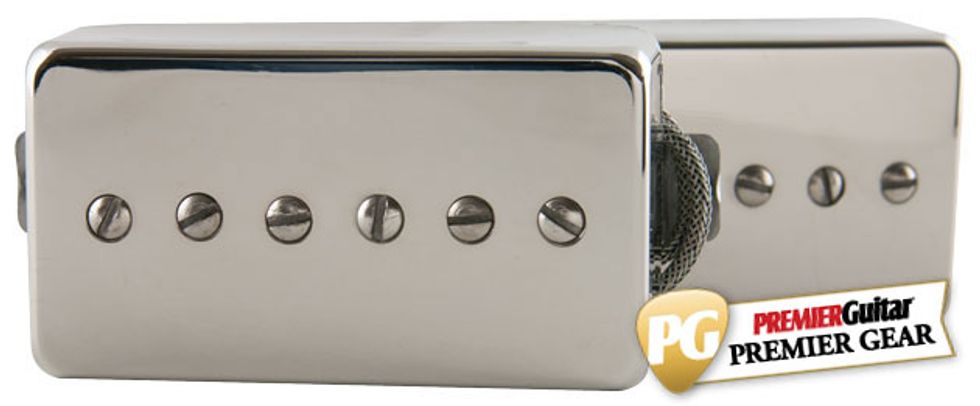 Lindy Fralin P-90 in a Humbucker Cover
Ratings
Pros:
Beautifully balanced tone. Superb dynamics. Mighty lows. Shimmering highs. Suited to many styles.
Cons:
Somewhat pricey.
Tones:


Versatility:


Build/Design:


Value:


Street:
$130 street (each)
Lindy Fralin P-90 in a Humbucker Cover
fralinpickups.com
Lindy Fralin P-90 in a Humbucker Cover Set
Although Lindy Fralin's P-90 in a Humbucker Cover sets aren't as popular as the hum-cancelling Fralin P-92 sets discussed below, they're some of the most musically pleasing P-90 derivatives I've ever played. Their tones are beautifully balanced. Lows are stout, with rock-solid fundamentals, but they never overpower or sound wooly. Highs have a lovely shimmer that never becomes harsh. And there's a great sense of openness—low mids feel aerated in just the right way. The combined-pickup tones are stellar, too, exhibiting both low-end mass and energized sparkle.
The even better news is that the pickups retain those qualities when you slather on the gain. Lows wallop, but they're focused. Note attack remains aggressive. It's mass without sludge—and a fine example of the fat-but-edgy distortion sound P-90 fans crave.
The Fralin P-90s boasts fabulous range, both dynamically and harmonically. It's easy to sculpt the high end solely by touch—you can dig in for face-slapping impact, or back off a bit for smoother, rounder tones. These pickups help you discover new ways of playing more expressively.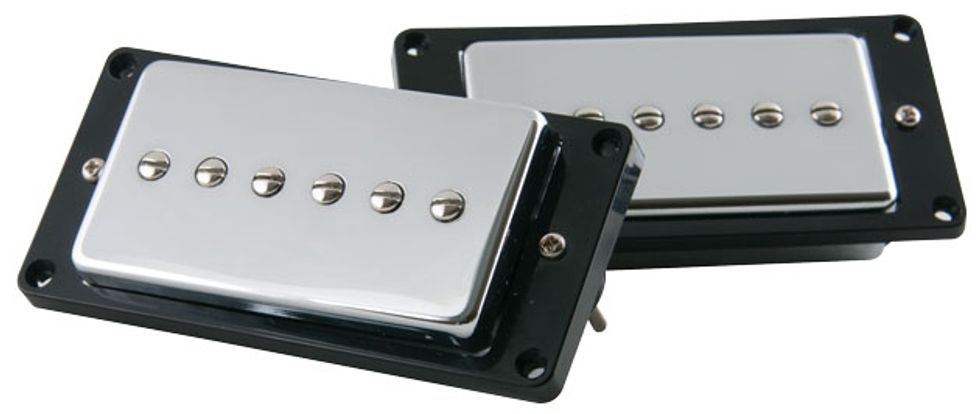 GFS Mean 90 Set
Ratings
Pros:
Bargain price. Powerful lows. Solidly made.
Cons:
A bit tight in the treble.
Tones:


Versatility:


Build/Design:


Value:


Street:
$34
GFS Mean 90 set
guitarfetish.com
GFS Mean 90 Set
At $34 each, GFS Mean 90s sell for less than half the price of this roundup's next-cheapest pickup—and about 25 percent of the cost of the priciest models. While I'd love to report that they sound every bit as good as their upscale cousins, their tones can feel a bit thin in comparison—particularly with clean amp settings, where the treble notes can become pinched compared to the more expensive models. The highs still sound pleasant—they just don't gush.
The lows, however, are perfectly solid. And when you pour on the gain, you get within spitting distance of this roundup's best-sounding pickups. In fact, in the context of a band performance, you might not be able to distinguish the Mean 90s from pickups costing four times as much.
The workmanship feels perfectly solid—if you didn't know which pickup was which, you'd never ID the Mean 90s as "the cheap ones." They're certainly equal to the pickups you find in any number of far-from-budget guitars, and
very
impressive for the price—an excellent choice if cost is a concern.


Gibson P-94 Set
Ratings
Pros:
Warm tones. Even response. Sharp looks.
Cons:
One of the pricier options in our roundup.
Tones:


Versatility:


Build/Design:


Value:


Street:
$139 (each)
Gibson P-94 set
gibson.com

Gibson P-94 Set
With their dramatic black-and-nickel styling, Gibson's P-94 neck- and bridge-position pickups are mighty sharp looking. They sound stylish, too, offering excellent balance and lots of nice complexity. High, clean notes have just the right snap, transmitting note attack and "stringiness" without nastiness, no matter how hard you dig in.
The P-94s' low mids are a tad thicker than some other models. When playing overdriven power chords, for example, you encounter a bit less of the scooped quality you get from models with more manicured mids. The result is a warm, finely aged sound—though it does come at the cost of some of the aforementioned snap and aggression.
Still, the P-94s do provide more snap and crackle than you'd get from humbuckers, so they're a fine choice for players who want more pop from their Paul without relinquishing all the warmth. They're great-looking, sophisticated-sounding, and highly musical pickups.