The pentatonic scale creates a sound that's typically associated with blues and rock harmonies. However, you can use the notes of the scale to get a more modern sound reminiscent of Scott Henderson, Frank Gambale, or Wayne Krantz, while keeping a bluesy sensibility. It's all about how you organize the notes. One way to unlock the many secrets of the pentatonic scale is to study the harmonies derived from its notes—in other words, the chords you can build from this five-note sequence. A fresh perspective can help you turn those relatively simple pentatonic sounds into something richer, more complex, and very unusual.
In this lesson, we'll explore a system to come up with four-part chords based on the notes of the A minor pentatonic scale (A-C-D-E-G), and then look at ways to use those chords in a musical context.
First, let's build some chords. In a typical seven-note scale, traditional four-part harmony is achieved by stacking thirds, thus building chords around the formula 1-3-5-7 (with alterations). However, in the five-note world of the pentatonic scale you won't always be able to get the same formula, but you can get something pretty close. Let's take the notes from A minor pentatonic and try to stick as closely as possible to the 1-3-5-7 formula for each new chord, rooted on each note of the scale.
In Ex. 1 we systematically move through the A minor pentatonic scale to create different chords. We start with two Am7 voicings—one based on a 6th-string root and the other on a 5th-string root. Notice how both chords consist exclusively of notes from the A minor pentatonic scale: A, C, E, and G. Relative to the A root, the other three notes are the chord's b3, 5, and b7, respectively. Because these identical notes are arranged in different ways, each voicing has a unique sound.
Now let's take those two Am7 fingerings and move each one up to the next scale tone in the pentatonic sequence. Our next set will be based on a C root. Our other three notes are E, G, and A. Relative to the C root, these other tones are 3, 5, and 6. We use a 6 because neither a 7 nor a b7 is available. This yields a pair of handy C6 voicings.
We apply the same idea to the remaining scale tones—D, E, and G—and use each as a chord root to create some unusual sounds. With the D chords, a 3 isn't available, so we'll substitute either a 2 or 4 to create a dominant suspended voicing—a sound '70s fusion groups used extensively. Keep in mind that even though these chords have a rich and complex sound, we haven't strayed from our original pentatonic source. It's amazing the pentatonic scale can generate a sound like this.
Up next we have this very intriguing Em7#5 chord—a personal favorite of mine. Who knew such a chord lay hidden in the pentatonic scale?
That's followed by a set of voicings based off of a G root. As with all our previous chords, these are constructed from notes in the A minor pentatonic scale.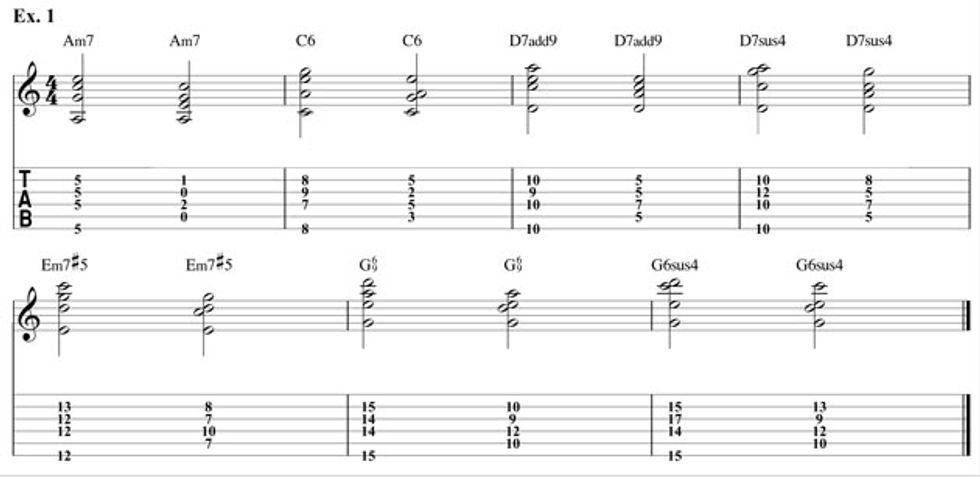 Now that we've grouped the chords by their root notes, it's time to use them in a slightly more musical context. In Ex. 2 we play through all the chords with a root based on the 6th string, and in Ex. 3 we cover the chords with a 5th-string root.