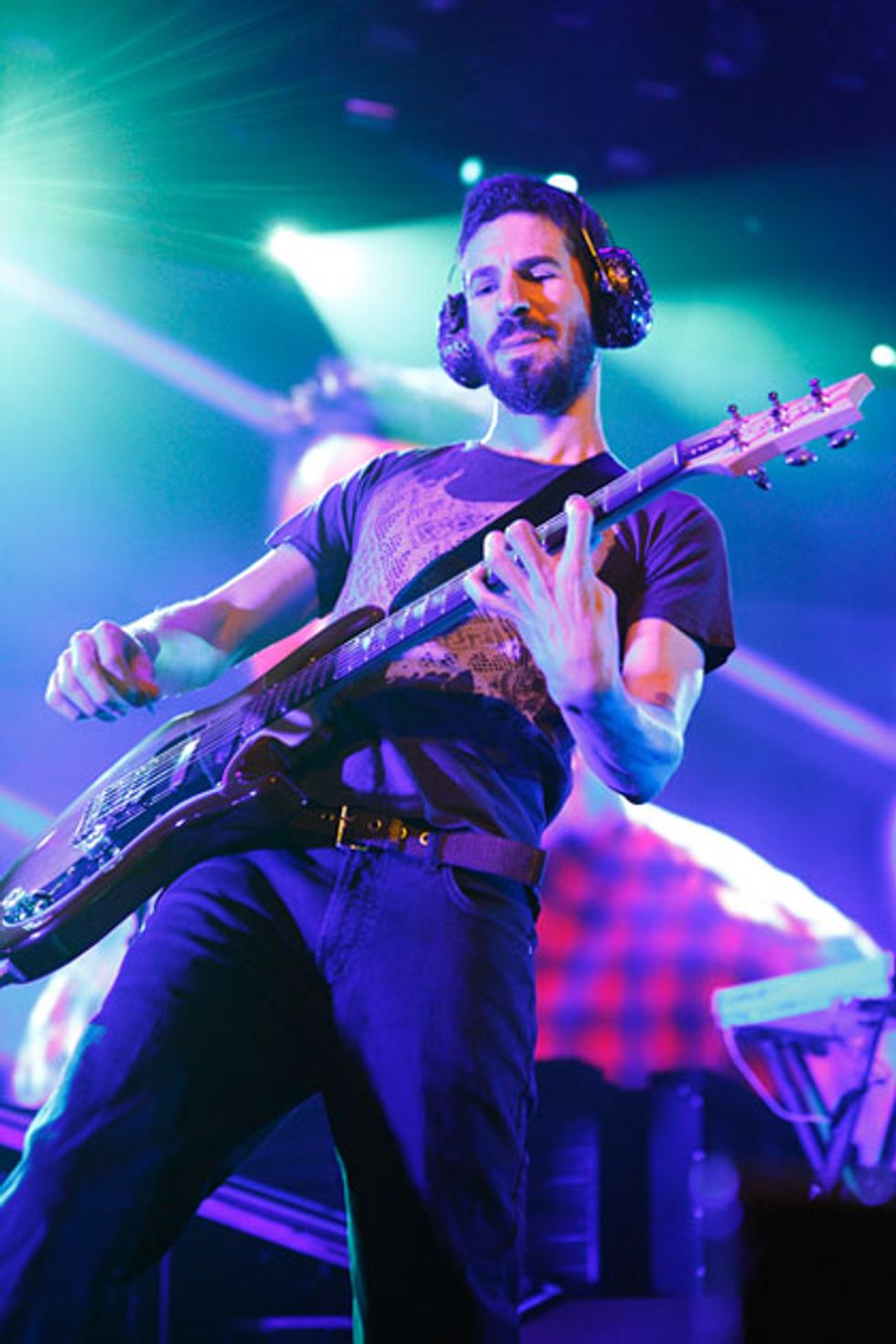 Linkin Park guitarist Brad Delson sometimes freely improvises riffs and noise to a fast click track for an hour, and then goes back and picks what he likes to build layers around it. Photo by Ken Settle.
Linkin Park's Brad Delson caught me by surprise in the lobby of Larrabee, the North Hollywood, California, studio where he was working on a new record, The Hunting Party. His band's angst-ridden lyrics and thick, ominous guitar parts suggested that Delson might be on the disaffected side, with a rebellious appearance. But he was gracious and approachable—beaming, even. Sporting a tidy hairdo, beard, and horn-rimmed eyeglasses, he looked less like a purveyor of nü metal than a cool grad student.
"Follow me around the pool table," he said, leading me into the control room, clearly excited to show off his latest work. The room was immaculate, everything arranged just so. There were two boats of guitars that seemed to be organized for quick and easy access. On the mixing board four different-colored Sharpies were lined up perfectly. A pair of Muppet Show dolls, Statler and Waldorf, surveyed the scene from atop a corner shelf. Delson, who produced the record with his band mate and co-guitarist Mike Shinoda, sank into in a black Aeron chair behind the board. He looked bright-eyed despite long studio hours.
"We've been here five or six days every week for about five months," he said. "This week [drummer] Rob [Bourdon] and Mike are recording drums to tape at EastWest, and I'm here on my own working on other aspects of songs."
"Something unintentional might be the coolest sound
I make all day." —Brad Delson

It's a new methodology for the band: writing from scratch while recording. On their first two albums, Hybrid Theory (2000) and Meteora (2003), Linkin Park worked in a more traditional way, writing songs before demoing them, and then rerecording everything in the studio. But the band learned that careful preparation didn't necessarily yield the most satisfying results.
"When we worked with [producer] Rick Rubin [for 2007's Minutes to Midnight, 2010's A Thousand Suns, and 2012's Living Things] we brought him a bunch of demos along with the recorded versions that we'd spent days working on in a perfectly good studio environment," recalled Delson. "When Rick A/B'd the versions, he always thought the demos were more compelling. That was an expensive and painful lesson."
But for The Hunting Party Linkin Park used the studio as a compositional tool, recording as inspiration struck, compiling the best bits and pieces, and stitching them together as new songs. "Early in the process, Mike wrote a bunch of demos—introverted, indie-sounding stuff inspired by what you hear on the radio these days," said Delson. "But we threw them all away in favor of making a more personal record, something more visceral and aggressive in a way that only we could do."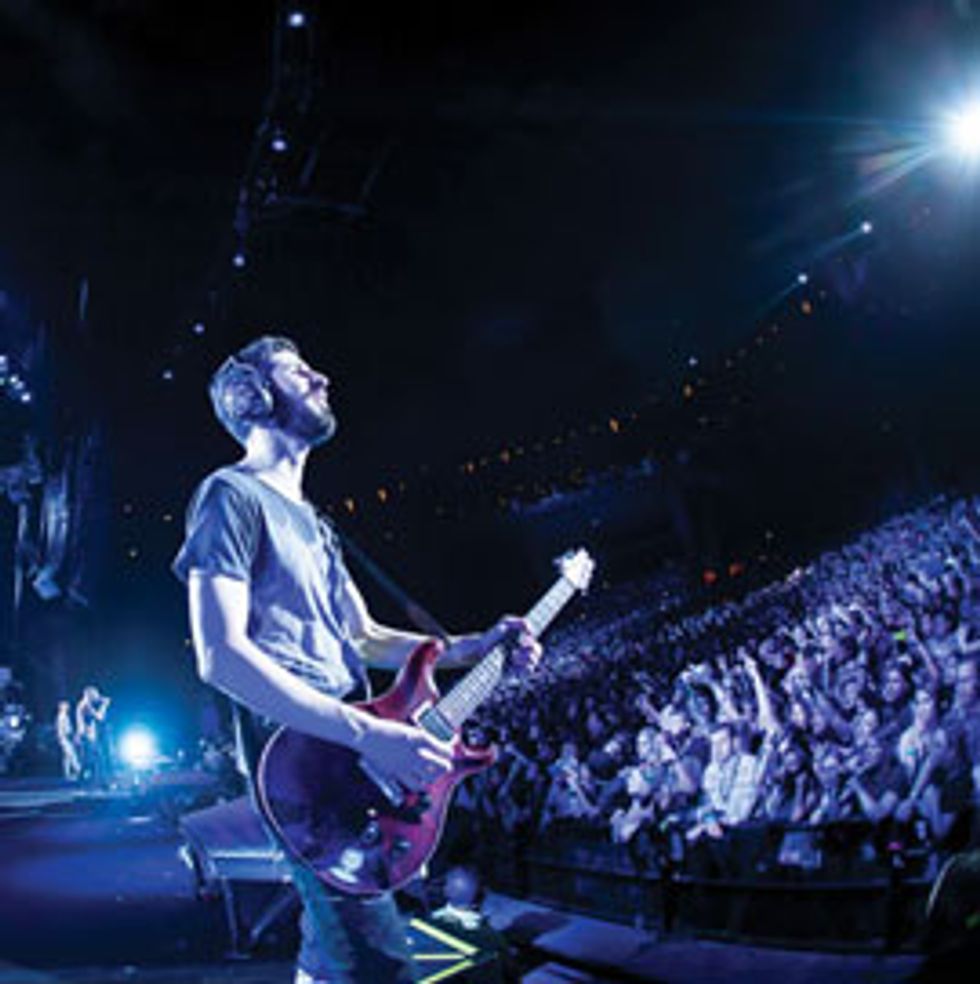 Delson rocking out during a show at the First Midwest Bank Ampitheater in Tinley Park, IL,
on August 24, 2012.
This off-the-cuff approach left open the possibility of happy accidents, explains Delson: "Something unintentional might be the coolest sound I make all day, and knowing how to allow those mistakes to happen and to shape them potentially makes for some great music. We're trying to approach things with openness and childlike wonder. I just dive in and play a lot of guitar every day here in the studio. I might freely improvise riffs and noise to a fast click track for an hour, and then go back and sort through the recording. Sorting is so much more time-consuming than playing. But when I hear something I like, I say 'That!' and build layers around it."
In the past, Delson often labored to compose the perfect backdrop for a track, only to discover that it didn't quite work as a song. This time, after assembling a rough collection of riffs, he would submit the work to singer Chester Bennington for consideration. "We used to record the vocals last," says Delson, "but now we do that closer to the beginning of the process, so we know if a track will survive as a song. It could have the coolest musical elements, but if doesn't lend itself to a great vocal, then it's time to move on to the next thing."