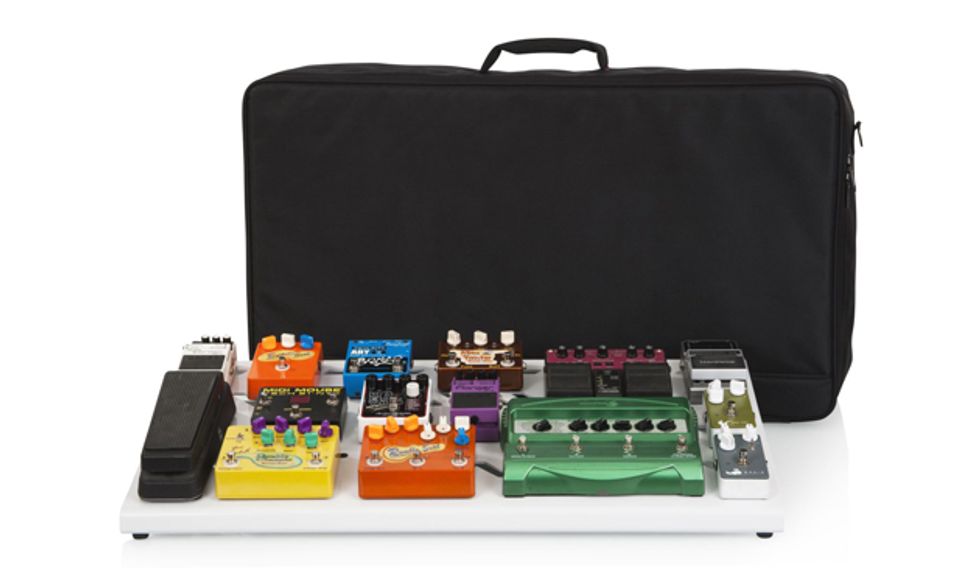 Lutz, FL (July 1, 2016) -- The Gator American-Made, GPB Series Aluminum Pedalboard is now center stage with the release of a new 32" x 17" model that is also available in white.
The GPB-XBAK pedalboard's 'C' Shape, angled design, and increased pedal surface provides enough space to customize your setup to include up to 20 pedals. The included hook and loop adhesive strips let you effortlessly arrange and rearrange your pedals.
The power supply brackets underneath the board allow mounting for two separate power supplies to ensure ample power to all pedals. The brackets are compatible with most power supplies including the Gator G-BUS8 Power Supply (not included). Rear-facing cutouts make it easy to run power to your board while abundant angled slots on the top of the board make mounting pedals a snap.
Two large metal handle bars underneath the board allow a secure grip when lifting and moving your pedal board until you are ready to stomp, then the no-slip rubber feet keep it all anchored in place. When it comes to transporting, slip your board with pedals still mounted, into the heavy-duty, reinforced Nylon carrying bag, toss any loose items into the storage pocket and sling it over your shoulder with the adjustable, removable strap.
This new size is perfect for heavy gigging, pro-level musicians and larger boutique style pedals and is available in Black, White, Screamer Green and British Orange. As an added bonus Gator has also included the white finish option to the GPB-LAK small version as well as the GPB-BAK large version.
Check out these new additions as well as the entire line of GPB Aluminum Pedal Boards at www.gatorcases.com. The GPB Series is available from your authorized Gator Cases dealers.
For more information:
Gator Cases