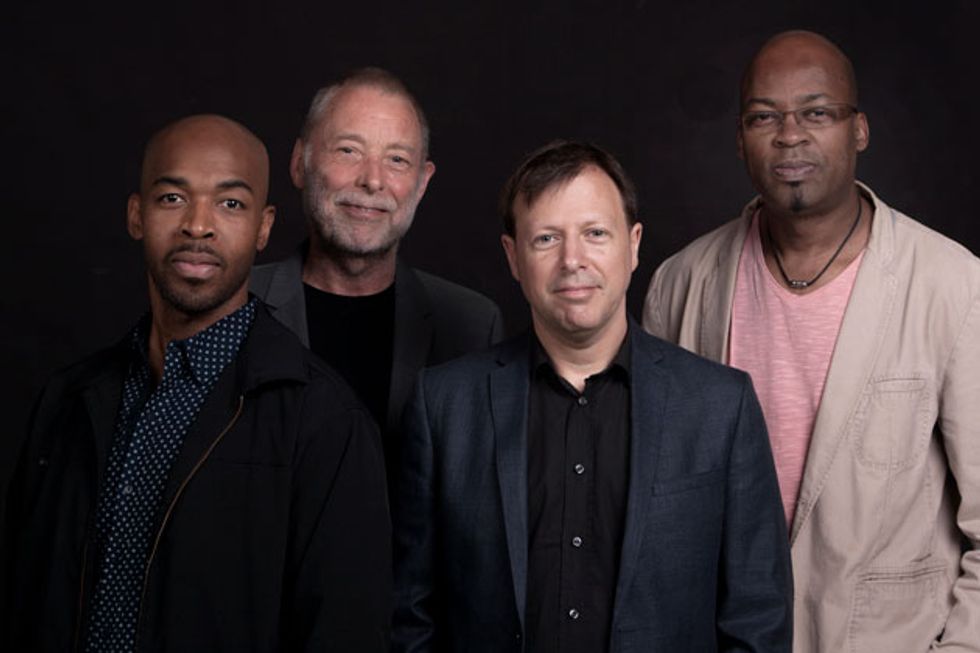 Aziza is (left to right), Eric Harland, Dave Holland, Chris Potter, and Lionel Loueke. Though each musician has racked up a staggering amount of recording and performing credits, this marks the first time they've played together as a quartet.
The origins of Aziza, a collective jazz supergroup of sorts, started back in 2014 when legendary bassist Dave Holland and saxophonist Chris Potter were brainstorming for a project to tour with in 2015. "I just love playing with Chris," says Holland, who brought Potter into his funky and soulful quintet in the early 2000s. After bouncing some ideas around, the duo decided to bring in guitarist Lionel Loueke and drummer Eric Harland. "Lionel approaches the instrument in a unique way and blends his African heritage and guitar styles with all the language and harmony of jazz music."
None of the members were strangers: Loueke and Harland had spent time in trumpeter Terrance Blanchard's group, and Holland, Loueke, and Potter all worked with pianist Herbie Hancock on the tour for his Joni Mitchell tribute project, The River. The tour was an immediate success with each member bringing in specific compositions for the band. "From day one, it was just all about the music," says Loueke. "You're playing with musicians that just listen so closely to whatever you're doing and are very open-minded. We're ready to take some risks and see where the music takes us."
Halfway through that first tour, the band decided that their intense interplay and chemistry needed to be documented in the studio. The group booked two days at Sear Sound Studio, and each member brought in a pair of compositions for what became their self-titled debut. By now, the tunes had been road-tested with twists and turns added to each. One of Holland's contributions, "Finding the Light," is an introspective, odd-time piece built around a slightly off-putting ostinato that provides a joyous platform for Potter's soprano sax flourishes. "I wrote a counterline specifically for Lionel," says Holland. "I wanted it to be a layered thing."
It was one of Loueke's compositions, "Aziza Dance," that gave Holland the idea for the name of the group. During the original tour, Holland took Loueke aside and asked him about the origins of the name. Loueke explained that Aziza is the name of a god of inspiration taken from Dahomey mythology, which is from his homeland of Benin. "It just sparked me," says Holland. "I thought it would be a wonderful name for the band."
When we spoke with Holland and Loueke, they had just finished a lengthy European tour. We asked them to describe recording Aziza and what it takes to channel their worldly influences into one of jazz's most electrifying quartets.
Once the band members were selected, what was the overall vibe you had in mind in terms of composing for Aziza?
Holland: It's the players involved. When we were all considering what music to bring in, we were really thinking about an idea of what the four of us playing together would sound like—even though we hadn't heard it. We're writing music for improvisers. We're thinking about how each person approaches their instrument, what their concept is, and what language they like to explore. Then we try to find compositional vehicles that allow for the maximum amount of freedom for those players.
Loueke: You don't have to write much for this band. "Aziza Dance" was written for my trio, but I knew that with these players, it would go in a whole different direction. That makes it easy, yet sometimes very challenging because you don't expect something that works one night to be the same tomorrow. We're thinking of doing a live recording because it's a whole different energy. When you play the same music every night for six weeks, it just keeps growing into different shapes and never goes in the same box or direction.
"The less you write, the more opportunity you offer for the creative power of the group to come through." —Dave Holland

Speaking of "Aziza Dance," the tones you're getting on the intro and solo are wild. What were you using there?
Loueke: I use a Kemper Profiler. On that patch, I used my regular sound with a lot of wah and two types of whammy. One is an octave higher to make the chords a little fatter. For the intro, I used that plus a whammy setting that bends an octave down. That gives me flexibility. The idea was to imitate the sound of a talking drum. I also have a ring modulator with different frequencies connected to the expression pedal. There's a kind of crossfade between the whammy octave down and ring modulator going up. I think on the intro, I probably opened up all the patches!
Holland: The groove of "Aziza Dance" is just fun to lay into and explore. We look for new ways to bend it around and interpret it.
Dave, the fuzzy bass sound on "Sleepless Nights" seems a bit out of character. What's the story behind that song?
Holland: Back in the day when I was with Miles, I had a fuzz/wah pedal I used on the bass guitar. I've worked with my engineer, James Farber, since the late '80s, and every now and then he'll say, "How about the fuzz on this one?" It's a running joke at this point. But on this particular tune we tried it, and I liked it. But instead of a pedal, he used some kind of Pro Tools plug-in.
Loueke: I wrote this tune based on an application I did for iOS about African guitar styles, called GuitAfrica. I did some research based on different traditional instruments from different places, and I wrote some new tunes and grooves. By doing that research I learned a lot about the gimbri, which is a traditional instrument from Morocco. It's something between a guitar and a bass. When I wrote that tune, I had the gimbri tone in mind, so I tuned my low string down to D and basically played the whole intro on that one string.
YouTube It
Taken from a stop on Aziza's inaugural tour, this full-length set features four tunes from their self-titled album. Don't miss Lionel Loueke's wicked, effects-laden intro to "Aziza Dance" at 21:45.