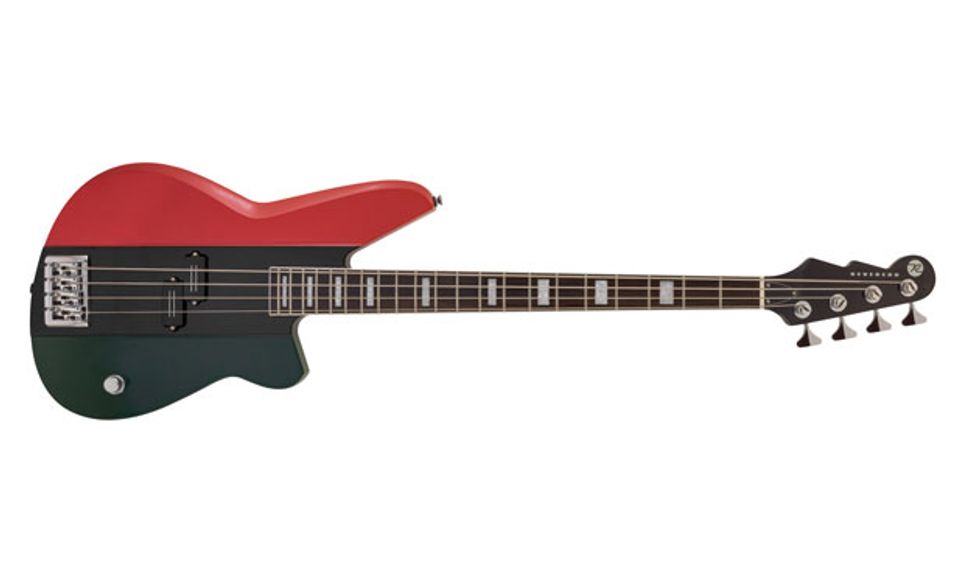 Toledo, OH (June 28, 2018) -- When Reverend Guitars and Meshell Ndegeocello wanted to do a new color for her Signature bass, they wanted to do something special. Meshell decided on the Red-Black-Green color scheme and to name the style in honor of Lumumba–the leader credited with freeing the Congo from Belgium in the mid-twentieth century. A portion of the proceeds will go to the Smithsonian's National Museum of African American History and Culture – where a prototype of the model is already in the collection.
The Meshell Ndegeocello Fellowship bass is a collaboration between Reverend Guitars and the eclectic bassist known for her versatile chops and soulful phrasing throughout a long and wide-ranging career. Based on Reverend's Thundergun platform, this bass is both minimalist and versatile, covering everything from warm jazz to percussive funk to aggressive rock. The P-Blade pickup captures that classic p-bass character, but with increased volume, sustain, clarity, and extended low-end response. Other unique features include a reverse headstock and stacked volume/tone knobs.
On all Reverend Basses, there is a Boneite nut, Hipshot Ultralight Tuners, a lockdown bridge with string-thru or top-load options, a five-piece neck, and a dual-action truss rod – all for maximum performance. Like all Reverend Basses, the Meshell Ndegeocello Fellowship is made of Korina wood. You can't be different if you're playing what everyone else is. Visit www.reverendguitars.com to start your journey towards being an individual.
For more information:
Reverend Guitars