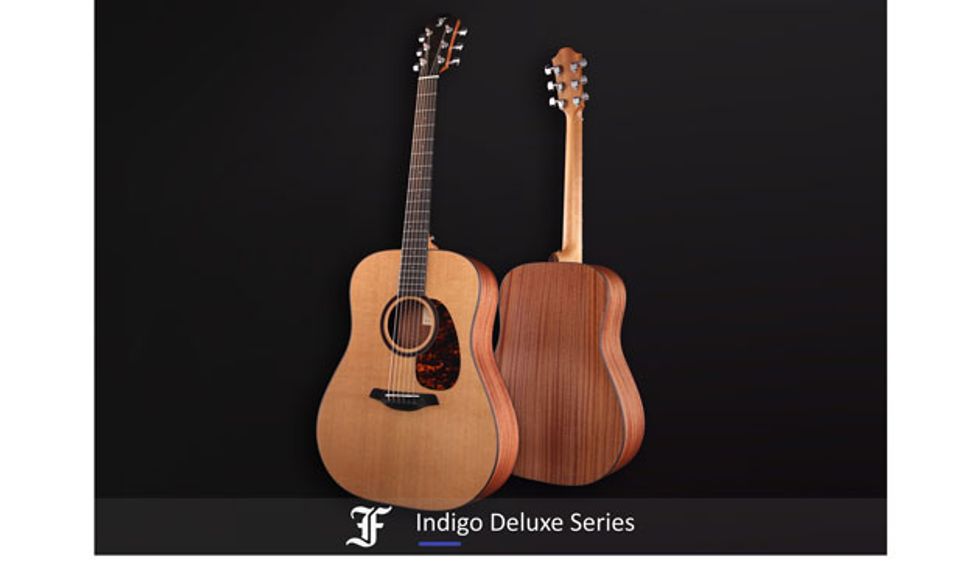 Velké Němčice, the Czech Republic (August 9, 2018) -- Furch Guitars, one of the world's leading manufacturers of premium quality guitars, has enlarged its portfolio by the addition of the INDIGO DELUXE CY. Based on the basic INDIGO model, the new offering features attractive appointments that are typical for higher-series instruments.
The INDIGO DELUXE CY model has a solid American red cedar soundboard and layered mahogany back and sides. The back plate is pressed into an arch and requires no bracing. This design has a favorable effect on the guitar's resonance and helps produce a very dynamic, strong sound, which is typical for all INDIGO models.
"Guitars with a back made from layered woods are sometimes perceived as being of lesser quality, but that is not necessarily true as regards sound and playability. Our special arched design of the back plate ensures uniform tension and stability, which translates into excellent acoustic parameters," explains Petr Furch, the CEO of Furch Guitars.
The combination of cedar and mahogany lends the INDIGO DELUXE CY model not only a warm, balanced sound, but also a striking amber look, which is underscored by a rosette featuring a solid ring made from Indian rosewood. The same wood is also used for the soundboard binding and it is complemented by black and white lines. The fingerboard features white mother-of-pearl side and front position markers.
The overall appearance and acoustic qualities of the materials and tonewoods used in the construction of the INDIGO DELUXE CY model are enhanced by Furch's proprietary ultrathin Open-Pore Finish, which provides excellent surface protection. In addition, the soundboard is protected by a faux tortoise pickguard that features a transparent extension near the soundhole to preserve the pure design of the rosette.
"The INDIGO DELUXE CY model offers a host of appointments that are used in our higher series of solid-wood guitars to emphasize the excellent acoustic qualities of this instrument," adds Petr Furch.
Furch INDIGO DELUXE CY is available in the dreadnought and grand auditorium body shapes with no cutaway. The model will be available in stores in September.
For more information:
Furch Guitars