Photo by Natalia Mantini
This has been a year of firsts for Kim Gordon. From Kim Gordon: Lo-Fi Glamour, her first solo art exhibition at a North American museum (the Andy Warhol Museum in Pittsburgh, no less), to No Home Record, her first-ever solo album, she continues to break new ground, even at age 66. Which is saying something, as she's already spent 30+ years as a primal force in one of the most influential indie-rock bands on the planet. As bassist, co-songwriter, and sometimes vocalist and guitarist for the legendary Sonic Youth, Gordon logged 16 studio albums—including seminal post-punk/noise-rock works EVOL, Daydream Nation, Goo, and Dirty—six live albums, nine EPs, and a mind-boggling array of experimental/instrumental releases on the band's Sonic Youth Recordings label, not to mention official bootlegs, tribute performances, and soundtrack contributions. Of course, there were all the attendant world tours, magazine interviews, and television appearances, too.
Viewed in that light, perhaps it should be no surprise Gordon continues to push the envelope—even if her new album wasn't even intentional. At least not at first. "I just really hadn't thought of doing a solo record, but I kind of accidentally did some work with Justin," she admits with a chuckle.
She's referring to Justin Raisen, her primary collaborator and producer on No Home Record. "Justin had another project that he wanted me to sing on and, eventually, he sent me something that I thought, 'Okay, I could make lyrics for this and add to it.' And that came out pretty good." That project was singer-songwriter Lawrence Rothman's 2016 single "Designer Babies." Afterward, "Justin was just always, like, 'If you ever want to record some more or whatever….'"
Raisen, however, seemed to have a plan. The producer—who's carved out a name for himself working with notable artists such as Charli XCX , John Cale, Ariel Pink, and Angel Olsen—gently coaxed new music out of Gordon by way of the Rothman session. For starters, he took leftover bits of Gordon's vocal performance from "Designer Babies" and edited them together with what she calls a "trashy drumbeat" and sent it along to see what she thought.
Check out the video for "Sketch Artist," directed by Berlin-based artist and filmmaker Loretta Fahrenholz
"I really liked it," she recalls. "So, I went back and did more vocals and added some guitar and that became 'Murdered Out.'" Originally released as a single in 2016 but also the fourth track on No Home Record, this meditation on Los Angeles car culture—which is powered by a hooky, danceable groove by Warpaint drummer Stella Mozgawa—was a definite musical departure for Gordon. It's also the first song ever released solely under her name. Perhaps because it was so different for her, musically speaking, "Murdered Out" also functioned as the catalyst for making a full LP. "It just kind of happened, slowly. It wasn't a really big, premeditated thing, like, 'Ooh, I want to do a solo record,' you know?"
Perhaps the fact that Gordon hadn't been plotting a solo record since the 2011 demise of Sonic Youth shouldn't be too much of a surprise, either. The band's breakup was monumental in and of itself. That it coincided with, and was admittedly a casualty of, the dissolution of her 27-year marriage to cofounding guitarist Thurston Moore, made it even more so. Sonic Youth wasn't just another band. Sure, Gordon and Moore were the darling couple of indie rock, but they (along with cofounding guitarist Lee Ranaldo) were also musical trendsetters—now-iconic pioneers of a sound, attitude, and work ethic that were a pivotal influence on alternative music movements of the 1980s and 1990s. From their earliest albums—including their 1982 debut on Glenn Branca's Neutral record label, '83's Confusion Is Sex, and '85's Bad Moon Rising—the band's sound was an eclectic, electric combination born of the New York experimental no wave art and music scene. The three founding members' use of alternate tunings, prepared guitars, feedback, and noise, literally transformed the way people listened to rock music. By the time Sonic Youth released 1990's Goo, the band's major-label debut on Geffen—which included the hit song "Kool Thing," featuring Public Enemy's Chuck D—they'd become the bona fide rock stars of the alt music scene.
To consider that Gordon might need some time to process these shifts in her personal and professional lives is reasonable. In reality, however, Gordon responded by delving into the visual arts. Her She Bites Her Tender Mind exhibit showed at the Irish Museum of Modern Art in Dublin until November this year, and Lo-Fi Glamour ran from May to September this year, as well. She also wrote the 2015 memoir Girl in a Band, and cofounded the experimental, improv-based duo Body/Head with guitarist Bill Nace. Additionally, she moved back to her birthplace, Los Angeles, after several decades on the East Coast.
"I haven't played bass in, I don't know, 10 years. For improvisation, guitar just works so much better for me."
Is No Home Record the cumulative result of all these life changes and subsequent creative pursuits? While it does seem to perfectly reflect the zeitgeist, it also represents a personal evolution, bringing all aspects of Gordon's multidisciplinary creativity together under one roof. Her preferred minimalist aesthetic—which permeates both her visual art and much of her bass playing in Sonic Youth—is adeptly channeled into the sparsely layered songwriting on No Home Record, a title that takes its cue from influential French-Belgian avant-garde director Chantal Akerman's film, No Home Movie. Interestingly, whether it's an intentional connection to the film or not, there's a visual, cinematic element to the record as much as there is an aural one. There's also an interesting collision of past musical influences, contemporary production paradigms, and present-day social observations on No Home Record. Songs like "Hungry Baby" draw on proto-punk elements of the Stooges, while "Cookie Butter" comingles with hip-hop, using the insistent nature of the tune's drum loop to maximum effect. "Air BnB" melds Arto Lindsay/DNA-style noise-rock and guitar histrionics with lyrics inspired by a fascination with the bourgeois aesthetic of Airbnb listings. As Elaine Kahn writes in No Home Record's liner notes:
"Despite the exhaustive nature of her résumé, the most reliable aspect of Gordon's music may be its resistance to formula. Songs discover themselves as they unspool, each one performing a test of the medium's possibilities and limits. Her command is astonishing, but Gordon's artistic curiosity remains the guiding force behind her music."
There are other collaborators on No Home Record, including Shawn Everett (Jim James, Alabama Shakes) and Jake Meginsky (L'appel Du Vide), but Raisen deftly curates it all, creating a continuity between the songs that contributes to the album's storytelling scope. PG caught up with Gordon while she was on vacation, shortly after an appearance at the Warhol Museum for the conclusion of her Lo-Fi Glamour exhibit. The conversation was candid yet contemplated, sparse but revelatory, and occasionally interrupted by a bit of laughter.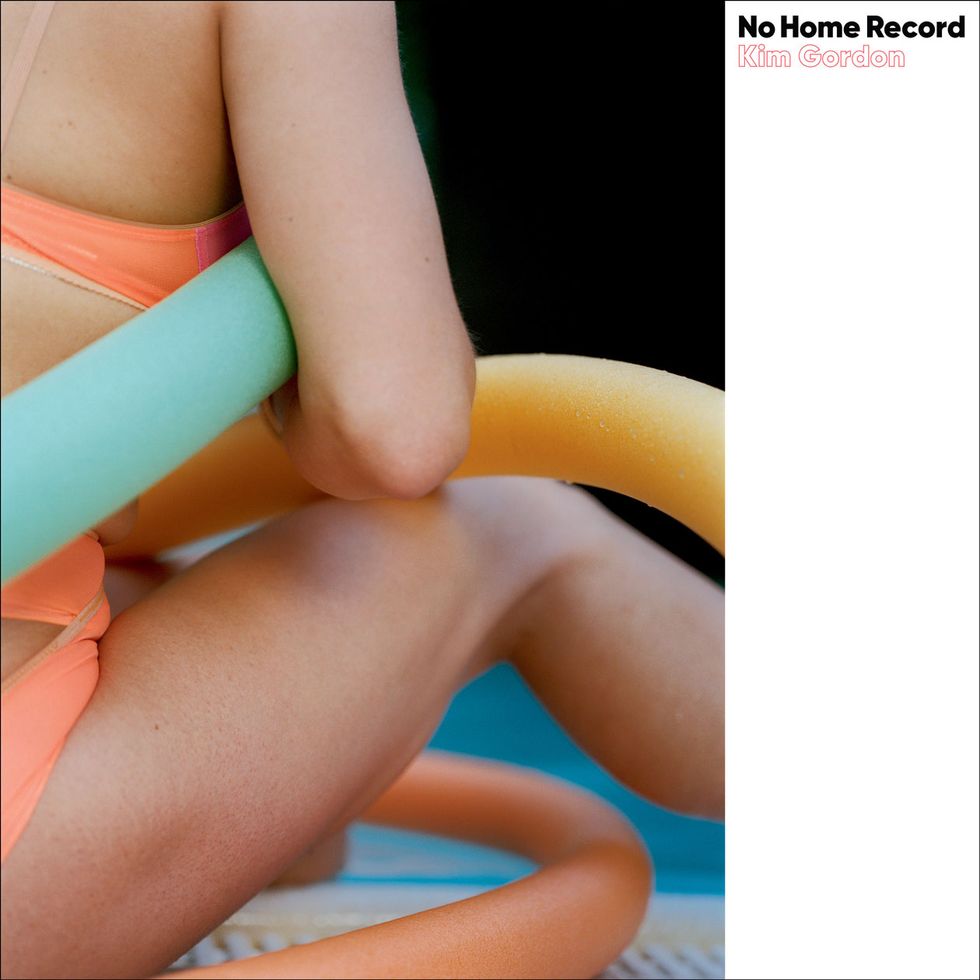 Tidbit: No Home Record's title is a nod to French-Belgian director Chantal Akerman's No Home Movie, a 2015 documentary about Akerman's mother, who was an Auschwitz survivor.
How did your No Home Record collaborations with Justin Raisen work? Did you give him material to work with beforehand, or were you crafting the songs together in the studio?
In some instances, I gave him materials to see what he would do, and then, on other songs, we built them in the studio. Before I actually thought I could work with him, I worked with Shawn Everett, another super-busy dude who kind of fit me in on his day off. Then, as it turned out, Justin had some time so we just kind of worked it that way. I'd never worked with a producer that way, so that was kind of interesting to me.
Your songs often sound somewhat improvised. How do you manage to maintain the spontaneity of your style within the structure of what a recording studio offers, or maybe even demands?
Well, a lot of it was improvised in the studio, but there are some things that are more straightforward. Pretty much every song was different. There are a couple songs where I recorded stuff at another studio and then sent it to Justin, like "Sketch Artist" and "Get Yr Life Back."
Do the songs ultimately turn out the way you envision them, or do they morph as you navigate your way through the recording process?
I think "Sketch Artist" is probably the most different from what it started out as. But "Air BnB," that was something that was an homage to Arto Lindsay's guitar playing. So I'd play Justin different no wave songs to get the sense of rhythm that I was looking for, and he would have somebody play the drums, and then I did the guitar and then the vocals—maybe the bass would be last. They were all different.
"Cookie Butter" has a really cool groove to it. Did you come up with that?
"Cookie Butter," which I did with Shawn, was based around a '70s drum machine I borrowed from [Beastie Boys engineer] Mario Caldato Jr. I'd been fooling around at my house with that, adding guitar loops and stuff. I took that over to Shawn and we got good sounds for one of the rhythms and laid that down. Then I just had this idea of a two-part structure, and on the second part I just went for it on guitar—and maybe I did a second take of it. So it was kind of improvised—it starts out that way, but then gets kind of reined in or structured.
---
---