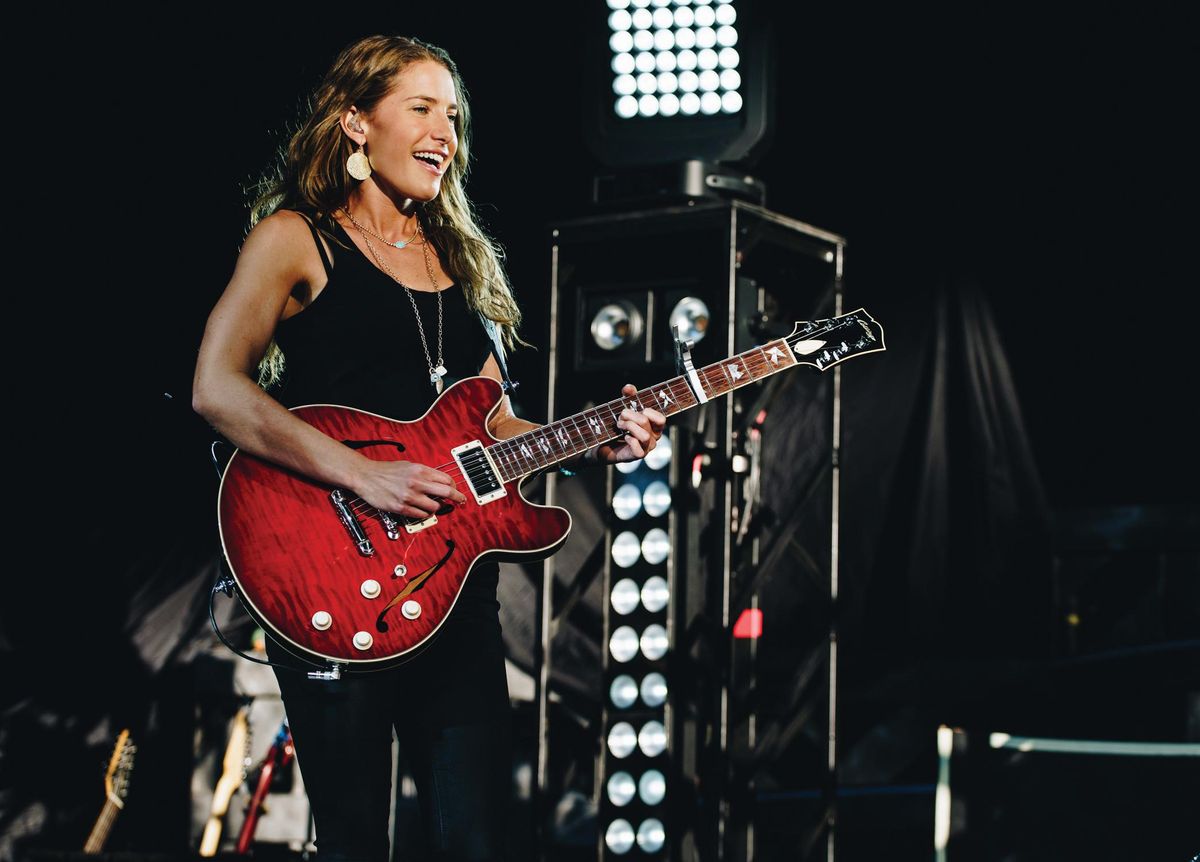 Photo by Tyler Lord
On Antipodes, Jones' sophomore release, she pulls out all the stops, including a rack full of incredible guitars, a New Zealand-made Weissenborn-style lap steel, a lineup of special guests including Joe Bonamassa, and an impressive combination of fingerpicking and slide techniques.
Country singer-songwriter Caroline Jones names her guitars. Her current go-to, a Collings I-35 Deluxe, is "Ruby." Her Taylor Custom GS 12-string is named "Big Mama." There's a 1963 Strat on loan from her coproducer, Ric Wake, that she calls "Heaven." And you'll also see her with a 1961 Fender Esquire—called, "Tenny"—that also belongs to Wake.
---
"Ric lets me borrow his Esquire," Jones says about using the instrument in the studio and sometimes at shows. "He is very sweet about it. What's the point of having it sit at home on the wall? You want people to hear it. You want to play it. That's what it's for. I know it's extremely valuable, but I just feel, what is the value if you can't play it?"
Jones is a player, and from a young age she's been on a quest to create the sounds and parts she hears in her head. That's resulted in her learning multiple picking and slide techniques, tunings, and instruments. The Connecticut native spent time in the Gulf Coast where she collaborated with Jimmy Buffett and Zac Brown, but eventually she relocated to Nashville. In Music City, she has a rack of guitars to choose from in the studio, and she's very picky, often choosing a specific guitar for just one melody, and then using another for an accompanying line or different part of the song.
Caroline Jones - Big Love (Fleetwood Mac Cover)
On her 2018 debut, Bare Feet, Jones played every instrument except bass and drums—and she spent weeks honing parts, layering rhythms, and doubling leads. But for her follow-up, Antipodes, which was released last November, she brought in a few Nashville pickers, like Danny Rader, Jason Roller, and Derek Wells, as well as special guests like Joe Bonamassa, Zac Brown, and Matthew Ramsey (Old Dominion). The initial sessions were recorded in Nashville, although most of the vocal and guitar overdubs were cut on the other side of the world in New Zealand (hence the name, "Antipodes," which describes two locations on opposite sides of the earth), where Jones was living at the height of the pandemic.
Antipodes is an excellent showcase for Jones' prodigious talent and versatility. The album features barnburners, like the twangy, chicken-picked single, "Come In (But Don't Make Yourself Comfortable)," and also more subtle, acoustic fingerpicked songs like "No Daylight." She also composed two songs on a New Zealand-built, Weissenborn-style lap steel: "So Many Skies," which features Ramsey, and the earthy and bluesy, "Don't Talk to Me Like I'm Tiffany," featuring a somewhat restrained Bonamassa playing slide (as well as Jones on harmonica).
"Fingerpicking was the first thing that I ever learned on guitar, so it's very natural to me. It's probably the home of my style."
"My now-husband wanted to get me a guitar in New Zealand to commemorate our time there," Jones shares. "It was his idea to get the Weissenborn made by this Kiwi luthier named Paddy Burgin, and it's beautiful. It's made from this wood that he had sitting around for a long time. It's really one of a kind."
When Jones writes songs, she usually hears a version of the production in her mind that she wants to bring to life and evolve in the studio. A big part of that process also involves working with Nashville session players, who she says challenge her, and force her to up her game. "It's extremely hard to get to that echelon of musicianship," she says. "A lot of people don't realize that only a few musicians are playing on almost all the Nashville records, and their level of musicianship is off the charts. For you to be comparing yourself to those people is, at times, disheartening. But I think you get a realistic picture of where the bar is for musicianship, which is something I always want to hold myself to, even though I'm very far off."
The title of Caroline Jones' sophomore album, Antipodes, refers to two places on opposite sides of the world. The initial sessions for the record were done in Nashville, but Jones recorded most of the vocal and guitar overdubs in New Zealand.
Not that she's that far off. The cornerstone of her right-hand work is her exceptional, yet unorthodox, fingerpicking style. She wears plastic fingerpicks on three fingers, as well as a thumbpick, which is a technique she started on banjo. It's a style that transferred easily over to acoustic guitar, and—with a little more effort—to electric guitar as well.
"I couldn't get any sustain or ring from my fingers," she says. "I don't like having long nails. I feel really dirty—although a lot of my guitar heroes have long nails or fake nails—and I just don't like that. The picks that I use, Alaska Piks, mimic the nail. They're not steel like banjo picks. They're plastic, and they're just mimicking what a long nail would be. I wear it on my ring finger—as well as my index and middle fingers—which I know is not as traditional, but I do use that finger. Fingerpicking was the first thing that I ever learned on guitar, so it's very natural to me. It's probably the home of my style."
Jones also prefers fingerpicks because they have more attack, which became more important as she got deeper into country music. She uses them for chicken picking, as well as when she's going for a cleaner, indie-type sound. Although recently, after the death of flatpicking legend Tony Rice, she's been doing a deep dive into his catalog and figuring out those techniques.
Caroline Jones' Gear
Caroline Jones' main acoustic guitar is "Sweet Annie," a Collings OM1 that she pairs with her must-have Barbera Transducer Soloist saddle pickup. "I am an acoustic-pickup freak," says Jones.
Photo by Tyler Lord
Guitars
Collings OM1 named "Sweet Annie"
Beard Custom Resoluxe electric named "Blaze"
Burgin Guitars Custom Weissenborn-style
Collings I-35 Deluxe named "Ruby"
1961 Fender Custom Esquire (sunburst) named "Tenny"
1963 Fender Stratocaster Hardtail (sunburst) named "Heaven"
Gretsch G6120-HR Brian Setzer Hot Rod named "Loretta"
1947 Martin 0-18 named "Rosie"
Martin 00-21 Kingston Trio named "Surfer Dude"
Nechville Universal 5-String Banjo named "Starfish"
1958 Rickenbacker Model BD Lap Steel (1958)
Taylor Custom GS 12-String named "Big Mama"
Strings, Picks, Slides & Capos

D'Addario Nickel Bronze .012–.053 Regular Light Set, .013s for lower tunings (acoustic)
Ernie Ball Super Slinky .009s or .010s (electric)
D'Andrea custom CJ V-Resin flatpicks in Trans Aqua (equivalent shape/gauge as Fender 351 Medium)
ProPik Metal-Plastic Thumbpick
Alaska Pik plastic fingerpicks
Scheerhorn Stainless Steel Bar Slide (for lap steel and resonator)Dunlop 212 Pyrex Glass Slide (electric)
Dunlop 220 Chromed Steel Slide (electric)
Kyser capos
Amps
Fractal Audio Axe-Fx III

1964 Fender Bassman AA864 head
1980s Yamaha G100-210 II 100-watt 2x10
Vox AC50CP2 50-watt 2x12
Rivera Silent Sister 60-watt 1x12 Isolation Cabinet with two Celestion V30s
Effects
Fishman Aura Jerry Douglas Signature Imaging Pedal
EV-1 Volume/Expression
Peterson StroboStomp HD Tuner
Vertex Effects Boost
Boss FV-500H
Boss GE-7 Graphic Equalizer with XTS Mod
Origin Effects Cali76 Compact Deluxe Compressor
Xotic EP Booster
Nobels ODR-1 Overdrive
JHS Pedals Bonsai
JHS Pedals Muffuletta 6-way Fuzz
Klon KTR
Electro-Harmonix POG2
Electro-Harmonix Mod Rex Polyrhythmic Modulator
Boss RT-20 Rotary Ensemble
Eventide H9 Max Dark
Strymon Mobius
Strymon TimeLine
Strymon BigSky
Electro-Harmonix 1440 Stereo Looper
"Tony Rice is one of the godfathers of flatpicking," she says. "I'm forcing myself now to learn more flatpicking because it's a very different sound. Even if some of the patterns are very similar—or they might sound in the same family—they're totally different skill sets."
Jones also says there's no shame in using a capo. It's an important tool in her toolbox and enables her to access many guitaristic devices—like drones and harmonics—that don't necessarily work in every key, especially when it's in a key that sits better with her voice.
"I've been a capo snob in my life, as in, 'I'm not going to use the capo, because that's cheating,'" she says. "But then you see the best players on earth in Nashville, capo-ing up their acoustic guitars—because the open voicings just sound better. I'm like, 'If they're doing it, then I'm allowed, too.' In the end, it's music. It's about what sounds good. It's not about forcing yourself to do the hardest thing so you can prove you can do it. It's about what's going to serve the song, and sometimes that means capo-ing up, or forcing yourself to learn a different voicing without a capo, or using an open tuning. There's a reason all the guitar songs are in D and E and C and G and A. Those are the voicings that are natural to guitar. Sometimes we get a little too in our heads as guitar players and forget that we're trying to make it sound good."
"There's a reason all the guitar songs are in D and E and C and G and A. Those are the voicings that are natural to guitar. Sometimes we get a little too in our heads as guitar players and forget that we're trying to make it sound good."
Jones often tunes her guitars down a half-step to make it easier to play in keys that work with her voice, and a lot of her songs are in F and Eb. It's something she's discovered that the Zac Brown Band does as well. "Their baseline is Eb," she says. "They tune all their instruments down a half-step, just because it's better for Zac. All their songs are either in Eb or Db or Gb, for the most part."
As choosy as Jones may be when it comes to gear, that's not a luxury she has when playing live, although she makes the best of it. She's outfitted her acoustic guitars with Barbera Transducer Systems pickups, which she feels is a must when performing primarily on acoustic—which she'll be doing as a special guest with the Zac Brown Band for most of summer 2022.
"I am an acoustic-pickup freak," she says, "because that's all anyone hears. The sound of your guitar matters to a certain extent, but the pickup matters a whole lot more because if you don't have a pickup that's doing justice to the sound, even if you have the best acoustic guitar, who cares? We really did a lot of R&D and the Barbera pickups are the latest top-of-the-line for me."
This borrowed 1961 Esquire (nicknamed "Tenny") is meant to be played, says Jones. The guitar belongs to her producer, Ric Wake.
Photo by Tyler Lord
She's been forced to become a minimalist with her amps and effects as well. In the studio, her go-tos are a Fender Bassman and a 1980s-era solid-state Yamaha G100 amp that shines for clean tones, as well as an army of programmable digital pedals and transparent overdrives and boosts. But live, everything, including her acoustics, are run through a digital modeler.
"Live, we usually just recreate those sounds in the Fractal Axe-Fx," she says. "Especially when I'm singing. When you're trying to sing and perform and be the frontman, your energy is too scattered—for me at least—to be able to be tweaking and making sounds at the same time that I'm trying to sing and play guitar and entertain people."
But despite her success and mastery of many different instruments, styles, and techniques, Jones, at the end of the day, still sees herself as a student. "It sometimes takes me time to find the parts and the melodies that I really love," she says. "It's a lot of trial and error. I'll go home and figure out parts, usually by myself. I'm definitely not in real time like those Nashville musicians. They're trained to come up with incredible parts in real time, and so they're very practiced at it. For me, a lot of times, I try a lot of parts that don't work before I find one that does. Guitar parts, especially rhythm parts, do so much for a track, and it really takes me in one direction or another. That's what fascinates me so much about production."
YouTube It
Looking for more great gear for the guitar player in your life (yourself included!)? Check out this year's Holiday Gear Finds!
Created in collaboration with legendary guitarist George Lynch of Dokken and Lynch Mob fame, the Mr.Scary Mod adds an adjustable tube gain stage and an onboard Deep control, which together are designed to enable an amp to have increased sustain while still retaining note definition and dynamics.
LegendaryTones, LLC today announced production availability of its new Mr. Scary Mod, a 100% pure tube module designed to instantly and easily expand the capabilities of many classic amplifiers with additional gain and tone shaping. Created in collaboration with legendary guitarist George Lynch of Dokken and Lynch Mob fame, the Mr.Scary Mod adds an adjustable tube gain stage and an onboard Deep control, which together are designed to enable an amp to have increased sustain while still retaining note definition and dynamics.
Originally released as the Lynch Mod in February 2021, the updated Mr. Scary Mod features the same core circuit as the Lynch Mod but is now equipped with a revised tube mix combo per George's preference as well as a facelift in a newly redesigned electro-galvanized steel enclosure. As with the Lynch Mod, each run will be limited and the first run in Pumpkin Orange with Black hardware is limited to just 150 pieces worldwide.
​The Mr. Scary Mod adds an adjustable tube gain stage on top of the cathode follower position, keeping note definition and articulation while further increasing sustain. Each Mr. Scary mod is meticulously built by hand in the USA, one at a time, and tuned using high-grade components. Equipped with a single ECC81 (12AT7) in the first position and ECC83 (12AX7) in the second, the Mr. Scary Mod can clean up beautifully when rolling down your guitar's volume, and still adds scorching gain when you roll it back up. This is a gain stage that's been tuned and approved by the ears of the maestro George Lynch himself.
"The Mr. Scary Mod excels with dynamics and is incredibly touch-responsive, allowing me to shift from playing clear, lightly compressed cleans to full-out aggressive sustain and distortion –and control it all simply by varying my guitar's volume control and picking," said GeorgeLynch. "In many ways, it's an old-school approach, but it's also so much more natural and expressive in addition to being musically fulfilling when you can play both the guitar and amp dynamically together this way."
The Mr. Scary Mod installs in minutes, is safe and effective to use, and requires no special tools or re-biasing of the amplifier. Simply insert the module into the cathode follower preamp position of compatible amplifiers (includes Marshall 2203/2204/1959/1987 circuits) and

immediately get the benefit of enjoying a hot-rodded amp that delivers all the pure harmonic character that comes with an added pure tube gain stage. The handmade in the USA Mr. Scary Mod is now available to order for $319.
For more information, please visit legendarytones.com.
October Audio has miniaturized their NVMBR Gain pedal to create two mini versions of this beautifully organic-sounding circuit – including an always-on gain device.
The NVMBR Gain is a nonlinear amp that transitions gracefully from clean boost to overdriven tones. Volume increases from just over unity to about 10db before soft-clipping drive appears for another 5db of boost. Its extraordinary ease of use is matched by outstanding versatility: you can use it as a clean boost, push a stubborn amp into overdrive or create a just-breaking-up sound at any amp volume.

October Audio's new family of mini NVMBR Gain pedals includes a switchable version that allows you to bypass the effect: one option features brand logo pedal graphics, while the other sports a fun "Witch Finger" graphic with a Davies knob as the"fingernail".
The second version in the new lineup is an always-on device featuring the Witch Finger graphic and Davies knob, with the same NVMBR Gain circuit that lies at the core of the switchable version.
Features:
Knob controls gain and clipping simultaneously
Stunning silver hammertone finish
Switchable versions are true-bypass, available with classic or witch finger graphics
Authentic Davies knobs, including the "fingernail"
9V center negative power supply required
Dimensions: 3.63 x 1.50 x 1.88 in​
Witch Finger (always on NVMBR Gain) demo
​All October Audio pedals are assembled in Richmond, VA, and available for purchase directly through the online shop. Street price is $109 for NVMBR Gain footswitch versions and $89 for the always-on device.
For more information, please visit octoberaudio.com.