Larkin Poe Return with Blood Harmony
Rebecca and Megan Lovell channel the pent-up energy from nearly two years away from the stage into Blood Harmony, a true family affair that celebrates the spirit of sibling collaboration.
After 18 months of being sidelined from gigs, Larkin Poe aimed to funnel the juice they were missing from live shows into the sessions for their new album, Blood Harmony. "I think the process of making this record was one I'm most proud of," says Megan Lovell, the lap-steel playing half of the band's core sisterhood. "We both fought for what we believed in. Our live show is really energetic, and we wanted people to feel that on the record. We wanted the record to be more live."
---
For over a decade, Meghan and Rebecca Lovell have been cranking out albums full of soul-drenched blues-rock and sharing the stage with everyone from Bob Seger to Keith Urban to Willie Nelson to Billy Gibbons. With that level of co-sign by their heroes, it's no surprise that the duo are straight-up road dogs who often play over 200 shows a year.
Larkin Poe - Southern Comfort (Official Video)
"Our creative connection to our fans and to each other is through the joy of performance, the joy of music," mentions Rebecca. "The true pleasure that we as humans experience when we connect with one another through music—that is the connective tissue." Over this past summer Larkin Poe bolstered that connection by crisscrossing the country playing gigs with Jack White, Dave Matthews Band, and Jason Isbell while previewing tracks from Blood Harmony. One of those songs, "Summertime Sunset," began appearing on setlists as far back as 2018 while being road-tested and refined. "Over the years, we decided that the [original] chorus wasn't good enough, so we wrote a new chorus right before we went on stage opening for Bob Seeger." It's that element of fearlessness that shapes the sound. "We're writing from the perspective of what's gonna feel good a month from now. And you know, a song like 'Bolt Cutters and the Family Name' … it's just gonna be a hoedown," says Megan.
"I feel like in the studio I have an idea of what tone I want, but I have no words to describe it." — Megan Lovell
One of the main sonic differences the sisters wanted to explore on this album was to bring in a producer and set aside programmed drums for a more organic sound. Rebecca's husband, guitarslinger Tyler Bryant, was enlisted to co-produce. The band's traditional DIY ethos found Rebecca doing a lot of drum programming on the previous studio efforts, and the rest of the instruments split between the sisters. "Tyler had a lot of thoughts for how we could work with live drums on the album," says Megan. "We were unsure exactly how we wanted to incorporate live drums into the sound, but Tyler's been fleshing out his studio and recording his own stuff. And it sounded beautiful. So, we thought this is just a perfect marriage [laugh] of his talents and our talents."
Blood Harmony was truly a family affair, because both Rebecca's and Megan's husbands also got into the mix. Tyler Bryant (Rebecca's mate) came on to co-produce and Mike Seal (Megan's partner) added keyboards.
About half of Blood Harmony was recorded at Bryant's Nashville studio, dubbed The Lily Pad, with the rest recorded at frequent collaborator Roger Alan Nichols' studio. Although the vibe was a family affair, the duo didn't take a laid-back approach to capturing the fire of their live shows. "We did so much pre-production," describes Megan. "Rebecca and I sat and played these songs—just the two of us—ahead of recording because these songs should be good enough to stand on their own without a lot of fluffy production."
Drummers Kevin McGowan and Caleb Crosby were brought in, Megan's husband, Mike Seal, added B-3 and keyboards, while Bryant himself added a bit of programming, keyboards, and bass parts. Not surprisingly, the overall feel of Blood Harmony is celebratory, organic, and fun. Hearing real musicians on real instruments together is a hallmark of what was missing in the collective lives of so many players over the last few years.
"There wasn't a whole lot of piecing together or anything in the studio," remembers Megan. "It's really just play it through a couple of times and whichever one sounds the best—let's go with that." With a largely improvisational approach to her solos, Megan would often only do a take or two before landing on a keeper. The years spent on the bluegrass circuit playing Dobro and learning "every solo Jerry Douglas ever recorded" honed her chops. Plus, it made the transition to lap steel much easier, since she brought over the same open-G tuning (G–B–D–G–B–D) and developed a style that relied less on fast-paced riffs and fills and more on soaring, Duane Allman-inspired leads. One prime example is "Strike Gold," which is a raucous stomper that wouldn't sound out of place on a Black Keys album.
Megan Lovell's Gear
The Electro-Liege is built for comfort and speed, with a lightweight poplar body, Jason Lollar Horseshoe pickup, and a shape that was hand-drawn by Megan to emulate the same curves in the home-made body extension she uses for her Rickenbacker.
Lap Steels
1950s B6 Rickenbacker
Beard Electro-Liege
National
Amps
Fender Bassman
Fender Deluxe Reverb
Effects
Line 6 HX Effects
Rodenberg TB Drive
Dunlop Cry Baby Wah
Ernie Ball volume pedal
Strings & Accessories

Dunlop Zookies thumbpicks
The sisterly musical bond is undeniable, but with that—at least for Rebecca—comes the pressure of having to meet the expectations of having a family full of world-class guitar players. "Having so many great guitarists in our family and to have two of my favorite guitarists, Megan and Tyler, sit there and watch me play is such a mind game for me," says Rebecca. "There were moments where I was really struggling to not crumble under the pressure of getting in my own way." Rebecca describes her style more as a "loose cannon," to the point where she often surprises herself on stage when the inspiration hits. "And then it's the next solo, it's a little bit muggy out here, and my neck is a bit tacky on my guitar … I'm gonna bomb for sure [laughs], you know?"
The biggest development in Megan's setup was her new signature lap steel by Beard Guitars. Although the guitar has been in the works for a while, it didn't make the sessions for Blood Harmony but has been road-tested for about the last six months. Dubbed the Electro-Leige, it features a poplar body, a Lollar Horseshoe pickup, and a series of eye-catching pickguards. "Against Megan's will I have been calling her the slide queen for a long time," says Rebecca. "I've sorta forced the issue and now she's kinda stuck with it. So, she wanted to make a play on that, so liege is referring to the royalty angle."
"The true pleasure that we as humans experience when we connect with one another through music—that is the connective tissue." — Rebecca Lovell
The first thing you notice about the Electro-Liege is the wildly offset body that is based upon the homemade body extension that Megan uses with her Rickenbacker to allow her to comfortably stand while playing. She wanted to find a more lightweight solution for touring, so she started sketching out a shape and meticulously placed where she wanted the anodized pickguards to be. "Megan went into granular detail about this," remembers Rebecca. "It was really cool to see these little paper cutouts on cardboard of what it was gonna look like, and hats off to Paul Beard for really taking all of her information and going for it." The result looks like a futuristic cross between her Rickenbacker and a Dobro. "It was really cool that he had the trust to just take all of the measurements from my drawings and just make it," says Megan. "It's exactly what I wanted."
Rebecca's idea of a signature instrument would likely gravitate towards a Strat-style guitar, as she's often seen with a HSS setup. "I love humbuckers," says Rebecca. "Initially I wanted to be Elvis Costello and run around with a Jazzmaster, but I needed something a bit lighter weight and smaller profile." She mentioned lifting the idea of a humbucker-loaded Strat from Bryant. "It's so beefy and, having toured as a four piece for so many years, that extra chunk has been helpful."
Rebecca Lovell's Gear
"I always wanted to be a mini E.C.," says Rebecca Lovell. And her love for Elvis Costello spilled over into her choice of guitars—a Fender Jazzmaster—until she found her currently favored Strats.
Photo by Brad Elligood
Guitars
Fender Custom Shop Stratocaster
Fender Custom Shop Telecaster
1960 Gibson SG
Amps
Fender Deluxe Reverb
Tyler Ampworks JT-14
Effects
Beetronics Royal Jelly OD/fuzz
Line 6 HX Effects
Strymon Deco
Strymon Iridium
Rodenberg TB Drive
MXR Sugar Drive
Strings & Picks
Dunlop .60 mm picks
Ernie Ball .010 Slinkys
For the Blood Harmony sessions she centered around a pair of Fender Custom Shop instruments (a Strat and a Telecaster) along with a 1969 Gibson SG that was a gift from a dear friend. "I don't take that on the road because it's so delicate and in such good shape." As far as what other elements might compose her own namesake instrument, Rebecca is still on the hunt. "I'm a little bit curious about other options for me as a guitar player. I don't know that I've had that major aha moment of like, this is the thing, you know?"
Both Rebecca and Megan are card-carrying loyalists to classic Fender-style tones. Both relied on a cache of vintage Bassmans and Deluxe Reverbs, but one of the key elements of the duo's arsenal was a Tyler JT-14 which was a gift from Rebecca to her husband. (She admittedly wanted to get it solely based on the name, but was thankful that it sounded so good.) The JT-14 is a modern interpretation of a 15-watt black-panel design with 6V6 tubes and a deeply rich tremolo. On the road, the duo takes a more high-tech approach by stashing a Strymon Iridium Amp & IR Cab pedal on their boards. "When you roll up to a festival and you don't have eyes on what amp you're gonna get, being able to have a consistent option is a lifesaver," says Rebecca.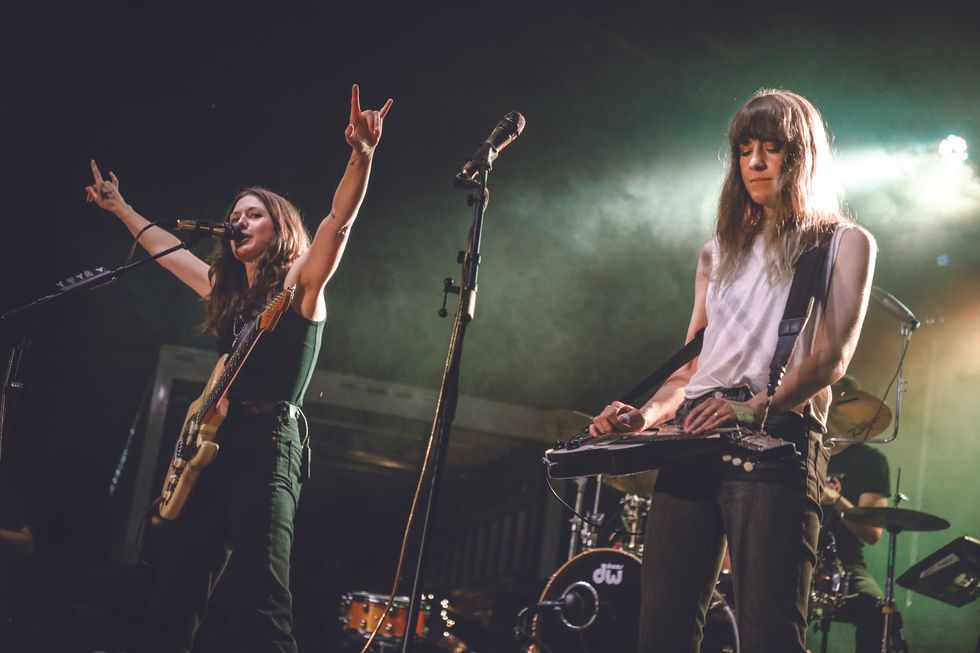 A Larkin Poe gig is equal parts house party and old-school blues throwdown. "We're writing from the perspective of what's gonna feel good a month from now," says Megan. "Because that's when we're gonna be out on the road, playing these songs for people."
Photo by Joseph A. Rosen
With very similar boards and a shared love for vintage Fender amps, how exactly do Megan and Rebecca carve their own sonic space? "I feel like in the studio I have an idea of what tone I want, but I have no words to describe it," says Megan. "I'm terrible about telling people what's wrong. I'm like, 'No, something is wrong. I don't like this.'"
"I love Megan's vocabulary when it comes to tone," says Rebecca. "She doesn't talk about mids, or bass, or frequencies. It's 'snottiness' or 'pinched-ness' or 'it's just a little blah. And the engineer's like, 'What?''' Maybe Megan's approach is best described by that variously attributed quote, "Talking about music is like dancing about architecture." Considering their styles, Megan often doesn't go for the thick lead tones, but rather prefers a tone centered around clarity and physicality. "I play in a higher register naturally to match with her, and we play a lot of octaves," she says. "It's been a puzzle that we've worked on throughout the years, but kind of just happens naturally."
As with any fruitful creative relationship, there are plenty of ups and downs. Larkin Poe have developed a methodology for creating music that builds upon their almost telepathic connection. But what element of being in a band with your sister do they have an irrational amount of confidence about?
"These songs should be good enough to stand on their own without a lot of fluffy production." — Megan Lovell
When posed this question, Rebecca wanted to answer first: "Our relationship is everything about this band. The way that we communicate, the way that we play together, the way that we facilitate one another's musicianship. It is the air that we breathe as a band, and everything revolves around our siblinghood. I think at the outset, when we decided to work with Tyler, we were like, 'What could go wrong? Like nothing could go wrong.' Which, I think we had our blinders on, because our relationship is so special and so unique. And as we all know, when you marry someone that is also a big energy.… I think in traipsing into making this album with another partner, with another significant relationship involved, it could have gone really bad. And I think we were very fortunate that it went really, really good. That there was sort of that glance in the rear view mirror of 'wow, and we didn't wreck the car."
And Megan's answer: "I have an immense amount of confidence in our self-production abilities. Every time Rebecca is very nervous to do it. I have all the confidence in the world that this is going to work. And look, normally when we get into it, it's harder than I would've thought. And so, it always ends up being somewhere in the middle, where I'm really happy that we did it and I'm happy that I have the confidence to say, 'let's do this!'"
Larkin Poe - Bad Spell - Live in Trieste - Italy