Fuchs Audio Technology Announces the New Bruiser Bass Amps Line
Clifton, NJ (January 16, 2012) -- Fuchs Audio Technology Introduces The New Bruiser Bass Amplifier Line. The Fuchs Bruiser prototypes spent this past year on concert stages, in studios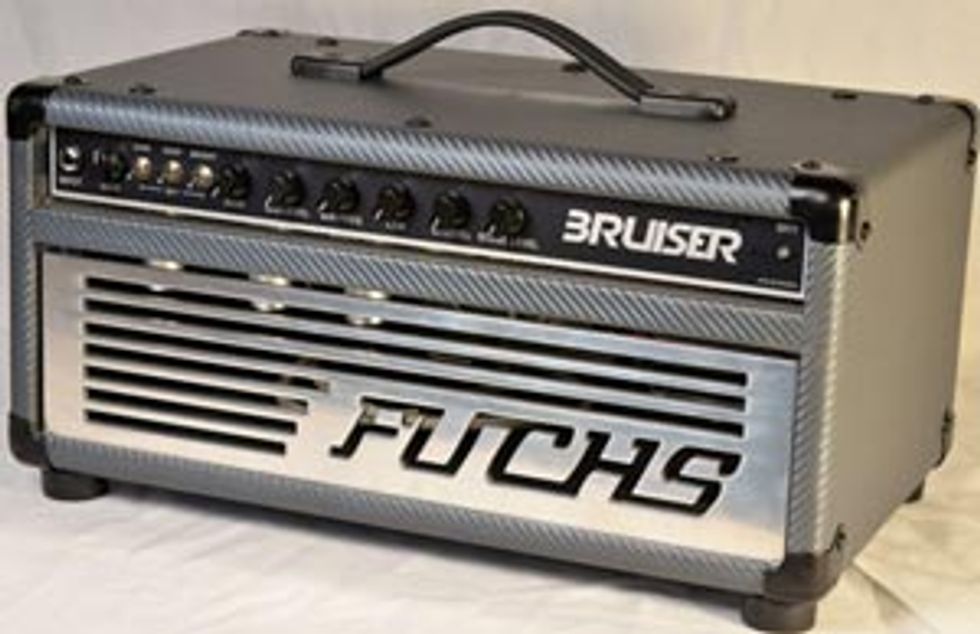 Clifton, NJ (January 16, 2012) -- Fuchs Audio Technology Introduces The New Bruiser Bass Amplifier Line. The Fuchs Bruiser prototypes spent this past year on concert stages, in studios and being tested by a number of bassists. The resulting feedback produced three final models: The Bruiser is 500 watts into 4 ohms, The Bruiser-I is1000 watts into 4 ohms, and The Bruiser II features dual 1000 watt power amps for 2000 watts of total output.
All Bruisers models share an all-tube front end using 3-12AX7 tubes with a regulated B+ and regulated DC filaments for lowest noise and consistent sound despite line noise or fluctuation. They feature a gain control a hi/low gain selector for active and passive basses, a deep switch which provides a warm vintage style tone, and a bright switch which adds snap to any bass.
The preamp features passive classic Baxandall high and low controls, and a tube parametric midrange control with frequency and boost and cut level control. The amp has separate stage and DI master volumes. The DI output features ground lift, pre/post tone control select, and a phase switch to insure compatibility with sound systems and in studio mixes.
The amps are built on fan cooled aluminum chassis and feature filtered AC line inputs, a mute switch, a dual-color LED showing normal and standby modes, a 40 second turn-on delay. The amps use a switch mode amplifier but with a conventional transformer power supply. The power modules feature: 
● 117dBA dynamic Range
● THD+N < 0.05%, 0.1W to Rated Power
● Amplifier Efficiency 96%
● System Efficiency > 80%
● Damping Factor > 400 @ 100Hz 4 Ohms
● DC offset < 40mV
● Output Feedback
● Over Current Protection: Short to Ground
● Over Current Protection: Shorted Load
● Output current monitor
● Temperature Protection and Monitor  
The Bruiser-MAP $1,995.00.
The Bruiser I-MAP $2,495.00.
The Bruiser II-MAP $2,895.00
For more Information:
www.fuchsaudiotechnology.com