Looking for more great gear for the guitar player in your life (yourself included!)? Check out this year's Holiday Gear Finds!
---
Riffs are the building blocks of classic rock. They are the earworms that stick with you and make the songs memorable. In this video, you will learn how to play five of the most popular riffs from bands such as Deep Purple, AC/DC, Black Sabbath, The Rolling Stones, and Led Zeppelin.
5 Classic Rock Riffs for Beginners
Premier Guitar
The envoy of evil honors Tony Iommi's ominous opening odyssey that is a foreboding fight between light and dark that ultimately sparked several subgenres of metal.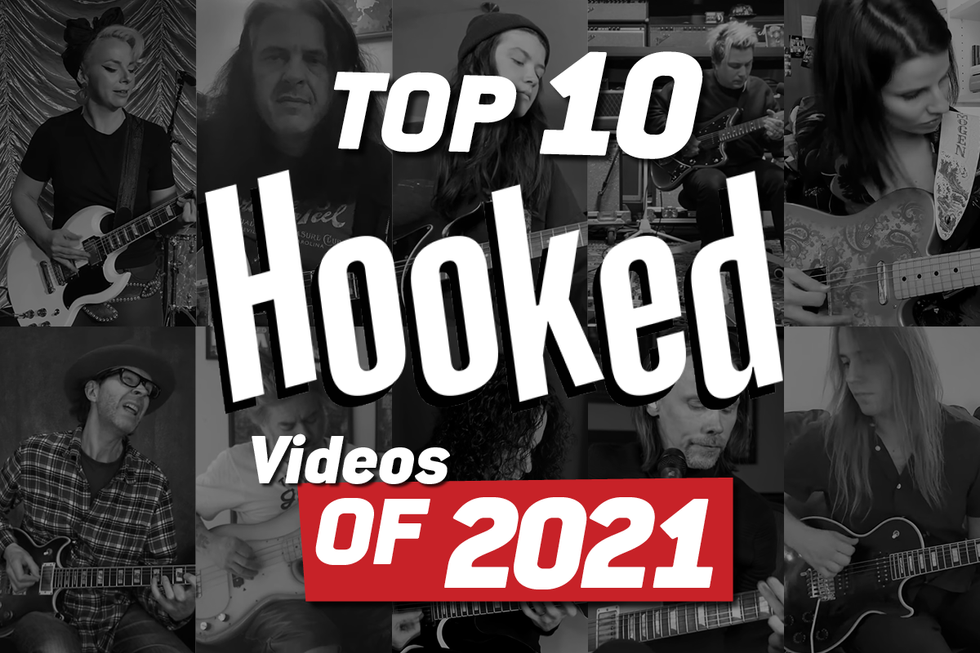 Premier Guitar
Paul Gilbert on Zep, Samantha Fish on Tom Petty, Marty Friedman on Sabbath, and more players share stories of how and when the guitar rocked their worlds.
---
Photo by Brian Friedman
In the face of current events, we've witnessed the steady and resilient progression of the guitar industry.
Despite the tough times we've been facing over the past few years, the guitar world has kept on ticking. By all visible measures, the industry has been doing well, both for sellers of musical gear and for content creators. There has also been a resurgence of live shows, and even with the ebb and flow of infectious disease, the marketplace for live concerts is gathering steam. So, what has changed in our journey to the "new" normal?
For musicians, live music is the component that many enjoy most, so its return is a welcome catharsis. This is good news not just for musicians, but for all the supporting cast members who make the performance ecosystem run. Guitar and drum techs, sound designers, lighting directors, and all the ancillary venue staff needed to stage and manage a night out for a few hundred (or thousand) music fans are the lifeblood of the whole musical experience machine. It takes a lot of grease to make the gravy, which is good for people in the industry who have been sidelined for so long.
It's going to take a while for the past level of venues to rebuild, I suppose. In the meantime, other outlets that have blossomed in the past few years will continue, with more and more emphasis placed on quality content like streaming shows. True, the format is hardly new, but the production values have improved significantly. Five years ago, you could get away with a shaky cell phone video of your gig or lesson. Today, the bar has risen to make well-lit multi-camera productions the norm. Video editing has become more sophisticated, and a lot of what I see looks more like real broadcast quality. The same goes for shop tours and builder interviews. On the gear side of things, podcasts and more in-depth videos from builders have reached a new level as well.
It takes a lot of grease to make the gravy, which is good for people in the industry who have been sidelined for so long.
Some of this has resulted from the plethora of information about how audio and video production works, and the huge amount of affordable video gear. Previously, only well-funded outfits could afford to hire production companies to create video content. The cost of making a 30-minute piece of broadcast-quality video could be five, or even six figures. Compare that to today, where a few thousand dollars' worth of gear can get you into the game—and you start to understand why new videos are much slicker.
That's not to imply that slick production is what makes the difference. Great content is at the heart of any great endeavor. Take a look at the in-depth YouTube series Archtoppery, featuring master luthier Ken Parker. Not that the production value is anywhere near Hollywood levels, but Parker's guidance through the mesmerizing journey into the minutiae of guitar making is a must-see. What sets it apart is his depth of experience and his ability to verbalize the mechanics of the craft in a way that anyone can understand. You need a little patience to watch a solid hour of how to improve a wood gouge, but that's precisely what makes this series superlative. Even though Parker is adept at building guitars in a factory setting, his love of the handiwork that he employs on his current instruments humbles even the most experienced among us.
This all brings me to the future of guitar-building on the individual level. If the first few years of this century was a gold rush to launch small-batch guitar brands, the pandemic years brought oversaturation. As we move into the next phase, the reality of the home-built market is setting in. I'm certain that a lot of the basement builders will continue, just as the home beer-brewing hobby does. My best guess is that a lot of the people who attempted to take their hobby to the next level may tire of the struggle to get enough traction to survive. At the corporate level, the Anheuser-Busch and Heinekens of guitar sales will still carry the day.
The silky smooth slide man may raise a few eyebrows with his gear—a hollow, steel-bodied baritone and .017s on a Jazzmaster—but every note and tone he plays sounds just right.
KingTone's The Duellist is currently Ariel Posen's most-used pedal. One side of the dual drive (the Bluesbreaker voicing) is always on. But there's another duality at play when Posen plugs in—the balance between songwriter and guitarist.
"These days, I like listening to songs and the story and the total package," Posen told PG back in 2019, when talking about his solo debut, How Long, after departing from his sideman slot for the Bros. Landreth. "Obviously, I'm known as a guitar player, but my music and the music I write is not guitar music. It's songs, and it goes back to the Beatles. I love songs, and I love story and melody and singing, and there was a lot of detail and attention put into the guitar sound and the playing and the parts—almost more than I've ever done."
And in 2021, he found himself equally expressing his yin-and-yang artistry by releasing two albums that represented both sides of his musicality. First, Headway continued the sultry sizzle of songwriting featured on How Long. Then he surprised everyone, especially guitarists, by dropping Mile End, which is a 6-string buffet of solo dishes with nothing but Ariel and his instrument of choice.
But what should fans expect when they see him perform live? "I just trust my gut. I can reach more people by playing songs, and I get moved more by a story and lyrics and harmony, so that's where I naturally go. The live show is a lot more guitar centric. If you want to hear me stretch out on some solos, come see a show. I want the record and the live show to be two separate things."
The afternoon ahead of Posen's headlining performance at Nashville's Basement East, the guitar-playing musical force invited PG's Chris Kies on stage for a robust chat about gear. The 30-minute conversation covers Posen's potent pair of moody blue bombshells—a hollow, metal-bodied Mule Resophonic and a Fender Custom Shop Jazzmaster—and why any Two-Rock is his go-to amp. He also shares his reasoning behind avoiding effects loops and volume pedals.
Brought to you by D'Addario XPND Pedalboard.
Blue the Mule III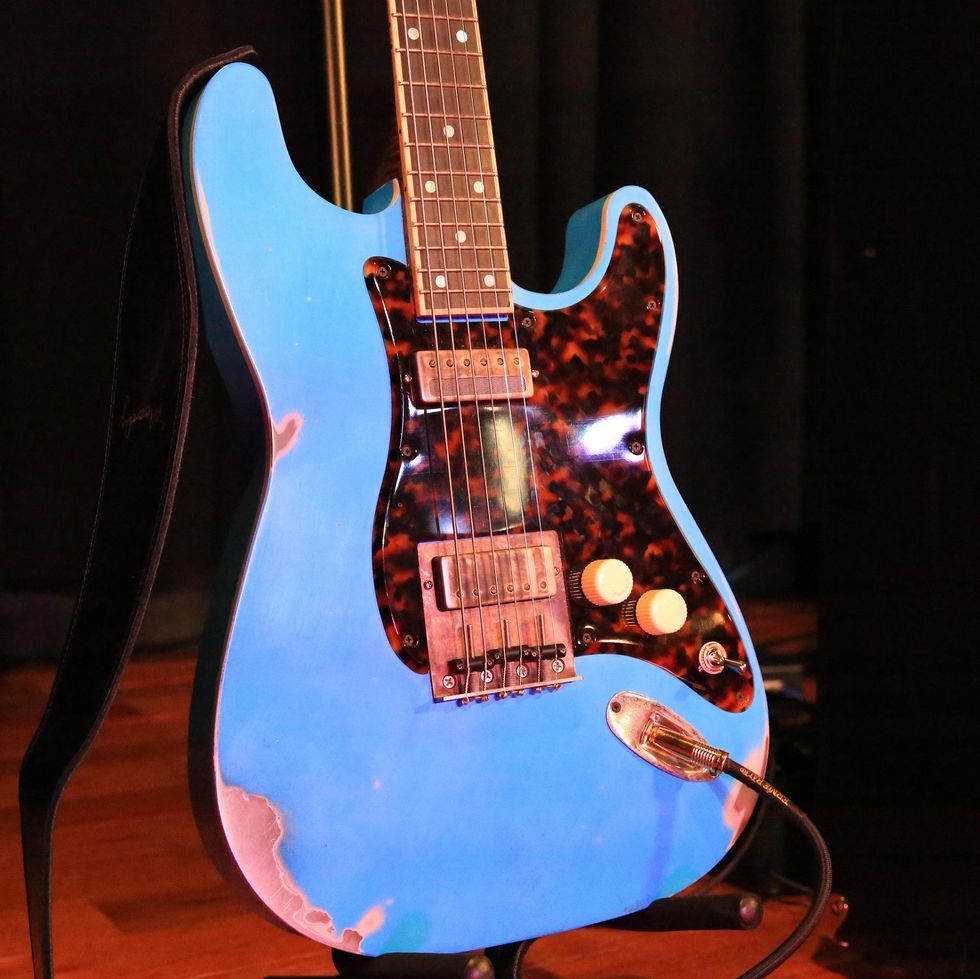 If you've spent any time with Ariel Posen's first solo record, How Long, you know that the ripping, raunchy slide solo packed within "Get You Back" is an aural high mark. As explained in a 2019 PG interview, Posen's pairing for that song were two cheapos: a $50 Teisco Del Rey into a Kay combo. However, when he took the pawnshop prize onstage, the magic was gone. "It wouldn't stay in tune and wouldn't stop feeding back—it was unbearable [laughs]."
Posen was familiar with Matt Eich of Mule Resophonic—who specializes in building metal-body resonators—so he approached the luthier to construct him a steel-bodied, Strat-style baritone. Eich was reluctant at first (he typically builds roundneck resos and T-style baritones), but after seeing a clip of Posen playing live, the partnership was started.
The above steel-bodied Strat-style guitar is Posen's third custom 25"-scale baritone. (On Mule Resophonic's website, it's affectionately named the "Posencaster.") The gold-foil-looking pickups are handwound by Eich, and are actually mini humbuckers. He employs a custom Stringjoy set (.017–.064 with a wound G) and typically tunes to B standard. The massive strings allow the shorter-scale baritone to maintain a regular-tension feel. And when he gigs, he tours light (usually with two guitars), so he'll use a capo to morph into D or E standard.
Moody Blue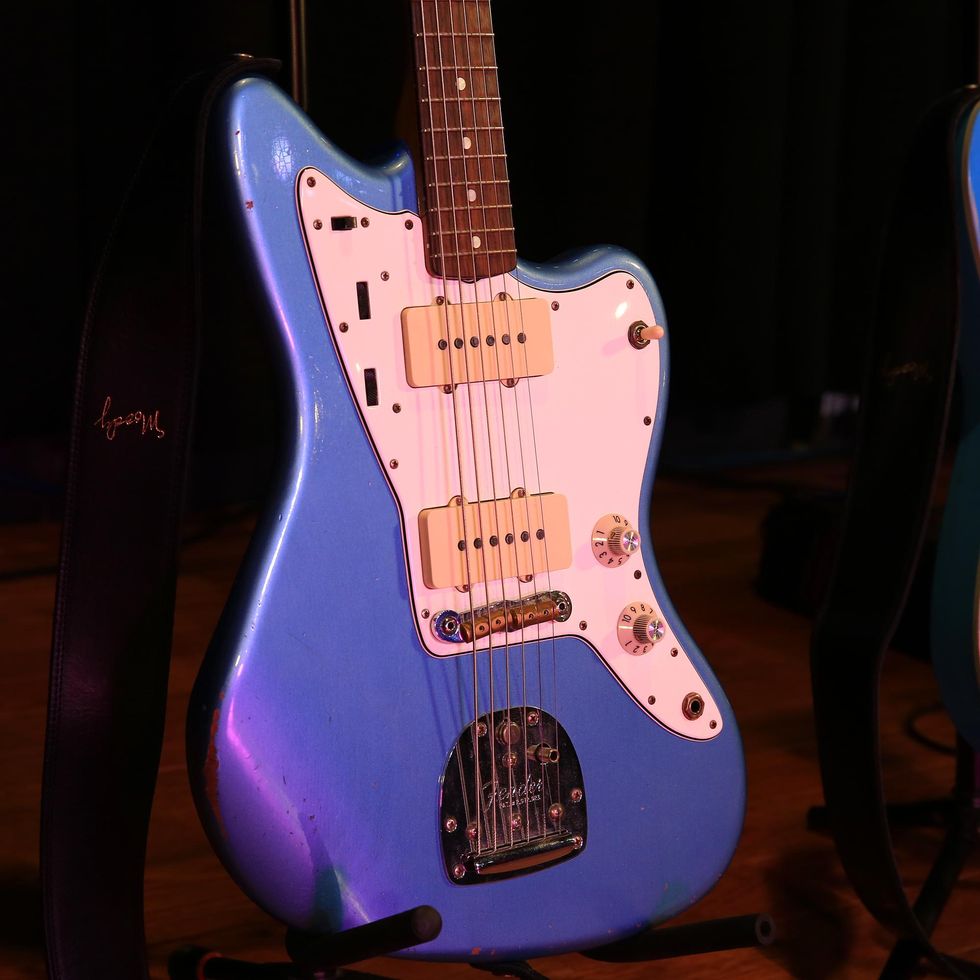 Another one that saw recording time for Headway and Mile End was the above Fender Custom Shop Masterbuilt '60s Jazzmaster, made by Carlos Lopez. To make it work better for him, he had the treble-bleed circuit removed, so that when the guitar's volume is lowered it actually gets warmer.
"Clean and Loud"
Last time we spoke with Posen, he plugged into a Two-Rock Classic Reverb Signature. It's typically his live amp. However, since this winter's U.S. run was a batch of fly dates, he packed light and rented backlines. Being in Music City, he didn't need to go too deep into his phone's contacts to find a guitar-playing friend that owned a Two-Rock. This Bloomfield Drive was loaned to Ariel by occasional PG contributor Corey Congilio. On the brand's consistent tone monsters, Posen said, "To be honest, put a blindfold on me and make one of Two-Rock's amps clean and loud—I don't care what one it is."
Stacked Speakers
The loaner vertical 2x12 cab was stocked with a pair of Two-Rock 12-65B speakers made by Warehouse Guitar Speakers.
Ariel Posen's Pedalboard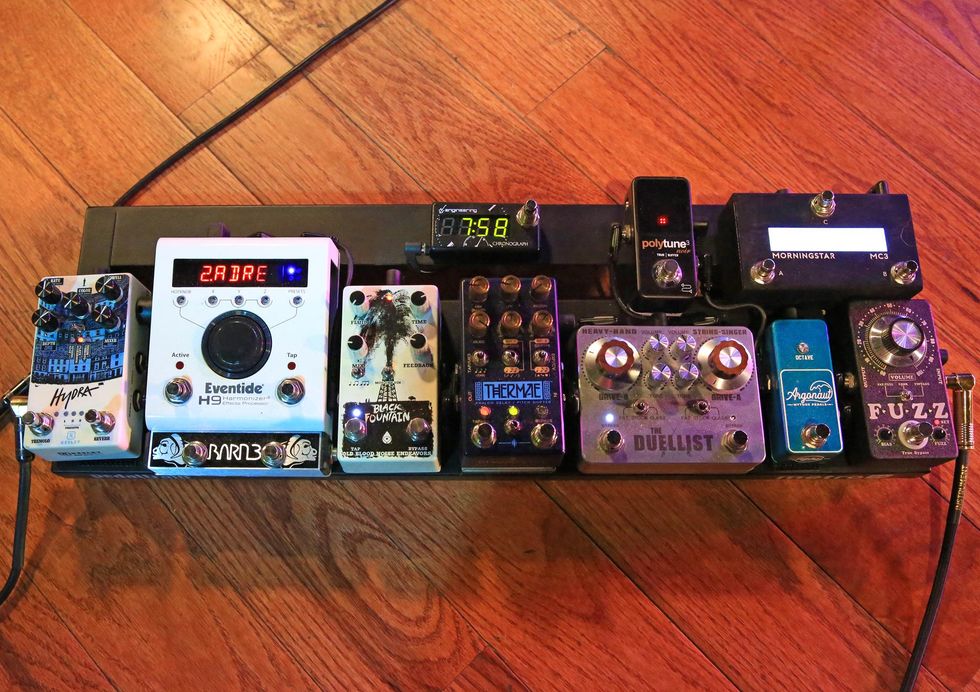 There are a handful of carryovers from Ariel's previous pedalboard that was featured in our 2021 tone talk: a TC Electronic PolyTune 3 Noir, a Morningstar MC3 MIDI Controller, an Eventide H9, a Mythos Pedals Argonaut Mini Octave Up, and a KingTone miniFUZZ Ge. His additions include a custom edition Keeley Hydra Stereo Reverb & Tremolo (featuring Headway artwork), an Old Blood Noise Endeavors Black Fountain oil can delay, Chase Bliss Audio Thermae Analog Delay and Pitch Shifter, and a KingTone The Duellist overdrive.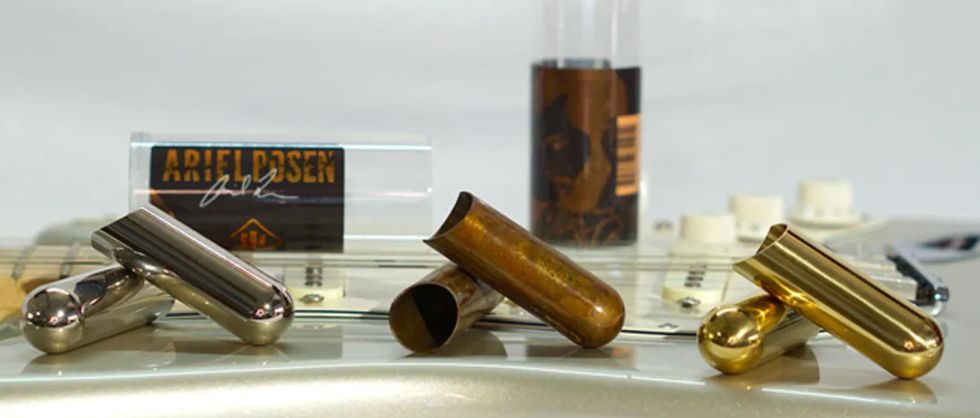 Another big piece of the tonal pie for Posen is his signature brass Rock Slide. He worked alongside Rock Slide's Danny Songhurst to develop his namesake slide that features a round-tip end that helps Posen avoid dead spots or unwanted scratching. While he prefers polished brass, you can see above that it's also available in a nickel-plated finish and an aged brass.