Looking for more great gear for the guitar player in your life (yourself included!)? Check out this year's Holiday Gear Finds!
---
Its 38-watt output, powered by a quartet of EL84 tubes, is designed to provide lots of headroom and response for discerning players.
The original idea behind Jet Black was to bring the Black Cat's trademark sound to players who needed more volume. With a second pair of EL-84s doubling its output, common sense suggested it'd be louder and tighter, but no one was quite prepared for the tones the Jet Black would unleash.

Unleash Your Creativity with the Jet Black
The Jet Black offers guitarists an unrestrained and visceral playing experience. Its 38-watt output, powered by a quartet of EL84 tubes, provides awesome headroom and response for discerning players. With two channels, tremolo, FX loop and reverb, the Jet Black is an ultra-versatile tool for shaping your sound.
Channel 1: The revamped first channel is bold and clear, making it perfect for clean tones and harmonically rich edge of breakup sounds.
Channel 2: The second channel is versatile and fresh, suitable for a wide range of rock-oriented tones. It successfully captures the essence of classic and modern guitar sounds, boasting its own unique character and swagger.
3-Band EQ: The new 3-band EQ allows precise control over your tone, with a pronounced mid/high response that cuts through the mix, unlike traditional "British Voice" amplifiers, the Jet Black carves its own niche in the sonic spectrum, ensuring that it shines in a two-guitar band setup without contributing to a volume war.
Reverb and Tremolo: Rarely found on rock-oriented amps, meticulously tuned reverb and tremolo circuits are included to complement the amplifier's ultra-wide range, delivering lush and noise-free effects with adjustable depth and speed.
FX Loop and Line Out: The Jet Black features a transparent FX Loop for connecting external effects without hassle. A line out simplifies the use of external impulse responses or re-amping. The amplifier also offers various speaker outputs to accommodate different setups.
Footswitch: The included two-button footswitch provides convenient control over the tremolo and channel selection.
Availability
The Bad Cat Jet Black amplifier will be available from, November 21, 2023, through select Bad Cat dealers and online retailers.
For more information, please visit badcatamps.com.
There are still special places where the heart of American music beats like a kick drum. Experience them while you can, and be inspired.
Since the '80s, I've spent a lot of time traveling to the obscure corners where great American roots music is made. Recently, I went to Bentonia, Mississippi, for the 75th anniversary of the Blue Front Cafe, a little juke joint so close to the railroad tracks that its walls shake when the City of New Orleans rumbles by. The place is run by Jimmy "Duck" Holmes, who inherited it from his parents. He was 1 year old when they opened its doors, and, at 76, Jimmy takes great pride in unlocking those same blue doors every day.
According to the 2020 census, there are 318 people in Bentonia. I would imagine all of them have been to the Blue Front, which, based on my two days there listening to local and regional musicians play on a plywood stage in the dirt and gravel lot surrounding the club, seems to be a nexus of community. Sure, there were tourists like me, including some from Maine and Japan, but many of the locals I encountered spoke about how they've been coming to Jimmy's club for years—decades, even—for music and friendship. One patron told me he had his first beer at the Blue Front. Another got married there, right by the interior window to the kitchen, where you order catfish or cheeseburgers.

Stepping inside, the place has the funky furnishings you'd expect from a rural juke, right down to a jar of pickled pigs' feet on the bar. But it also has a positive vibe. The crowd is racially mixed, and some patrons are gay and out, and nobody cares. The Blue Front is a place to hang out and be yourself.
"The place has the funky furnishings you'd expect from a rural juke, right down to a jar of pickled pigs' feet on the bar."
Of course, the future of the Blue Front is uncertain. It needs a new roof, and, at Jimmy's age, the day will come when it also needs a new operator. What happens then, or if funds for the roof can't be raised, is a question mark. Meanwhile, the club stands as a beacon of music history, past and present. It's where Henry Stuckey and Skip James traded licks, and where both men indoctrinated Jimmy in the style known as Bentonia blues. That genre is the result of Stuckey learning open-minor-key tunings from Bahamian servicemen during World War I, and incorporating them into the sounds of home—then teaching his music to Skip James, who remains the style's most famous exponent. (Check out James' "Devil Got My Woman" for a case of the Bentonia willies.) Rarely can we point to a single town, let alone a single place, where a distinctive musical style ignited and was nurtured, to eventually reach the world. Bentonia and the Blue Front are such a place.
Earlier this year, the Blues Foundation presented Jimmy with a Keeping the Blues Alive award. It was a long overdue acknowledgement of all the sweat and heart he has put into making the Blue Front the longest operating juke joint in Mississippi—and possibly the U.S. Keeping the blues alive is something he does at the Blue Front every day, in the most practical way possible, without fanfare, advertising, or the expectation of awards. And as Stuckey and James did for him, Jimmy is passing the music to a new generation of players for whom the lonesome sound of Bentonia blues resonates.
For gas money and maybe a couple days on the road, or a flight and a car rental, you can go to the Blue Front, too. Or to Clarksdale, Mississippi, where the sound of unvarnished blues still rings out at places like Red's Lounge, the Delta Blues Alley Cafe, Hambone Art & Music, the Bluesberry Cafe, and Ground Zero Blues Club. Or to Wild Bill's in Memphis. Or the Sahara Lounge in Austin, Texas, where blues, free jazz, and African music rub elbows. Or Kermit's Treme Mother in Law Lounge, originally opened in New Orleans by R&B singer Ernie K-Doe and now owned by trumpeter and singer Kermit Ruffins.
These places are unique to the ecosystem of American music. Without them, the enlightening, inspiring, and entertaining experiences people share within their walls would not exist. And they are all fragile—potentially one more pandemic, a fire, or some unanticipated expense from going away. So, if you're making travel plans for 2024, why not put a trip to the Blue Front, or the Sahara, or any other bona fide musical wellspring you're aware of, on your agenda? These are places where magic happens. You won't regret the trip. And if you
do
stop at the Blue Front, tell Jimmy I said hello.
Positive Grid's mighty mini amp has taken the world of practice—and stage—by storm. Here's the lowdown on the original Spark amp, the Spark MINI, the Spark GO, the new Spark CAB, and the company's flexible, tone-hopping controller. Most are sale-priced for the holidays.
The holiday season is upon us, and if you're on the quest to find the ultimate gift for the guitarist in your life, or perhaps you're treating yourself, look no further. We're about to take you on a journey through the world of Spark series amps – the gifts that sound right for any guitarist's wishlist. With numerous awards and an ever-growing community of over 500,000 players worldwide, these amps have certainly made their mark.
And the best part? Fantastic deals on Spark start now. There's a Spark for every type of player (bassists included!) – so let's find the one that fits you.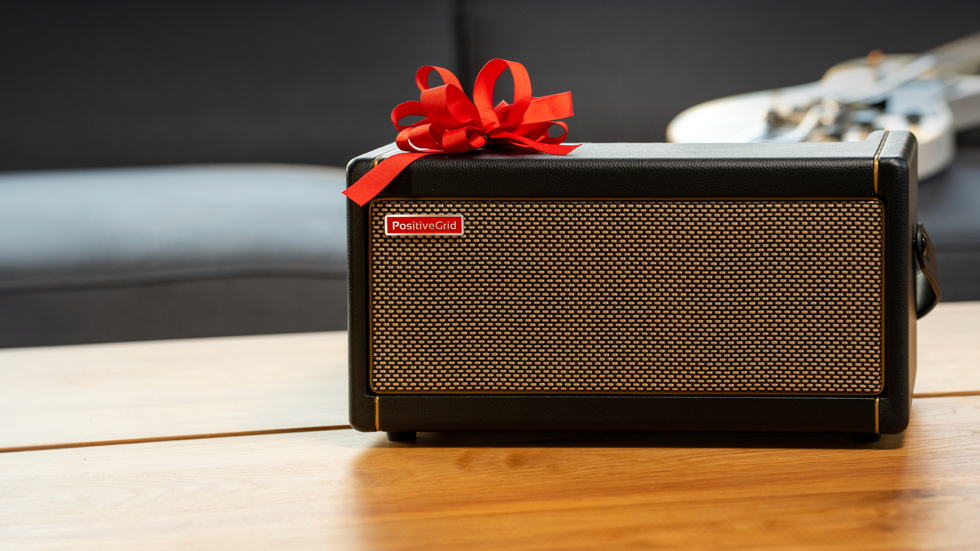 Spark - The Complete Jam Package
Let's kick things off with the Spark guitar amp and Bluetooth speaker – the trailblazer in the Spark series. This 40W practice amp doesn't just fill the room with incredible sound; it puts you in the driver's seat of your own tone. But what really makes Spark stand out is the incredibly powerful smart app that works seamlessly with the entire line of Spark series amps. Packed with all the gear and innovative smart features, it's your gateway to instant jamming fun. Looking for that perfect tone? You've got access to a whopping 50,000+ tones and custom presets created by guitarists worldwide to get you started. Plus, who needs bandmates when you've got Smart Jam? Just start playing, and the AI creates a real-time drum and bass track for you.
We're just scratching the surface here. It's no wonder why over half a million guitarists worldwide are playing more guitar than ever with Spark, now completely
customizable
to fit your unique style. And don't forget to check out the official
Traveler Gig Bag
– a must-have for any Spark owner on the move.
Spark MINI - Portability Meets Power
For those who crave portability without compromising on power, meet the Spark MINI. Don't let its size fool you. This 10W portable beast of an amp features a passive radiator that delivers unbelievable sound and punchy bass that'll have you questioning why all amps aren't this compact. And our favorite part – Spark MINI features a built-in rechargeable battery that provides up to 8 hours of jamming or music listening, perfect for impromptu jam sessions at the office, home, or anywhere that inspires you. Seriously, take it to the park or the beach; it's always ready to roll.
Spark MINI has even earned the praise of guitar legends like Zakk Wylde and Paul Gilbert, both of whom crafted their own limited-edition versions which, unfortunately for you, sold out. But don't fret, they also created custom presets that can be downloaded for free in the Spark app and are available to all Spark users.
Spark GO - The Ultra-Portable Wonder
Ever wonder what it was like to have an amp on you…all the time? Spark GO is a 5W wonder so small it can slide right into your gig bag or suitcase without hogging precious space. In fact, you might even forget that you packed it in the first place! It's the personal guitar amp that fits the unique style of every guitarist – regardless of skill level. Touring guitarists across the globe are falling head over heels for this tiny powerhouse, and for excellent reasons. They've discovered that not only does it deliver surprisingly big sound for an amp its size, but also the incredible convenience of Spark GO, turning hotel rooms and tour buses into impromptu jam spaces.
Just in time for the holidays, you can take home a Spark GO for under $100 USD. While you're at it, pick up the new carrying case, to ensure your musical sidekick is well-protected from the rigors of the road.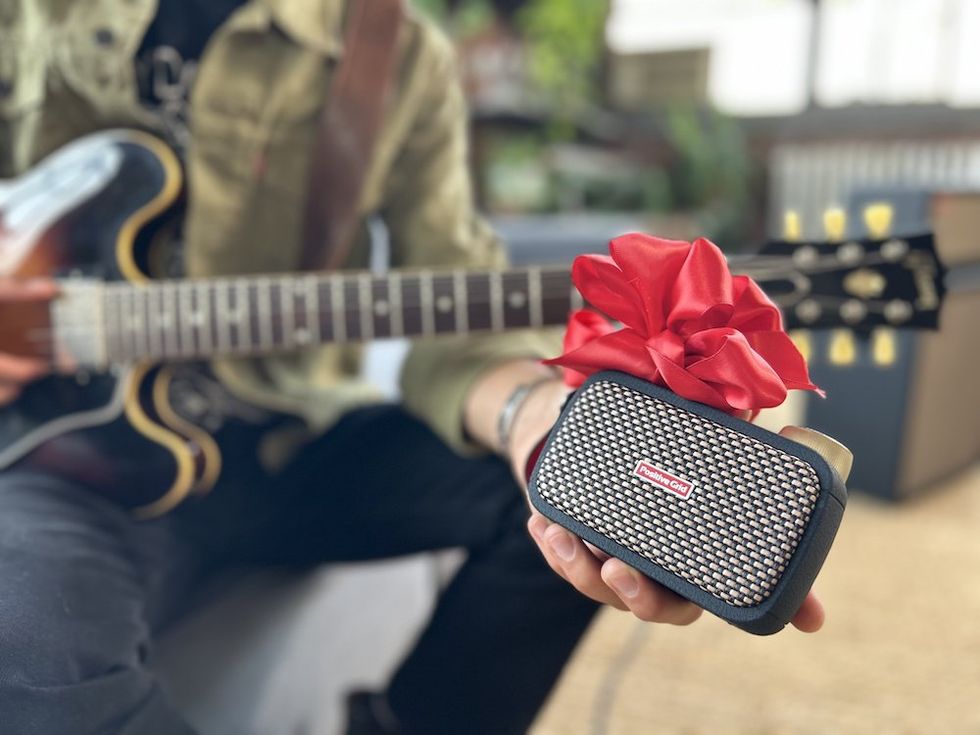 Spark CAB - It's Time To Get Loud
Sometimes, you need that extra oomph in your sound, and that's where Spark CAB comes into play. It's not just about making your music louder; it's about making it shine. But make no mistake, this cab is LOUD! Designed for Spark amp owners hungry for more volume during live performances or jam sessions, Spark CAB is a 140W FRFR (Full Range, Flat Response) powered cabinet that perfectly complements any Spark series amp. Plus, it's great for cranking up the volume on other gear like keyboards, modelers, or even an extra amp with line level outs.
Spark Control - Elevate Your Spark Experience
Now that you've decided which Spark series amp works best for you (or the lucky person you're gifting it to), it's time to pair it up with the ultimate Spark accessory – Spark Control. It allows you to effortlessly (and wirelessly!) switch between presets, fine-tune settings, control music, and more, and it's compatible with every Spark series amp. Besides, a good pedal is something every guitarist needs. Say goodbye to fiddling with controls and knobs when you need to switch tones. Set up your favorite preset, assign them to Spark Control, and you can seamlessly switch them on the fly without ever missing a beat.
With the holidays racing towards us faster than one of Paul Gilbert's legendary solos, let this list guide you in your quest for the perfect gift. So, this holiday season, let's celebrate the joy of giving with the best gift of all: music. And remember to treat yourself; you've earned it.
Looking for more gift ideas? Visit our
Holiday Gift Guide
to snag the best deals of the year.