Looking for more great gear for the guitar player in your life (yourself included!)? Check out this year's Holiday Gear Finds!
---
The Sensation Fuzzdrive from Heather Brown Electronicals blends the best of both worlds from its titular pedal classes.
Broad range of vintage and modern sounds, from classic rock to metal to punk to parts unknown. High-gain sounds are full and gooey and versatile. Nice art.
Can get a bit boxy when used as an overdrive. The tone color won't be everyone's cup of tea.
Heather Brown Electronicals Sensation Fuzzdrive
godsmom.com
4
4.5
4.5
4
The Heather Brown Electronicals Sensation Fuzzdrive sure does live up to its name. It fuzzes, it drives, it will give you varying sensations.
In her own words, Heather Brown is a mom who makes guitar pedals. She cut her teeth working for Electro-Harmonix's Mike Matthews and Keeley Electronics namesake Robert Keeley, and now she builds killer pedals of her own original design. The Sensation Fuzzdrive is Brown's third offering, joining an overdrive unit and a combo fuzz/tremolo pedal already on her roster. It's marketed as a fuzz-meets-overdrive circuit, with the tight punch of an OD and the earth-rumbling thunder of fuzz.

Braaaaaains!
The Sensation sports some of the coolest art ever committed to a little steel stompbox. The glitchy brain cross-section and circuit board of tendrils crawling out from it announce the Fuzzdrive as a unique pedal with vision and guts. The controls also set the pedal apart from the pack. A 3-stop knob switch called the saturator enables you to select how many gain stages you want to run in series, and a conventional EQ knobs suite is replaced by a toggle-switching system for midrange and bass. A third toggle switches between two gain levels and works in concert with the saturation control to fine-tune the distortion from the pedal's gain stages to sound hotter or cooler. The master volume control is the only full-sweep pot on board. The on/off blood-red LED is cheekily placed among the spindly neuron threads. Together the controls give the pedal a slick, industrial look. The Fuzzdrive, by the way, is built around a low-input impedance circuit, so Heather Brown suggests situating it before any buffered pedals in a chain.
Instructions for the Fuzzdrive include six control setting suggestions that range from warm overdrive to heavy fuzz. But whether it's the relative inflexibility of a 3-position toggle switch, or limits in the midrange, I did find the EQ controls a bit challenging to master. When chording on all three midrange settings, I heard a certain boxiness unless I had the bass toggle at maximum level, and when I flipped through the different mid switch options, I felt like I was hearing a wah set at different points. That said, players like Josh Homme have built a career from plumbing the depths of tone-tickle trunks for weirdo guitar sounds, and this aspect of the Fuzzdrive's performance will likely inspire the same sort of playfulness and adventure. Plus, the boxy compression generated great lead sounds. And at any and all positions, both humbucker and single-coil guitars sounded absolutely scorching and grimy.
Squealin' In the Years
The Fuzzdrive is a versatile fuzz and distortion. The clipping is ferocious but warm, and the dirt can be tuned to resemble anything from explosive Hendrix fuzz or Sabbath crunch to modern hard rock and metal tones. I even got what I thought were pretty convincing Enema of the State-era Tom DeLonge sounds with the mids down and bass and saturation in middle positions. At full volume, the circuit's high-end can come on strong. The sweet spot for me was between 12 and 3 o'clock. But, if you want to go off-trail and explore different textures, the Fuzzdrive's unique midrange voicings offers many paths.
The Verdict
I didn't get to test the Sensation in a band setting, but it's clear from its cutting tones that it would manage a mix well. It's not strictly an overdrive, so it won't clean up at low drive or reduced guitar volume settings the way some dedicated overdrives might. Then again, you won't encounter mud or any lack of clarity here.
The Sensation Fuzzdrive doesn't really sound like most other fuzz and distortion boxes, and that's a good thing. It has some seriously unique and exciting sounds tucked away in the folds of its brain, and the control layout is funky and invites experimentation. If you're looking for a mid- to high-gain tool that sounds unique, looks cool, and will give you rich, warm saturation alongside oddball tonal options, you won't be disappointed.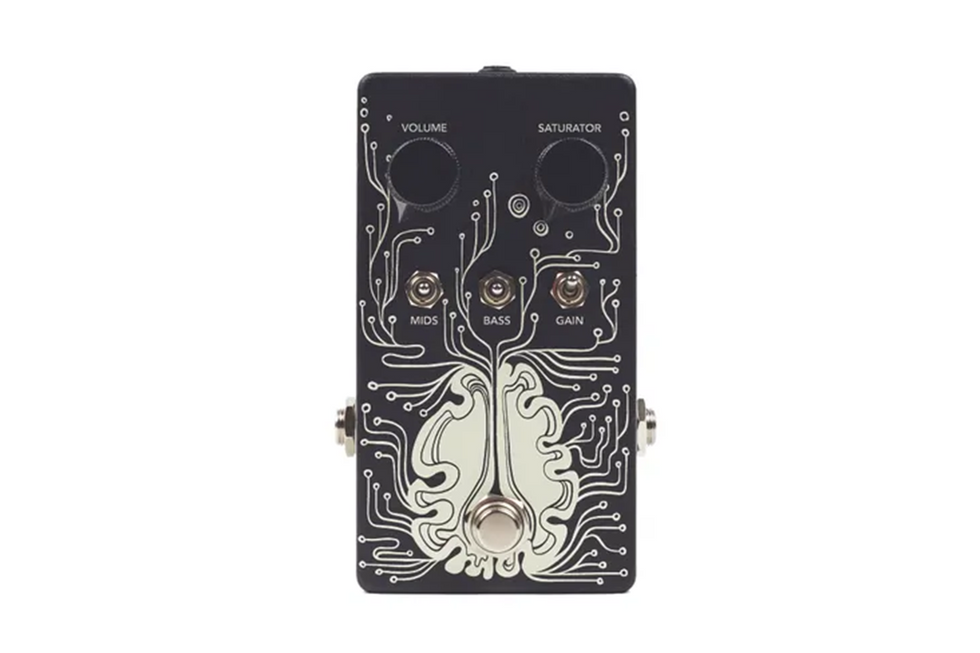 Heather Brown Electronicals
One player's lifelong obsession with the ability to have worlds of sound beneath our feet. And, by the way, it's our annual pedal issue.
I'm a pedal freak. I have been since I bought my first one: a used MXR Distortion + for about $20. At the time, I was hunting for the sounds of my classic-rock guitar heroes—especially Hendrix's Strat tones and the raw, grinding fuzz on Big Brother and the Holding Company's Cheap Thrills. (I realize the latter isn't popular with a lot of players, but for me, the voice of James Gurley's guitar is still sonic nirvana!) I don't know that I've ever really achieved those sounds, but the purchase of a Big Knob Tone Blender in 2020 did finally get me very near Gurley's grizzly-bear-on-acid bawl.
Over the years, my passion for pedals has not diminished. I haven't counted lately, but I've got at least 100 in easy-to-access plastic boxes, and 11 or 12 on my 'board at any time. Sure, I enjoy purely organic guitar tone, too, and spent nearly a decade touring with just a couple guitars, a Marshall, and a tuner. But to me, pedals are not a gimmick, as I've heard some players and critics disparage them. They are a key to potentially uncharted sonic terrain, or at least, a rarified zone where the inspiration for new songs or epic solos awaits. I once had a vicious argument with a fellow journalist and guitarist who dismissed pedals as a crutch. If pedals are a crutch, so are electricity and amps.
"If pedals are a crutch, so are electricity and amps."
The usual suspects on my pedalboard these days range from bread-and-butter effects (an MXR Phase 95 and an EHX Stereo Pulsar tremolo) to the elite (a Red Panda Particle 2 and a one-of-a-kind Big Knob Burns Buzzaround clone) to the awesomely outlandish (a Mantic Flex Pro and a Pigtronix Mothership 2). It's a constantly changing lineup, depending on the gig and my impulses. Because I've not yet been able to pin down my perfect pedalboard lineup, like XAct Tone's Barry O'Neal does in this issue's "A Pedalboard Pro's Dream 'Board." My setup is one-dimensional. When I do figure that out, and I feel like I'm getting close, I'll adopt a multi-tiered board and finally hide the power supply where the sun don't shine, providing even more real estate for sound boxes.
I also owe pedals a debt beyond the creative yield they've provided. They helped get me through the pandemic. After watching David Gilmour's Live at Pompeii concert repeatedly, I was inspired by his array of BK Butler Tube Drivers to go on an overdrive and fuzz spree. The joy of the chase and the sounds that resulted relieved my boredom and depression. In addition to a Tube Driver with the variable bias mod, I acquired the Tone Blender and Buzzaround clone, a TC Electronic Zeus Drive, a Joe Gore Duh, and, post lockdown, an MXR Duke of Tone. I love them all, I know exactly how I enjoy deploying them, and I am open to acquiring more. And don't get me started on my adoration of delays and reverbs, and how they alter the space-time continuum!
All of which brings me to our annual pedal issue, or, as I like to think of it, my potential fall gear shopping list. I love this issue for its coverage of so many stompboxes from every category, and how the contributors and editors here at
PG
—and especially our veteran Gear Editor Charles Saufley—are able to distill, with color and character, the essentials of so many new stomps into an easily digestible consumers' guide for guitarists. To say nothing of the cover by our Managing Editor Kate Koenig, which evokes the spirit, pun intended, of pedal collecting—where sounds sometimes seemingly from another world both echo the past and lead toward the future of tone.
James Taylor is renowned for his distinctive guitar style that has left an indelible mark on the realm of folk and soft rock music. His approach to the guitar is characterized by a unique blend of intricate fingerpicking and soulful strumming.
Taylor's fingerpicking technique is a central element of his style, known for its melodic complexity and rhythmic precision. He weaves intricate patterns, often incorporating alternating bass lines with intricate melodies on the higher strings. This technique, showcased in songs like "Fire and Rain" and "You've Got a Friend," creates a rich and textured backdrop for his warm, resonant vocals.
In contrast, Taylor's strumming adds depth and emotion to his music. His gentle, yet deliberate, strums create a rhythmic foundation that complements his introspective lyrics. This combination is evident in classics like "Carolina in My Mind" and "Sweet Baby James."

Taylor's guitar style is not just about technical prowess, but about conveying emotion and storytelling. Whether he's delicately picking the strings or strumming with heartfelt intention, his guitar work harmonizes perfectly with his introspective lyrics, creating a timeless musical experience that resonates deeply with listeners.