When three pickups simply won't do, reach for a Silvertone ET-460 K4L There was a time when a man was judged by the number of pickups on his guitar.

When three pickups simply won't do, reach for a Silvertone ET-460 K4L
There was a time when a man was judged by the number of pickups on his guitar. Ah, those were the days—the glorious '60s!
After seeing some 4-pickup Silvertones show up on eBay over the years, I decided I needed to experience one. So I bookmarked this particular guitar—an old '60s teal-colored Silvertone ET-460 K4L. Nicknamed the "Sharkfin," the instrument was made in Japan by Teisco. On this model, each of the 4 pickups has its own on/off switch, a system that allows a mind-boggling number of different pickup combinations. (Okay, that's only 15, not including "all off," but compared to a Tele, Les Paul, or Strat, this seems almost infinite.)


This guitar's "Sharkfin" moniker comes from its cool, sculpted headstock. The Grover tuners were added by a previous owner.
The seller admitted that his tech had declared the neck was slightly twisted, and this probably kept bidding low. It was also missing one of the bridge roller inserts for the low-E string, as well as the Silvertone headstock logo.
I decided to take my chances anyway because everything else seemed to be there, and apparently all the pickups worked. Also, someone had replaced the tuners with nice Grovers, and the original tuners would be included in the case for the winner. I always figure when an owner changes out the original tuners for Grovers, the guitar must be pretty decent, so I bid on it.

The entire guitar sports a teal paint job.
I won it for $262, plus $18 shipping. Not exactly a steal, but definitely within bottom-feeder territory. It arrived with no strings on it (usually a bad sign), and I immediately took it to my tech Jack Dillen for an assessment. He was amused by all the pickups and switches. He put on a single high-E string, started fretting it all over the neck, and after a few minutes gave me some good news: The neck was actually in good condition. It only appeared to be twisted because a half-dozen frets were popping up.
After Jack applied a few dabs of super glue and clamped the loose frets to reseat them, the neck seemed to be just fine. He also looked in his parts box and found a compatible roller bridge saddle to replace the missing one. These simple modifications made my Sharkfin work just fine.

The Bigsby-inspired bridge includes roller saddles.
Bottom Feeder Tip #2,289: Keep your friends close, but keep your guitar tech even closer. It was my guitar tech against the seller's tech ... and mine won. So is it a keeper? Absolutely—it now has super-low action, plays like a dream, and seems to possess a gazillion different sounds, thanks to all the unusual pickup combinations. I also dig the cool "pointy" Jetsons vibe. She's a real retro-future looker!
---
Will Ray
is a founding member of the Hellecasters guitar-twang trio. He also does guitar clinics promoting his namesake G&L signature model 6-string, and produces artists and bands at his studio in Asheville, North Carolina. You can contact Will on Facebook and at
willray.biz
.
Looking for more great gear for the guitar player in your life (yourself included!)? Check out this year's Holiday Gear Finds!
Outlaw Effects introduces their next generation of NOMAD rechargeable battery-powered pedal boards.
Available in two sizes, NOMAD ISO is a compact, versatile tool that offers the convenience of a fully powered board plus the additional freedom of not having to plug into an outlet. NOMAD ISO is ideal for stages with limited outlet availability, quick changeovers, busking outdoors, temporary rehearsal locations, and more!
NOMAD ISO builds upon the legacy of the ultra-convenient and reliable NOMAD rechargeable pedalboard line originally launched in 2018. The brand new NOMAD ISO editions feature eight isolated outputs (1 x 9V DC, and 1 switchable 9V/12V DC) for even more versatility and clean, quiet power. With an integrated lithium-ion battery pack boasting 12800mAh capacity, NOMAD ISO can fuel a wide array of pedals, and will last over 10 hours* on a single charge.
Each NOMAD ISO pedal board includes adhesive hook & loop pedal-mounting tape, eight (8) standard DC connector cables, and one (1) reverse polarity DC cable, giving you everything you need to build your ultimate "off-the-grid" rig. A rugged, road-ready padded gig bag with shoulder strap is also included, to safely protect your gear while you're on the move.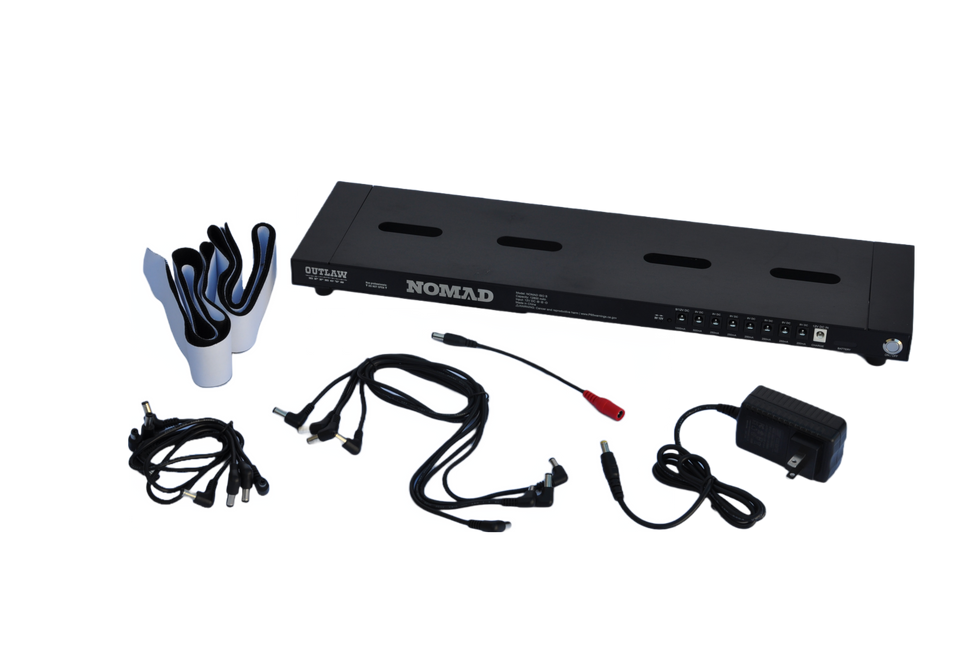 Dunable announce new Minotaur model featuring Grover Rotomatic Keystone tuners.
The Minotaur's DNA is rooted in their classic Moonflower model, which Dunable discontinued in 2017. However, they have long since wanted to create a fresh take on a carved top guitar design, and various attempts to rework the Moonflower led them to a brand new concept with the Minotuar.
Dunable's goal is to give the player a guitar that plays fast and smooth, sounds amazing, and gives maximum physical ergonomic comfort. The Minotaur's soft and meticulous contours, simple and effective control layout, and 25.5" scale length are designed to easily meet this criteria.

Dunable Minotaur!
Features
25.5" scale length
Dual Humbucker
one volume, one tone, push pull for coil splitting
Grover Rotomatic Keystone tuners
Grover Tune O Matic bridge with brass Kluson top-mount tailpiece
jumbo nickel frets
12" fretboard radius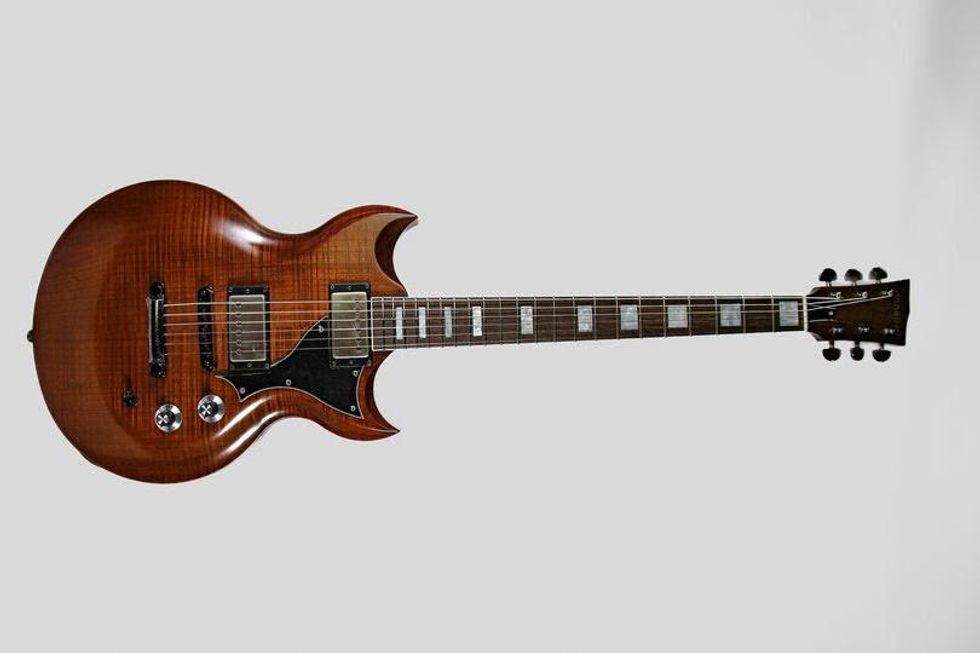 Dunable
This full-amp-stack-in-a-box pedal brings a new flavor to the Guitar Legend Tone Series of pedals, Missing Link Audio's flagship product line.
Adding to the company's line of premium-quality effects pedals, Missing Link Audio has unleashed the new AC/Overdrive pedal. This full-amp-stack-in-a-box pedal – the only Angus & Malcom all-in-one stompbox on the market – brings a new flavor to the Guitar Legend Tone Series of pedals, Missing Link Audio's flagship product line.
The AC/OD layout has three knobs to control Volume, Gain and Tone. That user-friendly format is perfect for quickly getting your ideal tone, and it also offers a ton of versatility. MLA's new AC/OD absolutely nails the Angus tone from the days of "High Voltage" to "Back in Black". You can also easily dial inMalcom with the turn of a knob. The pedal covers a broad range of sonic terrain, from boost to hot overdrive to complete tube-like saturation. The pedal is designed to leave on all the time and is very touch responsive. You can get everything from fat rhythm tones to a perfect lead tone just by using your guitar's volume knob and your right-hand attack.
Features 
Three knobs to control Volume, Gain and Tone
Die-cast aluminum cases for gig-worthy durability
Limited lifetime warranty
True bypass on/off switch
9-volt DC input
Made in the USA
MLA Pedals AC/OD - Music & Demo by A. Barrero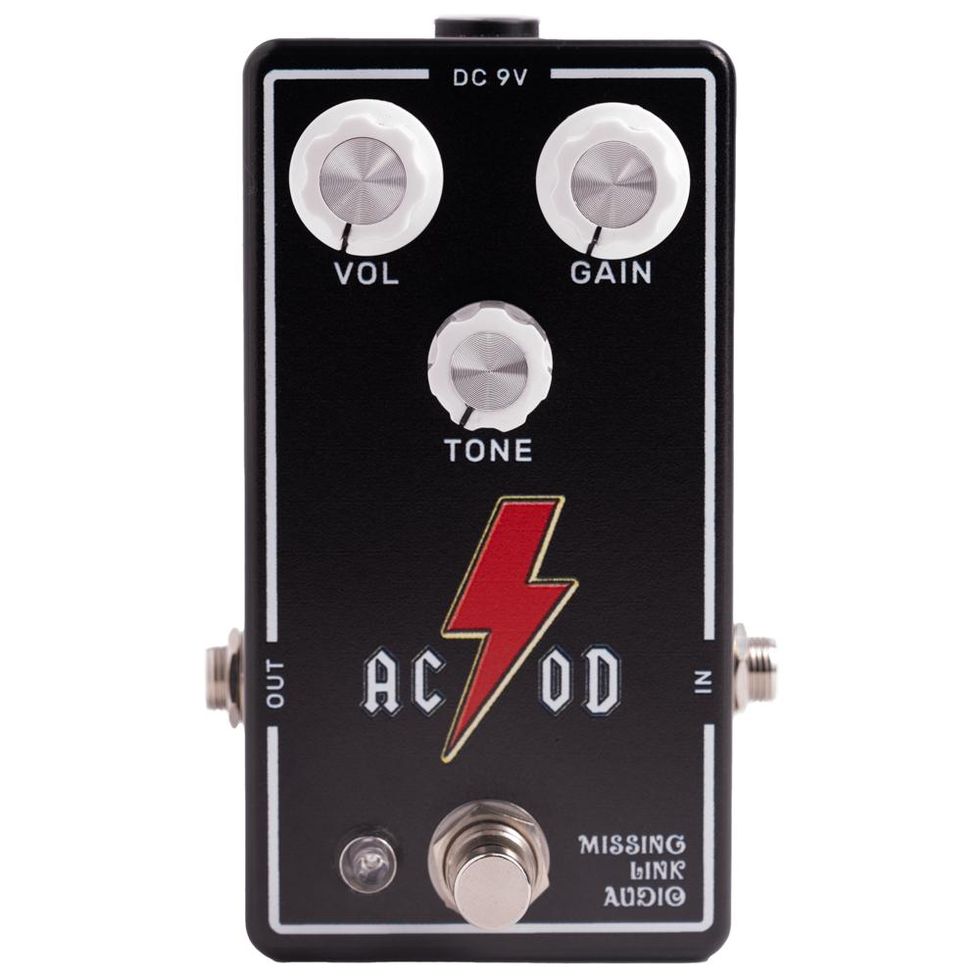 www.mlapedals.com.