Blackstar ID:60TVP Amp Review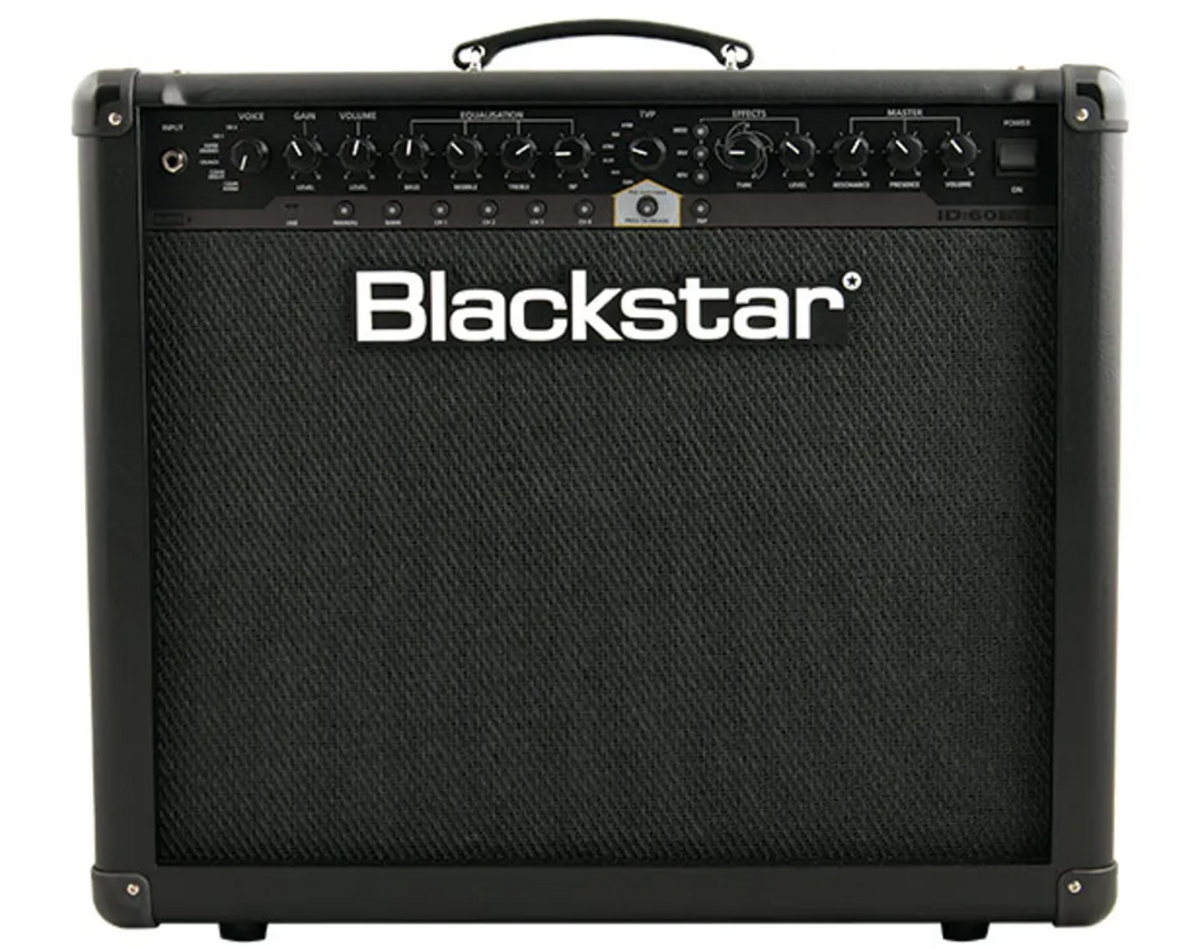 See how Blackstar is using new technology to emulate different tube responses in their new programmable amp.
You can fiddle with pedals and pickups all day long, but you'll never get around how crucial your amp is in defining your tone. Knowing what you're getting on the tail end of your tone chain is critical to knowing what guitar and effects are right for a given situation. With Blackstar's programmable ID:Series amps, the company uses DSP technology to give as much tone-shaping control to the player as possible through well-designed controls, a super-wide range of tones, and computer interactivity. Obviously, DSP is not a new approach for achieving a more manageable, versatile amp. But with the ID series, of which our 60-watt, ID:60TVP 1X12 combo is a member, Blackstar prioritized tube-like dynamics, versatility, and ease-of-use in modern recording situations. The result is an amp that gives you a lot of control over the sound that hits the rehearsal room, your audience, and your recording interface. But what's best is that, first and foremost, it's a pretty great-sounding amp across a very wide range of styles.
The Whole Enchilada
An amp is an animal of many parts. Functions like equalization are common to almost every amp. But effects, tubes, speaker types, and cabinet size vary from amp to amp. Like most good DSP-based amps these days, the Blackstar ID:60 enables a player to explore most of these variables in a single unit with varying degrees of realism. But rather than try to emulate specific amp types perfectly, Blackstar bucks DSP and modeling trends by letting players tailor their own sounds from more open-ended sounds, based on Blackstar voices. You may not be able to dial up a Marshall Plexi or Vox AC30 by name, but you can get in the ballpark and shape the tone to suit your needs—arguably a much more creative proposition.
Big Enough to Be a Bully
The ID:60TVP might be slightly larger than some DSP amp combos (it's also more powerful than average), but it's not considerably heavier, which is nice given how well it works as a gigging amp. It sports a solid, mostly closed-back cabinet with a classy, straightforward look—no chrome or blinding lights here—and a well-thought-out control set.
Knobs are smooth and wobble-free and control increments are clearly labeled. Multi-colored indicator lights for effect settings are just bright enough to be obvious but not distracting or glaring, and the built-in tuner is a handy way to free up a spot on your pedalboard. Ins and outs include a standard guitar input, an mp3/line input, an emulated output, a MIDI footswitching jack, and a USB connector..
You can dial up a mostly American tone, darken it up with just a spot of Brit, and use the fully interactive EQ to dial in tones in specific ways that suit a stage or recording mix.

Beastly Out of the Box
A key point of the ID:Series is that the amp's voices are built around those in Blackstar's tube amps, including its HT series. So unlike some DSP situations you don't just begin with an amplified clean signal and throw a bunch of effects at it until it sounds better. Instead, the ID:Series contains six preamp voices—clean warm, clean bright, crunch, super crunch, OD1, and OD2. With gain and volume controls and a 3-band EQ section, each voice can be shaped from a pure-as-snow and dynamic clean chime to biting, boosted metal leads or chugging, thumping saturated rhythm work. The overdrive is fantastic, and the range of the gain control when using the overdriven voices goes from just a little dirty to all-out ripped.
Also, there's very little overlap among voices. The clean sounds, even with full gain, are very different from the crunch voice with light overdrive. Full-gain crunch is not as beefy as the overdrive channels at their most tame. The differences add up to versatility, copious tone options, and very real playing dynamics.
Much of this versatility is enabled by Blackstar's ISF control, which is situated right alongside the EQ. ISF, or Infinite Shape Feature, shapes the response of the whole tone control network—moving between standard American and British voices in shades from extreme through just about every spot in between. So you can, for instance, dial up a mostly American tone, darken it up with just a spot of Brit, and use the fully interactive EQ to dial in tones in specific ways that suit a stage or recording mix.
Much More Than Modeling
The ID:60's voices and the ISF create an enormous tone field, but Blackstar's True Valve Power, or TVP, really helps shape the feel of the amp. The feature emulates six tube types, each with their own tonal characteristics and EQ responses. You get to explore how a tube reacts to drive and playing style in terms of sag and breakup, its frequency response, its acoustic output, and even how it interacts with the speaker. TVP's success in capturing those differences is a huge part of what makes this Blackstar so effective, and you can truly feel changes in punch, body, and volume from picking attack. And because the EQ and ISF controls remain interactive, each TVP setting—KT88, 6L6, KT66, EL34, 6V6, and EL84—is more than just a patch, it really creates an environment within which a player can use EQ/ISF to find almost any combination of voice, tone, and tube response without a room full of amps, boxes of tubes, and a fire extinguisher.
Keep On Tweaking On
Not surprisingly, the three master controls—volume, resonance and presence—are also very powerful tools. Using the preamp volume control you can get full-power sounds even at low master volume levels, without losing much in terms of TVP effectiveness or feel. And it makes the amp much more useful at basement band room levels or club stage volume. The presence and resonance controls deal with the bass and treble response of the power amp respectively. These master controls differ from the EQ in that they replicate amp behaviors like the way the speaker acts in the cabinet rather than shaping tone. Boosting resonance creates a distinct sense of speaker movement, while higher presence levels make the speaker feel livelier. Modulation, delay, and reverb effects are controlled via two knobs—type and level—and a tap button. Modulation effects include phaser, flanger, chorus, and tremolo. The tap button controls the speed, while level deals with the depth. The effect knob itself changes the mix or feedback of the modulation effects. Delay types include linear, analogue, tape and multi, while level adjusts the delay level and the tap button is used to set the delay time. For reverb, players can choose from room, hall, spring, and plate, and the size of each environment is controlled through the segment parameter.
The ID:Series' effects are excellent, and can also be toggled via an optional FS10 foot controller. Playing with the reverb effect and the resonance control together creates exceptionally realistic sounds, but also illustrates how wonderfully interactive this amp's controls can be. The delay effects rival most pedals out there, and the tap function makes setting the time and speed of the effects a breeze. The FS10 also allows the user to access the 12 factory presets or go into navigation mode to bank up + down to 128 patches that live in the amp.
Plugged In and Movin'
The amp's USB capabilities and free GUI software enable you to take advantage of the Blackstar's direct recording, training, deep editing, and re-amping potential. The GUI software can be downloaded from Blackstar for Windows and Mac. When I tested it on a 64-bit Windows 7 laptop, installation was a breeze and the proper drivers were downloaded and installed automatically when the amp was connected. (If you don't have Microsoft Silverlight installed, you'll be prompted to do so.)
The USB audio interface for recording allows you to take advantage of features like re-amping mode, and the GUI software is intuitive and fun. The Insider workspace is organized into sections that can be hidden or opened in a separate window, and the amplifier portion shows the face of your amp and, once synced, replicates any changes you make to the physical amplifier settings. It also works the other way around, and changes you make to the GUI amp face will be displayed in lights on the physical amp face. It's not only functional, but lends a sense of seamlessness and cohesion to the process of using the amp.
Ratings
Pros:
Great voices, plus ISF and TVP features offer outstanding sounds and a wide range of sound choices and control. USB audio and related features are fun, useful and valuable to have built into a gig-worthy combo amp.
Cons:
Foot controller optional. The lack of way to record through the GUI may be disappointing to those without recording software.
Tones:


Ease of Use:


Build/Design:


Value:


Street:
$599
Blackstar
blackstaramps.com

Likewise, the Effects Chain sections shows a stompbox for each effect, and changes to the knobs on these pedals are reflected on the GUI amp face and, where applicable, with lights on the physical amp face. One benefit is that a player can see effect parameters more clearly, which can be difficult when a pedal's entire range is condensed into a quarter-turn of a knob. The Audio section of the GUI is where players can import audio tracks and play along. Insider allows for looping and playback speed adjustment for phrase training or songwriting, and there's also a metronome. In a nod to low-tech lovers, audio tracks are stored in slots that look like cassette tapes and are played/controlled through a representation of an old, single-speaker, top-loading cassette player.
Creating and saving patches in the GUI is a simple process. Once a patch is saved, it can be shared via the Insider Online Community section. There are Blackstar patches there for download as well as user patches in every genre. You can play these patches while plugged into insider, or sync them to the amp with just a click. This is extremely useful because you can have an unlimited amount of patches in your library and load the amp with whichever ones you'll need for a particular gig. There's also a compare feature to evaluate new changes, and effects settings also can be saved in the library.
The Verdict
Few amps combine the flexibility of creating your own signature sounds and value as well as the ID:60. The TVP and ISF technologies together yield a multitude of possible combinations and sounds, especially with further EQ/effect adjustment. With a price of around $600, the ID:60 isn't exactly dirt cheap for a 60-watt 1x12. But it flat-out sounds great, and Blackstar really has it going on in terms of preamp voices. Plus it's plenty powerful for gigs and pumps out big sound at low volumes for quieter practicing without sacrificing tone. The USB audio, deep-editing, re-amping and session trainer features add value and make it a fine recording/practice tool for any level of musician. But the real surprise is just how much pure enjoyment is on tap for tone freaks.