Jackson American Series Virtuoso Review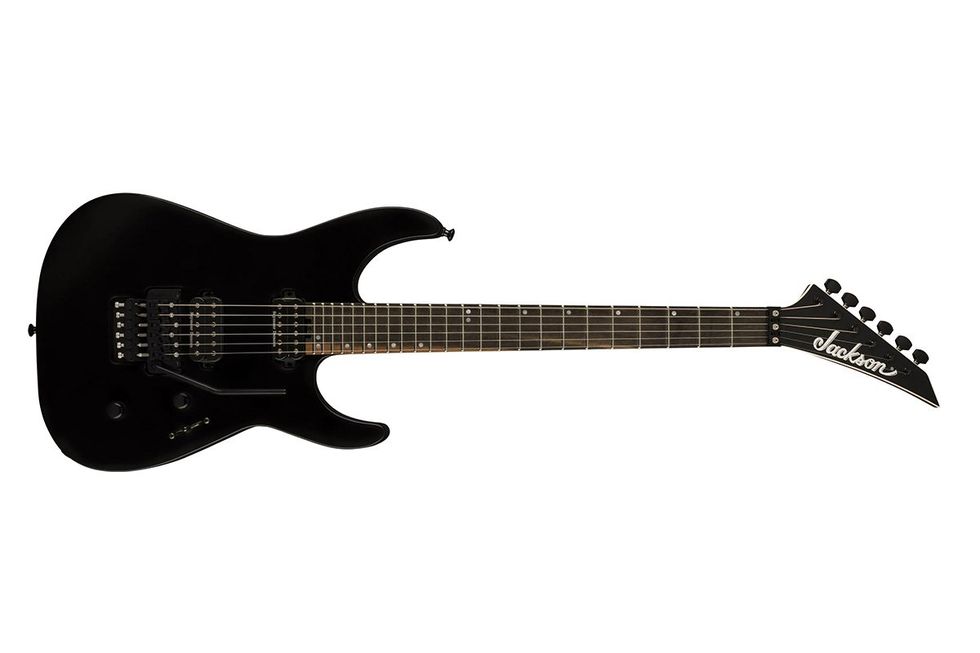 A USA-built "super strat" that unites great tonal range and lightning-fast playability in an instrument deeply rooted in Jackson tradition.
Killer sounding guitar that sounds excellent all across the span of the fretboard, from the low open E string up to the 24th fret of the high E string.
Satin finish picks up a lot of fingerprints.
4.5
4.5
4
4.5
In the mid '80s, when shred took over the guitar world, Jackson was the brand of choice for icons like Randy Rhoads and Marty Friedman. Back then, the company's guitars were only available from Grover Jackson's custom shop and were out of reach for a lot of musicians. Since the company's 2002 acquisition by Fender, the Jackson brand has become accessible to many more players. But as nice as it is to be able to afford a Jackson built in Mexico or Asia, it's a thrill to see a new, upscale, California-built Jackson like the new American Series Virtuoso. At $1,999 with a foam core hybrid hardshell case-gigbag, the American Series Virtuoso isn't cheap. But it's not out of reach for working guitarists, who will value the Virtuoso's combination of range, straight-ahead functionality, fast playability, and Jackson's cool combination of flair and economy.
---
Modern Transformations
The American Series Virtuoso stays true to the Jackson's "super strat" lineage but adds useful improvements. The truss rod adjustment wheel is heel-mounted for easy access, and the guitar comes with Dunlop strap locks. A Floyd Rose 1500 Series double-locking vibrato is reinforced by Gotoh MG-T locking tuners. So, you can whammy away to your heart's content without worrying about staying in tune, which was the case over the course of my very enthusiastic testing. And thanks to a recessed cavity, that Floyd Rose has crazy range. I was able to pull up a tritone on the open 6th string.
A feature many Floyd Rose users will appreciate is the Allen wrench holder attached to the back of the headstock, which lets you store the Allen keys (for the bridge and locking nut) in a convenient, easy-to-access place. I've often put my Floyd Rose-equipped guitars back in the closet when I couldn't locate the Allen key to tune them, so I can attest to the value of this thoughtful little detail.
In satin black finish, our test instrument looks understated but deadly. Like most Jacksons, the American Series Virtuoso is built with an alder body. The bolt-on, 5-piece, caramelized maple/maple neck features graphite reinforcement rods to ensure stability. The ebony fretboard is home to 24 frets, features beautifully rolled edges, and Jackson's 12-16" compound radius, which, in my view, is close to perfect. Full chords are easy to grip down at the more curvaceous end of the fretboard, low on the neck, and technical, speedy lines are easier to play as you move up the neck. It's a pleasure to navigate, particularly if you use classical fretting technique rather than an angled blues grip with the thumb on top of the neck. Needless to say, you won't be fretting out on deep bends, either.
Sweet and Savage
The American Series Virtuoso's electronics are straightforward. There's a pair of Seymour Duncan pickups (a JB TB-4 in the bridge and a 59 SH-1N in the neck,) a 5-way pickup selector switch, and volume and tone knobs. Though many shred-oriented players and builders gravitate toward active pickups, the Duncans give the American Series Virtuoso warmth that many modern metal guitars with active pickups lack. There's a distinct midrange focus, which makes it ideal for hair metal, but the guitar's quick attack also makes modern styles like djent and math rock feel natural. Pinch harmonics are easy to coax from the guitar. Sustain is excellent. And low-register, palm-muted low riffs sound super beefy.
"You definitely don't need a lot of pedals to generate a lot of different sounds with the American Series Virtuoso in hand."
The switching array opens up a lot of possibilities, too. Position 2 is made up of the bridge pickup's outer coil and neck pickup's inner coil, while position 4 is comprised of the bridge's inner coil and neck's outer coil. They are the most articulate of the five settings. Positions 1, 3, and 5 are more traditional humbucker settings. Moving between these settings feels organic and fluid. Volume levels are pretty even between pickup positions, but tone variations are many and distinct. There's good dynamic range as well. For example, using a mild overdrive sound on the bridge humbucker made low-register, single-note riffs sound gnarly and aggressive. The adjacent position 2, however, was practically clean when I played the same riff with a slightly lighter attack. You definitely don't need a lot of pedals to generate a lot of different sounds with the American Series Virtuosos in hand.
Smooth Riding
Our American Series Virtuoso arrived with a great, low-action setup. Sweep-picked arpeggios and slippery legato lines were easy to execute, and the Virtuoso felt fantastic across the whole length of the neck. Sometimes on 24-fret guitars, notes don't ring true in the very extreme upper area of the fretboard, making it hard to use the top notes for much more than quickly and dramatically capping off a phrase. On the American Series Virtuoso, though, the notes in the uppermost register still sound pronounced and full. That inspired me to spend a lot of time in the C# minor pentatonic-box shape, starting an octave up at the 21st fret. I could play typical rock-guitar licks up in that area, and each note rang out perfectly clear. Access to that area of the fretboard is also excellent, thanks to the guitar's contoured "handshake" heel, which makes it even more appealing to explore the complete range of the two-octave fretboard.
The Verdict
Over the decades, Jackson has maintained its place at the top of the shred-guitar pecking order. And for many old-school shredders, nothing tops a straightforward Jackson "super strat"—a role that the American Series Virtuoso fills with attitude and ease. But the Virtuoso is not a strictly retro instrument. The refinements in playability reflect design evolutions that have, no doubt, made Jackson aficionados of modern metal shred gods like Periphery's Misha Mansoor and Arch Enemy's Jeff Loomis. But whatever style of metal shred you align with, the American Series Virtuoso's tonal versatility and inviting playability will get your fingers flying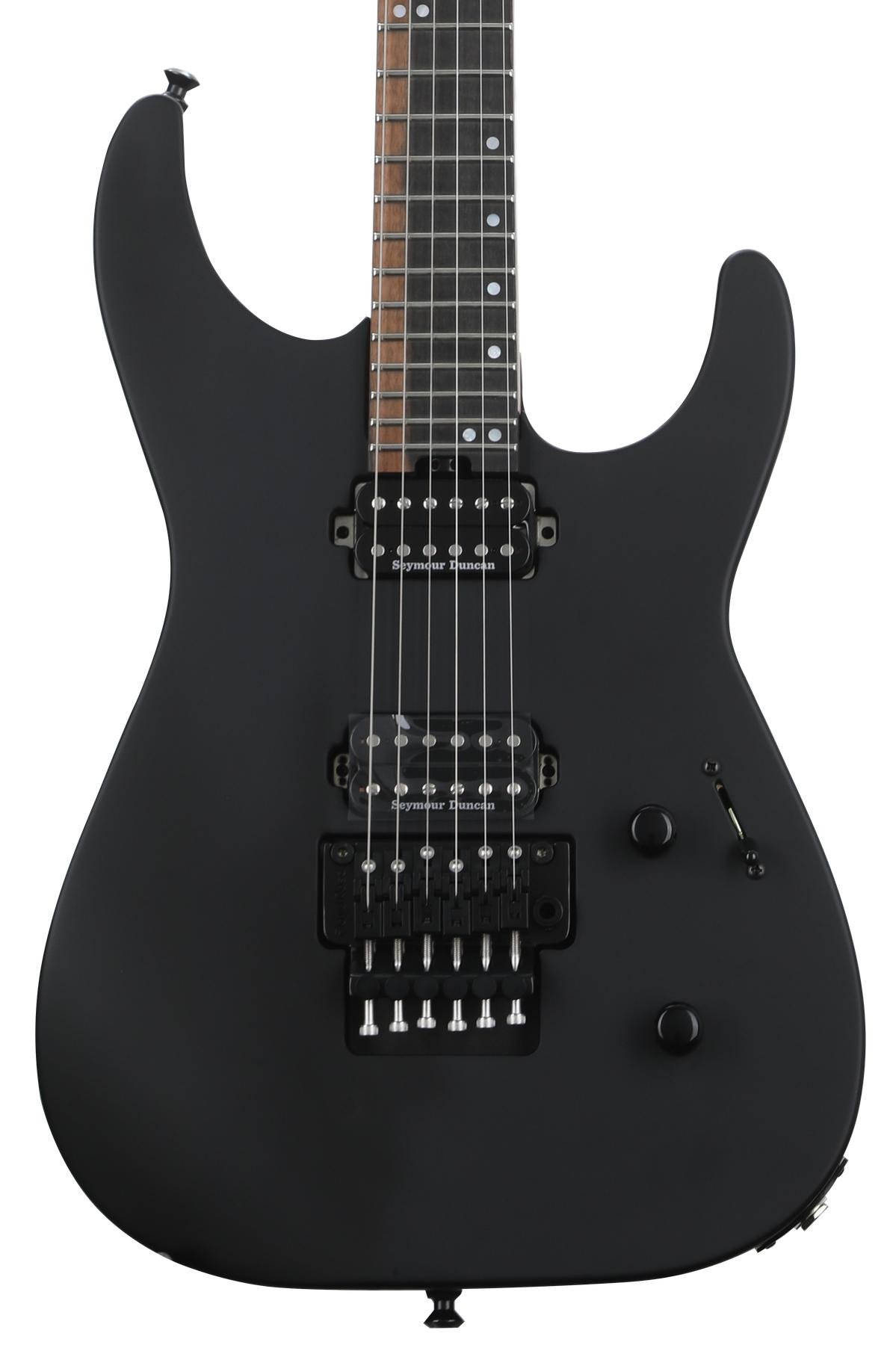 Jackson