Jol Dantzig's Esoterica Electrica: Handmade—at the Press of a Button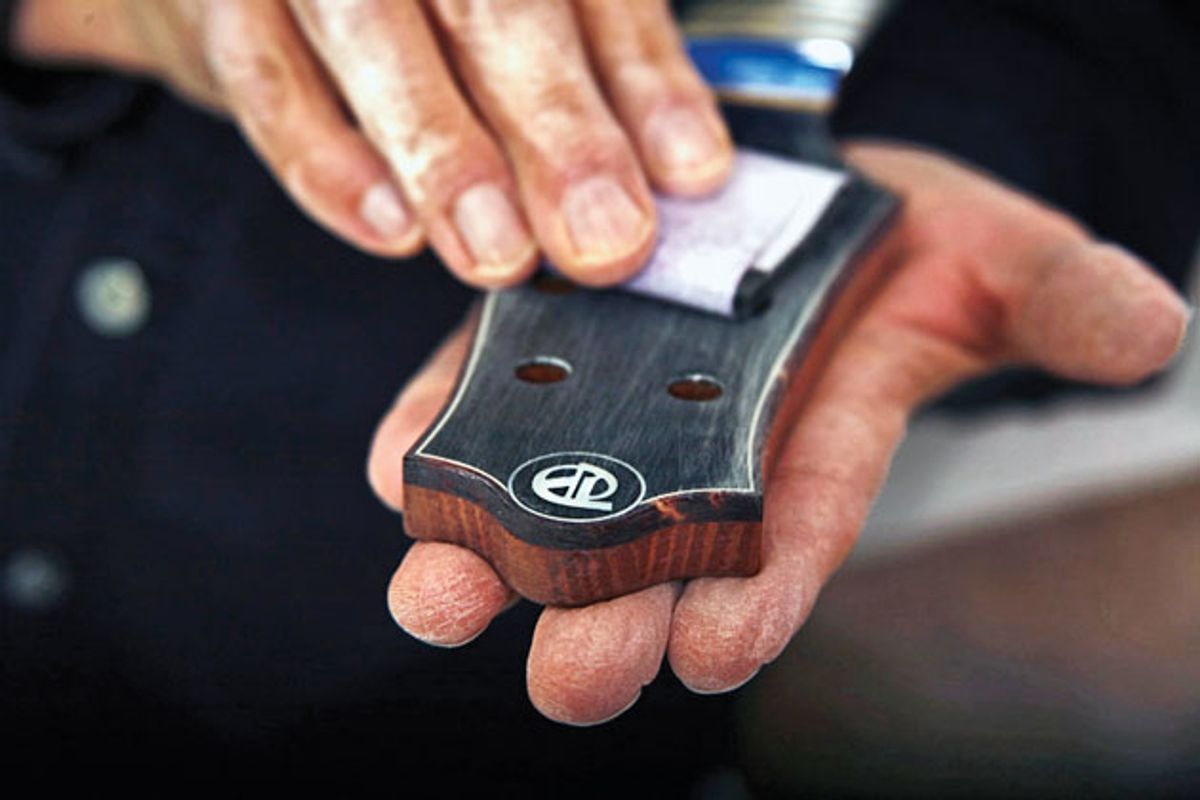 Determining just how handmade a guitar is, and if it really matters.
What do you think when a company or individual touts a product as being handmade? Does it bring to mind pictures of bearded, flannel-clad artisans stooped over well-worn wooden benches and brandishing ancient tools? Or do you imagine a clean-cut clipboard-toting technician in a lab coat pushing the start button of an enormous, computerized machine? Someone is using their hands in both of these examples, right? So what does it mean to be handmade, and why, if at all, does it matter? First, let's start with definitions.
/han(d)ˈmād/
The Oxford Dictionaries definition:
Made by hand, not by machine, and typically therefore of superior quality: "his expensive handmade leather shoes"
Merriam-Webster's definition:
Made by hand or a hand process
Synonyms: handcrafted, handwrought
Okay, that's vague isn't it? Does this mean that a guitar has to be made only with your hands for it to be handmade? What guitar builder doesn't use tools to craft a guitar? Is a "hand" router different than an overarm production router? They both use electric motors and are guided by templates, yet they both also require an operator to move the work (or the router itself) by hand. Is a neck that is roughed out with a power tool, and then brought to final shape with sandpaper not handmade?
As it turns out, a lot of this has been hashed out in the courts. I'm not writing a legal brief here, but for the sake of curiosity, let's look at what the Federal Trade Commission's guide to the jewelry industry says. I'm using jewelry making as an example because it's a lot like making guitars.
Is a neck that is roughed out with a power tool and then brought to final shape with sandpaper not handmade?

Like guitars, jewelry is made with raw materials—beads, gems, chain, etc.—that are machine-processed by third parties. And then you have your makers ranging from one-person outfits making earrings and necklaces to big companies churning out tons of bracelets.
The Federal Trade Commission's guidance states:
"It is unfair or deceptive to represent, directly or by implication, that any industry product is hand-made or hand-wrought unless the entire shaping and forming of such product from raw materials and its finishing and decoration were accomplished by hand labor and manually-controlled methods which permit the maker to control and vary the construction, shape, design, and finish of each part of each individual product."
Now we're getting somewhere. Seemingly, when you are sawing out that body on your bandsaw, you are manually controlling the outcome. When you guide the router or template with your hands, you are determining the result, yes? But this is also where it gets sticky: "the entire shaping and forming of such product from raw materials and its finishing and decoration…"
There have been court challenges alleging false-advertising claims based upon the percentage of third-party work included in the finished product. That is, if you cut everything out by hand, but use machine-made hardware or electronics, you may run afoul of consumer protection legislation. To avoid this, many products are labeled "hand-assembled." Another avenue is to deflect, such as "Designed by Apple in California." Guitar makers have escaped close scrutiny mainly because the size of the industry is small, but it doesn't mean they are immune.
Today, even small—aka boutique—builders employ subcontractors, buy machine-made parts, and use CNC machines to cut and shape their parts and inlays. Some of those folks advertise their wares as handmade, while others don't see the need to use that ploy. Personally, I believe if there is someone controlling the outcome of the build with his or her own hands, then the product is handbuilt, handmade, or handcrafted. To answer the question of whether or not it matters, there are people on both sides of that fence. The real test isn't always if a robot or an artisan makes a guitar, but if it is well made and can satisfy your preference. My preference is to have a real, handcrafted piece, but I don't look down my nose at a well-made instrument that was made with the push of a button.