Tim Mahoney's Top Five Oddball Pedals
311's tap-dancing guitarist lists his must-have effects.
311's Tim Mahoney is an admitted pedal junkie, but that confession doesn't mean he'll stop trying, buying, and playing new stomps anytime soon. He travels the world with two massive boards: his designated "main board," which holds about 20 pedals, and his secondary "party board" board with about a dozen fun noisemakers. Here Mahoney discusses his favorite wacky effects—and why he can't part with them.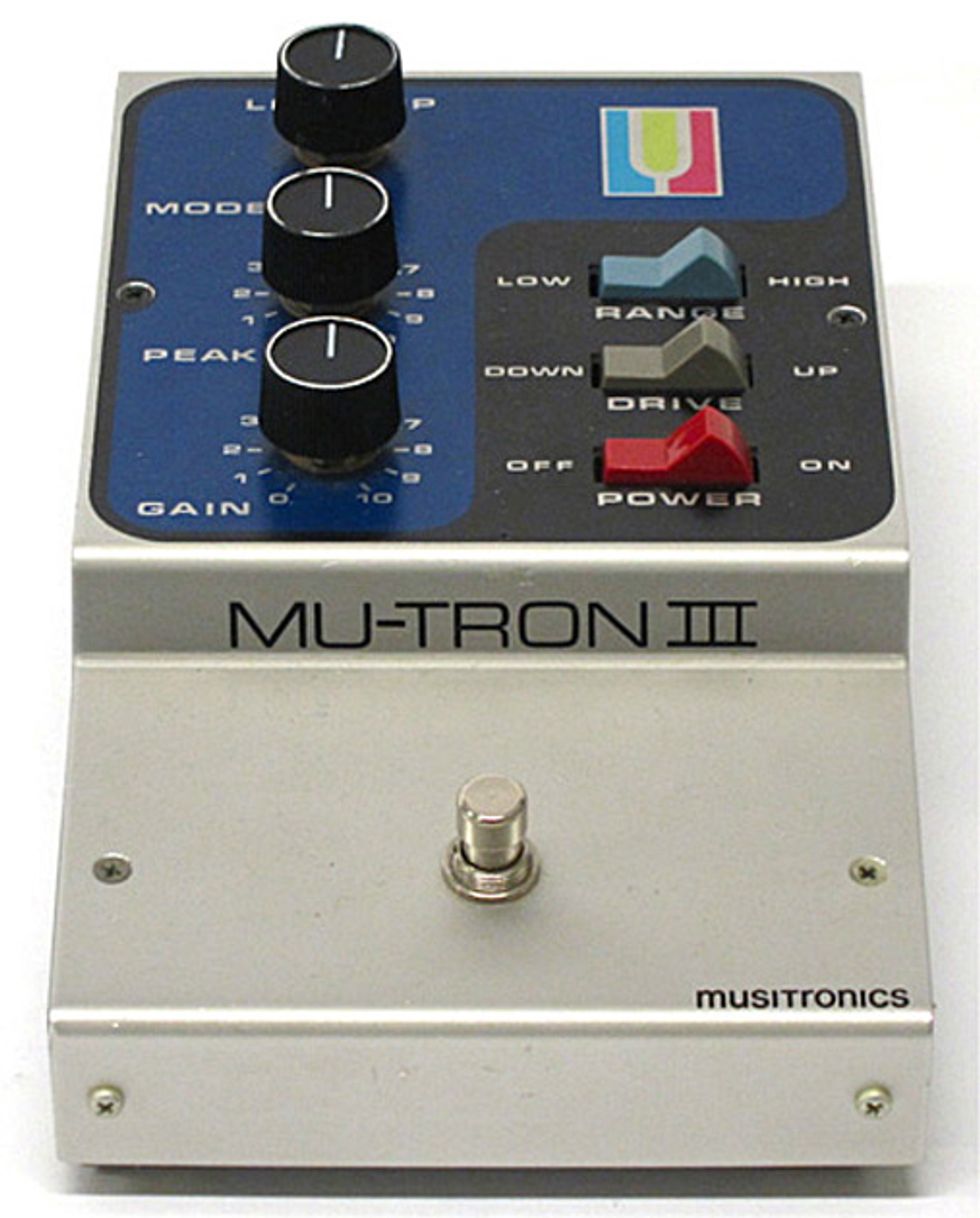 Mu-Tron III Envelope Filter This might be my absolute favorite pedal. I've been a fan of envelope filters since the late '80s, when I saw the Grateful Dead and first experimented with acid. I remember hearing those Dead songs like "Delta Dawn," "Estimated Prophet," and "Run for the Roses," and just wanting to sound like that. My first envelope filter was a Boss TW-1 T Wah. When I found out Garcia used the Mu-Tron III, I bought one and realized, "Holy shit, this is my holy grail."
I started playing music on trombone, and the envelope filter can dial in some horn-like sounds. I totally dig the expressiveness you can get, depending on your picking style or attack. It can quack, or mellow and fade into the mix. I just love how it adds life, almost like it brightens up the guitar and makes it smile a bit. It's the warmest, most badass filter out there, bar none. I use it pretty heavily on songs like "Amber" and "Champagne," and on the new album it's used a lot on "Sand Dollar." I own four or five originals.
Boss OC-2 Octave This pedal is criminally underrated. I know Boss sometimes has a bad rep with the pedal-using community, but this super-simple stompbox has been on every single 311 album since Unity in the early '90s. I really enjoy using it on heavy, single-note guitar parts because it adds some nastiness and fattens the tone, bolstering the dry distortion sound. I kick it on for songs like "Ebb and Flow" and "The Great Divide" off Stereolithic. I prefer the Boss Octave to an octave fuzz because it only tracks one or two octaves below the original signal, and it's simple, clean, and pure.
MXR Phase 90 (vintage script logo) If I had to choose one effect that MXR is best at, I'd probably say the phaser. I love the Phase 100 and the Phase 45 pedals—I own both—but for me, the quintessential phase box is the 90. The 45 is a two-stage phaser, while the 90 is a four-stage unit. Some might claim the 45 is milder, making it more musical, but I like how much phase you can dial in with the 90. It can be subtle and svelte, or it can be a whooshing monster. It sounds solid across the knob's entire sweep. Plus, I kind of like the unintended affect it has to my tone, since it adds gain and volume. You can hear it getting a workout on our cover of the Bad Brains song "Leaving Babylon."
Ibanez CS-9 Stereo Chorus My argument for having this pedal in my top five might have the most holes in it, because I've had many of these, and several were duds. But the one that's been on my board for over a decade is a champion of a chorus. I remember getting my hands on John Scofield's Loud Jazz, being blown away by the music, and finding out he used a CS-9, so I had to get one. I lucked out and found this early-'80s version that is so smooth, transparent, and water-like that I haven't been able to replace it.
I recently put a Jacques Stompboxes Meistersinger on the party board. It's a great analog chorus, but I feel the CS-9 is just more versatile. It can do the slow, signature chorus sound, but I really dig chorusing effects when you crank the rate to 75 or 80 percent. They get choppy, hectic, and almost abrasive. I add the CS-9 to songs like "You Wouldn't Believe" and "Revelation of the Year."
Ibanez AD9 Analog Delay If this list included rackmount gear, I'd vote for the Lexicon PCM-42 as the best delay ever. But the best delay pedal I've played through is definitely the Ibanez AD9. For long, spaced-out, ambient delays my vintage Boss DSD-2 Digital Sampler/Delay tops the AD9, but other than that, the Ibanez is near perfect. I love how the notes decay into one another with an added shimmer, plus you can get crazy self-oscillation action for hours of fun from one guitar note. I use it a lot live, just to thicken my clean tones with a short delay. An obvious song to hear its shimmer and warmth is "Made in the Shade."