Rig Rundown: Knocked Loose
These purveyors of punishing '90s-style hardcore chisel their heavy sound with downtuned 7-strings and lighter hues of delay and modulation.
In celebration of their sophomore release A Different Shade of Blue , the Kentuckian hardcore youngbloods nearly crumbled Grimey's with their breakneck ways during a full-band, in-store performance. ( Watch the full performance here —shockingly no records or employees were harmed.) The next night the quintet took over Nashville's The End for a proper record-release show. And before that sold-out performance, PG 's Perry Bean stopped by for a post-soundcheck hang to cover all the Ibanez instruments, blaring tube heads, and select effects they use to create sweaty, chaotic pits.
Lead guitarist Isaac Hale slays audiences every night with this Ibanez RGDIX7MPB. The 24-fret, 26.5"-scale instrument has an ash body with a poplar burl top, DiMarzio Fusion Edge humbuckers, and Gotoh MG-T locking tuners. The band previously tuned their 7-strings to G–D–G–C–F–A–D, but have since moved to drop-A tuning: A–E–A–D–G–B–E.
Isaac Hale plugs his mighty 7-string into this EVH 5150 III Limited Edition that fires through a Mesa/Boogie 4x12 straight cab.
The stomp station for Isaac Hale is where he can deviate from the heavy and add to it. Currently, he's rolling with a Way Huge Swollen Pickle, Maxon ST9 Pro Plus Super Tube, Boss DD-3 Digital Delay, Boss CE-5 Chorus Ensemble, Electro-Harmonix Freeze, Boss RC-3 Loop Station, and ISP Technologies Decimator II G-String. Everything operates thanks to the Voodoo Lab Pedal Power 2 Plus and is in tune thanks to the Boss TU-3.
Rhythm guitarist and newest bandmember Cole Crutchfield rocks the same way bandmate Isaac Hale does—with 7-string Ibanez monsters. This Iron Label RGAIX7U-ABS RGA is his main ride. Cole really digs the natural wood finish and the Bare Knuckle Aftermath pickups.
Cole Crutchfield's only other guitar on this tour is this a brand-new Ibanez Prestige RGR5227MFX, which features the company's proprietary Wizard-7 neck, Bare Knuckle Brute Force humbuckers, and Gibraltar Standard II-7 bridge.
While recording A Different Shade of Blue , the band leaned heavily on a mix of Mesa/Boogie and 5150 amps, but for this tour Cole Crutchfield left his 50-watt 5150 III at home and ponied up for a Mesa/Boogie Triple Rectifier.
The pedal playground for Cole Crutchfield begins with the Morley Steve Vai Mini Bad Horsie 2 Wah, and from there things get louder with a Mesa/Boogie Grid Slammer and Way Huge Swollen Pickle. After that you get the EHX Freeze, ISP Technologies Decimator II G-String, TC Electronic Hall of Fame, and a pair of Boss modulation pedals—a CH-1 Super Chorus and BF-3 Flanger. Everything is given life thanks to the Voodoo Lab Pedal Power 2 Plus and is in tune thanks to the Boss TU-2.
Bassist Kevin Otten keeps the Ibanez theme rolling with his pair of 5-strings—his No. 1 above is a Premium BTB1805 that's been upgraded with Bartolini BH2 passive pickups alongside Ibanez's own 3-band EQ electronics.
Before playing with Slayer at Heavy Montreal Fest, Kevin Otten treated himself to this elusive Ibanez ATK305 bass. He's been on the hunt for one of these for years because of its body shape, wood pickguard, hot pickups, and back-saving weight.
While it is a lot to lug around and set up, Kevin Otten brings the hefty Ampeg SVT Classic and Mesa/Boogie 8x10 for the tone.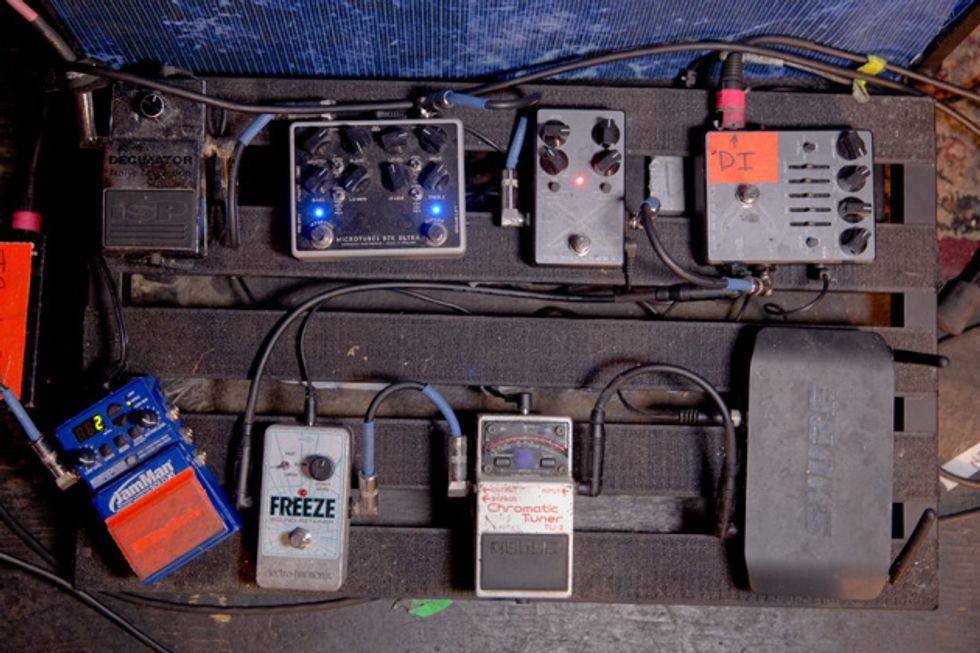 Not one to miss out on the fun pedals can provide, Kevin Otten has a healthy board that includes a trifecta of Darkglass Electronics boxes—a Microtubes B7K Ultra, Microtubes X, and Microtubes X7 that acts a D.I. box for front of house. He uses the DigiTech JamMan Solo XT for 808 bass drops. And like Isaac and Cole, he has a ISP Technologies Decimator II G-String, Boss tuner, EHX Freeze, and Shure GLXD4 Wireless.
---
Click below to listen wherever you get your podcasts:
---
D'Addario Pro-Winder: https://www.daddario.com/ProWinderRR
---
---