Taylor expands their line even further, blending their SolidBody and hollowbody for the versatile T3/B Bigsby-equipped semi-hollowbody.


Download Example 1


Bridge pickup, bridge with coil tap, neck pickup, neck with coil tap



Download Example 2


Large variety of tones achieved from rolling the tone knob up and down as well as pulling it out to activate the second voicing



Download Example 3


A couple of clean tones in a Gypsy Jazz duet configuration



Download Example 4


various sounds of the guitar with an overdriven tone





While Taylor is primarily known for their fine acoustic guitars, they've recently been garnering a lot attention with their innovative electric guitar designs. Expanding on and combining elements of the SolidBody and the T5, the T3 is an ambitious instrument that offers a wide range of tonal options to satisfy the demands of a diverse group of players. Make no mistake, the T3/B is not a "jack of all trades, master of none," but rather a well-thought-out instrument that plays great, sounds fantastic and looks incredible.
The T3/B ("B" for Bigsby) is a semi-hollowbody electric constructed from sapele rather than the traditional mahogany and topped with a beautiful, quilted maple top. The body is hollowed out, but leaves a solid block in the center where the quilted, bookmatched maple piece is laid directly on top. The 21-fret sapele neck with ebony fingerboard is styled in a very comfortable and fast shallow C profile that is bolted on with Taylor's proprietary T-Lock. Though the guitar uses a bolt-on configuration, it isn't chunky or obtrusive in any way, and it feels rock solid, no doubt due to the design of the neck joint. Both the T3/B and T3 (stop tail piece) models incorporate a roller-style bridge, which in the case of the Bigsby is excellent for combating the tuning issues associated with that style of vibrato. It includes the standard 2-humbucker design with 3-way toggle and a master volume and tone control, but there's a lot more than meets the eye. The pickups are not the typical PAF-style, but Taylor's own Style 2 HD (high definition) humbuckers with coil-splitting activated by pulling up on the volume knob—and a tone control that adds a second capacitor by pulling up. The range of tones possible grows exponentially with these additions, but more on that later. Finally, the whole guitar is tastefully appointed with chrome pickup rings, knobs, strap buttons, and Taylor's own tuners.
The T3/B I reviewed came in a Honey Sunburst finish (see page 2), but that just doesn't do the finish justice. Not only was the quilt top the most gorgeous I've ever seen; the finish was so rich and deep I had a hard time figuring out if I should play it or just look at it! The good news is this guitar plays as good as it looks, which was a nice realization. The neck is instantly comfortable and fast playing, without feeling like your hand would cramp due to lack of substance. It sort of combined the best of all neck shapes into one, and lent itself to just about any style of playing—always feeling easy. The action was set up to be just a hair higher than low, which was perfect for big bends and chords that rang clean without fretting out. The neck offers good access to the 21st fret on the higher strings, but was a little more limited past the 15th fret on the fourth, fifth, and sixth strings. What I found refreshing was the way the neck joint felt seamlessly connected to the body, and low profile, unlike some traditional designs. Taylor clearly thought through these designs when coming up with the guitar, and it paid off big time. That wasn't the only area that stood out, as even the detail of the volume and tone knobs is brilliant: they look like art deco top hats, and they feel better than any guitar I've played in my life. The taper of both knobs is smooth and controlled, and they exhibit a weight to them that feels fantastic and deliberate when rolling them up or down. The sum of these details adds up to a solid feeling and fun guitar to play.
If Taylor had stopped at the 2-humbucker, 3-way switch design they would've had a winning guitar. But they didn't, and I'm really glad they decided to go the extra mile, because there are a lot of fantastic tones to be found. The Style 2 HD pickups have a very clean and articulate sound. I wouldn't call them PAF-like… in fact, I don't really have anything to compare them to. They're incredibly versatile and worked well through every amp I played them on. But it wasn't until I pulled the volume knob up and split the coils that the real tonal magic became apparent. Again, the coil-tap wasn't the familiar Strat sound of a single coil, just a more articulate and less weighty sound than the humbucker. It was very useful in a variety of situations and allowed me to dial in just the right amount of heft or leanness, depending on my needs. To top it off, the tone control actually did something! Rolling back the tone all the way sounds like it shifts the mid frequency rather than the typical dark tone, and pulling up shifts the tone again by adding another cap to the control, giving more versatility to the shape. This is one of those rare guitars that doesn't necessarily have a stock setting to it. Where I usually tend to go straight to the bridge pickup with volume and tone full-up, I ended up using every combination of pickup, coil tap and tone variation. It was amazing to hear one guitar shine in so many different ways.
The Bigsby implementation is by far the best of its kind that I've used. After letting the guitar settle in and adjust to my climate (Arizona is very dry—a great place to test the mettle of any guitar) I never had a tuning problem. Typical Bigsbys tend to drag the wound strings across the bridge and pull the guitar out of tune. With the roller bridge, just about all of the binding up is eliminated, and the travel of the vibrato is ultra-smooth and controlled. Even with the roller bridge, it still feels like a Bigsby but doesn't carry any the negative side effects. These types of vibrato units are designed for a less dramatic effect that a Floyd, but they are so very effective when used properly. It's just another example of a tasteful appointment to the T3/B that I really enjoyed. And as an extra bonus, the weight of the tailpiece and the way it was mounted made the guitar sound acoustically quite loud and surprisingly responsive. Big points for that.
I rarely come across an instrument that is as beautiful as it is functional. Taylor seems to have pulled out all the stops on the T3/B, since it effortlessly excels in musical styles ranging from rock to blues to jazz, and yet never feels out of place. With all the chrome, quilted maple and flair in the design, it would be easy to create a garish and over-the-top guitar—this is anything but that. Somehow Taylor has figured out a way to incorporate style, class and functionality into the perfect package. I can't think of a single thing I would change, except for the fact that it needs to be returned now that I'm done reviewing it. Bummer!
Buy if...
You want beauty, brains and brawn. 
Skip if...
You're watching your wallet.
Rating...

Looking for more great gear for the guitar player in your life (yourself included!)? Check out this year's Holiday Gear Finds!
Outlaw Effects introduces their next generation of NOMAD rechargeable battery-powered pedal boards.
Available in two sizes, NOMAD ISO is a compact, versatile tool that offers the convenience of a fully powered board plus the additional freedom of not having to plug into an outlet. NOMAD ISO is ideal for stages with limited outlet availability, quick changeovers, busking outdoors, temporary rehearsal locations, and more!
NOMAD ISO builds upon the legacy of the ultra-convenient and reliable NOMAD rechargeable pedalboard line originally launched in 2018. The brand new NOMAD ISO editions feature eight isolated outputs (1 x 9V DC, and 1 switchable 9V/12V DC) for even more versatility and clean, quiet power. With an integrated lithium-ion battery pack boasting 12800mAh capacity, NOMAD ISO can fuel a wide array of pedals, and will last over 10 hours* on a single charge.
Each NOMAD ISO pedal board includes adhesive hook & loop pedal-mounting tape, eight (8) standard DC connector cables, and one (1) reverse polarity DC cable, giving you everything you need to build your ultimate "off-the-grid" rig. A rugged, road-ready padded gig bag with shoulder strap is also included, to safely protect your gear while you're on the move.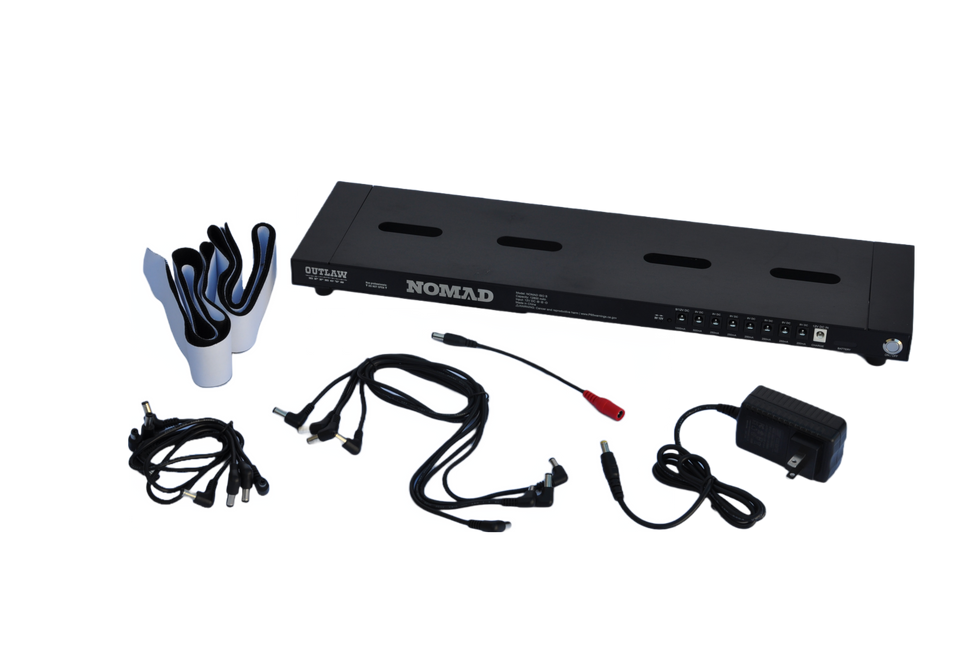 Dunable announce new Minotaur model featuring Grover Rotomatic Keystone tuners.
The Minotaur's DNA is rooted in their classic Moonflower model, which Dunable discontinued in 2017. However, they have long since wanted to create a fresh take on a carved top guitar design, and various attempts to rework the Moonflower led them to a brand new concept with the Minotuar.
Dunable's goal is to give the player a guitar that plays fast and smooth, sounds amazing, and gives maximum physical ergonomic comfort. The Minotaur's soft and meticulous contours, simple and effective control layout, and 25.5" scale length are designed to easily meet this criteria.

Dunable Minotaur!
Features
25.5" scale length
Dual Humbucker
one volume, one tone, push pull for coil splitting
Grover Rotomatic Keystone tuners
Grover Tune O Matic bridge with brass Kluson top-mount tailpiece
jumbo nickel frets
12" fretboard radius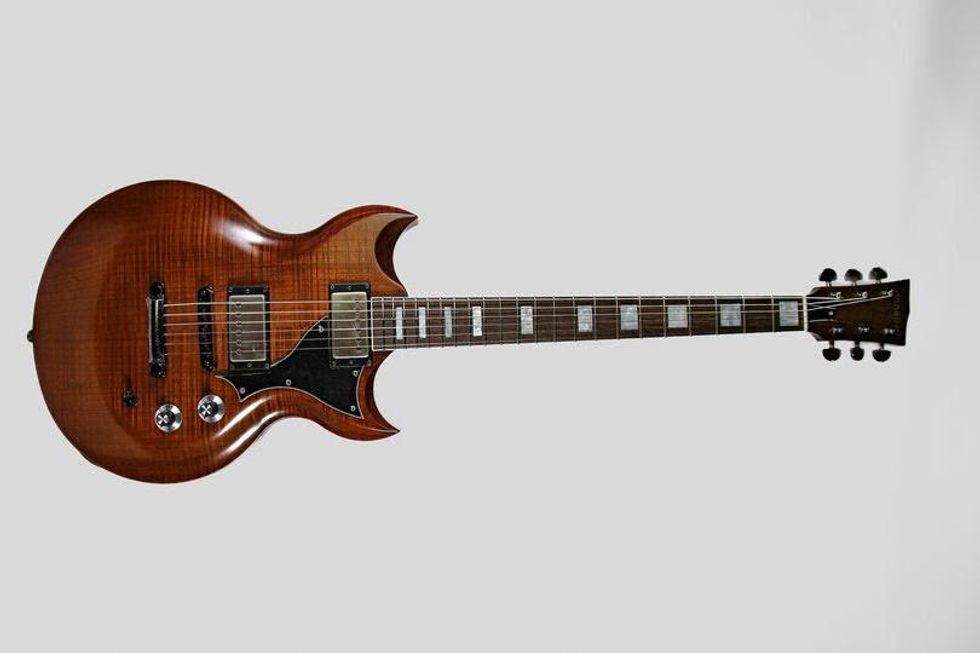 Dunable
This full-amp-stack-in-a-box pedal brings a new flavor to the Guitar Legend Tone Series of pedals, Missing Link Audio's flagship product line.
Adding to the company's line of premium-quality effects pedals, Missing Link Audio has unleashed the new AC/Overdrive pedal. This full-amp-stack-in-a-box pedal – the only Angus & Malcom all-in-one stompbox on the market – brings a new flavor to the Guitar Legend Tone Series of pedals, Missing Link Audio's flagship product line.
The AC/OD layout has three knobs to control Volume, Gain and Tone. That user-friendly format is perfect for quickly getting your ideal tone, and it also offers a ton of versatility. MLA's new AC/OD absolutely nails the Angus tone from the days of "High Voltage" to "Back in Black". You can also easily dial inMalcom with the turn of a knob. The pedal covers a broad range of sonic terrain, from boost to hot overdrive to complete tube-like saturation. The pedal is designed to leave on all the time and is very touch responsive. You can get everything from fat rhythm tones to a perfect lead tone just by using your guitar's volume knob and your right-hand attack.
Features 
Three knobs to control Volume, Gain and Tone
Die-cast aluminum cases for gig-worthy durability
Limited lifetime warranty
True bypass on/off switch
9-volt DC input
Made in the USA
MLA Pedals AC/OD - Music & Demo by A. Barrero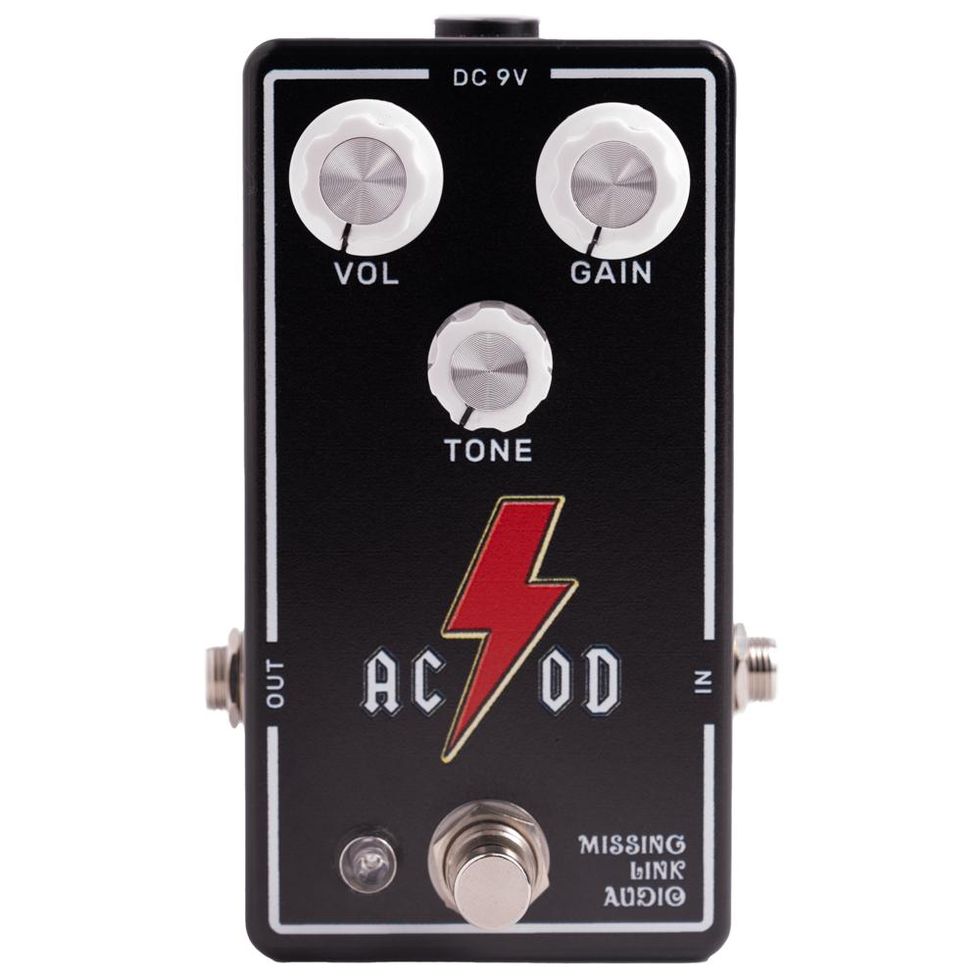 www.mlapedals.com.