Martin Guitars Debut Second John Lennon Commemorative Model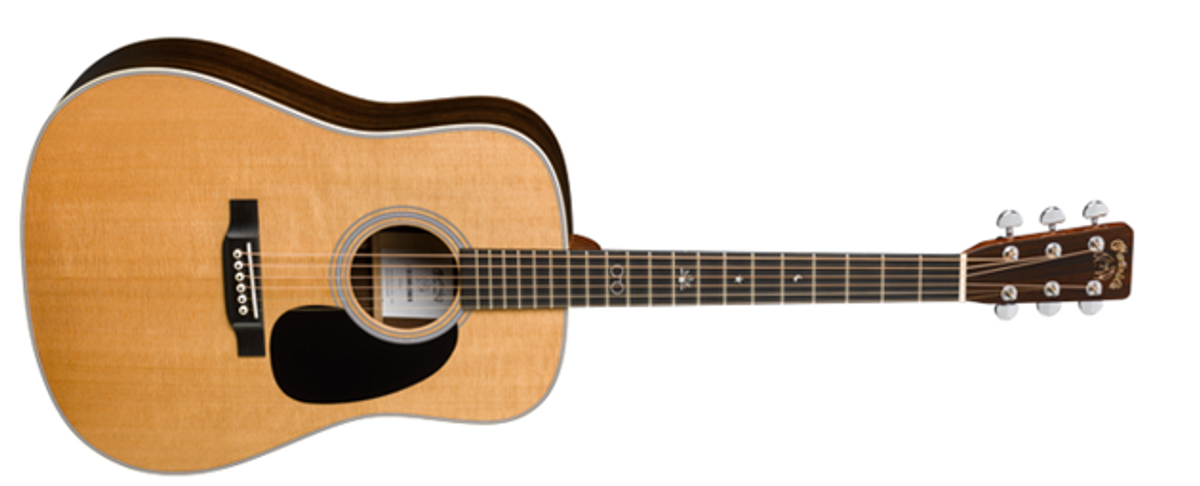 Martin will also introduce the 0X Uke Bamboo, DCX1AE, DX2AE, and GPCX2AE.
Nazareth, PA (March 21, 2016) -- Martin Guitar will unveil a second commemorative John Lennon model to follow up on the D-28 John Lennon 75th Anniversary Limited Edition model introduced in January 2016. The new D-28 John Lennon makes its debut at Musikmesse 2016 in Frankfurt, Germany April 7-10 and features John Lennon's famous self-portrait illustration on the rosewood headplate, along with a beautiful mother-of-pearl, John Lennon themed design inlaid on the ebony fingerboard.
Martin will also introduce three 0X Uke Bamboo, a unique soprano ukulele crafted from bamboo patterned high-pressure laminate (HPL) and expanding on the brand's successful X Series, three new models featuring macassar will be introduced - the DCX1AE Macassar, DX2AE Macassar and GPCX2AE Macassar.
Features:
D-28 John Lennon: The D-28 John Lennon is the follow up to the D-28 John Lennon 75th Anniversary limited edition model, commemorating John's 75th birthday. This beautiful Dreadnought is sure to be a wonderful addition to any guitar enthusiast's collection. A solid Sitka spruce top with Vintage Tone System is combined with East Indian rosewood back and sides – the back being inlaid with a peace sign. The East Indian rosewood headplate is adorned with John Lennon's famous self-portrait illustration that rests beneath the Martin script logo. A beautiful mother-of-pearl, John Lennon themed design is inlaid on the ebony fingerboard to complete this model. MSRP: $5499.00
0X Uke Bamboo: This unique soprano ukulele is crafted from bamboo patterned high-pressure laminate (HPL) for the top, back and sides. The rosewood fingerboard and bridge add a tasteful color contrast and feature Martin's Clear Fluorocarbon ukulele strings. Available in green, red and blue colors, this fun little instrument is super durable, great for travel, and sure to appeal to ukulele players of all levels. MSRP: $449.00
DCX1AE Macassar: An affordable Dreadnought cutaway crafted with a solid Sitka spruce top and paired with macassar patterned high-pressure laminate (HPL) back and sides for a great sounding, durable guitar. Also equipped with Fishman Sonitone electronics for stage ready use. MSRP: $929.00
DX2AE Macassar: The DX2AE Macassar is constructed of a solid sapele top coupled with macassar patterned high-pressure laminate (HPL) back and sides. This Dreadnought is equipped with Fishman Sonitone electronics and is sure to be the complete package for home or stage. MSRP: $779.00
GPCX2AE Macassar: The GPCX2AE Macassar is a Grand Performance cutaway model that is crafted from a solid sapele top paired with macassar patterned high-pressure laminate back and sides, a birch laminate high performance neck and Fishman Sonitone electronics. A great guitar for studio or stage. MSRP: $929.00
For more information:
Martin Guitar