Musikmesse 2014 - Editors' Picks
Our editors scoured the halls of Europe's biggest gear show for the most interesting guitars, amps, pedals, and more!
PG Editors pick their top gear from Musikmesse '14. See all of our Musikmesse coverage here.
Nick Page
Poland-born, Berlin-based luthier Nick Page creates ultra-high-end, one-of-a-kind custom instruments. His designs boast unique and exquisite detailing, yet they have a worn-in, well-loved feel. We lusted after his three new semi-hollowbody models: Blitz, with its Charlie Christian neck pickup (beneath a humbucker cover), a bridge PAF, and a customized Duesenberg trem; Ida Marie, a paisley-patterned beauty with a maple ply top, bird's eye maple neck, and dual humbuckers; and Le Sabre, with its etched metal pickguard, dual humbuckers, and modded Duesenberg trem. Page winds all his own pickups.
BluGuitar Amp 1
Thomas Blug, creator of some of Hughes & Kettner's best products, has gone solo with his BluGuitar line. He knocked us out at Musikmesse 2014 with Amp 1, a four-channel, 100-watt amp head that looks like a small multi-effect pedal. Employing much novel circuitry—and a single micro-sized Russian tube—the tiny floor unit summoned fat, full tones the belied its modest size.
Alvarez Elite Masterworks Series
Alvarez introduced several new high-end acoustic guitars from their Elite Masterworks series at Musikmesse 2014. We dug the Blues Elite BE70SB (far right), a pretty and petite acoustic with a true carved top of AA Sitka spruce, a one-piece mahogany neck, Indian rosewood back and sides, flamed maple binding, hand-carved bracing, a bi-level ebony bridge, and lovely pearl and abalone inlays. Another beaut was the MGA70E (top), a grand auditorium-sized model with an AA Sitka spruce top, East Indian rosewood back and sides, a mahogany neck, and many attractive appointments. Another AA Sitka/rosewood beauty, the BE70CE (lower left), features a single cutaway.
Hagstrom Northern Super Swede
Sweden's Hagstom resurrected a classic bass at Musikmesse 2014. The Northern Super Swede reproduces the instrument that Abba's Rutger Gunnarsson played on such hits as "Dancing Queen." When we say it's a neck-through model, we mean it: A single slab of mahogany runs from headstock to bridge, surrounded by double-cutaway mahogany wings. The pickups are hand-wound J-types by Lundgren.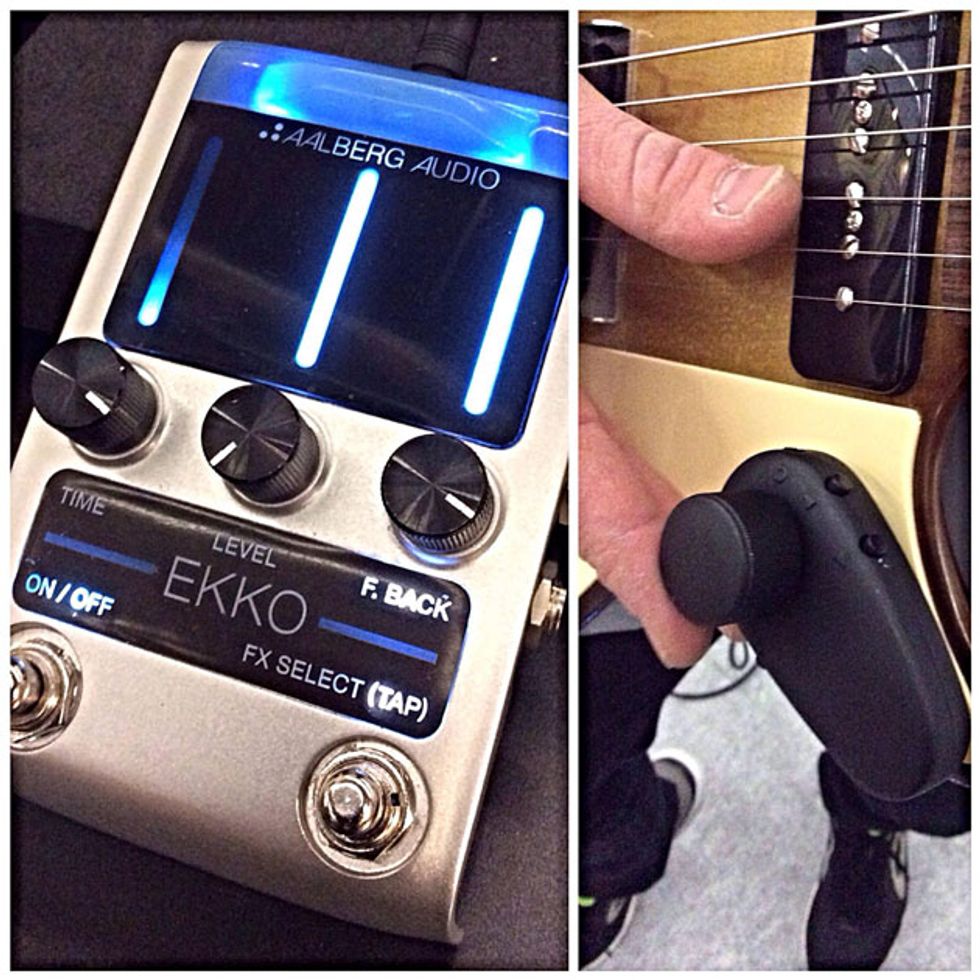 Aalberg Audio Ekko & Aero
Norway's Aalberg Audio previewed a cool crowd-funded delay pedal at Musikmesse 2014. It's comprised of two components: Ekko, a digital delay stompbox with light meters to denote the delay time, feedback, and mix settings, and Aero, a small, ergonomic wireless controller that can be clip-mounted on your guitar, belt, or wherever. Aero's push/pull pot lets you set tempo by tapping, scroll through effect parameters, and enter values. It's the first in a planned series of remote-controllable effects.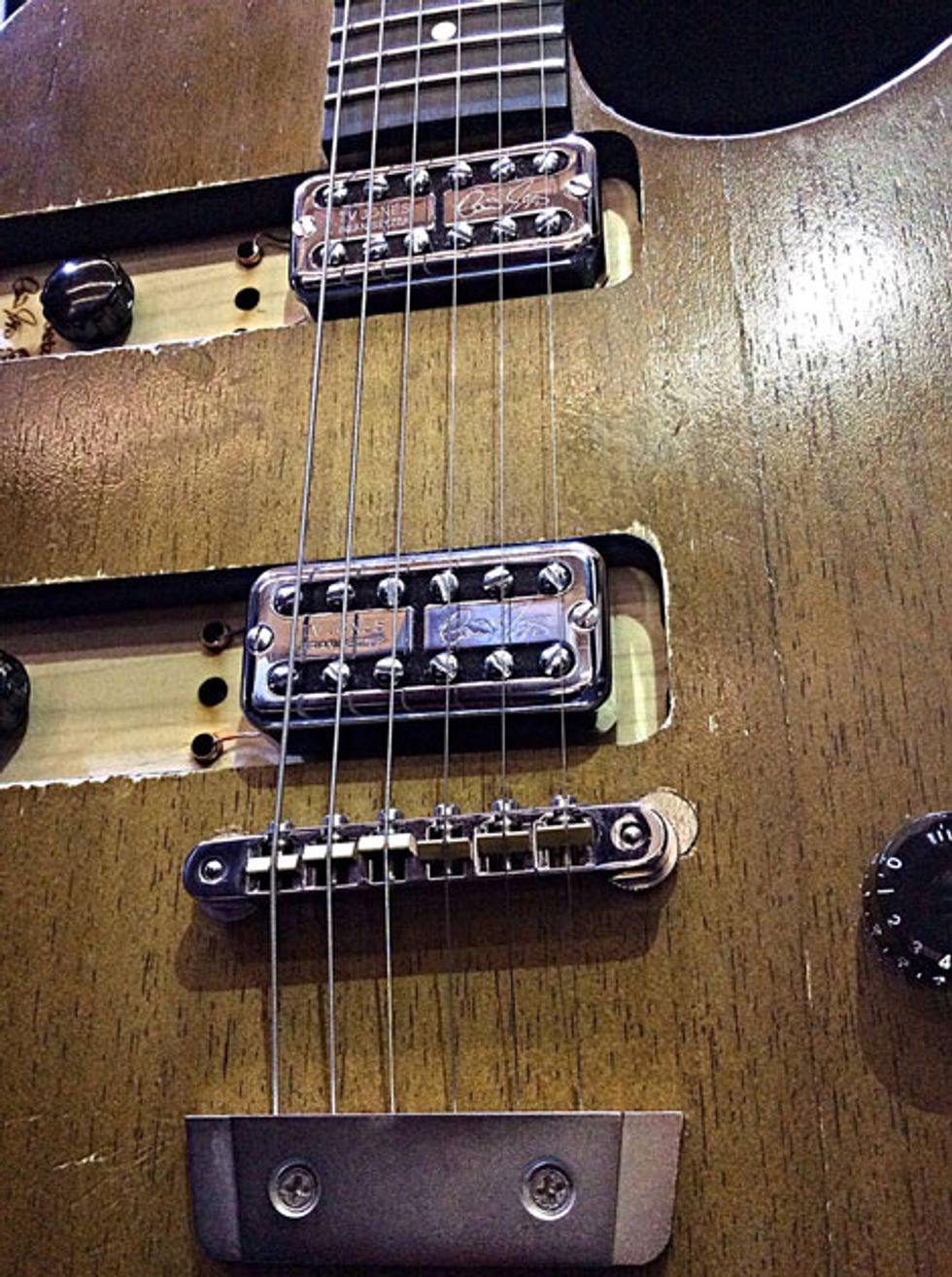 TV Jones Brian Setzer Signature Pickups
TV Jones has been winding pickups for Brian Setzer for 20 years, but has only now released a Brian Setzer signature model, which debuted at Musikmesse 2014. It's descended from the Gretsch Filter'Tron, but features a new pole screw alloy and what Jones describes as a "more over the top" sound. It's a sonic knockout with crackling transients and airy highs that never seem harsh, and a fat bottom end to anchor that brightness. It sounds stunning through an overdriven amp, where the bold treble response maintains definition even as you slather on the gain.