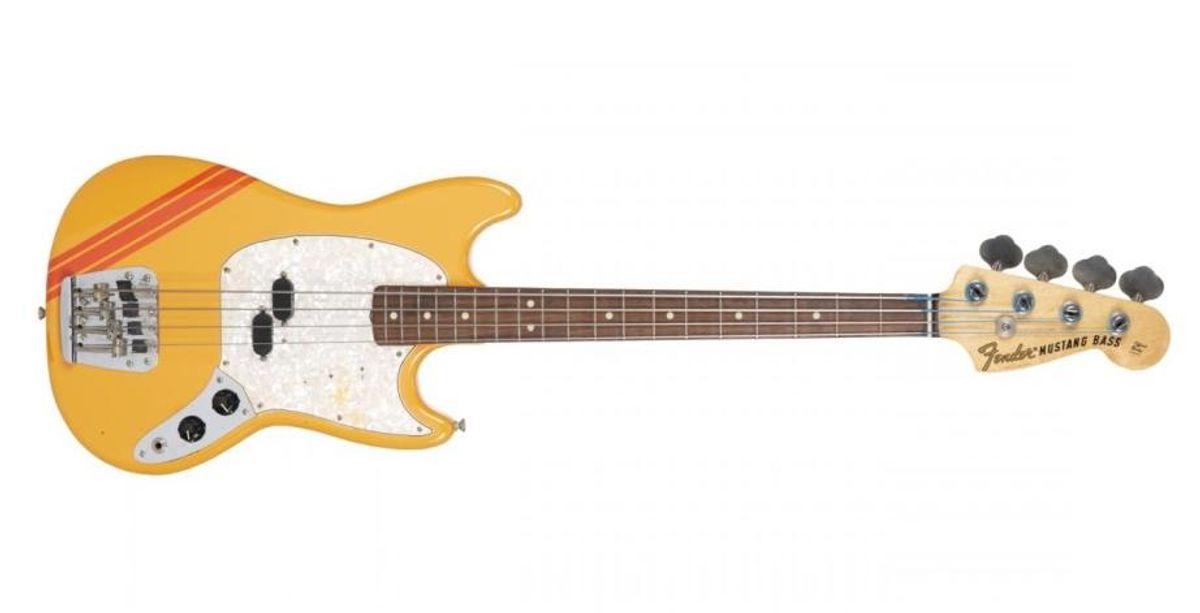 Photo by Julien's Auctions
In his final Bass Bench, our columnist ponders what innovations will come next.
Roughly 70 years into the history of the electric bass, I find myself wondering: Is there a target in the evolution of our instrument? Are we aiming for superb playability, the highest tuning stability, tonal superiority and versatility, ergonomics and comfort, or even all of these things?
---
In our capitalistic world, there's usually one thing that rules it all: money! The site ventured.com features statistics and lists relating to the value of just about anything, and that includes the most expensive basses ever—right next to the most expensive fish and banjos. So, is this list full of the most cutting-edge instruments with advanced technology, giving us a glimpse into the evolution of the bass guitar?
Well, the basses at the top of the list do not give us that impression. Instead, they're rather old tech. In first place is a 1969 Fender Mustang played by Bill Wyman on the Rolling Stones' 1969 and 1970 tour, which sold at auction for $384,000. Of course, the Mustang was originally designed to be a budget bass, featuring racing stripes to appeal to young students.
The second on the list is a $250,000 luxury bass made from "premium materials" by luthier Jens Ritter, featuring 24-karat gold inlays and hardware, plus knobs topped with diamonds. It might still be a good, well-playing bass, but that's obviously not where the money went.
A Hofner 500/1 sporting Paul McCartney's autograph is third on the list of the most expensive basses ever.
Photo courtesy of wikimedia.org
In third is another collectible piece: a Hofner 500/1 Violin bass signed by Paul McCartney, followed by James Jamerson's 1961 Fender Precision. The list continues with either signature models, ornamental inlays, or sought-after, rare custom colors. The Rickenbacker 4005 "Lightshow" bass, featuring lights all over the body that change color based on the notes played, even makes an appearance.
This list is further proof that it's the story of a bass—its origin, rarity, who owned it, or who signed it—that drives its value more than innovation. And, of course, it's collectors and not players that spend that much cash. But what if all those efforts would have gone right into a musician's practical or tonal needs?
Our basses have to be visually appealing, and it's fun for them to have a cool story, but instruments aren't just collectibles or fashion, and a little innovation here and there wouldn't hurt—especially since so many manufacturers' sites praise exactly that. Every other industry accepts R&D as a cost factor that customers must pay for. The music industry instead invests in either cost savings or ornamental luxury, keeping customers amused with an ever-recurring cycle of fashionable items. And besides tradition, fashion is often the real enemy of innovation.
Besides tradition, fashion is often the real enemy of innovation.
Remember those optical pickups from "A Closer Look at Optical Pickups" [May 2021]. An evolutionary product that requires an idea and costly efforts in R&D and, finally, patents? Or how about Just L. Pauls from Spain, who, almost a decade ago, thought he invented a 3D pickup and convinced his family to spend a small fortune on the patent? In the end, there was no money for a good website or even a demo musician and the project soon folded. What innovation will come along and actually succeed at capturing our imaginations and finding an audience?
On a personal note, this is the 120th Bass Bench column, which means it's been running for exactly a decade now. It's time for me to take a break and focus on my main business and get down my backlog that has skyrocketed in recent years.
It wasn't only 120 deadlines to meet, but also some details I wasn't super-interested in and never intended to learn about, but had to, knowing it was going to meet an expert audience. In the end, it has helped me to connect a lot of dots, both historically and technologically, which I'm extremely thankful for.
A huge thanks to all the great people at PG for allowing and helping me to do this, and to all who commented and read what I had to say. I feel honored I could do this, and, who knows, maybe—or hopefully—I'll return at some point. Thank you!
Rhett and Zach unpack the big news for secondhand guitar sellers and buyers: Sweetwater has launched their new Gear Exchange. How does it compare to Reverb, Craigslist, and Marketplace? To find out, Zach takes the site for a spin and buys a pedal. He calls the process both "very easy" and "normal." They discuss the pros and cons of the various used-gear outlets and share tips for not getting got when buying gear. Plus, Zach grew a mustache, Mythos Pedals is moving, and he talks about his forthcoming line of Strat pickups inspired by Hendrix's reverse-stagger setup.
Sweetwater vs. Reverb

The Royale was designed to deliver loud and vivid clean tone with a responsive, tactile low end.
Designed to offer massive headroom, the 50-watt Royale Head lets you indulge in smooth clean tones at even higher volumes on stage without any breakup. Select between class A and class AB modes, with its variable mode switch, so you can choose between gushing Supro tone or a punchier, tight midrange response.⁠

Introducing the Royale Head & Extension Cabinet | Supro
The Royale 1x12 Extension Cabinet features the custom Supro BD12 high-power driver, offering the same mid-range punch and clean articulation as the Royale combo but with additional stage volume. ⁠More info: suprousa.com.
Royale Head | $1,499⁠.99⁠
Royale Cab | $669.99
D'Addario Foundation's education project sets out to help schools throughout the country and kicks off with an online auction.
​The D'Addario Foundation will host a virtual auction from November 9 to November 30, 2022, with the overarching goal of raising $30,000 for the D'Addario Foundation's Immersive Music Challenge.
​Inspired by a new study published in the Journal of Youth Development, the D'Addario Foundation recently launched the Immersive Music Challenge. This ambitious project will help school districts and charter systems throughout the country boost academic achievement by implementing effective, multi-day-per-week music-based mentoring programs that include training, administration, and evaluation. The D'Addario Foundation has invested in an incredible team of consultants that include school superintendents, public health experts, and data analysts to ensure sound results. In addition, D'Addario is actively seeking corporate partners to support the establishment of these programs and champion their success.
Thanks to the generosity of D'Addario artists and industry partners including Gibson, PRS Guitars, D'Angelico, Taylor Guitars, and more, one-of-a-kind items & experiences are up for bidding. Some of the items include:
Evans Drumhead signed by Anderson Paak
ESP Mirage Deluxe '87 Signed by Bruce Kulick of KISS and Grand Funk Railroad
Gibson Les Paul Custom electric guitar
D'Addario bass string set signed by Bryan Beller of the Aristocrats
PRS S2 McCarty 594 Singlecut
Virtual Lesson with Marty Schwartz
To celebrate its 20th anniversary, Xotic Effects unveils an updated version of their classic boost pedal.
Xotic's RC Booster pedal is back to celebrate its 20th anniversary. The RC Booster's original design was a customer favorite due to its versatile clean boost, active treble, bass, gain and volume controls. This classic reissue will join their regular pedal lineup permanently.
Features
• Transparent boost pedal for electric guitar
• Up to 20dB of boost for adding volume or sending your amp into overdrive
• Treble and bass EQ controls with +/-15dB range for fine-tuning your sound
• True bypass switching removes the effect from your signal path when disengaged
• Powered via 9-volt battery or optional AC adapter (sold separately)
• 9-18 volts
The first 1000 pedals will contain a special limited edition packaging with special items and actual guitar picks from Andy Timmons, Paul Jackson Jr, Dean Brown, Kirk Fletcher, Allen Hinds, Chris Duarte, Scott Henderson, Oz Noy, Michael Thompson, Yuya Komoguchi, Toshi Yanagi.
RC Booster with limited edition packaging street price is $172.00. More info: xotic.us.