Sometimes a small wiring change can yield major sonic dividends.

Image 1
For many guitarists, a Strat equipped with a bridge-position humbucker and two single-coils (HSS) offers the ultimate in sonic flexibility. If you have a guitar configured this way with a 5-way switch, there's a way to make it even more versatile without adding any additional switches or hardware.
Project overview. We're going to rewire the 5-way switch to coil-tap the humbucker in position 2. (Note: We're using the usual numbering scheme that identifies the solo bridge pickup as "position 1" and the solo neck pickup as "position 5.") You still get the fat, full humbucker sound in position 1, but in position 2, the humbucker goes into single-coil mode. Wired this way, position 2 offers a combination of middle and bridge single-coils, and you get much closer to that classic, clucky middle-plus-bridge combination Strat players love. One complaint about an HSS Strat is that in position 2, the humbucker sonically overwhelms the middle pickup. This coil-tap mod goes a long way toward eliminating that problem.
The two tone controls continue to function as normal, operating independently on the neck and middle pickups, and you get an expanded tonal palette consisting of five distinct sounds: solo neck or middle single-coils, two combined single-coil settings (neck-plus-middle or middle-plus-bridge), and, of course, the full-throttle solo bridge humbucker.
I recently did this mod on a HSS Strat loaded with a PRS Tremonti bridge humbucker, two stock Fender single-coil pickups, and a standard CRL 5-way blade switch. I'll use the Tremonti to explain the mod, although the color of its wires may differ from those in your humbucker. Also, some switches work differently from the typical Fender 5-way we're showing in these diagrams. That said, the essential concept remains the same, so with a little ingenuity you can apply this mod to most humbucker-equipped Strats or Strat-style guitars.
One complaint about an HSS Strat is that in position 2, the humbucker sonically overwhelms the middle pickup. This coil-tap mod goes a long way toward eliminating that problem.

Tools and materials. To complete this mod, you need a 30- or 40-watt soldering iron with a small tip, a roll of .032" diameter 60/40 rosin core solder, some stranded 22-gauge cloth-covered wire, a 5" curved hemostat clamp (preferably with rubber-coated handles to protect your fingers from heat), and a medium Phillips screwdriver.
Tip: Never use a soldering gun around an electric guitar—it can damage your pickup magnets.
Getting started. First, take off the strings and detach the pickguard. Stash the screws in a safe place. Place a small towel or cloth on your guitar to protect the finish and then turn the pickguard over, being careful not to tug on any wires.
Next, check out Image 1, which shows how a standard Strat 5-way switch is wired. After familiarizing yourself with this diagram, correlate it to your 5-way switch.
Okay, it's time to detach a few wires from that switch. Unsolder and remove the jumper wire that connects both sides of the blade switch so they operate together. Removing the jumper lets us use each side of the switch independently.
But wait! We'll also unsolder the output wire from the lug marked "output to volume." (This wire connects the 5-way switch to the input lug of the volume pot. Leave this wire soldered to the volume pot.) Later, you'll re-solder the disconnected end to the opposite side of the switch. Because this output wire shares a switch lug with one end of the jumper, you might be able to unsolder both at the same time.
Once you've detached the jumper and output wires from the switch, unsolder the two tone-control wires from it. (Don't remove the wires from the tone pots.) As with the volume pot wire, you'll soon re-solder the two tone control wires to the other side of the switch.

Image 2
Coil-tapping the humbucker. First, make sure you know which two wires make up the series link in your humbucker. The series link is the start of one coil and the finish of the other coil in a four-conductor humbucking pickup. When combined, these two wires join the two coils in series.
If these wires are grounded, one of the coils is turned off. On our PRS Tremonti humbucker, the red and green wires are the series link. Black is the primary output and white is the ground.
Grounding the red and green wires coil-taps the humbucker. Take a moment to study Image 2, which shows the 5-way switch configured for coil-tapping in position 2.
Now solder the series link wires to the top-right lug, as shown. (Again, the color of your series link wires may be different.) Then, still following the diagram, solder a ground wire from the switch's third right-side lug to the back of one of the pots. Now position 2 runs the series link to ground and coil-taps the humbucker.
Tie up loose ends. Remember the output wire that's still attached to the volume pot? It's time to reconnect it. As shown in the diagram, solder it to the fourth lug on the left (spring) side.
Now we're ready to connect the tone controls to the switch. Solder the wire for the lower tone control (tone 2) to the second left-side lug—the same lug used by the middle pickup's lead wire. Next, solder the wire from the upper tone (tone 1) to the third left-side lug, which is shared by the neck pickup's lead wire.
With this new configuration, the tone controls still function as before: Tone 1 is active whenever the neck pickup is selected, either solo or in combination with the middle pickup, and tone 2 is active when the middle pickup is selected.
This is how the switch should work:
• Position 1 = bridge humbucker (no tone control engaged).
• Position 2 = tapped bridge humbucker plus middle single-coil (tone 2 engaged on middle pickup).
• Position 3 = middle single-coil (tone 2 engaged).
• Position 4 = middle plus neck single-coils (tone 2 and tone 1 independently engaged on middle and neck single-coils, respectively).
• Position 5 = neck single-coil (tone 1 engaged).
To confirm the switch is working correctly, lightly tap the pickups with your hemostat as you change positions on the 5-way switch. You can test the volume and tone pots by gently rubbing the pickup pole pieces with the hemostats while turning the controls.
Once you've tested the switch and are satisfied that everything is right, re-attach the pickguard, string up your guitar, and enjoy the new, coil-tapped sound of position 2.
Phase Check!
When you coil-tap a humbucker and combine it with the middle pickup in position 2, you should hear a robust dual-pickup tone—sweet, singing, and perhaps a bit clucky. If instead the sound is weak and shrill—and it lacks the punch of either the bridge or middle pickup by itself—the two combined coils aren't in phase.
To correct this, simply reverse the lead and ground wires from the two stock single-coils—the guitar's middle and neck pickups. In other words, unsolder the ground and hot wire for each pickup and swap their roles (the former ground wires connect to the 5-way switch and the former hot wires are now grounded on the back of a pot). The solder points remain the same, but each pickup's two wires trade places.
Looking for more great gear for the guitar player in your life (yourself included!)? Check out this year's Holiday Gear Finds!
Outlaw Effects introduces their next generation of NOMAD rechargeable battery-powered pedal boards.
Available in two sizes, NOMAD ISO is a compact, versatile tool that offers the convenience of a fully powered board plus the additional freedom of not having to plug into an outlet. NOMAD ISO is ideal for stages with limited outlet availability, quick changeovers, busking outdoors, temporary rehearsal locations, and more.
NOMAD ISO builds upon the legacy of the ultra-convenient and reliable NOMAD rechargeable pedalboard line originally launched in 2018. The brand new NOMAD ISO editions feature eight isolated outputs (1 x 9V DC, and 1 switchable 9V/12V DC) for even more versatility and clean, quiet power. With an integrated lithium-ion battery pack boasting 12800mAh capacity, NOMAD ISO can fuel a wide array of pedals, and will last over 10 hours* on a single charge.
Each NOMAD ISO pedal board includes adhesive hook & loop pedal-mounting tape, eight (8) standard DC connector cables, and one (1) reverse polarity DC cable, giving you everything you need to build your ultimate "off-the-grid" rig. A rugged, road-ready padded gig bag with shoulder strap is also included, to safely protect your gear while you're on the move.
NOMAD ISO S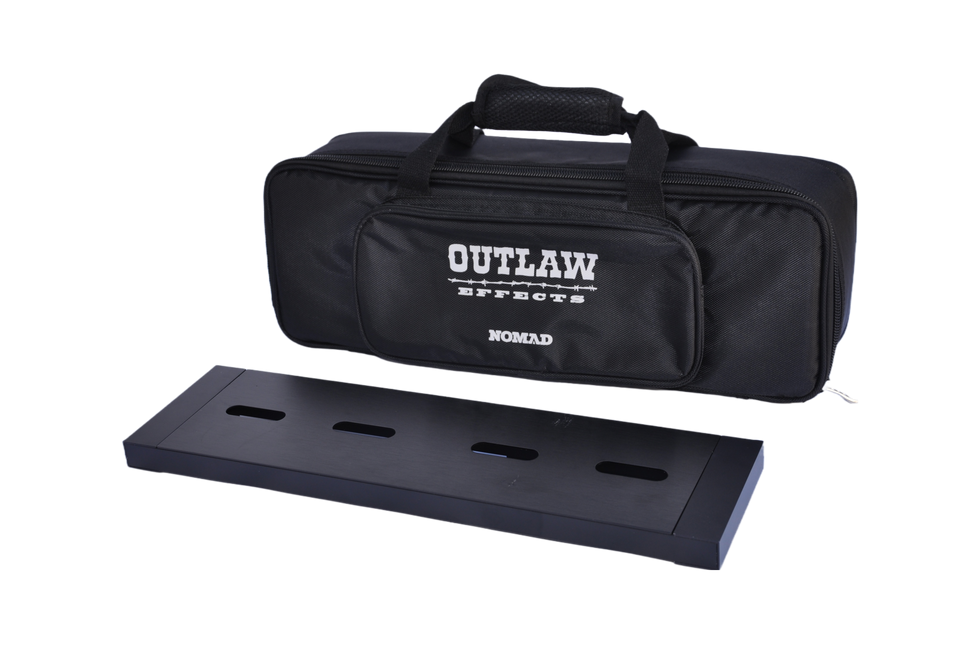 NOMAD ISO S: MSRP $309 / MAP: $249
Dimensions: 19 ¼" x 5 ¼"
NOMAD ISO M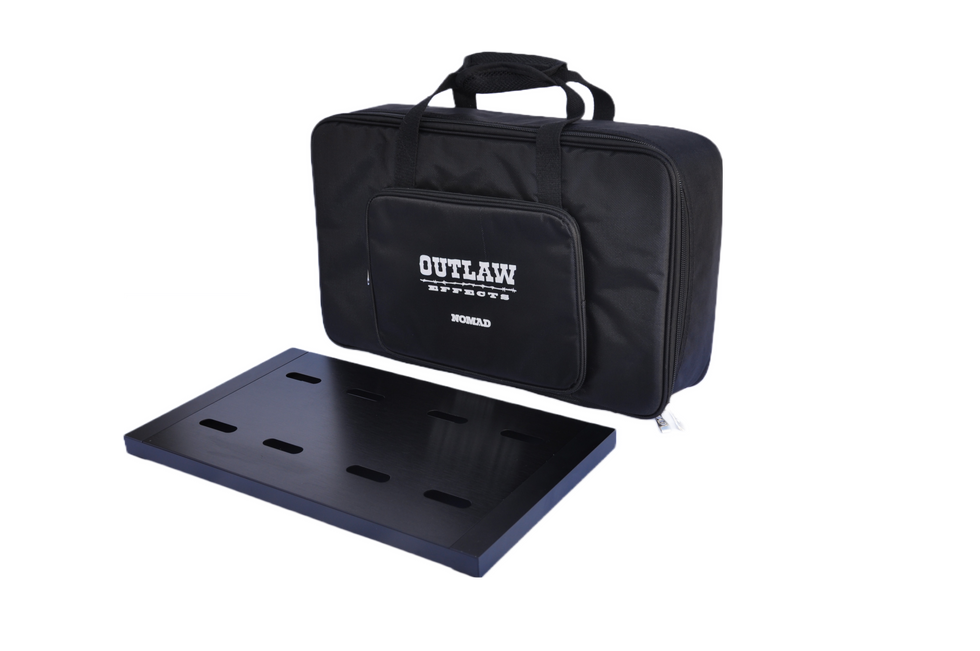 NOMAD ISO M: MSRP $349 / MAP $279
Dimensions: 19 ¼" x 11"
More info: https://www.outlawguitareffects.com.
Dunable announces new Minotaur model featuring Grover Rotomatic Keystone tuners.
The Minotaur's DNA is rooted in their classic Moonflower model, which Dunable discontinued in 2017. However, they have long since wanted to create a fresh take on a carved top guitar design, and various attempts to rework the Moonflower led them to a brand new concept with the Minotuar.
Dunable's goal is to give the player a guitar that plays fast and smooth, sounds amazing, and gives maximum physical ergonomic comfort. The Minotaur's soft and meticulous contours, simple and effective control layout, and 25.5" scale length are designed to easily meet this criteria.

Dunable Minotaur!
Features
25.5" scale length
Dual Humbucker
one volume, one tone, push pull for coil splitting
Grover Rotomatic Keystone tuners
Grover Tune O Matic bridge with brass Kluson top-mount tailpiece
jumbo nickel frets
12" fretboard radius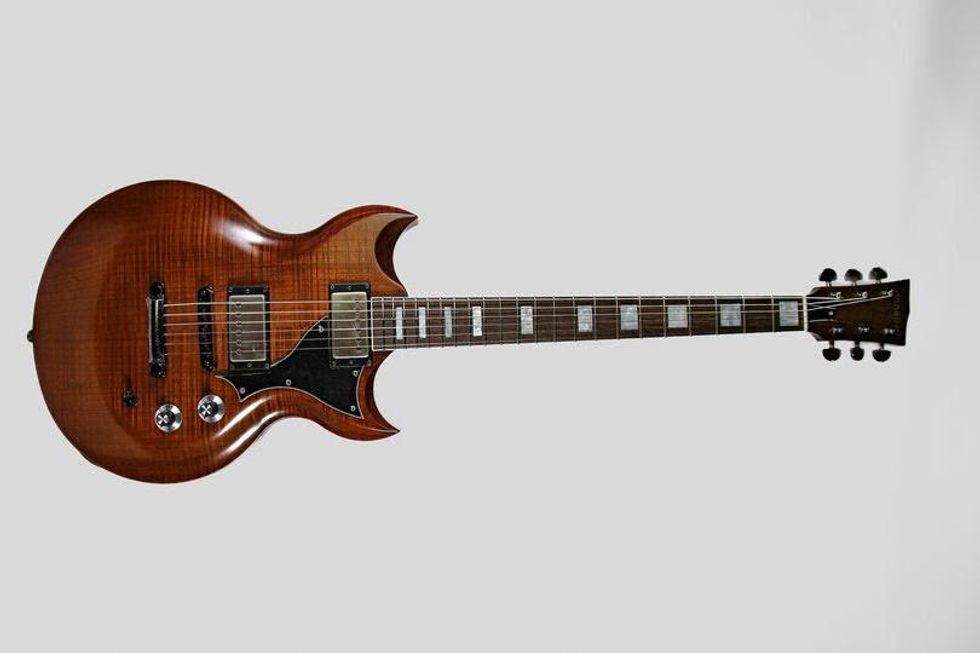 Dunable
This full-amp-stack-in-a-box pedal brings a new flavor to the Guitar Legend Tone Series of pedals, Missing Link Audio's flagship product line.
Adding to the company's line of premium-quality effects pedals, Missing Link Audio has unleashed the new AC/Overdrive pedal. This full-amp-stack-in-a-box pedal – the only Angus & Malcom all-in-one stompbox on the market – brings a new flavor to the Guitar Legend Tone Series of pedals, Missing Link Audio's flagship product line.
The AC/OD layout has three knobs to control Volume, Gain and Tone. That user-friendly format is perfect for quickly getting your ideal tone, and it also offers a ton of versatility. MLA's new AC/OD absolutely nails the Angus tone from the days of "High Voltage" to "Back in Black". You can also easily dial inMalcom with the turn of a knob. The pedal covers a broad range of sonic terrain, from boost to hot overdrive to complete tube-like saturation. The pedal is designed to leave on all the time and is very touch responsive. You can get everything from fat rhythm tones to a perfect lead tone just by using your guitar's volume knob and your right-hand attack.
Features 
Three knobs to control Volume, Gain and Tone
Die-cast aluminum cases for gig-worthy durability
Limited lifetime warranty
True bypass on/off switch
9-volt DC input
Made in the USA
MLA Pedals AC/OD - Music & Demo by A. Barrero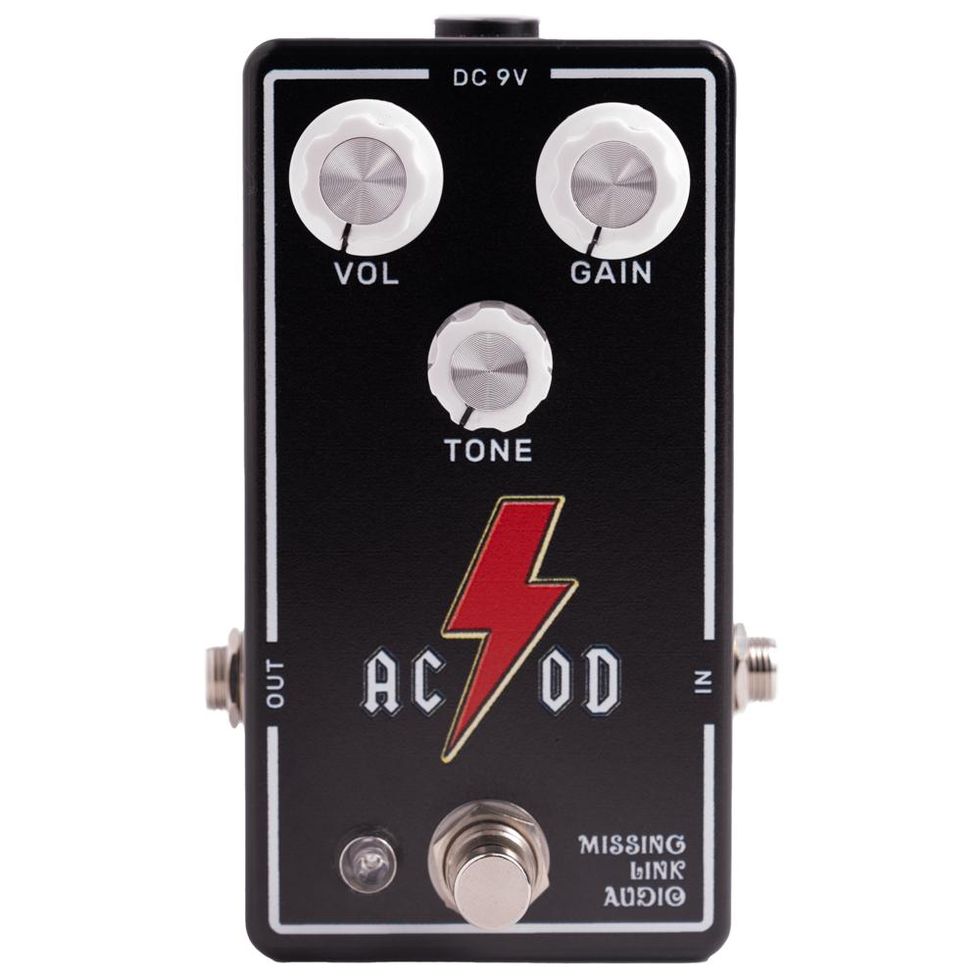 www.mlapedals.com.