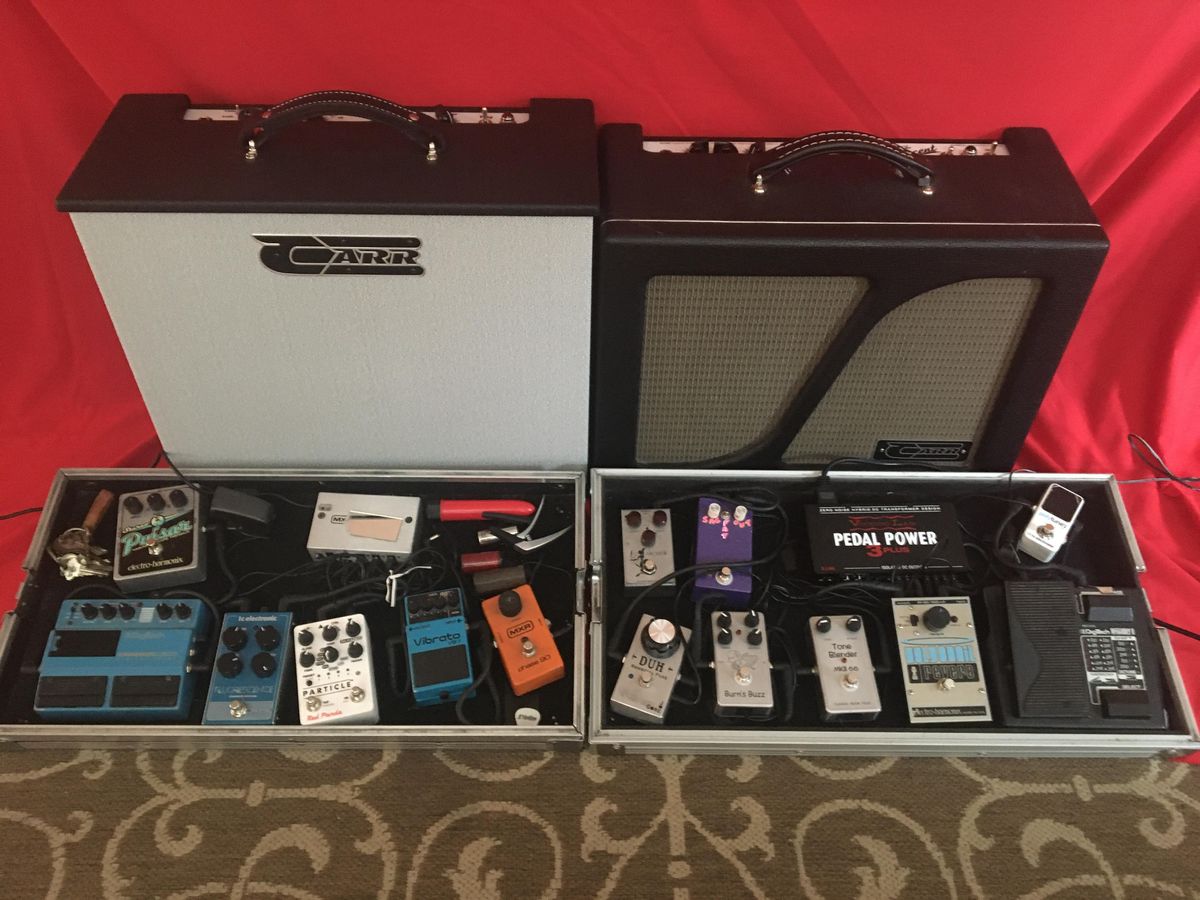 How the pursuit of an ideal amp setup led to a two-Carr garage/psych/roots sound.
For my debut Love and Sockets column (September 2019), I wrote about my 1964 Supro Tremo-Verb. Now, I'm returning to the Land of Me because I've finally found my dream amp setup. Again.
---
Sound familiar? I think many of us fall in love with an amp or amps, cherish and work those tones for years, and then as we evolve/devolve we start hearing a new palette of sounds beyond trusty Old Paint's reach. Over the decades I've adored many setups. And I've had an on-and-off relationship with pedals that's shuffled between some, none, a boatload, none, and my current two boatloads in search of the widest and wildest tones.
These birch-cabinet beauties hand-built from high-quality components always make my ears smile.
The sonic possibilities of pedals also led me to playing in stereo. And to look for a better and better core platform for those sounds. Now, for about the fifth or sixth time in my life, I've found my absolute killer, forever, all-time-best-and-favorite dream setup: a Carr Vincent and a Carr Telstar.
The Telstar's simple control set.
These combos are built like little locomotives. The Vincent is the heaviest at about 44 pounds and the Telstar is roughly 39—Fender Deluxe weight class. While the Telstar is a new addition, I bought the Vincent used about five years ago at Carter Vintage here in Nashville, after spending months visiting and revisiting local shops in search of the perfect beast. Both have magnificent tones at all settings, simple controls that profoundly affect character, look retro-cool as hell, and are the loudest low-wattage circuits I've ever cranked. Both are power-selectable, which is handy for the wide variety of rooms and outdoor spaces I play. The Vincent flips between 7 and 33 watts, while the Telstar scales from 0 to 17.
The Vincent, which Steve Carr's Pittsboro, North Carolina, shop has rechristened the Viceroy, blends a '60s-style preamp circuit with a '50s-inclined output section. It has three 12AX7s and one 12AT7 for the preamp and reverb, and two 6L6GC power tubes. The controls are (left to right) volume, treble, mid, bass, reverb, and drive. There's much mojo in the mid and drive. The mid dial also engages a boost function that increases midrange and gain. This is where I live, because I love the depth, clarity, warmth, and growl available, with a lick of smooth compression. The boost partially bypasses the tone stack, so the EQ controls don't do much when it's activated. Honestly, they don't need to. I tend to keep the other extra-sauce function, drive, up to about 4-to-5 o'clock. The drive is kinda like a clean boost and comes after the volume and tone-shaping sections. It pumps up response and punch, lending sparkle at low volumes and snarl at higher ones. All that voice comes out of a 12", 75-watt Eminence Red Coat Wizard.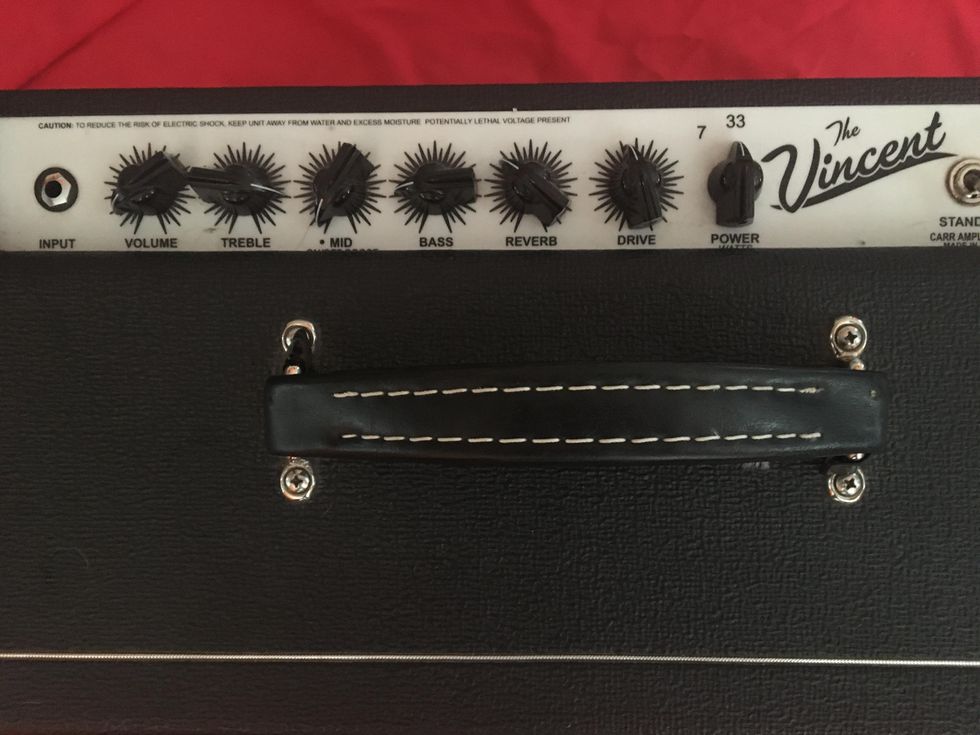 The Vincent's somewhat less simple controls.
As you'd guess from the name of my Vincent's buddy, the Telstar has mojo straight out of the space age—plus a few innovations. The coolest is its tube array, which blends a 6L6 and an EL84 for remarkably detailed, complex, and fresh-sounding tones. It breathes. There's a 12AX7 and 6SL7 octal for the preamp and a 12AT7 driving reverb. It has two other tricks in a pair of toggles. One shunts between "53" and "58" settings. The first sculpts the amp's basic tone profile like an old tweed's, while "58" summons up a classic JTM45 core. Toggle two jockeys between "lean" and "lush." "Lean" is a low-cut and, with some adjusting of the tone dial, it allows Vox-like voices to emerge. "Lush" is exactly that—rich, full-range tone. I tend to live in the "58"/ "lush" zone and let the pedals do the tweaking onstage, but for cutting tight-sounding solos with hair, the "lean" setting helps maintain focus. The other knobs are volume and reverb, of course. And the speaker is an Eminence-made, 60-watt, 12" Carr Valiant. Among the boutique amps I've tried, I've not heard another that so simply and elegantly balances tradition and invention.
These birch-cabinet beauties hand-built from high-quality components always make my ears smile. Granted, it's taken me ages to be able to afford a rig like this. But I love it with all my heart.
I've had some pretty terrific dream-amp setups in the past, too: a transition-era Twin, followed by that Twin run parallel with a 1972 Marshall Super Lead above a same-year Marshall 4x12, and then that Marshall and a Mesa/Boogie Dual Rectifier Trem-o-Verb atop a pair of 4x12s. About a decade ago, when I was performing hardscrabble blues, I had a humble rig of an Epiphone Valve Standard and a Peavey combo that I'd named Igor. That rig was so juke-thentic you can hear the tubes rattle in Robert Mugge's documentary BIG SHOES: Walking and Talking the Blues,about my then-band, Scissormen. But this time … this time … I know my dream setup is forever and for real. For now!
Looking for more great gear for the guitar player in your life (yourself included!)? Check out this year's Holiday Gear Finds!
Outlaw Effects introduces their next generation of NOMAD rechargeable battery-powered pedal boards.
Available in two sizes, NOMAD ISO is a compact, versatile tool that offers the convenience of a fully powered board plus the additional freedom of not having to plug into an outlet. NOMAD ISO is ideal for stages with limited outlet availability, quick changeovers, busking outdoors, temporary rehearsal locations, and more!
NOMAD ISO builds upon the legacy of the ultra-convenient and reliable NOMAD rechargeable pedalboard line originally launched in 2018. The brand new NOMAD ISO editions feature eight isolated outputs (1 x 9V DC, and 1 switchable 9V/12V DC) for even more versatility and clean, quiet power. With an integrated lithium-ion battery pack boasting 12800mAh capacity, NOMAD ISO can fuel a wide array of pedals, and will last over 10 hours* on a single charge.
Each NOMAD ISO pedal board includes adhesive hook & loop pedal-mounting tape, eight (8) standard DC connector cables, and one (1) reverse polarity DC cable, giving you everything you need to build your ultimate "off-the-grid" rig. A rugged, road-ready padded gig bag with shoulder strap is also included, to safely protect your gear while you're on the move.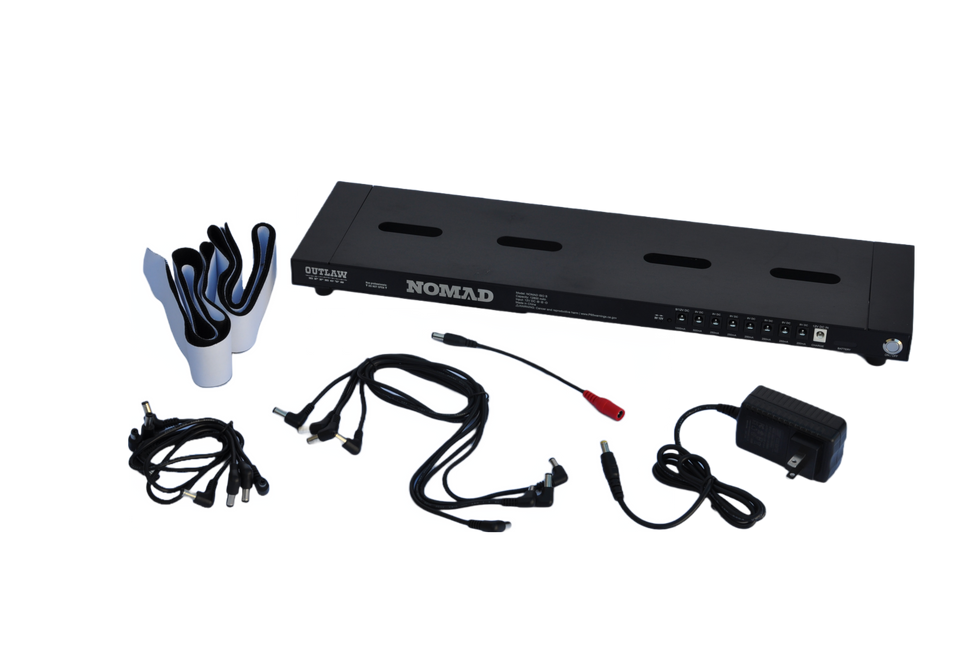 Dunable announce new Minotaur model featuring Grover Rotomatic Keystone tuners.
The Minotaur's DNA is rooted in their classic Moonflower model, which Dunable discontinued in 2017. However, they have long since wanted to create a fresh take on a carved top guitar design, and various attempts to rework the Moonflower led them to a brand new concept with the Minotuar.
Dunable's goal is to give the player a guitar that plays fast and smooth, sounds amazing, and gives maximum physical ergonomic comfort. The Minotaur's soft and meticulous contours, simple and effective control layout, and 25.5" scale length are designed to easily meet this criteria.

Dunable Minotaur!
Features
25.5" scale length
Dual Humbucker
one volume, one tone, push pull for coil splitting
Grover Rotomatic Keystone tuners
Grover Tune O Matic bridge with brass Kluson top-mount tailpiece
jumbo nickel frets
12" fretboard radius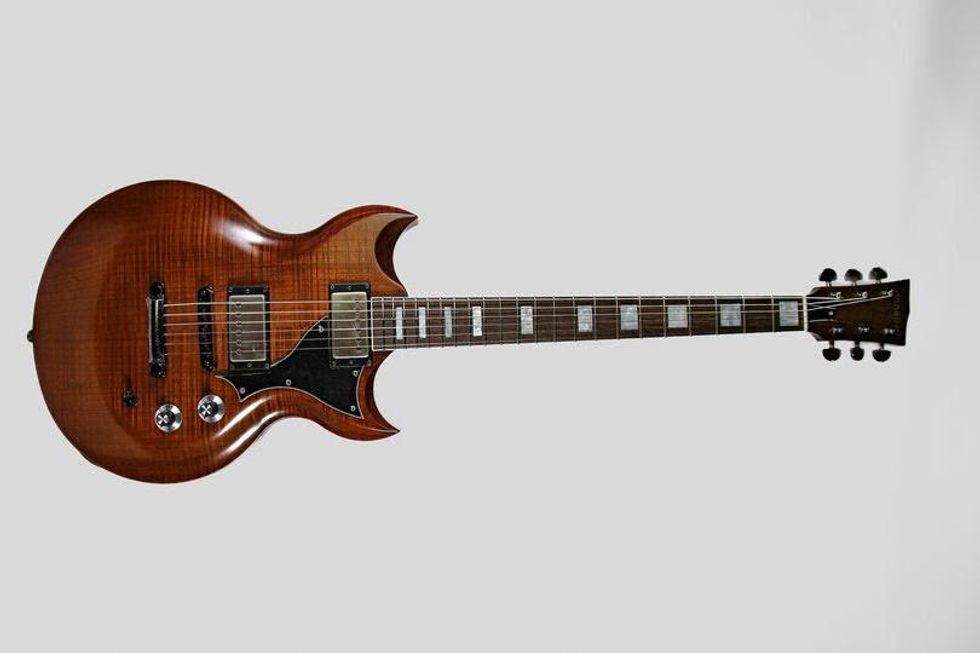 Dunable
This full-amp-stack-in-a-box pedal brings a new flavor to the Guitar Legend Tone Series of pedals, Missing Link Audio's flagship product line.
Adding to the company's line of premium-quality effects pedals, Missing Link Audio has unleashed the new AC/Overdrive pedal. This full-amp-stack-in-a-box pedal – the only Angus & Malcom all-in-one stompbox on the market – brings a new flavor to the Guitar Legend Tone Series of pedals, Missing Link Audio's flagship product line.
The AC/OD layout has three knobs to control Volume, Gain and Tone. That user-friendly format is perfect for quickly getting your ideal tone, and it also offers a ton of versatility. MLA's new AC/OD absolutely nails the Angus tone from the days of "High Voltage" to "Back in Black". You can also easily dial inMalcom with the turn of a knob. The pedal covers a broad range of sonic terrain, from boost to hot overdrive to complete tube-like saturation. The pedal is designed to leave on all the time and is very touch responsive. You can get everything from fat rhythm tones to a perfect lead tone just by using your guitar's volume knob and your right-hand attack.
Features 
Three knobs to control Volume, Gain and Tone
Die-cast aluminum cases for gig-worthy durability
Limited lifetime warranty
True bypass on/off switch
9-volt DC input
Made in the USA
MLA Pedals AC/OD - Music & Demo by A. Barrero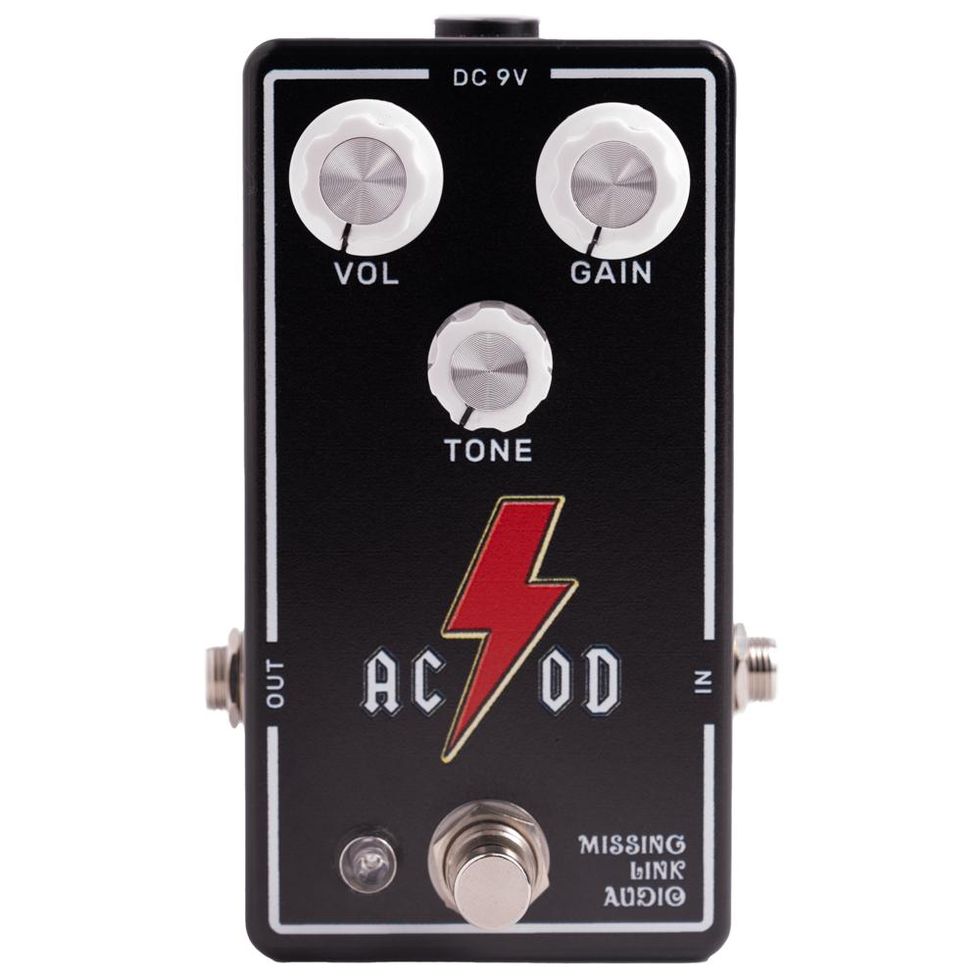 www.mlapedals.com.