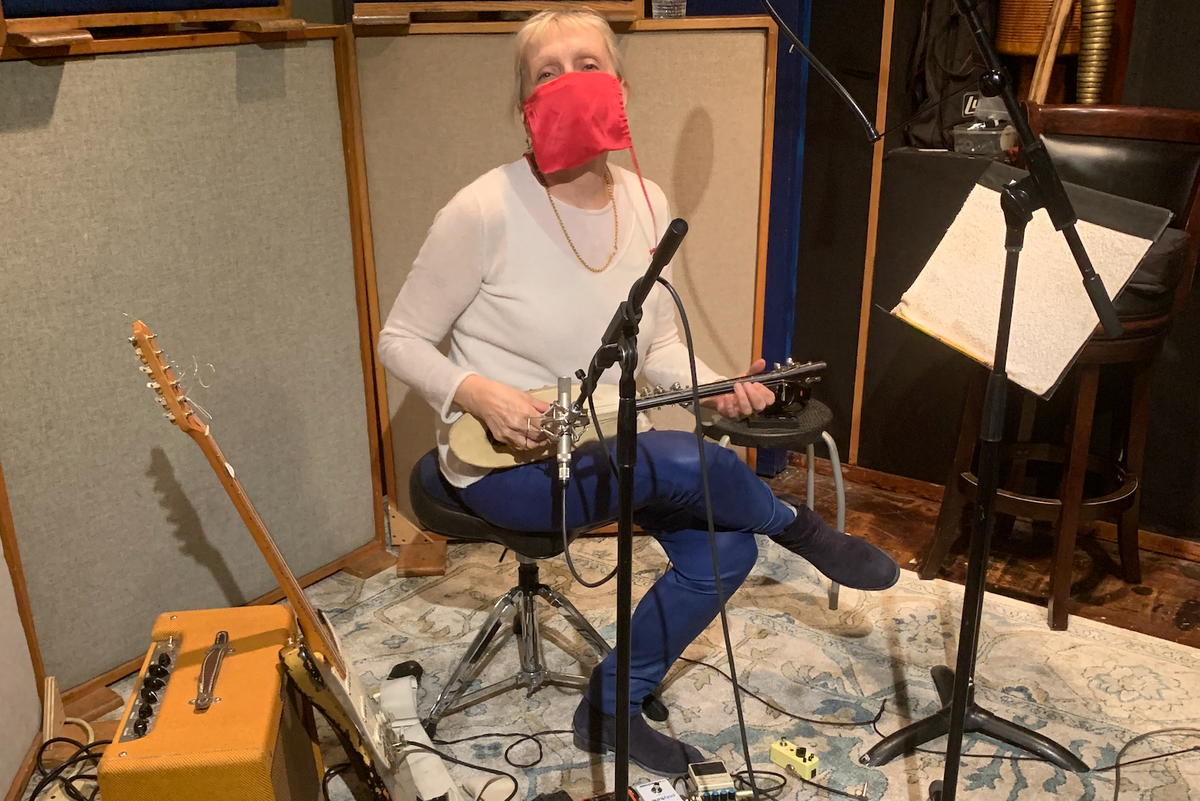 Two combos are slimmed down for air travel, but beefy enough for a global musical adventurer. And for the ngoni.
Everybody knows it's easy to get a clean, full tone from a Fender Blues Junior and a Strat, but what about a ngoni? That's the 6-stringed Malian instrument that guitarist and singer Leni Stern has adopted as her third core voice. With three plucked and three resonating strings, and a wood, calabash, and animal-skin construction, it seems like a potential nightmare to amplify. But … with the right pickup and her little workhorse combo, she's got it dialed in both live and on her new album Dance—bright and punchy, with just the right touch of air, and a propulsive, fat snap that reveals the ngoni's role in inspiring the banjo while sounding, quite rightfully, from an older, nearly timeless place.
---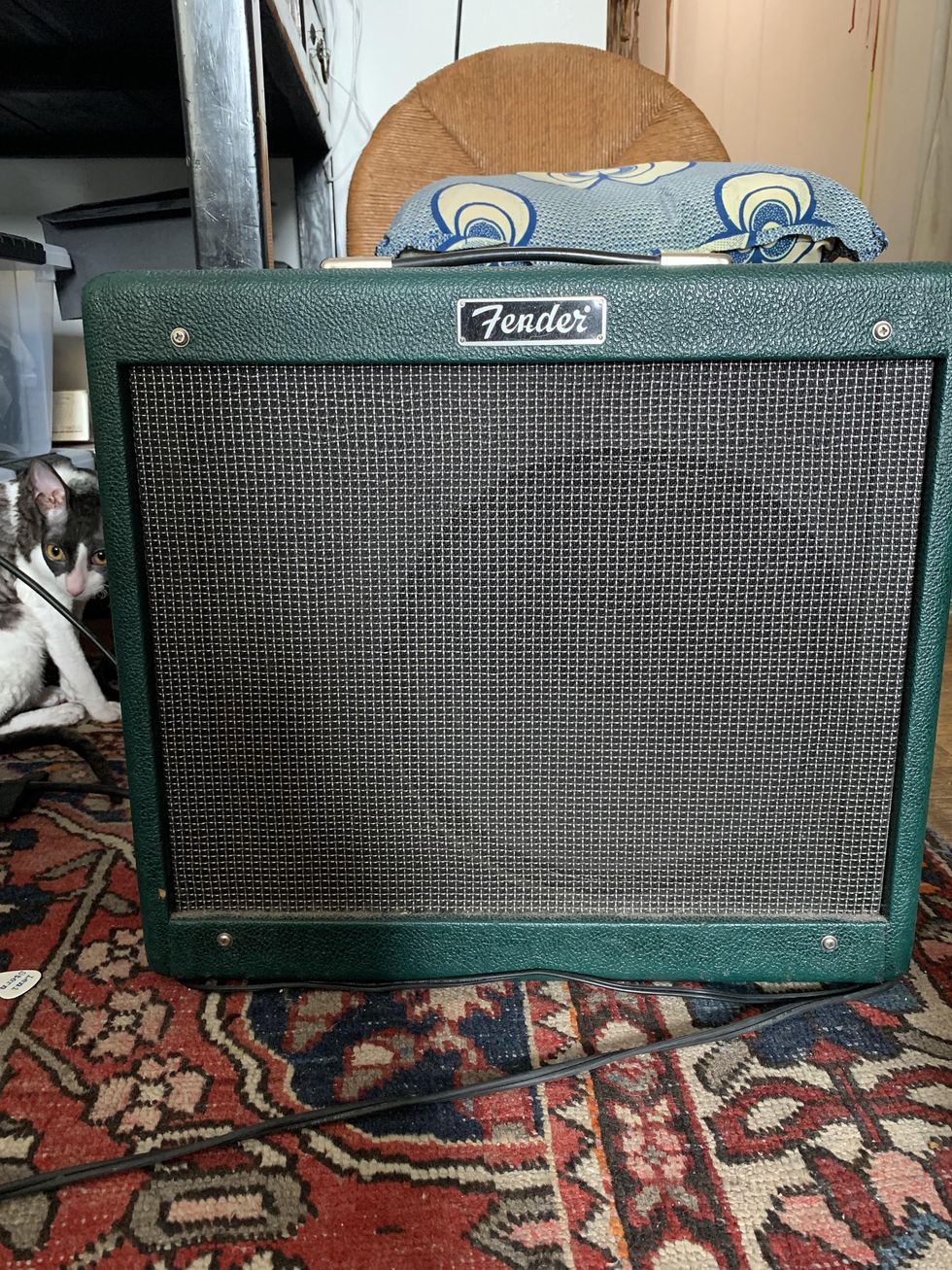 Here's Stern's road-warrior Blues Junior, which has a neodymium Jensen Tornado replacement speaker.
The key, says Stern, was installing a pickup by Carlos Juan, who designed the magnetic wonders that Pat Metheny uses to amplify his Linda Manzer-built 42-string Pikasso. It was given to her by classical guitarist Derek Gripper, and once it replaced the contact pickup she'd been using, the ngoni truly came to electrified life. (See this story online to watch her play the ngoni onstage.)
"On tours, I like to bring my own amp, so I had to reduce the weight of the Blues Junior with a flight case so they would come in at 50 pounds exactly."
"It sounds really well-balanced and has very low feedback, with my Blues Junior, Super Champ, or Matchless," Stern says, bringing up the trio of 15-watt amps that are the stars of this month's column. Stern has had some changes made to all of them—adding a neodymium speaker to the Junior, her most frequent traveling companion, and chop-shopping the Matchless Lightning 15 so its head is removable, significantly reducing the stock weight. The Fender Super Champ's original 10" speaker has been replaced with a 12"—an easy and common mod that gives the little bugger a significantly heftier voice.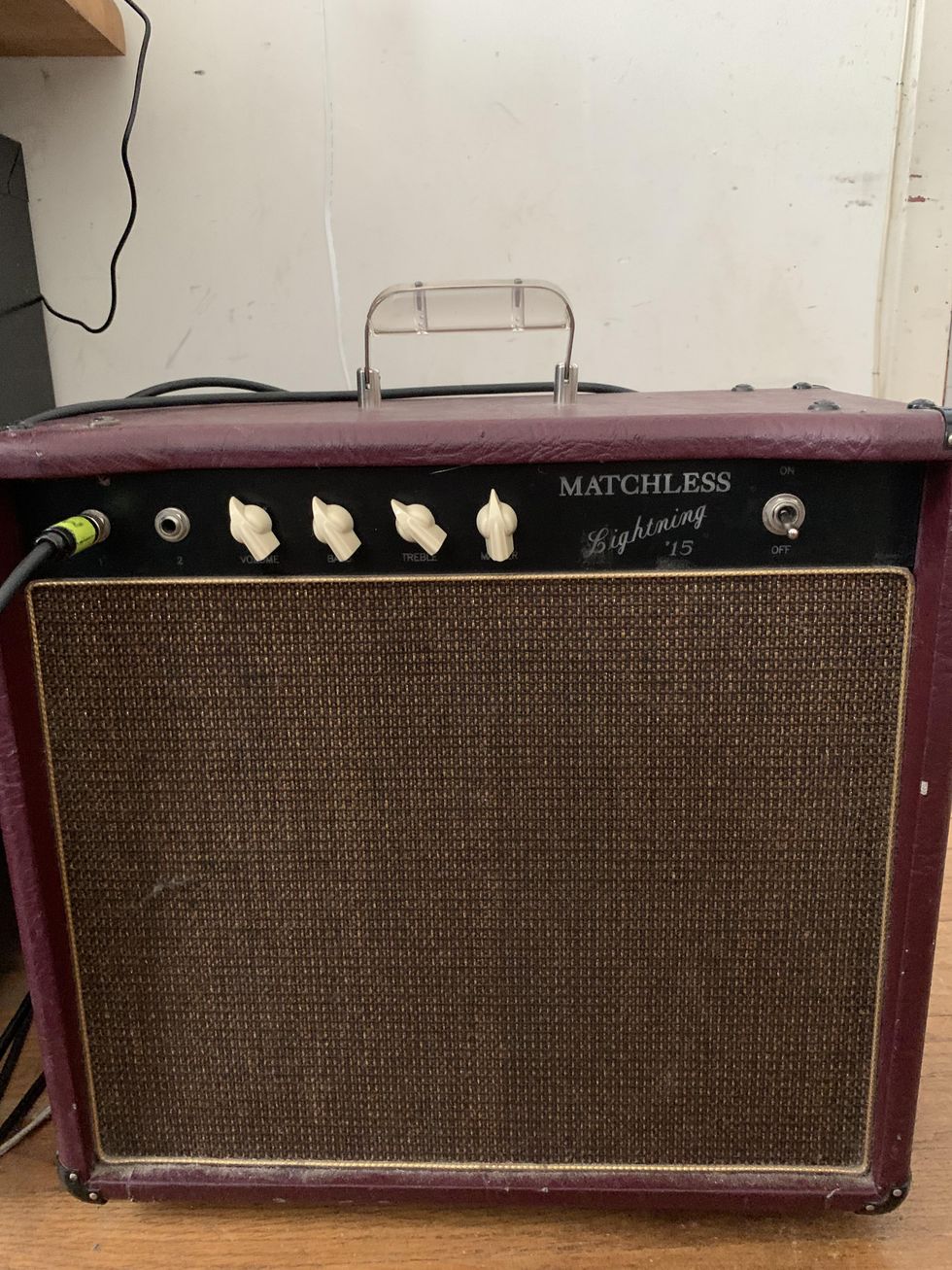 While it looks like a first-generation Matchless Lightning 15, the head and cab of Stern's amp have been modded so the head can be lifted out and used independently.
Big, often pastel tones—mostly from Teles and Strats (a '59 hardtail Stratocaster is one of her most-prized guitars)—are among Stern's signatures. And while the Super Champ mostly stays home, the Junior and Lightning do globe trot—just like her music, which is a highly evolved mix of ethnically rooted sounds that Stern traces back to the eclectic internationalist musical tastes of her father and the pancultural sensibility she experienced growing up in Germany, which she then fanned to conflagrance via her own miles-deep jones for learning and exploring. West African music is a particular passion and provides much of Dance's backbone.
Leni Stern Trio at Iridium - 11/2012 - Like a Thief
"On tours, I like to bring my own amp, so I had to reduce the weight of the Blues Junior with a flight case so they would come in at 50 pounds exactly," she explains. The weight of the Junior is now 23 pounds, verses its out-of-the-factory 31. For the Matchless, it wasn't as simple as a speaker replacement. The company seamlessly modded the 1x12 combo so the head can be nestled in the cab or travel separately. Both are run through a pedalboard, and while the Matchless has no reverb and requires a stompbox, the Junior has the company's classic spring reverb. The tube array is three 12AX7s for the Junior's preamp stage and two EL84 power tubes, with 3-band EQ plus master and volume dials, and a fat-boost switch she often uses. Her favorite source of overdrive, though, is a Free the Tone Heat Blaster, which lends the kind of smooth, creamy power-tone that she shares with her husband, Mike Stern. (Watching them perform together is as much fun as seeing a pair of otters at play.) The Matchless Lightning, by the way, also has three 12AX7s, one EL84 power tube, and volume and master dials with 2-band EQ.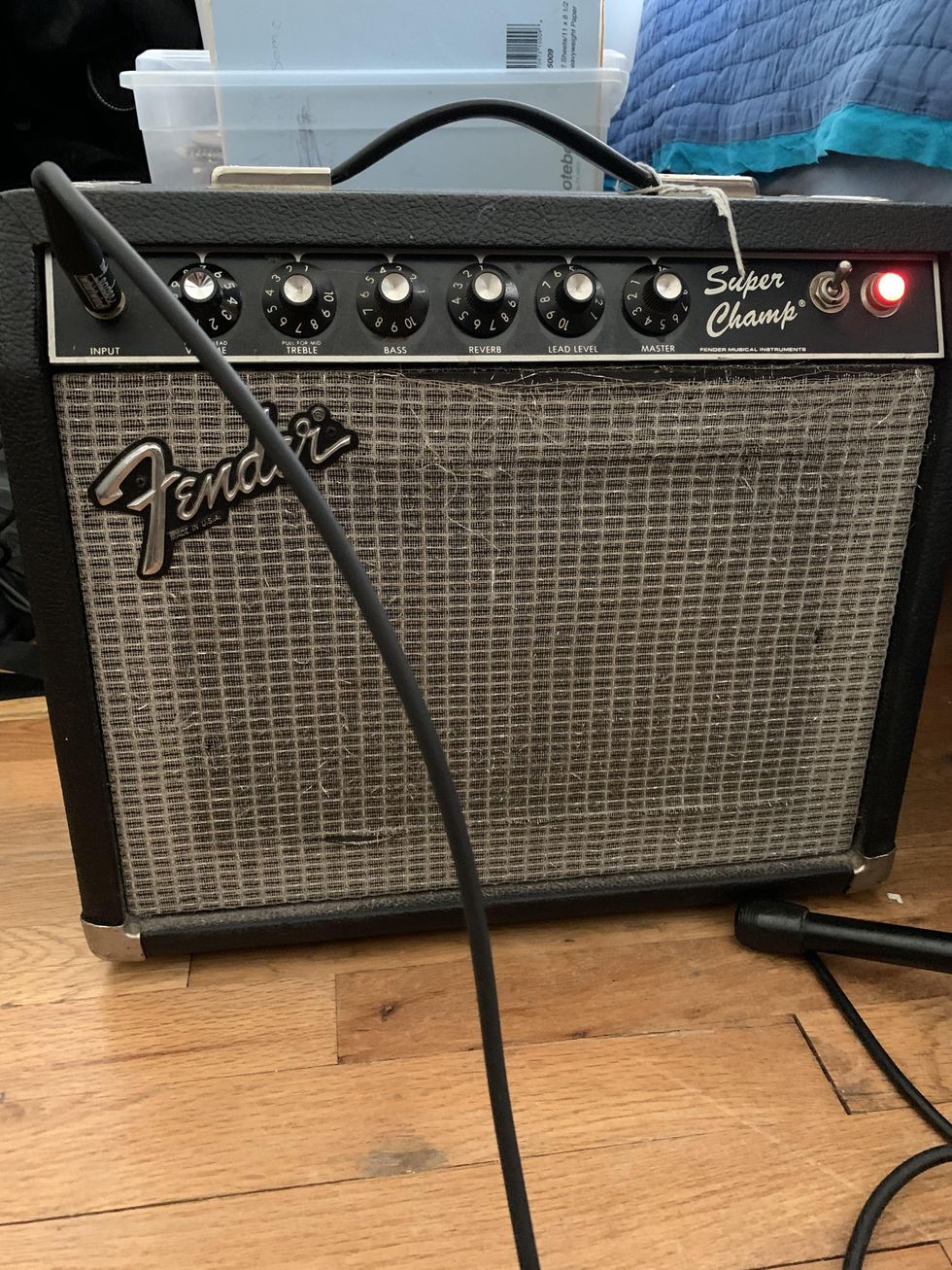 And here's the (mostly) homebody: a Fender Super Champ with a 12" Celestion TN120.
It becomes obvious in conversation that the Junior is her favorite. She speaks of it as warmly as the amp itself speaks. "I've had three over the past 13 years, because it has a circuit board and those get damaged in all the travel, which doesn't happen with point-to-point-wired amps like the Matchless," she notes. "But the Junior is very versatile, with tones that have the lightness and sweetness of a Princeton, but they're stronger and louder. I use the overdrive function a lot. It gets me a little into Boogie territory."
To misquote John Lennon, happiness is a warm tone, but Stern does have one regret regarding amps. "I'm still a little mad at myself for not buying a Dumble 25 years ago when Robben Ford told me I should," she says. "At the time, they were just becoming popular, but a Blues Junior only cost $300 or something like that. I thought paying $3,000 for an amp was ridiculous." She laughs.

Leni Stern: Kono (Bird)