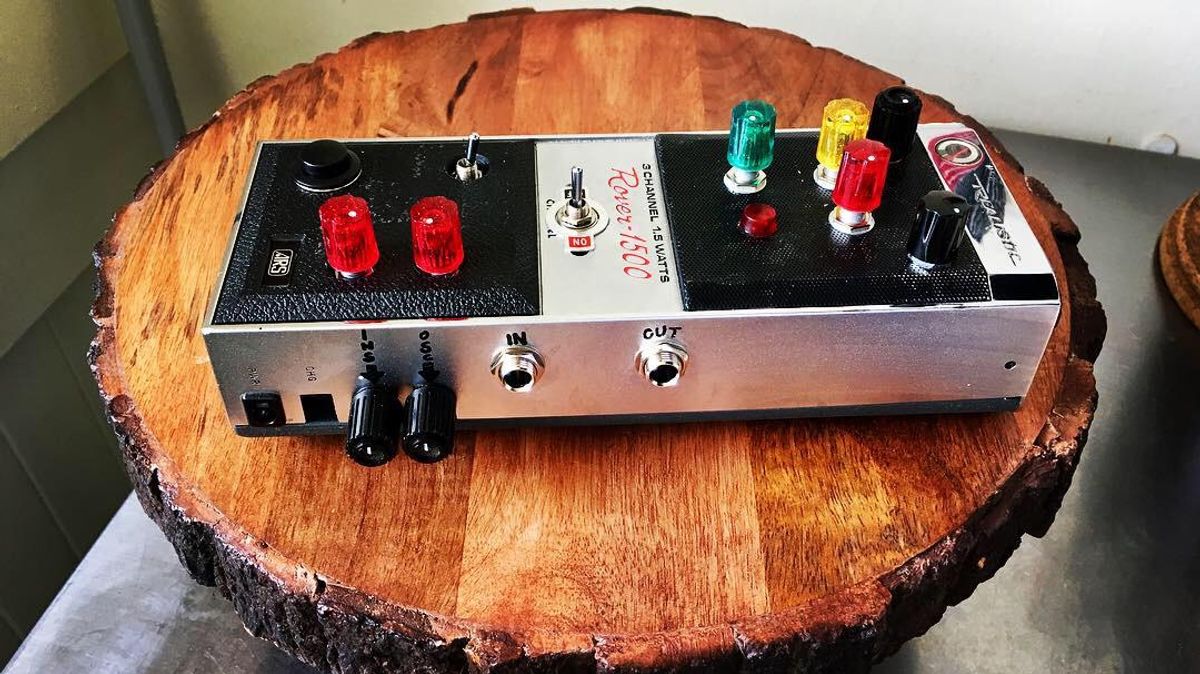 How a walkie-talkie, a tiny city of circuits, and Shrinky Dinks became a mind-blowing dub box.
My phone has become a repository of gut shots and glamour shots of my pedal builds. Once a year or so, when it gets full, I dump the photos onto a hard drive for safe keeping. Every time I do, it turns into an all-day trip down memory lane. I go back—all the way back—to when I first started building pedals, and I look at my progression from then until now. I find it so rewarding to have a visual journal of all the work, love, and intention that I put into them. It's a representation of my learning journey and a reminder of how many friends I have made along the way.
---
Recently, as I was scrolling through, I found photos of what remains my favorite build to this day. I want to share my experience building it. As some of you know, I love to make guitar pedals out of broken, old electronic equipment. It's honestly my passion. In particular, I enjoy gutting busted walkie-talkies and building fun things inside. The old steel cases just look so cool! This particular Realistic Rover-1500 walkie-talkie became a dub-siren-turned-guitar-pedal. I named it the Loe-Fi Dub Siren. You can hear it on Instagram.
A dub siren is a type of synthesizer used predominantly in dub reggae. It is usually a relatively simple oscillator, housed in a box, often allowing for a variety of waveforms to be altered by turning potentiometers controlling pitch, rate, and other parameters. Dub sirens are frequently activated by a button and sometimes have the functionality to toggle between continuous synthesis with one button press or sound-emission-only when the button is held.
I just love it when there is an uninterrupted, smooth flow to a rather complicated build.

I built this oscillator circuit and added a small delay circuit to it as well. It sounded really cool and was fun to jam on during testing. I decided to take it one step further and add a sweep filter so that it could sound just like the King Tubby records I took my inspiration from. After I had it all finished, I had a thought: What if I add an input jack? Then, I could play guitar, or whatever, through it and play along with the oscillator. It took some figuring out, but eventually I got it all working. It was a pretty complicated build in the end.
I took my string-of-many-circuits that was ready to go and began the process of figuring out where everything was going to fit inside the walkie-talkie enclosure. This is probably the biggest challenge of all when building inside salvaged enclosures. They are often molded and, therefore, have a lot of odd protrusions to work around when considering where all of the circuit boards can be mounted. I also needed to figure out where the controls would go.
Next, came the drilling. Let me tell you, drilling steel is no fun! Not for me, anyway. Why did I have to put so many controls on this thing? After about an hour of careful drilling, the walkie-talkie was ready for population. I carefully followed my notes and built a little city inside. Then, I moved onto wiring. Many folks who build electronics loathe the wiring process, but I love it and enjoy the challenge of doing it neatly. Nothing gets me as excited as a gut shot with really tidy wiring.
This cool, jungle-themed badge on the side of Aisha Loe's Loe-Fi Dub Siren was painstakingly made from Shrinky Dinks. It took about 20 tries to get right.
After all the hardware and circuit boards were mounted, I tested the finished work. I made a few little last minute tweaks and deemed it ready for knobs. I ridiculously obsess over knob selection. I think it's a pretty common thing among pedal builders, actually. The knobs tie the whole thing together visually. A lot of thought goes into not only aesthetics, but also how they feel. They're going to get touched a lot, so they should feel nice!
As a finishing touch, I made a name badge for the finished pedal … out of Shrinky Dinks! (If you don't know that these are, google them. They're cool!) Yes, you read that correctly. I don't know why that idea popped into my head, but it did. So, I went with it. I learned that it takes about 20 tries to get it right! I vowed to never do that again. It does look pretty sweet, though.
I learned so much in the process of putting this pedal together. Sometimes my experiments lead me down paths that dead end. I learn a lot, whether it becomes a pedal at the end of my journey or not. This one gave me a win at every turn. Every idea and modification I had for it worked out so well. I just love it when there is an uninterrupted, smooth flow to a rather complicated build. The experience of building this dub siren is a cherished memory, and the pedal now belongs to one of my favorite musicians of all time. Dreams do come true! This build will always remind me of that.
King Tubby - Real Gone Crazy Dub (Crazy Baldhead Dub)
Rhett and Zach unpack the big news for secondhand guitar sellers and buyers: Sweetwater has launched their new Gear Exchange. How does it compare to Reverb, Craigslist, and Marketplace? To find out, Zach takes the site for a spin and buys a pedal. He calls the process both "very easy" and "normal." They discuss the pros and cons of the various used-gear outlets and share tips for not getting got when buying gear. Plus, Zach grew a mustache, Mythos Pedals is moving, and he talks about his forthcoming line of Strat pickups inspired by Hendrix's reverse-stagger setup.
Sweetwater vs. Reverb

The Royale was designed to deliver loud and vivid clean tone with a responsive, tactile low end.
Designed to offer massive headroom, the 50-watt Royale Head lets you indulge in smooth clean tones at even higher volumes on stage without any breakup. Select between class A and class AB modes, with its variable mode switch, so you can choose between gushing Supro tone or a punchier, tight midrange response.⁠

Introducing the Royale Head & Extension Cabinet | Supro
The Royale 1x12 Extension Cabinet features the custom Supro BD12 high-power driver, offering the same mid-range punch and clean articulation as the Royale combo but with additional stage volume. ⁠More info: suprousa.com.
Royale Head | $1,499⁠.99⁠
Royale Cab | $669.99
D'Addario Foundation's education project sets out to help schools throughout the country and kicks off with an online auction.
​The D'Addario Foundation will host a virtual auction from November 9 to November 30, 2022, with the overarching goal of raising $30,000 for the D'Addario Foundation's Immersive Music Challenge.
​Inspired by a new study published in the Journal of Youth Development, the D'Addario Foundation recently launched the Immersive Music Challenge. This ambitious project will help school districts and charter systems throughout the country boost academic achievement by implementing effective, multi-day-per-week music-based mentoring programs that include training, administration, and evaluation. The D'Addario Foundation has invested in an incredible team of consultants that include school superintendents, public health experts, and data analysts to ensure sound results. In addition, D'Addario is actively seeking corporate partners to support the establishment of these programs and champion their success.
Thanks to the generosity of D'Addario artists and industry partners including Gibson, PRS Guitars, D'Angelico, Taylor Guitars, and more, one-of-a-kind items & experiences are up for bidding. Some of the items include:
Evans Drumhead signed by Anderson Paak
ESP Mirage Deluxe '87 Signed by Bruce Kulick of KISS and Grand Funk Railroad
Gibson Les Paul Custom electric guitar
D'Addario bass string set signed by Bryan Beller of the Aristocrats
PRS S2 McCarty 594 Singlecut
Virtual Lesson with Marty Schwartz
To celebrate its 20th anniversary, Xotic Effects unveils an updated version of their classic boost pedal.
Xotic's RC Booster pedal is back to celebrate its 20th anniversary. The RC Booster's original design was a customer favorite due to its versatile clean boost, active treble, bass, gain and volume controls. This classic reissue will join their regular pedal lineup permanently.
Features
• Transparent boost pedal for electric guitar
• Up to 20dB of boost for adding volume or sending your amp into overdrive
• Treble and bass EQ controls with +/-15dB range for fine-tuning your sound
• True bypass switching removes the effect from your signal path when disengaged
• Powered via 9-volt battery or optional AC adapter (sold separately)
• 9-18 volts
The first 1000 pedals will contain a special limited edition packaging with special items and actual guitar picks from Andy Timmons, Paul Jackson Jr, Dean Brown, Kirk Fletcher, Allen Hinds, Chris Duarte, Scott Henderson, Oz Noy, Michael Thompson, Yuya Komoguchi, Toshi Yanagi.
RC Booster with limited edition packaging street price is $172.00. More info: xotic.us.