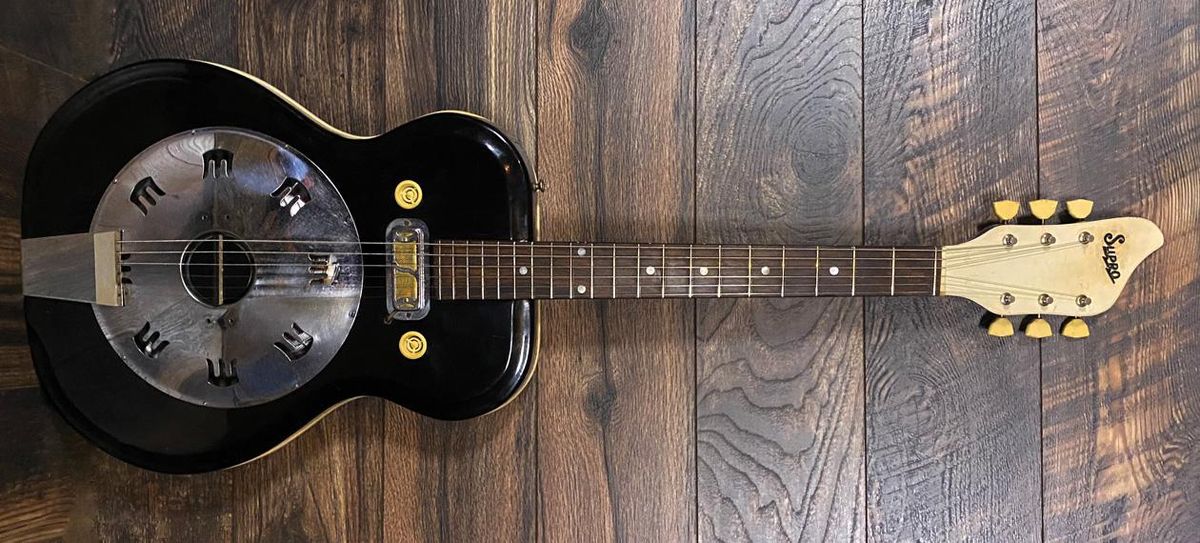 Thanks to a period DeArmond gold-foil, this resonator runs the voodoo down.
As a resonator guitar player and designer, I get giddy when an oddball resonator comes through the door. I've loved these old hub-cap guitars ever since I was a kid, which I mentioned in the history of resonators I wrote for Premier Guitar's June 2018 issue ("Resonator Guitars 101"). I've worked for Dobro, Sho-Bud, and Washburn (where I have signature models) over the years and had my own Owens brand at one time. So, of course I got excited about this 1964 Supro/Valco Res-O-Glass Folkstar with a period DeArmond gold-foil pickup. It has a hint of Airline, too, but more on that later.
---
Back in '64, when it was priced at $137.50 new, Supro advertised this 6-string as "the most powerful non-electric guitar of them all! The original self-amplified guitar." Of course, that's hyperbole, because that was without the crucial addition of the DeArmond, which may have been added by the guitar's original owner. More on that later, too.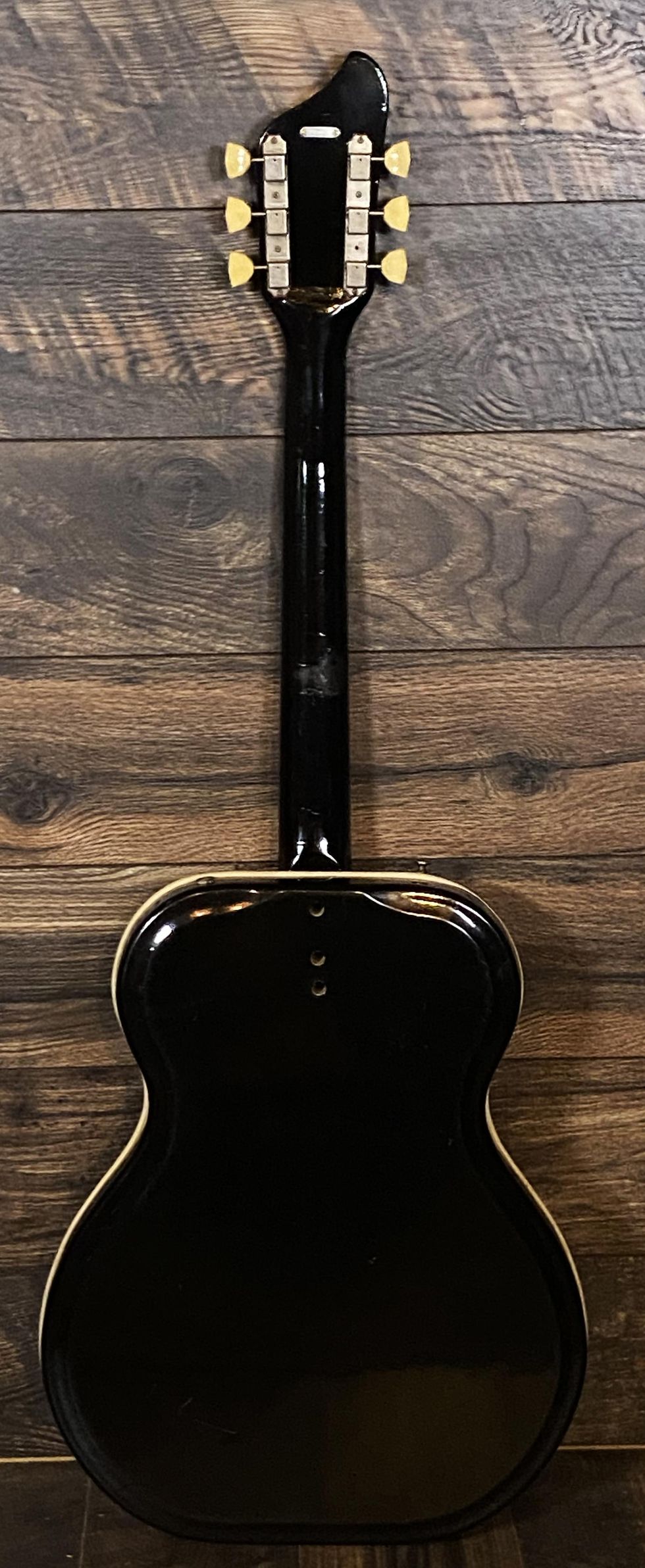 This example was assembled at the Valco factory as a hybrid of Airline and Supro body parts. During a slight neck repair at Nashville Used and New Music, its original red neck was refinished black to match the body.
Meanwhile, you want some background on Valco? Well, that history of resonators story I mentioned has plenty. But what's important for understanding the roots of this month's guitar is that Louis Dopyera, one of the founding brothers of Dobro, was a co-founder of Valco. And the Dopyeras were innovators who saw the trend toward round-neck electric guitars pretty much when the first electric lap steels hit the market in the early 1930s. That same eye for the new put fiberglass on their radar in the 1950s, when it came into its own with Corvettes, surfboards, and other iconic pop-culture designs. One more essential piece of information: Valco specialized in making guitars and amps for other brands—most notably Harmony, Kay, Supro, and Airline—until it closed in 1968.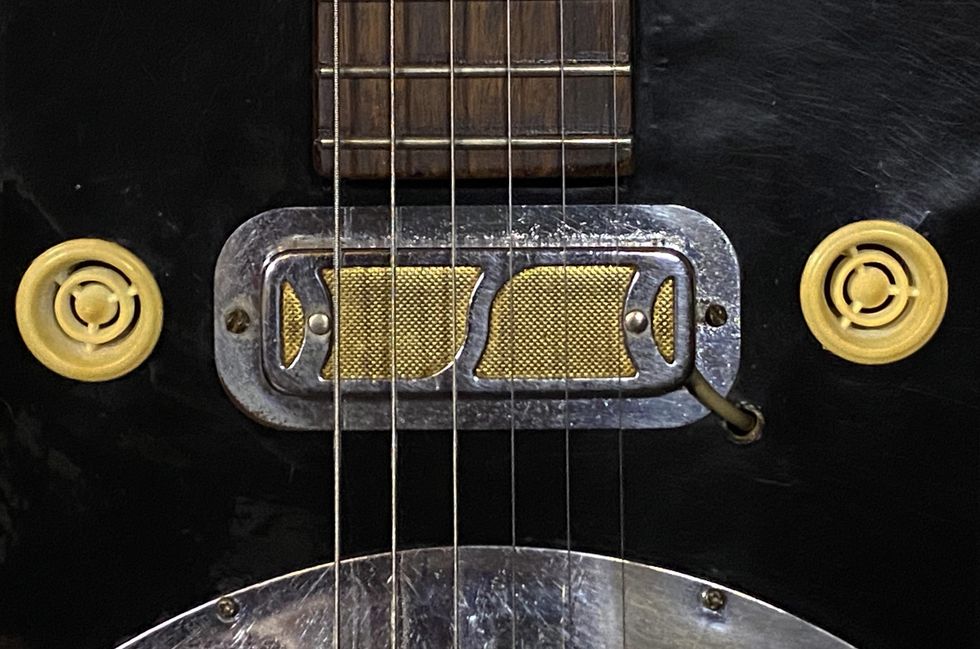 Vintage DeArmond gold-foil pickups like this were a popular modification for these guitars in the '60s. Plastic-screened soundholes were just another of Valco's cost-saving measures.
Now let's get back to our Valco-made Supro Folkstar. It has a thinline body with a single resonator cone under a distinctive cover plate—are those the tips of tridents or sideways Es?—and two small round soundholes with cream-colored plastic screen covers in the upper body. (On a Dobro, those screens would be metal.) That body, with its beveled, molded top providing a slightly arched look, is made of two pieces of the fiberglass material called Res-O-Glass, with a rubber binding seam in the center to attach both halves and inhibit internal rattling. The Kord King neck is described in the catalog as magnesium-reinforced wood. It has the classic "Gumby"-shaped headstock that's a Supro signature, and Kluson tuners with oversized butterfly-style buttons. Another advantage that the always-budget-aware Valco saw in Res-O-Glass—besides its light weight—was the ability to use colored resin, reducing the amount of finishing necessary. This Folkstar model came in two colors: red for the Supro model and black for the Airline model. The latter sold through Montgomery Ward stores and catalogs. As cool as Folkstars look, they don't sound good at all—at least as the acoustic instruments they were intended to be. Their tone is muted, with almost no sustain. That's why so many of these vintage axes have pickups installed.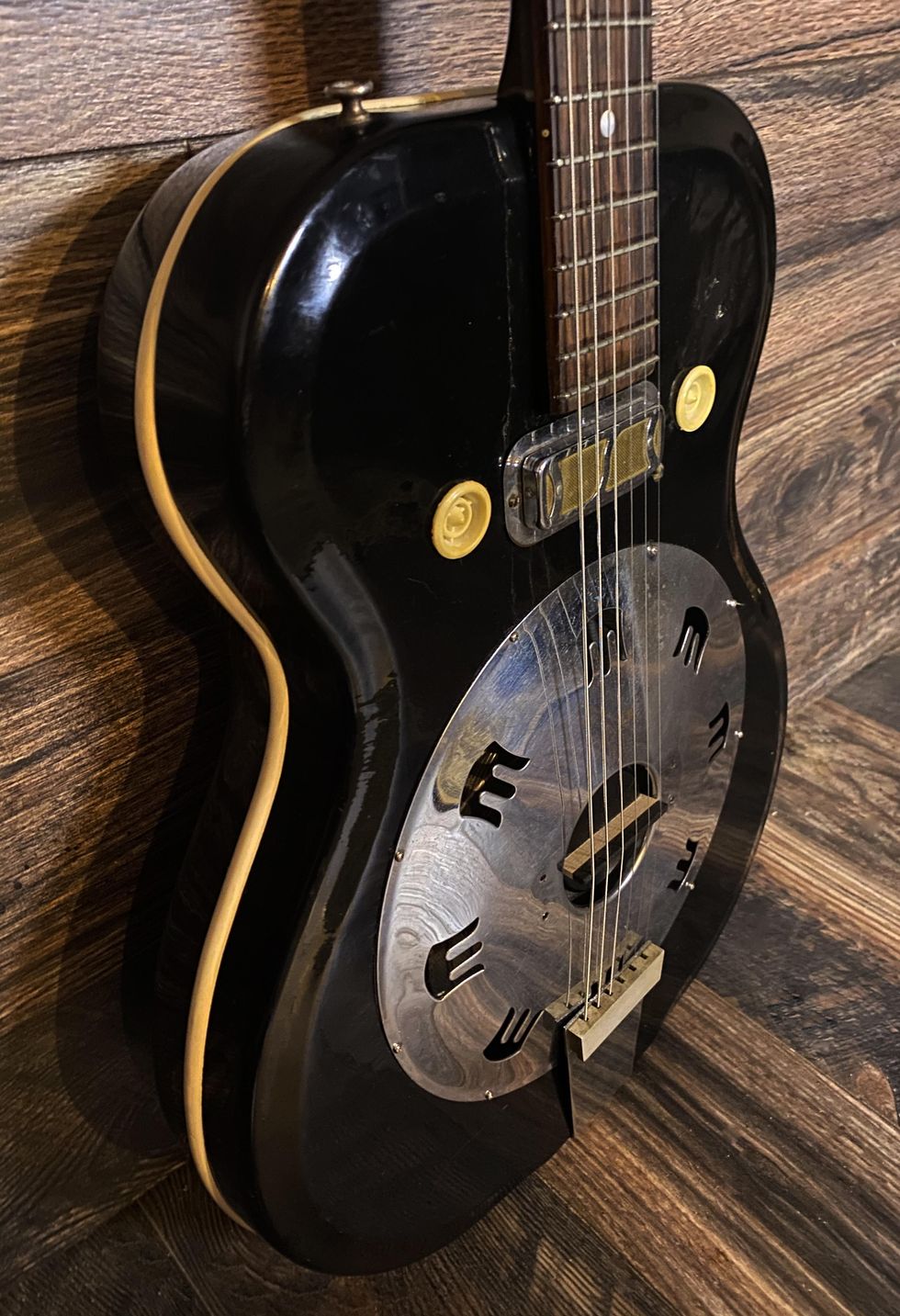 The rubber binding seam in the middle of this model was used to attach both halves of the body and decrease internal rattling.
Here's something weird: While this guitar's body has the black finish of an Airline model, that's clearly a Supro logo on the headstock. Seems crazy, right? But one of my gigs at Dobro was working as the company's archivist, where I learned that it was not uncommon for them to use parts from one line on another, or for them to make a custom one-off. Gibson also did this back in the '40s, '50s, and '60s—or used leftover parts from one production era on a new generation of instruments. When this Supro/Airline hybrid arrived at our shop, the neck was actually red and had some slight damage. When it was repaired, we refinished it black—but given that it already had the pickup installed as a mod, that refinishing shouldn't influence its value, which we estimate at about $1,199.
While this instrument's black finish says Airline, the headstock's "Gumby" shape and logo scream Supro.
The DeArmond gold-foil is where the magic really happens with this guitar. And the truth about these old pickups is that no two seem to ever sound the same. But this one brings the instrument to life in a way that would please fans of North Mississippi hill country blues or Ry Cooder soundtracks. I hope whatever bluesman or blueswoman—or maybe even voodoo priestess—gave this guitar that pickup also got all the mojo he or she wanted out of it. And I think there's still plenty left for the next owner.
Looking for more great gear for the guitar player in your life (yourself included!)? Check out this year's Holiday Gear Finds!
Outlaw Effects introduces their next generation of NOMAD rechargeable battery-powered pedal boards.
Available in two sizes, NOMAD ISO is a compact, versatile tool that offers the convenience of a fully powered board plus the additional freedom of not having to plug into an outlet. NOMAD ISO is ideal for stages with limited outlet availability, quick changeovers, busking outdoors, temporary rehearsal locations, and more.
NOMAD ISO builds upon the legacy of the ultra-convenient and reliable NOMAD rechargeable pedalboard line originally launched in 2018. The brand new NOMAD ISO editions feature eight isolated outputs (1 x 9V DC, and 1 switchable 9V/12V DC) for even more versatility and clean, quiet power. With an integrated lithium-ion battery pack boasting 12800mAh capacity, NOMAD ISO can fuel a wide array of pedals, and will last over 10 hours* on a single charge.
Each NOMAD ISO pedal board includes adhesive hook & loop pedal-mounting tape, eight (8) standard DC connector cables, and one (1) reverse polarity DC cable, giving you everything you need to build your ultimate "off-the-grid" rig. A rugged, road-ready padded gig bag with shoulder strap is also included, to safely protect your gear while you're on the move.
NOMAD ISO S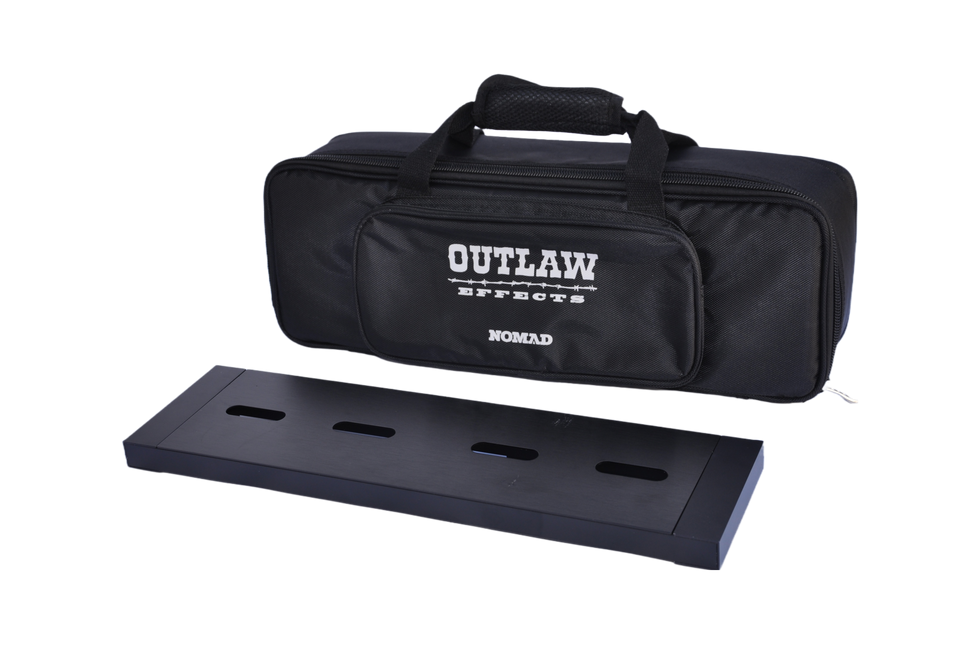 NOMAD ISO S: MSRP $309 / MAP: $249
Dimensions: 19 ¼" x 5 ¼"
NOMAD ISO M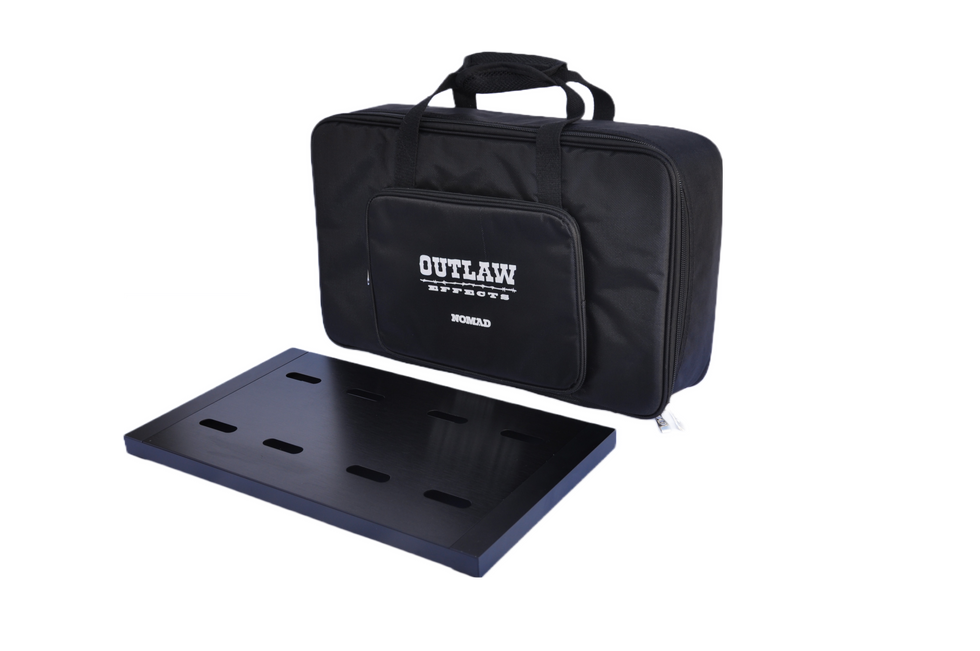 NOMAD ISO M: MSRP $349 / MAP $279
Dimensions: 19 ¼" x 11"
More info: https://www.outlawguitareffects.com.
Dunable announces new Minotaur model featuring Grover Rotomatic Keystone tuners.
The Minotaur's DNA is rooted in their classic Moonflower model, which Dunable discontinued in 2017. However, they have long since wanted to create a fresh take on a carved top guitar design, and various attempts to rework the Moonflower led them to a brand new concept with the Minotuar.
Dunable's goal is to give the player a guitar that plays fast and smooth, sounds amazing, and gives maximum physical ergonomic comfort. The Minotaur's soft and meticulous contours, simple and effective control layout, and 25.5" scale length are designed to easily meet this criteria.

Dunable Minotaur!
Features
25.5" scale length
Dual Humbucker
one volume, one tone, push pull for coil splitting
Grover Rotomatic Keystone tuners
Grover Tune O Matic bridge with brass Kluson top-mount tailpiece
jumbo nickel frets
12" fretboard radius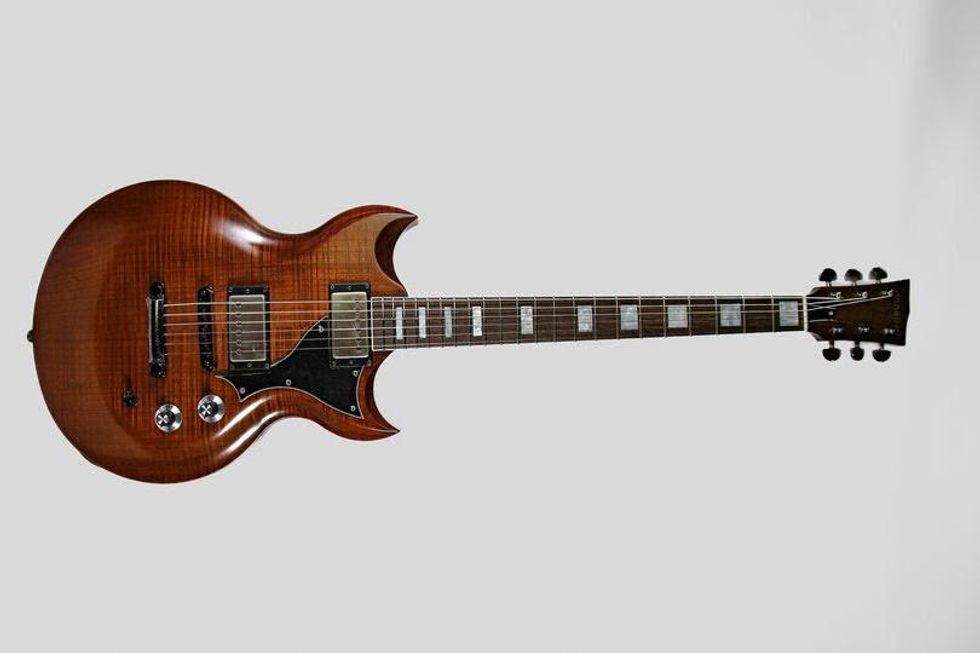 Dunable
This full-amp-stack-in-a-box pedal brings a new flavor to the Guitar Legend Tone Series of pedals, Missing Link Audio's flagship product line.
Adding to the company's line of premium-quality effects pedals, Missing Link Audio has unleashed the new AC/Overdrive pedal. This full-amp-stack-in-a-box pedal – the only Angus & Malcom all-in-one stompbox on the market – brings a new flavor to the Guitar Legend Tone Series of pedals, Missing Link Audio's flagship product line.
The AC/OD layout has three knobs to control Volume, Gain and Tone. That user-friendly format is perfect for quickly getting your ideal tone, and it also offers a ton of versatility. MLA's new AC/OD absolutely nails the Angus tone from the days of "High Voltage" to "Back in Black". You can also easily dial inMalcom with the turn of a knob. The pedal covers a broad range of sonic terrain, from boost to hot overdrive to complete tube-like saturation. The pedal is designed to leave on all the time and is very touch responsive. You can get everything from fat rhythm tones to a perfect lead tone just by using your guitar's volume knob and your right-hand attack.
Features 
Three knobs to control Volume, Gain and Tone
Die-cast aluminum cases for gig-worthy durability
Limited lifetime warranty
True bypass on/off switch
9-volt DC input
Made in the USA
MLA Pedals AC/OD - Music & Demo by A. Barrero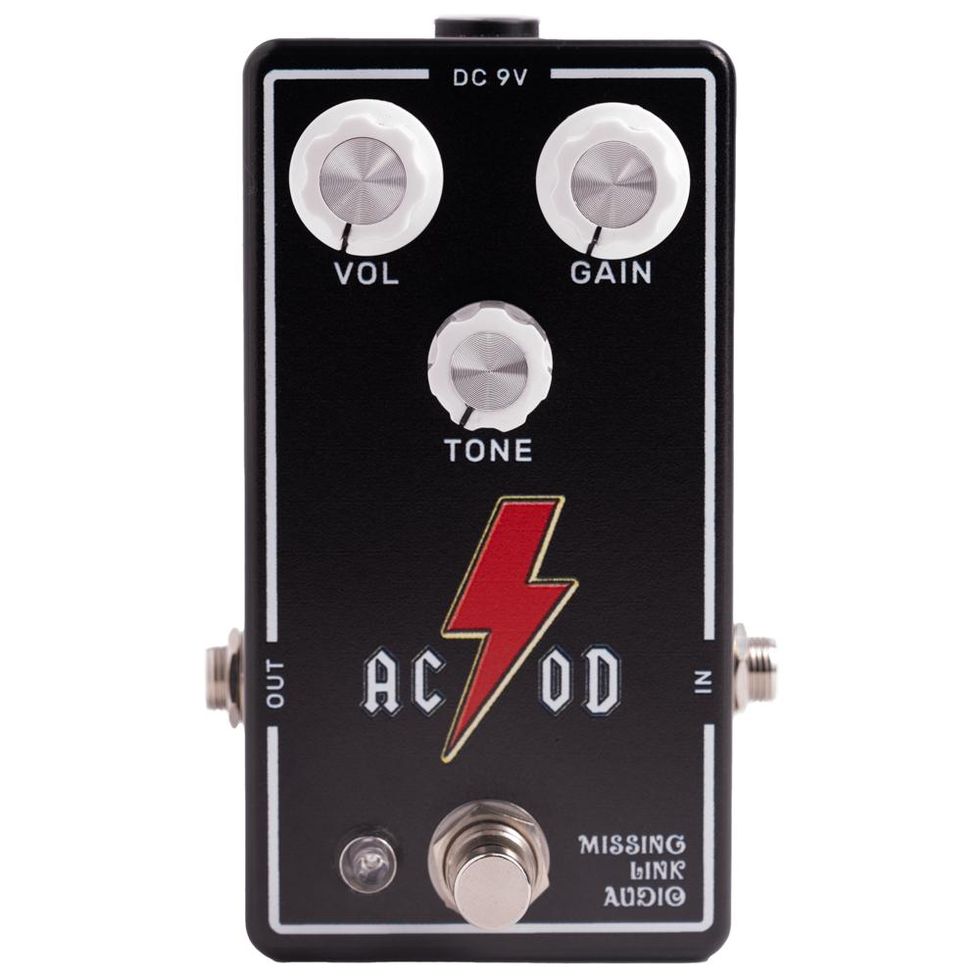 www.mlapedals.com.