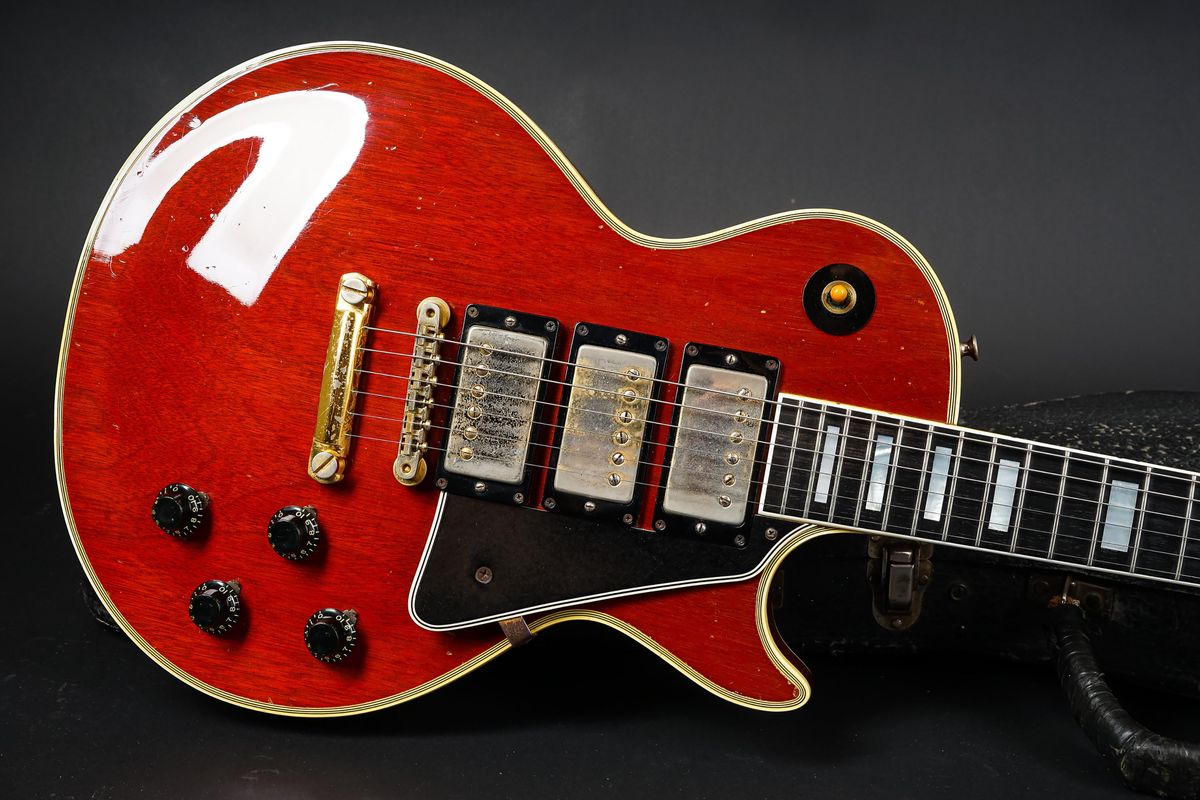 A see-through cherry factory-finish 1960 Gibson Les Paul Custom? You bet your meatballs!
Ted McCarty, the man most responsible for the creation of the Gibson Les Paul and the president of the company during its golden era, never spared his criticism of the competition at Fender. He sniped to guitar writer Tony Bacon that Fender didn't even own a carving machine, adding, "they joined their neck with a plate in the back of the guitar!" In another interview, he told author Tom Wheeler, "It didn't take a great deal of skill to build a plank guitar"—an insult that, for some, still carries a barb all these decades later.
---
So, when McCarty and the Gibson team deigned to make their first solidbody Spanish-style electric, they pulled out all the stops, creating the carved maple top, famous gold finish, expert binding, and trapezoid inlays of 1952's debut Les Paul . But, lo and behold, the Les Paul Custom model that was unveiled one year later was even fancier. McCarty, with input from Les himself, outfitted the Custom with more intricate binding, gold hardware, a split-diamond headstock inlay, an ebony fretboard, and a tuxedo-like finish that inspired a lasting nickname: the Black Beauty.

In profile, this 1960 Gibson Les Paul Custom's see-through finish seemingly makes its solid mahogany glow.
What, then, is this month's find from the vault? It's a bona fide 1960 Les Paul Custom in a factory-sprayed, see-though cherry finish. There's a story here, and it goes: This all-original Custom is the same as others of its era except for that transparent color. It has the same Grover tuners and extra low "fretless wonder" rails of its genus. It sports the same 3-humbucker setup. (The move away from two pickups began in '57 and continued through the SG-body Customs of the early '60s.) The 3-way switch selects between the neck pickup, middle plus bridge, and the bridge pickup alone, and there's Gibson's typical two volume and two tone knobs.
In 1960, a regular Black Beauty would have retailed for $395 in the U.S., and this custom-finish import likely had an extra charge.
But what about that clear cherry red finish that lets the mahogany wood grain talk to the eyes? It almost looks like something the Sweden-based guitar company Hagstrom might've offered back then. And that's the tip-off. According to GuitarPoint, the vintage German guitar store that has listed this instrument for sale on Reverb, this is one of six Les Paul Customs specially ordered by Hagstrom for import between '59 and '60. Cool, right?
The back of this guitar's neck shows its age in nicks and scuff, but according to its seller, it plays like a pup.
On this 6-string, there's a "Made in the USA" imprint above the serial number. All official export models had this back then, for customs purposes. The finish shows the all-mahogany 1-piece body construction. There are some small, repaired cracks on the right wing of the headstock between the 100-percent-stable machine heads. This axe shows some wear, especially on the back of the neck, but in general, it's nice and clean and stock. The pots have untouched solder joints and read 134.59.47, meaning they're from the 47th week of 1959. The original PAFs had never had the covers off and measure 7.94k (neck), 8.29k (middle), and 8.34k (bridge). The weight of nearly 10 pounds is typical for a Custom, and this one even comes with its original black Gibson case.
In 1960, a regular Black Beauty would have retailed for $395 in the U.S., and this custom-finish import likely had an extra charge. For reference, a common factory upgrade like a gold-plated Bigsby would have cost another $75.
For all the elite trappings McCarty bestowed on the Custom, history has offered a funny twist. Wealthy players and collectors have decided that the Standard Bursts of 1958 to 1960—those with simply two PAFs, a flamed-maple top, and a sunburst finish—are the pinnacle of Les Paul design and collectability. Because of this, vintage Customs from this period do not command the same stratospheric prices. While an excellent-condition, 3-pickup Black Beauty could hit $80,000, Bursts start at around $160,000 and go up—way up—from there. However, this rarity in its original, spectacular finish is listed at roughly $133,500.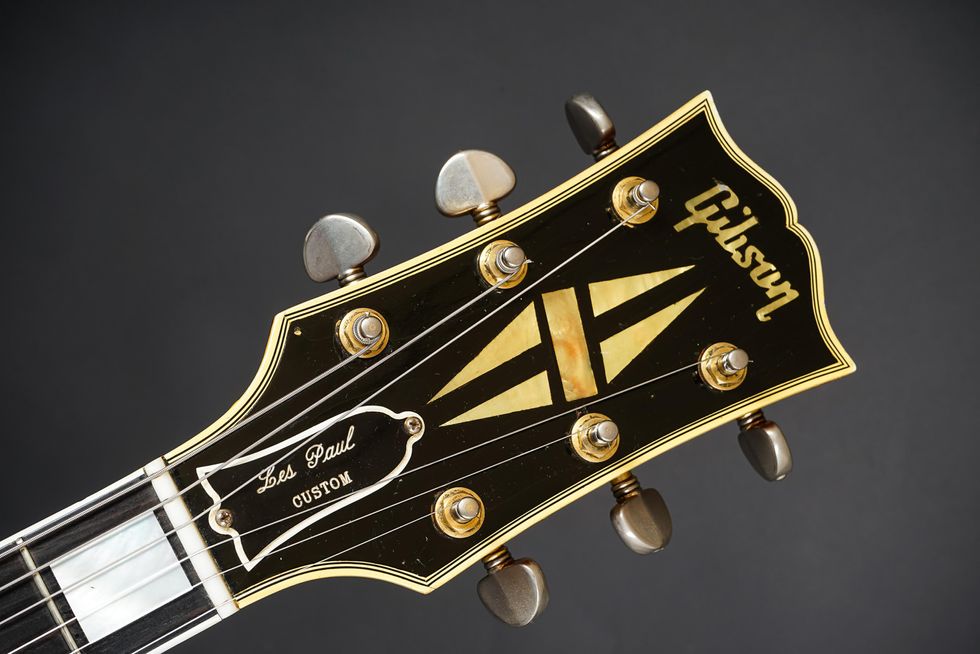 The small cracks between the OEM Grover tuners have been so expertly repaired as to be invisible.
Sources include "Former Gibson Chief Ted McCarty on Tonewoods and the Problems of 'Top-Heavy' Management" by Tony Bacon, published on Reverb News ; American Guitars: An Illustrated History by Tom Wheeler; The Birth of Loud: Leo Fender, Les Paul, and the Guitar-Pioneering Rivalry That Shaped Rock 'n' Roll by Ian S. Port; Gruhn's Guide to Vintage Guitars: An Identification Guide for American Fretted Instruments by George Gruhn and Walter Carter; and Reverb sales data.