A Frank Lloyd Wright-Esque  Axe for Working-Class Heroes
In '54, Harmony introduced the gold-finished H44 Stratotone as a guitar for the masses. Today, it's a favorite among vintage slide fiends.
This morning I was reading about the great American architect and designer Frank Lloyd Wright. His achievements in housing design were truly remarkable and breathtaking, but in the early 1900s he became interested in applying his mastery to building economical housing for working people. There's even a block of his tiny homes in Milwaukee, Wisconsin, along Burnham Street, and they feature some of Wright's most famous design cues, such as flat roofs and central hearths. It got me thinking about guitars and how the idea of economical brands has existed almost since the dawn of the dime store. In the U.S., I always think of Harmony, Kay, and Danelectro as the builders who made good quality guitars in the low-to-middle price range, and this resonated with Wright's ideas of homes for the working class. By the 1950s, we would need guitars for the working class, too!
---
In 1954, Harmony broke away from its typical big-bodied, hollow, archtop designs and introduced the solidbody H44 Stratotone. The new model was billed as an "easy-to-handle" Spanish electric that was lightweight and thin-bodied. At just three-feet long and 10 5/8" wide (with a scale length of 25 1/4"), the Stratotone bridged the gap between the popular Hawaiian lap-steel guitars and full auditorium-sized archtops. There seems to be a natural evolution between lap-steel guitars and some of the original solidbody electrics of the early 1950s, because guitars like the Stratotone were just so darn tiny! But they were also affordable for blossoming baby boomers at the beginning of rock 'n' roll.
The Stratotone bridged the gap between the popular Hawaiian lap-steel guitars and full auditorium-sized archtops.
The price of a Harmony Stratotone in 1954 was $64.50 and a case was eight bucks extra. At that same time, a Fender Stratocaster was selling for around $250 and a Telecaster for $190. In the Gibson universe, a Les Paul Custom was $360, a standard was $235, a Special was $170, and a Junior was $110. So, if you were a working Joe with a youngster craving a solidbody electric … well, the decision was easy, and soon Harmony was on its way to becoming one of the largest guitar makers in the world. It also didn't hurt sales when famous musicians such as Ritchie Valens strapped up an H44.
By the mid 1950s, there was a dual-pickup Stratotone called the H88 Doublet, and a little later there was even a Stratotone H42 Newport, which featured a metal body trim dubbed Harmometal. These Newports are totally drive-in diner guitars. But alas, all these cool solidbodies were gone from the Harmony catalogs by the late '50s and can be hard to find these days on the used market. Depending on the model, the early Stratotones can easily cost over a grand, which is a far cry from the humble heyday of these working-class guitars. Then again, I don't think working-class people currently occupy those Wright homes on Burnham Street, either. So it goes.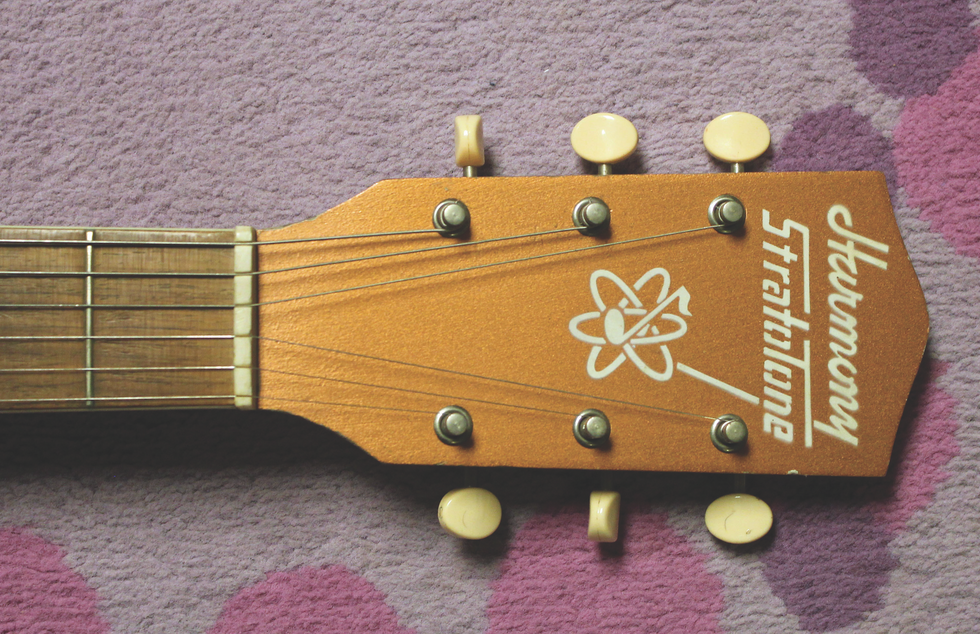 This 1954 Harmony Stratotone's headstock is a charming reminder of its atomic-age arrival.
The electronics in the Stratotone are a simple affair, with just one pickup paired with volume and tone controls. There is also a slide switch attached to a capacitor that allowed for more bass or treble sounds. The gold finish was reminiscent of some upscale Gibson guitars, and the atomic-age logo on the headstock was straight out of a Jetsons episode. You were going to go nuclear with this little guy! The wide, full neck with open-back tuners is just a pleasure, and the pickup is a total little screamer that reads in the mid 3k range. The simple bridge and tailpiece don't allow for much fine-tuning and since these had set necks, the guitars were a bit limited. But they do make for excellent slide guitars or a good stand-in for a lap steel.
1955 Harmony H44 Stratotone Guitar Demo