With such a flashy flame top, the Silvertone 1445 was built to catch the eyes of department store shoppers.
I don't know what's going on lately, but I'm breaking down all over and my shoulder is the latest to crumble. When I was a kid I would practice guitar in my bedroom near a radiator with an ungrounded amp plug and I'd get a zap right through my guitar and into my hands. Well, my shoulder pain is like that now, only without the cool story of rock 'n' roll survival. I simply woke up one day like this. After a few weeks of discomfort, I figured I'd try out a new pillow, since mine are flattened like a wafer. I ventured out to the mall and, much to my sadness, saw the local Sears store shuttered, with weeds growing up from the sidewalks and concrete barriers blocking the large glass doors. I know I don't get out much, but, man, was I sad to see the Sears store I'd known since childhood closed-up like that. My wife was laughing at me because apparently it had been closed for some time. But since I seem to exist on a separate timeline than most folks, it was all news to me.
---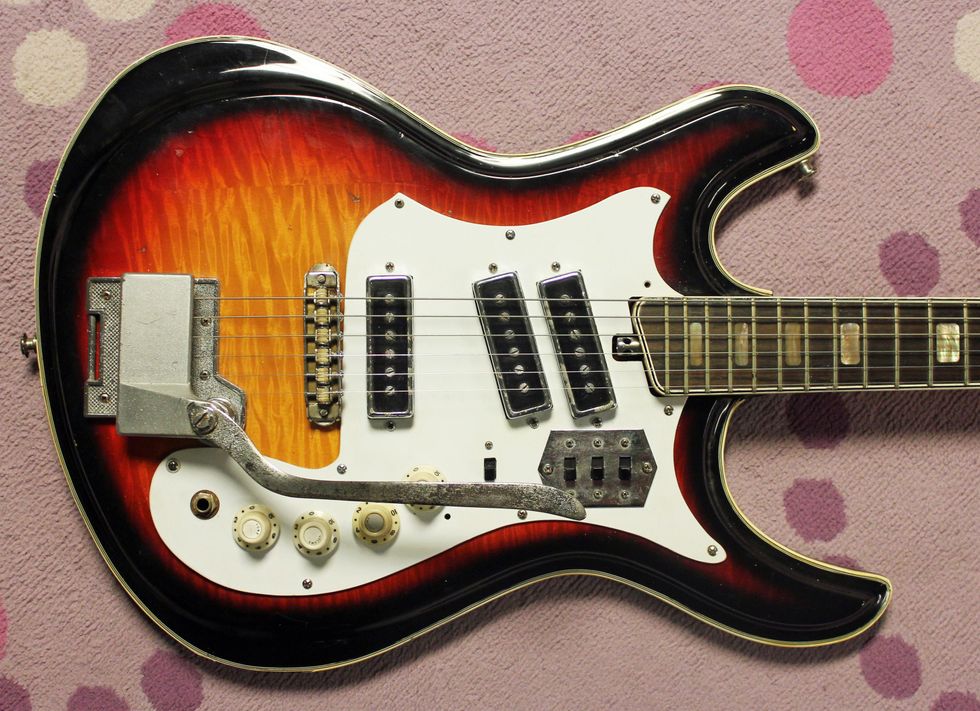 The 1445 combines an elegant sunburst top with surfy accoutrements and makes a few noticeable nods toward both Fender Jaguar and Mosrite styles.
In the parking lot, I stretched my shoulder and gave some thought to Sears and department stores in general. Back in the day, I would see stacks of new vinyl records in the store, alongside the classic, huge hi-fi stereo systems. I feel like I grew up during a great time, where I had one foot in a bygone era and the other foot pointed towards gigantic technological breakthroughs like computers. But I also feel kind of bummed about missing out on the whole electric guitar/department store connection. My good buddy Mike Dugan recalls those times, and while most kids were charging towards the toy section, he was checking out the electric guitars and amps. Can you imagine?
"I feel kind of bummed about missing out on the whole electric guitar/department store connection."
For those of you who also missed the Sears guitars, here's a quick primer: They were almost all branded Silvertone and, in the late '50s and early to mid '60s, were manufactured by either Danelectro, Harmony, or Kay. By the tail end of the '60s, a lot of Silvertone guitars were Japanese imports that were priced and aimed at beginners. I've always felt that the Silvertone guitars were a bit on the conservative side of the spectrum, and there weren't many crazy designs or finishes.
The headstock on this 1445 , with binding and its sloped shape, is an elegant touch for a beginner's guitar.
This Silvertone 1445 model hails from around 1969. It's a cool 3-pickup model that features an offset shape with some exaggerated lines. Built at the Kawai factory, the guitar has an ebony fretboard and some standard Kawai appointments, like the in-house vibrato, electronics, and pickups. There is an on/off mini switch and volume knob for each pickup as well as a single tone knob. Around this time, Kawai was starting to cut corners in subtle ways, one of which included underwinding the pickups, which, in most cases, resulted in a thinner sound. Luckily, the series wiring in these guitars can produce quite the powerful sound. The finish is a nice-but-kinda-blah sunburst with some flamed wood. The flame veneer was a new thing for the Japanese guitar makers at the time, and I think there was some elegance attached—especially for a guitar targeted toward beginning players.
Strapping on one of these late-'60s 1445s is a familiar-feeling experience, offering up a cross between a Fender Jaguar and a Mosrite vibe. Often, Kawai electrics of this era were neck-heavy and the headstock would take a dive on you when slung around your shoulder. But the 1445 features a thicker body with a thin laminated neck. Kawai had basically perfected that laminate-neck-making technique, mostly to prevent warping, and these guitars usually hold up very well, even though the necks on are quite slender and narrow.
The Silvertone triple-pickup 1445 cost $78.95 in the 1969 Sears winter catalog and only lasted for a few years. I've seen all sorts of variations on this model, like bound bodies and necks, different colored pickguards, and different knobs. I suspect a lot of you out there started on a Silvertone. One has to marvel at the sizable influence Sears stores had on generations of folks. I'm really going to miss that local Sears and the feeling of nostalgia it evoked. Not quite like the electric zaps flowing into my shoulder right now, but still powerful!