State of the Stomp: Breathing Room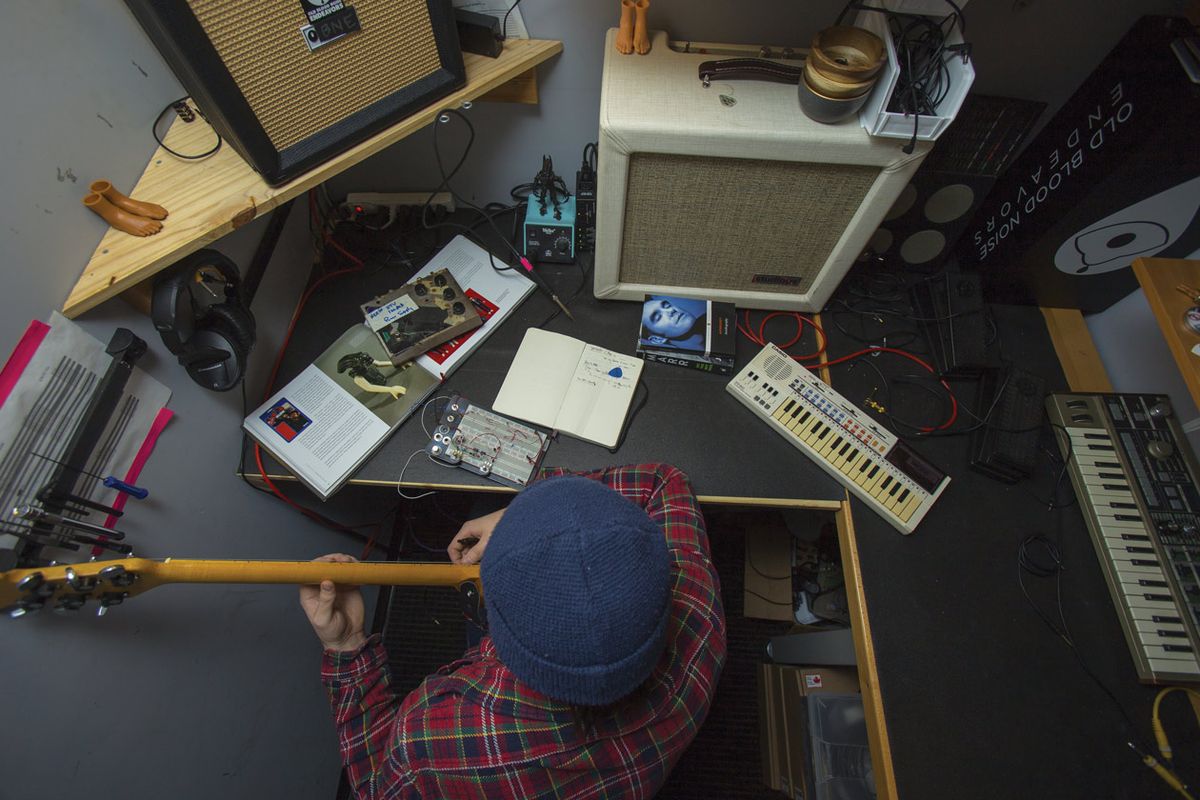 The search for time and space—to create.
So here I am, sitting in a soundproof room filled with guitars, amps, and pedals. It's the dream. The dream since teenager Brady learned how to play guitar and learned that playing loudly felt really, really swell. But that's not the goal tonight. Not the goal of many nights at this age, to be honest. As I sit here, I can't see the guitars or entertain the potential sounds of the 10-foot shelf filled with guitar pedals amassed from fellow builders, peers, and friends.
No, it won't be tonight that my brain rests from the daily quest to try to create something musical—to let out what's been brewing and festering inside the ol' head … the clogged-up noggin. All I can see is the list of orders to be built and shipped, and then hopefully replaced with another list of orders to be built and shipped. Added onto that are the approaching deadlines for a new pedal release, for which we have yet to work out the kinks. To put that overload simply: There's a lot going on at Old Blood Noise Endeavors, and most of the time, making music doesn't feel like one of those things.
My fair and far-too-patient editor for this State of the Stomp article, Ted Drozdowski, recently posed a question: What do I do for inspiration for a new pedal release? Subquestion: How do you recharge in a way that fosters creativity? Sub-subquestion: What happens if I don't do those things?
The answer is so incredibly simple, but not helpful: I don't know. As per almost everything in my life, conceptually or factually, I've managed to land on being less than 100 percent certain of everything, because anything can happen. So, I don't have an answer. And I'm open to suggestions. One day, articles such as this will be composed in real time with real-time feedback, or at least I think that's a great idea in this moment, when I'm indeed interested to hear feedback.
I just talked myself into playing guitar more and working less. We'll see if it holds up.
Until the ideas start flowing in from willing participants and help to avoid full pursuit of an unhelpful tangent, it's worth noting that despite the seeming lack of cognitive mental and physical refreshment, stimulation is indeed manifested … somehow. Only because pedal releases keep happening. And the lights are still on. But I pretty much feel the same before and after those things happen: tired.
Every so often, there's a surprise attack of free time. It's rare. And sometimes uncomfortable. And I've found that taking a moment for myself and plugging a pedal I don't usually play into a guitar I love to play makes me feel good. It gives my soul a little bit of oxygen and some room to breathe it in. That's the kind of moment I hope to have with every pedal we conceptualize at Old Blood: time spent with something that gives me some room to breathe. Chances are I'm the only one that will ever hear that moment, that song, or that melody.
There's something to that—having a sonic moment that's just for me. And maybe that's part of the "rejuvenation" process. The thing that gives me energy for whatever is next, after my soul has been fed by the creation of something new and something personal with zero pressure, zero stakes. No one else will know. And it just feels good.
Maybe that's what it takes to find a design that's both new and exciting when you've seen and heard a lot already. With my head down and the stone grinding away my face, a minute or two spent noodling around on potential sounds is the reprieve that stimulates movement forward.
I just talked myself into playing guitar more and working less. We'll see if it holds up. In the meantime, try to find that activity, or lack of activity, that gets your juices going. We'll all live longer because of it.