Rig Rundown: Carolyn Wonderland
An Austin guitar legend in the making shares her rare Gibson, custom-built amp, ferocious fingerpicking style, and passion for bringing fire to the blues.
Austin, Texas, has been a fertile proving ground for legendary blues guitarists. Some, most notably Stevie Ray Vaughan, have emerged to international acclaim. Others, like Derek O'Brien, make a living and earn the respect of their peers while mostly playing in the city's many clubs and studios. In recent years, Carolyn Wonderland—a revered player on the local scene since her arrival in 2001—has become a rising global star in the genre.
---
In 2018, this incandescent electric fingerstyle guitarist became the first woman to play lead guitar in John Mayall's Bluesbreakers, following such luminary musicians as Eric Clapton, Peter Green, Mick Taylor, Walter Trout, Coco Montoya, and Buddy Whittington in that role. And while she's made more than a dozen albums under her own name and with collaborators over the years, her next album, slated for early fall release, will be issued by Alligator Records, the world's largest indie blues label, and was produced by the brilliant songwriter and 6-string deadeye Dave Alvin.
At Nashville's City Winery, Wonderland demoed and talked about her main guitar, Patty the Blueshawk, an Austin-built Tone I/O amp, her approach to lap steel, the genesis behind her aggressive fingerstyle approach, and much more. Take a look.
[Brought to you by D'Addario Auto-Lock Straps: https://ddar.io/AutoLockRR]
Gibson Blueshawk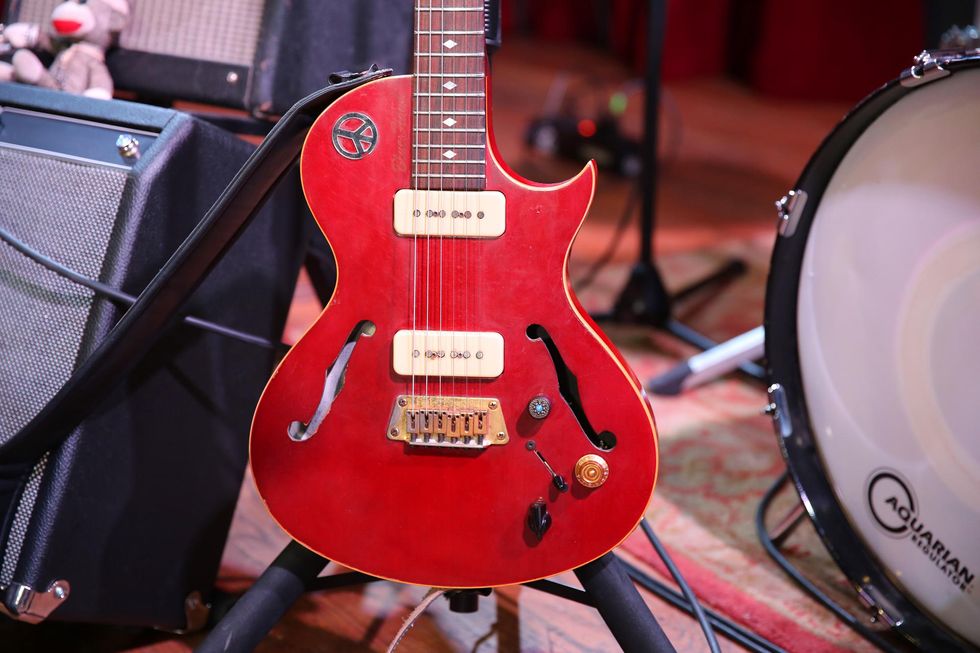 Say hello to Patty the Blueshawk, a Gibson model that was made from 1996 to 2006. If you've seen Wonderland with John Mayall, you've seen Patty. It has a Fender-like 25 1/2"-scale neck, a through-body bridge, distinctive Blues 90 pickups, and a 6-way Varitone. Plus, it weighs only 7 pounds—packing plenty of sonic muscle for its class. Wonderland swapped a Tele for Patty and she loves the way its P-90s cut through in the Bluesbreakers.
1954 Gibson ES-125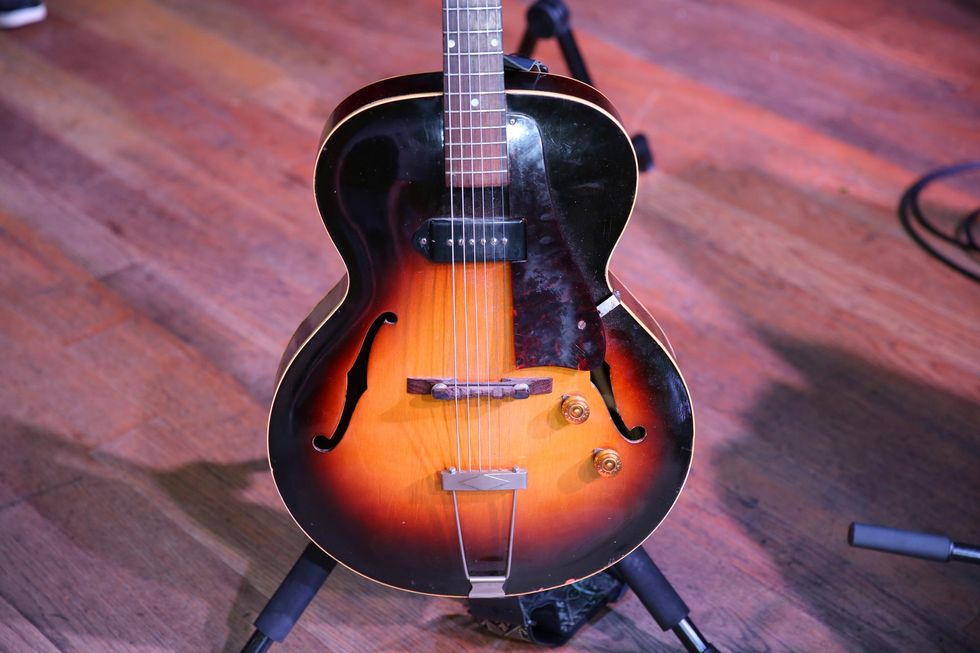 This 1954 ES-125 full-sized hollowbody still has its original P-90. The model debuted in 1941 as an entry-level archtop. Later, some ES-125s also got a lower-bout cutaway. For a close-up look at Wonderland playing some old-school blues on this axe, check out her "#quarantunes" video performance of Muddy Waters' "Champagne and Reefer." It's excellent, and also provides a literal living-room listen to her powerful singing.
Lappy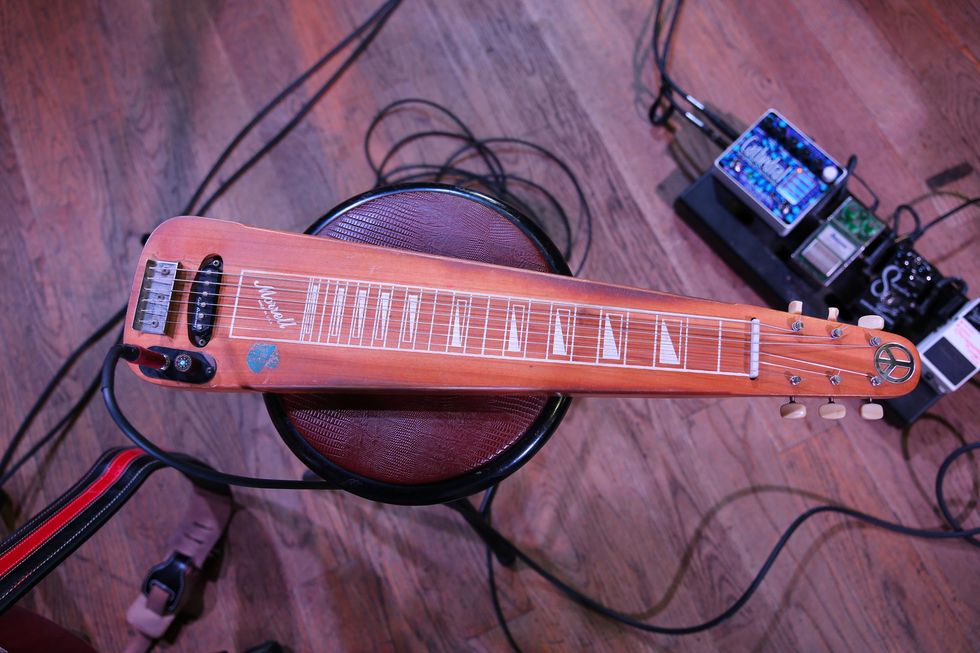 This is Lappy, named for obvious reasons. It's tuned in G and has Elixir strings, .014 to .046. "I keep 'em until they're about to turn into barbed wire," she quips. And yes, that's a standard two-octave neck.
Here's a close-up of Lappy's pickup: a Kent Armstrong Spitfire. As its name implies, this single-coil is loud and furious.
Tone I/O Amp
Built in Austin by Adrian Goepferich, this Tone I/O amp has a hand-crafted point-to-point circuit, a barking 20-watts output, a 12AX7-driven preamp, 6V6 power tubes, a pine cabinet with a stainless steel chassis, spring reverb, and a Weber 12" 50-watt speaker. The control set recalls vintage Fenders: volume, treble, bass, reverb, speed, and intensity. Wonderland loves its sound, which she describes as a "classic American voice." And she runs it paired with a Fender Blues Junior—A/B/Y style for maximum tonal options.
Fender Pro Junior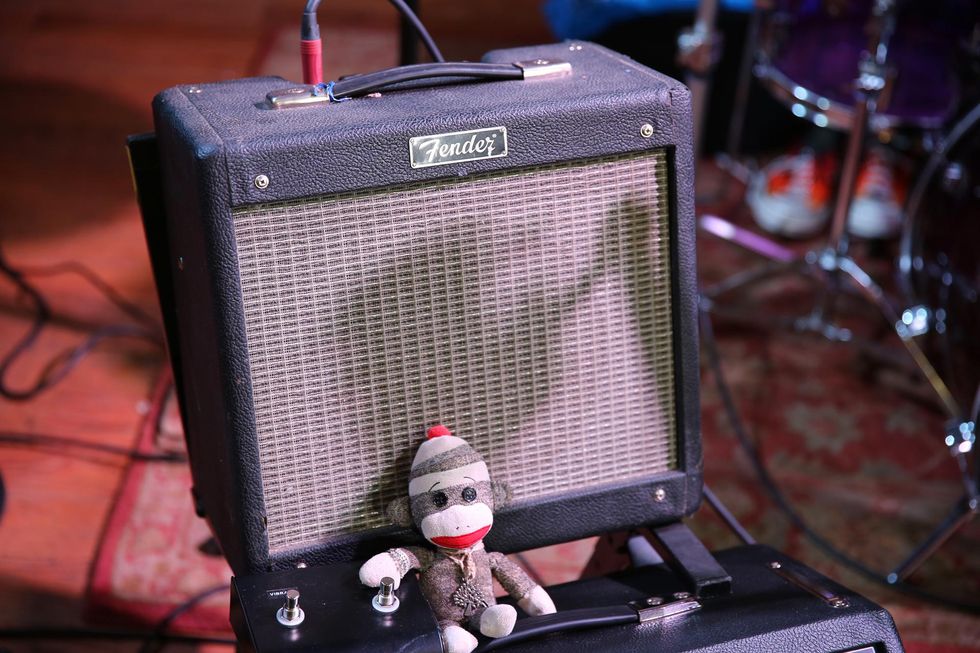 Here's her Pro Junior—perhaps the definition of a small-club workhorse amp. In true Junior fashion, it's got a 12AX7 preamp section, two EL84 power tubes, and a 10" driver. Watch that EQ, because even at only 15 watts the high end on these amps can shred yer eardrums if you're not careful. The sole mod: a sock monkey.
Carolyn Wonderland's Stage Setup
Here's both of Wonderland's amps, miked and ready for the show, along with her three guitars—a succinct, efficient setup.
Carolyn Wonderland's Pedalboard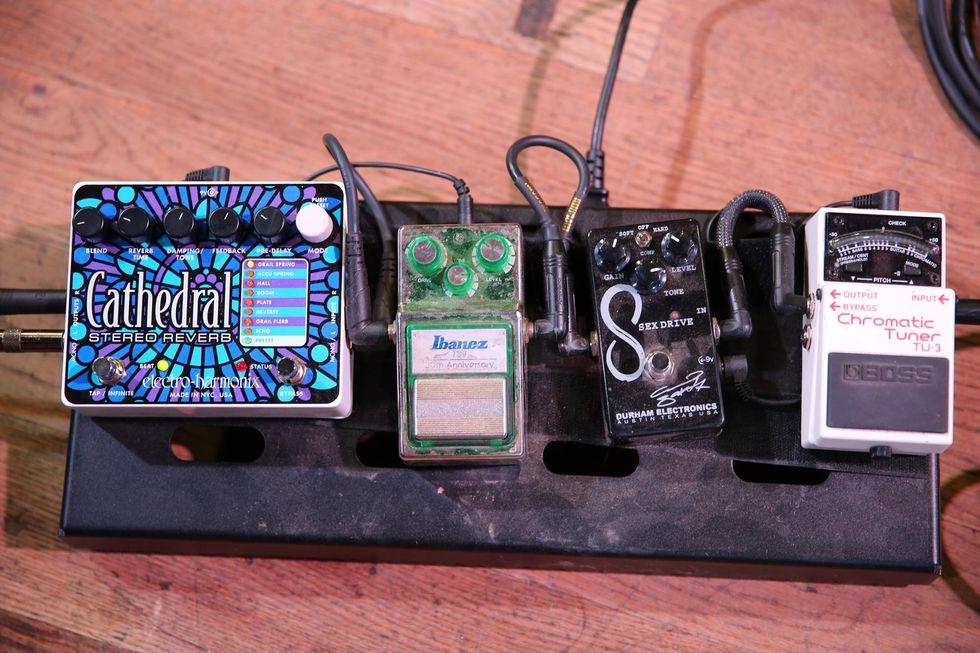 Wonderland's pedalboard is simple. There's an Electro-Harmonix Cathedral Stereo Reverb, which she mostly uses in place of amp reverb when she's playing on a bouncy stage. Her Ibanez TS9 Tube Screamer is a 30th anniversary model, and she's got a Sex Drive by Durham Electronics out of Austin. The latter's a pedal developed with Charlie Sexton. Finally, there's a Boss TU-3 Chromatic Tuner. PS: Her slide is a unique glass piece given to her by a fan years ago at a show in Eugene, Oregon.